They say, when you love what you do, you'll never work a day in your life… There are, of course, practicalities or "kinks" you have to work out and consider, but that statement is especially true when it's coming from a point of passion.
All too often, the things we're passionate about, we're told aren't going to make us enough money. So we take on these jobs that we're unhappy at and do our passion on the side. Well, who said that your passion isn't a profitable passion? And what deems them as certifiable to make that judgment?
One of the biggest passions lots of people have is a passion for fitness, and that particular passion is one that gets overlooked so often as being unprofitable unless you own a gym. Well, newsflash… there are several ways to turn your passion for fitness into a profitable business that doesn't involve the hassle of being a gym owner.
What lots of people forget about is the power of the online world, as it pertains to health and fitness. Maybe your passion for fitness leads people to ask you for healthy alternatives to guilty pleasure foods or maybe you have a knack for keeping up with the new fitness challenges… Regardless of your habits, if you have a true passion for fitness, there is a way for you to turn that passion into profit, especially through an online business.
Because we're talking about online businesses, first things first… You have to set up your online store.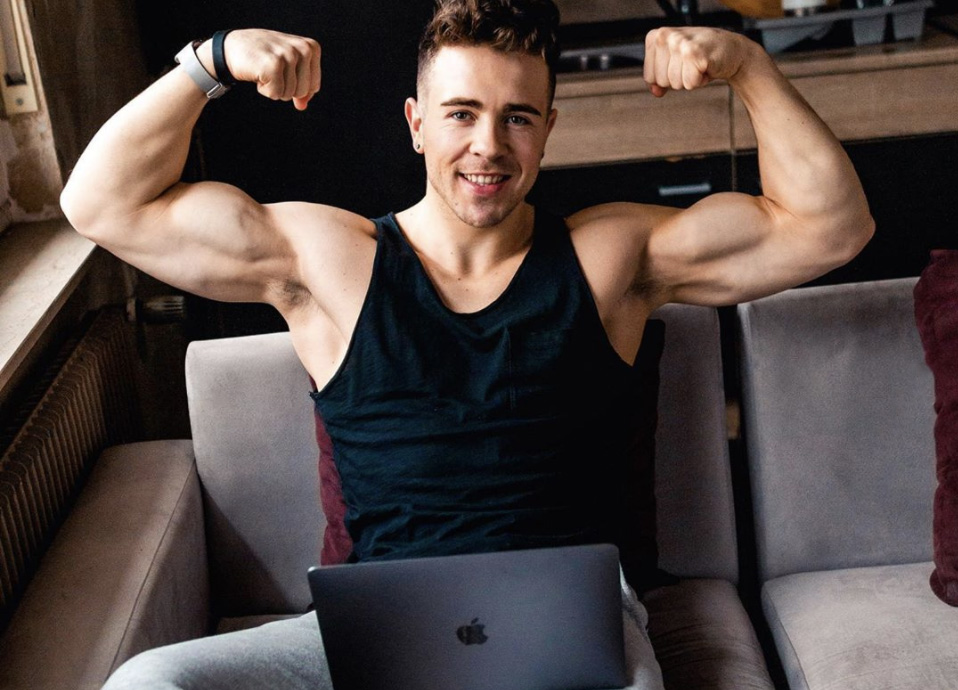 Model : Yannik Nash
Build Your Virtual Fitness Storefront
Before the emergence of the internet and cellphones that double as cameras and computers, the business side of fitness resided in fitness videos, in-person personal training, or gym memberships. All those avenues to pursue a career in fitness are still around and still relevant to the fitness world but the platform to do it on is now all digital.
The key to turning your passion for fitness into an online business is to build an online store… Your online store is going to house all your fitness products and services. You're going to want to purchase a domain name that's reflective of your fitness business and build your website on a website builder that offers fitness themes and templates that reflect the personality of your brand.
You also want to make sure you choose a website builder that's fully featured, meaning it comes with all the applications you'll need without having to download them individually… you'll have everything you need to successfully build and run your business.
Ways to Turn Your Fitness Passion Into a Booming Online Business
Live Interactive Workout Videos
How many times have you logged into Instagram or Facebook and seen these fitness gurus or influencers post videos of their workout routines to target specific areas of their body? You see it all the time, and if you're as passionate about fitness as you say you are, the majority of the people you follow on social media are personal trainers or are in a health-related industry.
Out of all the times you've seen their videos, how many times have you thought that you could do what they're doing and probably do it better? Well, you can do it! And you can do it all on your website! You don't necessarily have to be certified to post videos of your own personal workouts but in order to host interactive workout videos and get paid, you're going to need to get certified as a group fitness trainer.
Now, this is where the money comes in… Ever since the emergence of COVID-19, the world of fitness was changed. Gyms were shut down and personal training sessions were canceled due to lockdown for the prevention of spreading the virus. But that didn't stop the online world of fitness. You can create an interactive workout class and have your participants join you at specific times from the comfort of their living rooms to workout. The key would be to make sure you effectively market your virtual class times so people know when to tune in.
By having your own business site that accepts payments, you can charge for your exercising services. Whether it's Zumba, Yoga, or a cardio blast, you would just need to add your exercise classes to the products and services you offer.
Meal Plans and Recipe eBooks
If people are always coming to you asking what you eat or what's a good alternative to a certain meal, then you might be on to something and not even realize it. All this time you've been giving out your advice on meal prep tips and meal planning, you've been actually handing out free advice!
In your mind, you've been creating these healthy meals for so long you could write a book about it… Did the light bulb above your head just turn on? Well, it should have. You can write a meal plan and recipe ebook that helps people get their start to a healthier lifestyle through the foods they eat.
With your ebook, you'll need to be specific on the types of recipes you're sharing. Is it going to be a gluten-free recipe book, a vegan recipe book, a diet to have a flat stomach, or just a general recipe book about healthy meals?
According to eatingwell.com, the vegan diet is becoming more popular and because of its many health benefits, more and more people adopting the diet as a lifestyle change. If you haven't already, you might want to do your research and consider incorporating vegan meals into your recipe ebooks.
The price you charge for your ebook will be completely dependent on you and what you want to charge. If you're a health professional and are going to create specific meal plans for clients then you'll, of course, charge more than you would for just the ebook because you're creating a meal plan specific to a client's health needs.
Gym Equipment and Gear

Everything from resistance bands and free weights to cordless earbuds and athletic wear, the options for the gym equipment and gear you sell on your site are endless. The awesome thing about selling gym equipment and gear on your business site is that you don't have to house any of it in your personal space or rent out a storage unit for it… With your online business, you have the ability to utilize dropshipping.

With dropshipping, customers can buy different items and your dropshipper will ship those items out without you having to see or touch a single thing. I mean think about it… Imagine the chaos that you would call home when it's filled with 20 cases of 5lb weights, resistance bands, and endless athletic wear… You wouldn't be able to get around! Dropshippers will take care of all your fulfillment needs.

You are a fitness lover and looking to turn your love into an online business to earn money? Check this out !