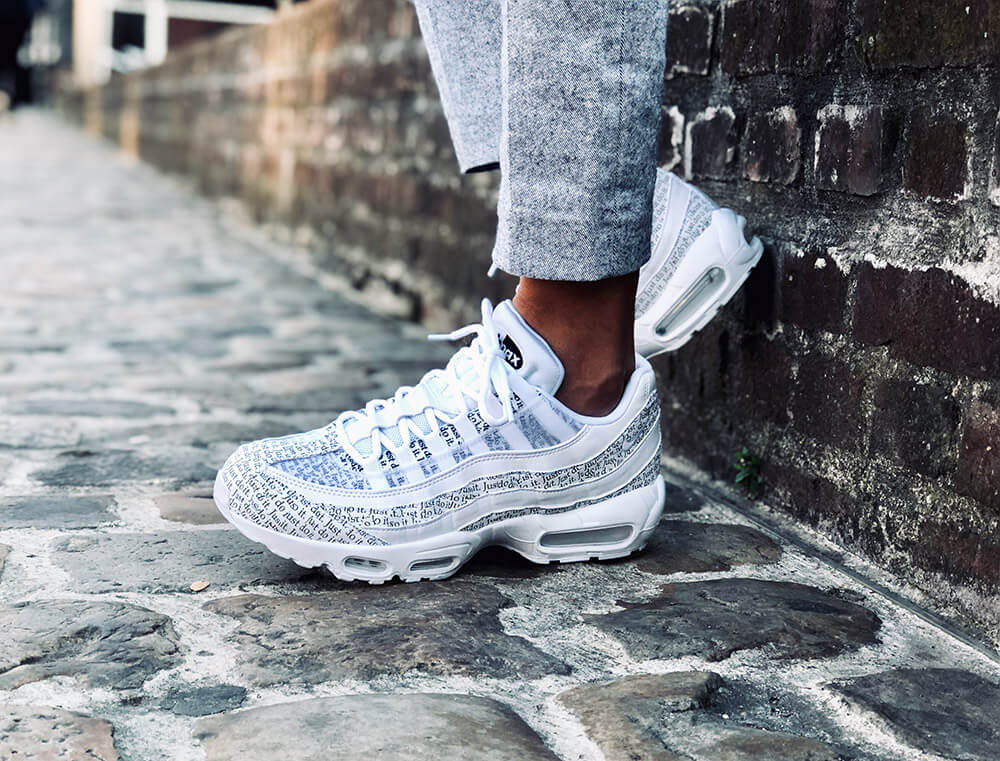 I'm wearing the white Nike Air Max 95 SE Just Do It sneakers.
Whether they are made of canvas or leather, sneakers require maintenance if you want to keep them for a long time. Moisture and external aggressions damage them, so to keep them as long as possible they need to be maintained. So how do you clean sneakers?
I am wearing the white Nike Air Max 95 SE Just Do It with invisible socks, I tell you in my post What socks to wear with your sneakers?. There are also ways to clean white sneakers, which require more rigor than with colored sneakers.
Can all sneakers be washed in the washing machine?
While some canvas or synthetic sneakers can be washed in the machine without any problem, I suggest taking a few precautions! For example, I wont take the risk to wash the Converse All Star Disrupt CX in a machine.
Sneakers should not be made of a combination of several materials: canvas and leather or synthetic and leather. Machine washing can also remove the synthetic or rubber parts. I strongly advise against washing leather or suede sneakers in the machine.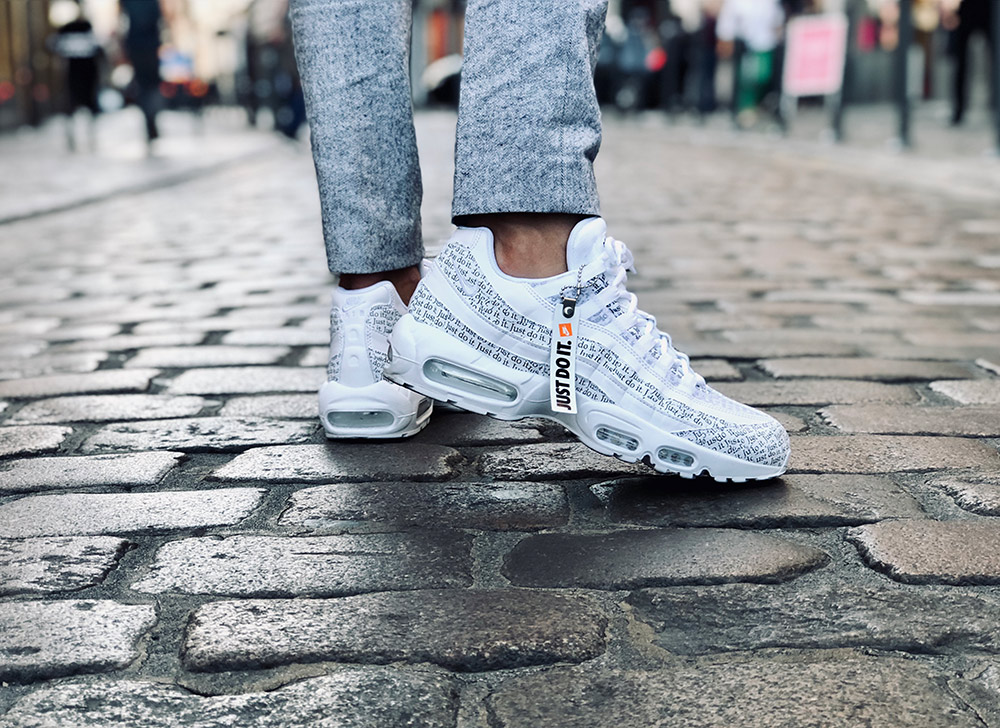 Cleaning your sneakers by hand
Whatever the main material of the sneakers, it is quite possible to clean them by hand.
Cleaning suede sneakers by hand
For suede sneakers, I strongly recommend the use of a suede brush, which is specifically dedicated to this use. The sneakers must be dry cleaned, as suede does not tolerate water very well.
They should be brushed gently and constantly in the same direction. Regarding scratches, I suggest the use of an eraser or a suede gum.
Cleaning canvas sneakers by hand
Sneakers made of canvas or synthetic material are easy to clean, with a little detergent, either washing powder, shampoo or dishwashing liquid, added water and a well-moistened cloth that should be rinsed regularly and rubbed to remove dirt. You can also use a sponge.
In order to clean the sole and the rubber, which surrounds the shoes, it is advisable to use a toothbrush. This removes dirt and encrusted stains. To remove as much dirt as possible, pour baking soda into a bowl with a skin of water and use the mixture with your toothbrush.
Once the cleaning is complete and the sneakers are rinsed well, let your sneakers dry in a place with good air circulation.
Shoe Cleaner+Shoe Whitener, Sneaker Cleaner, Brush-Shoe Cleaning Kit, Alloda
Pink Miracle Shoe Cleaner Kit 8oz Bottle Fabric Cleaner For Leather, Whites, and Nubuck Sneakers
ShoeAnew Shoe Cleaning Kit for Cleaning Sneakers, Leather, White Shoes, Fabric, and More - with Cleaning Spray 8oz, Nylon Brush, Microfiber Shoe Cloth
Jason Markk Essential Kit - 4 oz. Premium Shoe Cleaner & Standard Brush - Biodegradable and Free from Harsh Chemicals - Cleans and Conditions up to 100 pairs of Sneakers - Removes Dirt and Stains
Last update on 2023-12-03 / As an Amazon Partner, I make a profit on qualifying purchases./ Images from Amazon Product Advertising API
How do I wash canvas sneakers in the washing machine?
First of all, it is best to remove the laces and insoles. I insist on the following precaution: sneakers should be cleaned before putting them in the machine, brushing them to remove soil and grass that may excessively dirty the washing water.
After putting each sneaker in a bag, choose a cycle for delicate clothes, and do not use water that is too hot, as the heat could dissolve the glue and damage the rubber.
Moreover, it is essential to deprogram the spin cycle. Do not put the sneakers in a tumble dryer, they are clean inside and out, and should dry naturally in the air, or possibly with a hair dryer.
How do I wash leather sneakers?

To clean leather sneakers, which are not very dirty, I advise to apply make-up remover milk on a cotton pad and to rub it gently over the shoes, so that the leather will be clean without being attacked.

For grass and dirt stains, nothing could be simpler, I recommend using a little water with white vinegar for dirt and a very soft brush with a little 90° alcohol to remove grass stains.

There are products dedicated to the cleaning of leather sneakers and white in the event that the condition of the sneakers requires it and absolutely avoid bleach even on white sneakers, it could make them yellow.

Collector or not, when you love your sneakers you have to take care of them, especially when they cost more than $150. I'm telling you how to clean sneakers like a big one.

//php comments_template();?>