This post contains affiliate links and I will be compensated if you make a purchase after clicking on my links.
Oily skin is a menace both for men and for women. While women have nearly every oil control product targeted at them, we men have little to trust and little to have. Besides, the idea for men to only use COSMETICS to be pretty again does not work for me.
With that, I still cannot ignore the fact that it is our skin and its excessive oil that puts us in jeopardy of losing our looks; in fact, making us look like a human mirror ready to blind someone with the reflection of light.
You could blame genetics for it. Some men are born this way – there's no cure for them. While they are helpless, there are other men who, too, happen to have extra oily skin despite having no genetic dispositions for it.
The good news is, however, that whether you belong to the first category or the second, there's still hope for you. If you cannot get rid of it completely, you can control the amount of it. After all, it is the matter of your looks we're talking about; you've got to do something.
You may also like How should you shave your pubic hair?
Oily Skin Solution for Men
A little science first ! The oil we have on our skin is actually called sebum. It is a product of the secretion of the sebaceous glands present underneath our skin. Throughout our lives, these glands secrete the oil to keep our skin soft and supple.
Also, they have anti-bacterial functions; and so, it also kills acne-causing bacteria on our skin.
However, due to their excessive secretion, the pores of our face are blocked. What happens next is the unavailability of the sebum, and, therefore, the growth of the bacteria.
It depends on your hormone—androgen—to control the secretion of the sebum. Abnormal fluctuations could result in greater secretions. As for those with a genetic disposition to it, their skin reacts to this hormonal change, and, as a result, produces more oil.
Just like me, you might think at first, that you could use some kind of product to rid yourself off the extra oil. Well, you could do that. But the solution to men's oily skin remains deeply in the way we live our lives.
Factors, such as stress, unhealthy diet, no exercise, pollution, inadequate sleep, and unclean habits could be the trigger of increased sebum secretion. You could either get rid of all the unhealthy habits or simply resort to having not-so-sexy oily skin that women that women are not attracted to.
Read also Biotherm Homme T Pur anti-oil & shine: test and review
However, if you are already in the pit and need someone to lift you up, I could be of help because I've been in the situation you are in now.
Personally, I use products from Lab Series to take care of my oily skin :
Also, you can use a foundation for men to have matte skin face, yes try it !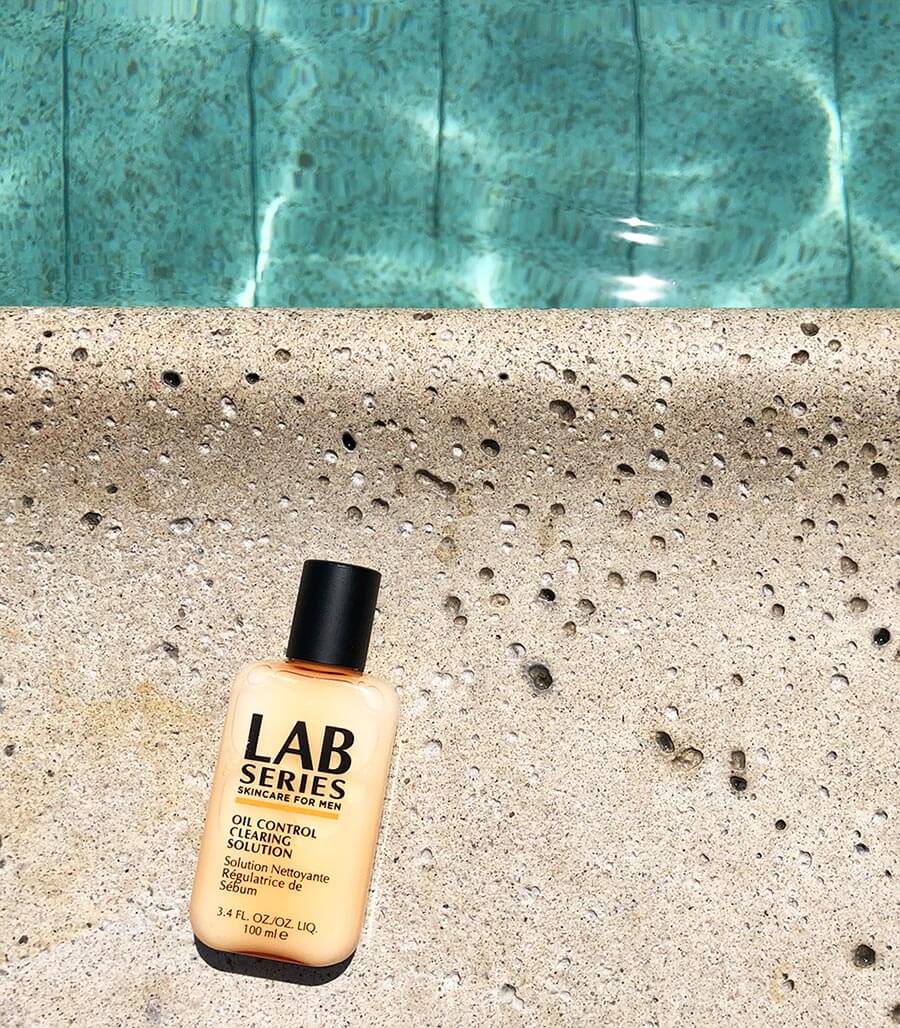 How to prevent an oily face for guys NATURALLY?
Picking out the perfect skin product for yourself can be hard, you aren't very choosy, I get it. That's why I've got some tips for you, in the most natural way possible :
Use citrus juices to massage your face. That removes all the oil just like anything else on the market.
Wash your face with any over-the-counter cleansers. Your sister can help you in this case. Cleansers or face washes are normal products and you don't have to worry about using them.
Use egg masks on your skin. Apply eggs gently all over, leave it for a few minutes and after it's all dried up and crackled, rinse it off and feel the difference.
While egg masks can be a good exfoliator, you can also use yogurt, honey, finely ground sugar in olive oil, and mashed papaya.

These are some of the ways in which you can keep the oil in check and also fight off acne. However, you should keep in mind that after gentle cleansing and exfoliating, you should use a little moisturizer just to add a film that prevents dryness. If you have time, checkout my Geologie Review, personalized skincare for men.

As a guy, I have a big problem with my skin, especially my face when I have a very oily skin. I found some solutions that I want to share with you guys to get off of this.

//php comments_template();?>