This post also contains affiliate links and I will be compensated if you make an order after clicking on my links
Research shows 63% of men do not regularly wash their face, let alone follow a skincare routine. Are you one of them? I was.
When it comes to establishing a men's skincare routine, I realized I didn't need to spend hours in the bathroom. I just needed high-quality products designed for men.
Tiege Hanley is a top regarded skincare brand for men. After using Tiege's products to transform my skincare routine, I compiled a review of the company and its product line.
Let's dive in.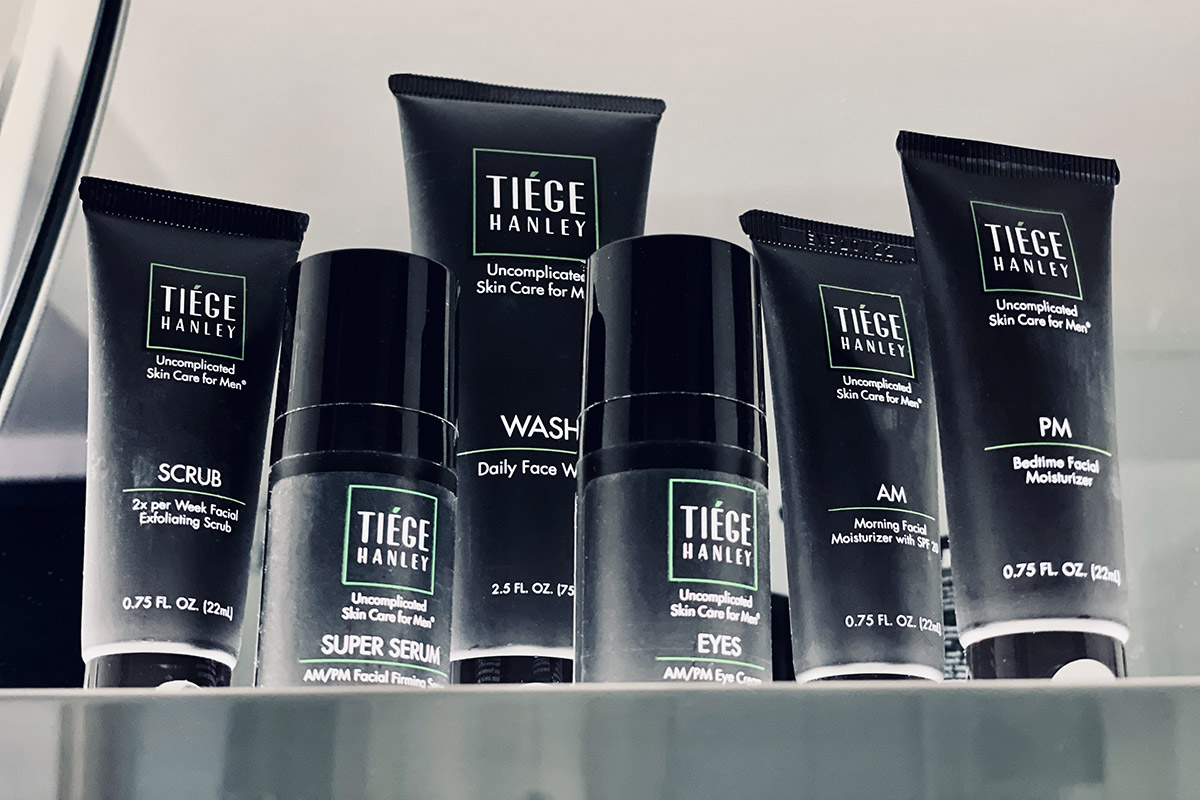 What Is Tiege Hanley?
Tiege Hanley specializes in high-quality skincare products for guys. The company was founded by four men who noticed there were tons of skincare products for women, but not so many for men.
Today, Tiege Hanley is known for its sensible, budget-friendly, and simple skincare products that cater to male skin types. The company's mission is to help men feel and look amazing by providing them with a simplified skincare system.
Tiege Hanley Products
Tiege Hanley's line has three different levels. There are also two additional systems designed for those dealing with acne breakouts.
Daily Face Wash – 2.5oz
The Tiege Hanley process starts with WASH Daily Face Wash. This product is included in every level, as well as the Acne System kit.
WASH aims to:
Eliminate dirt and excess oil from the skin
Prevent inflammation and redness
Decrease acne breakouts
Restore pH balance
Prevent dry skin
Tiege Hanley's Daily Face Wash uses Salix alba bark extract, an anti-inflammatory derived from the bark of a White Willow. It also includes cucumber extract, Lavandula oil, and eucalyptus oil.
I start by washing my face with warm water and dispensing a pea-sized amount of WASH into the palm of my hand. I massage the product into my face for about ten seconds. Then I rinse and pat dry.
I recommend using WASH twice a day, once in the morning and once at night. The face wash is mild and suitable for all skin types. I love it because it leaves my skin feeling refreshed without drying it out.
Exfoliating Scrub – 0.75oz
The next product in Tiege Hanley's product line is its Facial Exfoliating Scrub (SCRUB). It is known as a bacteria buster because it wipes away harmful bacteria that could damage the skin.
SCRUB aims to:
Clean out the pores
Balance skin tone
Create smooth and soft skin with a youthful glow
Tiege Hanley's Facial Exfoliating Scrub uses apricot seed powder, vitamin B3 (for locking in moisture), menthyl lactate, and cucumber extract.
I use SCRUB twice a week, which is the recommended amount. I gently work SCRUB into my skin for about ten seconds. Then I rinse and pat dry. After using SCRUB, my skin feels noticeably smoother and refreshed.
AM Moisturizer – 0.75 oz
Moisturizing is a key part of a successful skincare routine. Unless you have oily skin, men should be moisturizing twice per day.
AM is Tiege Hanley's morning moisturizer. After a morning scrub using WASH, I apply the lotion to my face.
The Morning Facial Moisturizer aims to:
Keep skin smooth and strong
Reduce wrinkles and fine lines
Decrease breakouts
The product contains SPF 20, so it protects the skin from the sun. It features calendula extract made from marigold flowers, plantain extract, Lavandula extract, and rosemary leaf oil.
AM is a lightweight moisturizer. I like it because it's not thick, so it's easy to spread across my face.
PM Moisturizer – 0.75oz
Tiege Hanley's easy skincare routine includes its Bedtime Facial Moisturizer (PM). I squirt a pea-sized amount onto my hand and gently rub it across my skin.
The Bedtime Facial Moisturizer aims to:
Keep skin moist and prevent overnight dryness
Create tight skin
Reduce muscle contractions, redness, and inflammation
The lotion includes collagen, green tea extract, aloe extract, and niacinamide. PM is a bit thicker than AM because it is more heavy-duty. The nighttime moisturizer actively repairs my skin while I sleep.
Eye Cream – 0.5oz
Tiege Hanley Eye Cream (EYES) is included in the second and third-level systems. It contains caffeine, vitamin B3, and Acetyl hexapeptide-8 for skin-restoring and anti-aging effects.
EYES aims to:
Decrease puffiness and lines around the eyes
Boost circulation
Create elastic skin
Balance skin tone
I apply the Eye Cream twice a day, once in the morning and once at night. I gently pat it around the corners of my eyes and under my eyebrows. Level 3 users should apply the cream after using the Super Serum.
Tiege Hanley's Eye Cream is lightweight and easy to apply. It instantly soaks into the skin, so I hardly have to rub it in.
Super Serum – 0.5oz
Tiege Hanley's Level 3 Skin Care Routine includes its AM/PM Facial Firming Serum called SUPER SERUM. SUPER SERUM slows down signs of aging. The product achieves this by:
Smoothing the skin to make lines less prominent
Creating firmer skin
Boosting circulation
Reducing severe muscle contractions
I apply SUPER SERUM before moisturizing. I gently rub the serum over my face for about ten seconds, or until it is completely blended in. I apply it in the morning and at night.
Acne Cream – 0.85oz
For those dealing with frequent breakouts, Tiege Hanley provides a Daily Moisturizing Acne Cream called ACNE. Tiege's Level One Acne System calls for the cream each night after using WASH. Level Two instructs users to apply the cream in the morning and night.
ACNE aims to:
Control and prevent breakouts
Reduce acne scars
Clean pores
The product is not a spot treatment, so it should be applied evenly throughout the face. ACNE contains Salicylic acid, which reduces pimples and dead skin cells that can clog the pores. It is effective without over-drying out the skin.
For those following the Tiege Hanley Acne System, the Daily Moisturizing Acne Cream replaces the PM Bedtime Facial Moisturizer.
Get 10% OFF with my coupon REEAD**First time order only. Click here to save money !
Can Anyone Use This Routine?
Tiege Hanley's skincare for guys was designed for a variety of skin types. Its systems are safe and effective for most men. Those dealing with cystic (severe) or hormonal acne should discuss Tiege's products with a dermatologist before using them.
I love Tiege Hanley's products because they made establishing a skincare routine easy. I wake up, go through the steps, then repeat the process before bed. It's that simple.
Get Men's Skincare Routine Tips Sent to Your Inbox

Getting into a solid skincare routine does not have to be complicated. Brands like Tiege Hanley make it easy for men to take control of their skin without spending a fortune.

Whether you are looking for men's skincare routine tips or fashion advice, contact me to sign up for my newsletter. I will send the latest updates directly to your inbox, so you don't miss a beat.

Taking care of your skin is an essential part of your health. Here's a full men's skincare routine courtesy of Tiege Hanley and a review of each product.