For a skincare enthusiast like me, discovering new products is a moment of undeniable excitement. Recently, I had the opportunity to explore Dr Jart+'s Pore Remedy range, an innovative collection of skincare products that is making waves in the cosmetics world. So let me introduce you to the world of Dr Jart+ and in particular the Pore Remedy range, where every product is a promise of healthy, flawless skin.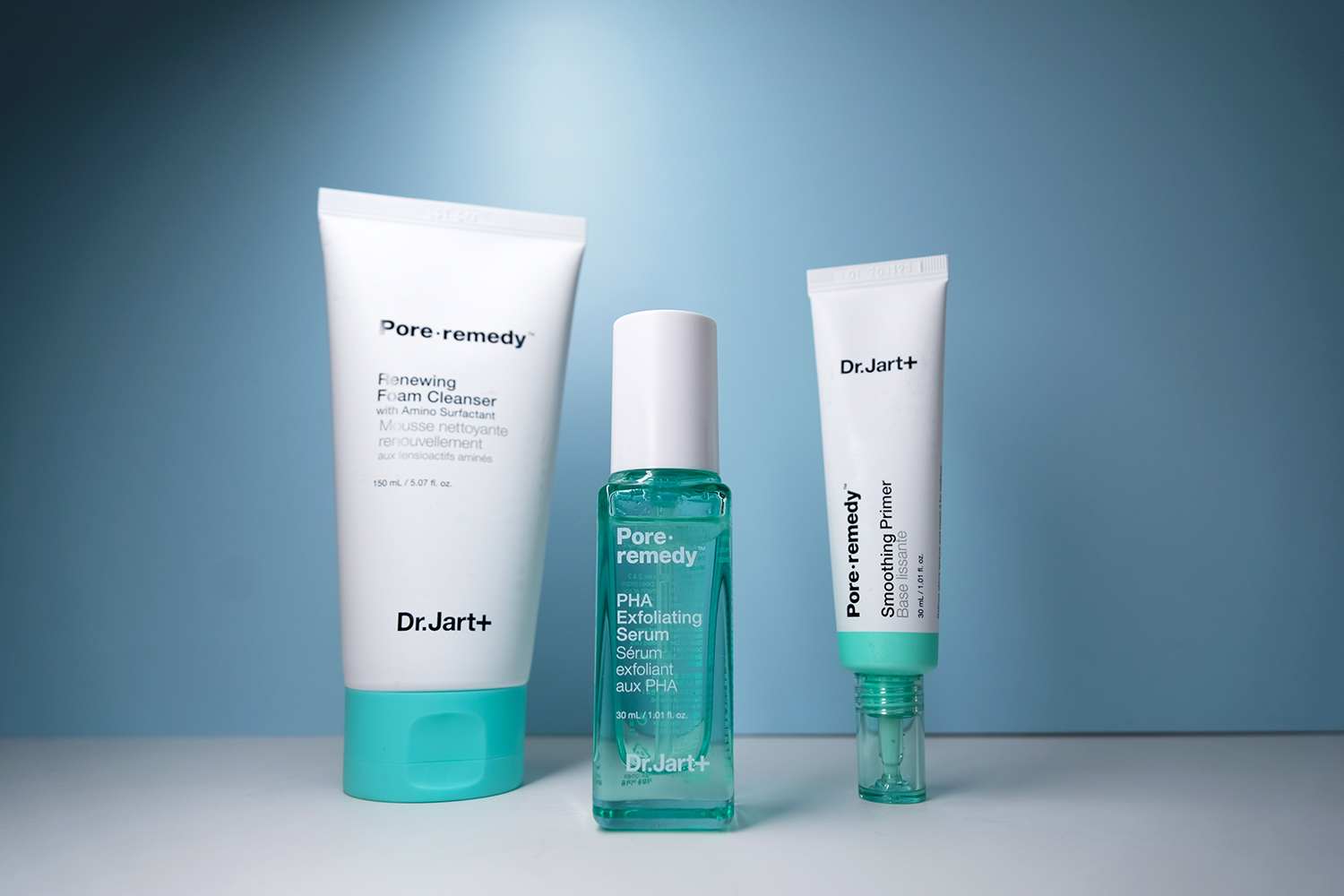 First discovery: Pore Remedy Renewing Foam Cleanser
The first step in this adventure comes in the form of Pore Remedy Renewing Foam Cleanser. Its light, glycerin-rich foam immediately leaves skin feeling fresh and clean. The cleanser's fluid texture makes it easy to apply, and its non-greasy feel is an undeniable advantage for all skin types, including the most sensitive. This first encounter sets the tone for a gentle, respectful skin care routine, beginning with a cleansing and refreshing step.
Second stop: Pore Remedy 5 Multi Acid Exfoliating Radiance Peel
After the foaming cleanser, the journey continues with Pore Remedy 5 Multi Acid Exfoliating Radiance Peel. This exfoliating toner with a multi-level acid complex is a revolution. Its ability to gently exfoliate while promoting skin radiance is a real boon for those constantly striving for a radiant, healthy complexion. Its innovative formula acts on pores and helps to tighten them, giving skin a visibly smoothed and refined texture.
Innovative encounter: Pore Remedy PHA Exfoliating Serum
Pore Remedy PHA Exfoliating Serum is the third hero in this impressive range. Designed as an intensive treatment, it features a PHA-rich formula for gentle exfoliation and precise pore targeting. Its light, non-sticky texture makes it a pleasure to use, offering an instant sensation of freshness and lightness to the skin. It blends perfectly with the exfoliator for a complete, balanced skincare routine for guys.
Final surprise: Pore Remedy Purifying Mud Mask
The final stop on this sensory journey through the Pore Remedy range is undoubtedly the Pore Remedy Purifying Mud Mask. This product is much more than just a mask. It's a true immersion in a world of intensive skin care, designed to offer deep purification thanks to its mud-based formula.
As soon as you open the tube, the mask reveals a rich, creamy texture, an undeniable sign of its high concentration of purifying ingredients. The grayish color of the mud, far from being off-putting, testifies to the naturalness of the product. The mud used in this mask is renowned for its ability to absorb excess sebum and eliminate impurities and dead cells, contributing to a clearer, more radiant complexion.
Applying the mask to the skin is an experience in itself. Its thick, yet easy-to-spread texture offers a soothing, refreshing sensation. Simply leave on for 10 to 15 minutes before rinsing off with lukewarm water.
Dr. Jart+ Pore Remedy™ PHA Exfoliating Serum 1 oz/ 30 mL
DECONGEST: Show problem pores who's the boss with Dr. Jart+'s water-like Pore Remedy PHA Exfoliating Serum that's clinically proven to help resurface, smooth and decongest the skin.
SMOOTHEN: Suitable even for sensitive skin, this daily serum harnesses 7% polyhydroxy acid (PHA) to instantly smooth your skin's texture and make pores look smaller.
GENTLE: The large molecular make-up of the PHA means that the exfoliant doesn't penetrate as deeply into the skin, so it's more gentle compared to alpha and beta hydroxy acids.
SKIN-COMFORTING: It has an infusion of moisturizing panthenol and sebum-controlling macadamia seed oil so you can expect a decrease in blackheads, dead skin cells, and excess oil after one week of use without dryness or peeling.
PROVEN RESULTS: In clinical testing on 32 subjects results included, that it instantly decreased the look of pore size and visibly smoothed skin's texture. After one week it controlled excess oil, decreased blackheads, and reduced dead skin cells
Last update on 2023-10-02 / As an Amazon Partner, I make a profit on qualifying purchases./ Images from Amazon Product Advertising API
The Pore Remedy range, a must-have for radiant skin
Dr Jart+'s Pore Remedy range is a cosmetic adventure not to be missed. Each product, from the revitalizing foaming cleanser to the purifying mud mask, innovative exfoliating serum and radiant peel, has been carefully designed to work in synergy to offer a complete solution for visibly healthier, flawless skin.
Innovation, effectiveness and sensoriality are the watchwords of this range, which combines cutting-edge formulas with pleasant textures for a skincare routine that's as pleasurable as it is effective. These products are the fruit of the research and expertise of the Dr Jart+ brand, a company renowned for its commitment to high-quality, science-based skin care.
Dr. Jart+ Pore Remedy™ Purifying Mud Face Mask 0.45 oz/ 13 g
Dermatologist tested for sensitive skin
A pore care solution that is suitable for improving uneven skin textures due to increased pore size.
A powerful mask sheet that removes sebum from pores cleanly by PHA which is hypoallergenic peeling ingredients and Green Mud.
The best mud pore mask can make pores clean to provide you with healthy skin.
Pack of 5
Last update on 2023-10-02 / As an Amazon Partner, I make a profit on qualifying purchases./ Images from Amazon Product Advertising API
Bottom line

So if, like me, you're constantly on the lookout for products that can specifically address your skin's needs while providing a pleasurable experience, Dr Jart+'s Pore Remedy range is definitely worth your attention. Its holistic approach to beauty and skincare, where each product is complete and enhances the others, makes it a wise choice for those looking to care for their skin in a complete and harmonious way.

Discover the Pore Remedy range from Dr Jart+: innovative products for flawless skin. Skin care at the cutting edge of technology.