However, there is one style which has remained suitable for all seasons and that is the white sneaker. If you are yet to get a pair of white sneakers, there is no better time for you to do so than now.
The purpose of this article is to give you an insight into the various ways of using the high-quality white sneakers.
Although white sneakers cannot be compared with the trudging trainers used at the treadmill, they are sleek, clean, durable, and versatile.
The white sneakers, whether the high or low cut, are made of cool canvas or premium leather, with very minimal details, thus making them to combine well with any style mix.  Let us have a look at the various ways of rocking the white sneakers with style.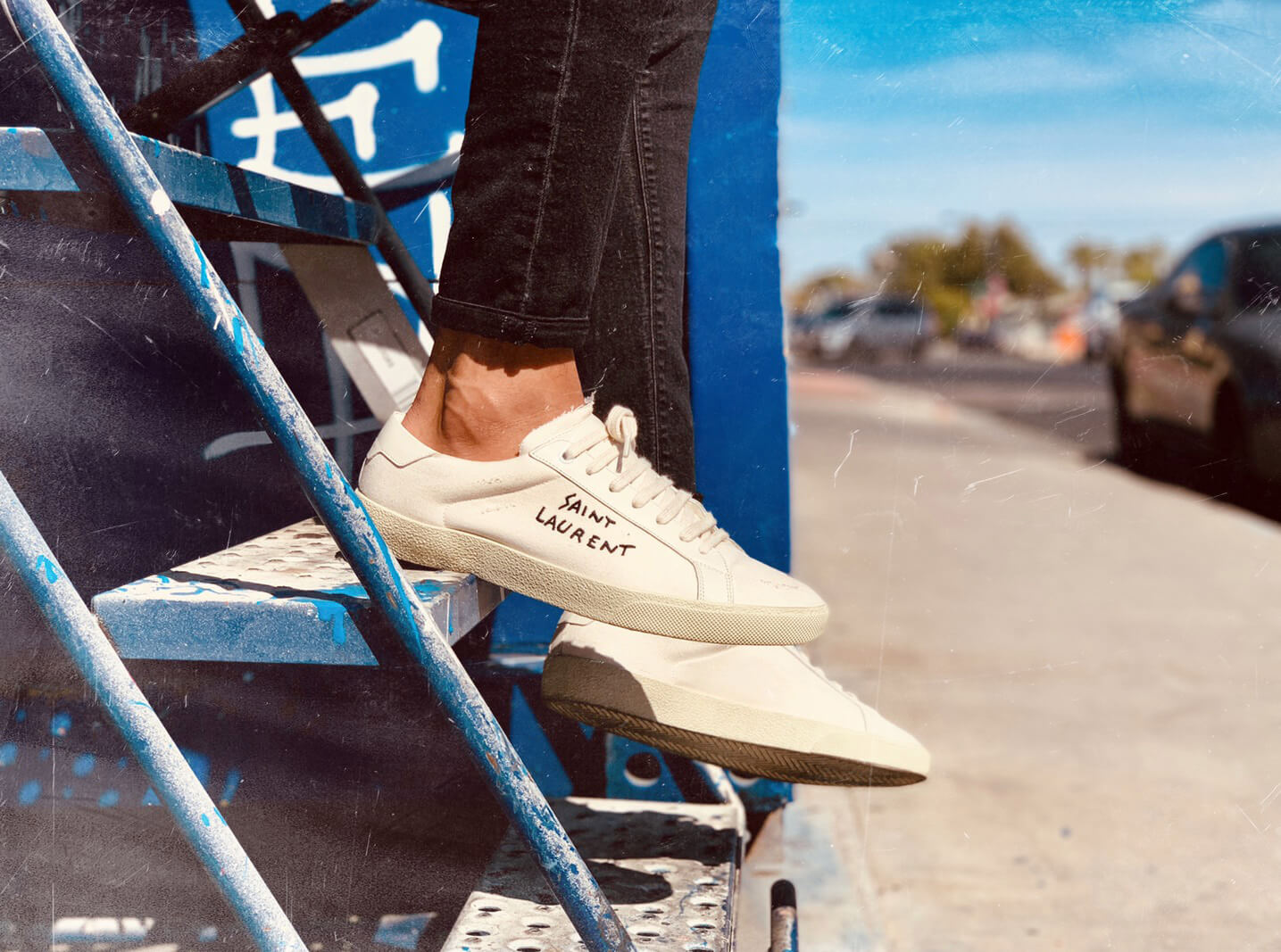 Have a chic and cool style
Taking you down the memory lane, the famous Steve McQueen granted permission to men in the 1950s to combine Chuck Taylor's with Ralph Lauren polo and cotton chinos, without a pair of socks.  And this combination has continued to the present time.
White Sneakers with Shorts
Shorts happen to be the most perfect choice for sneakers. However, they can also prove to be the most difficult to remove. Shorts and sneakers are more suitable for the gym than a casual summer outfit which is perfectly stylish. Sometimes, I wear  a combishort with my sneakers, try to see if this could fit with your style !
Therefore, you must ensure that the white sneakers are lean and slim looking, put on without socks (or slip on socks) and with a low cut or medium short.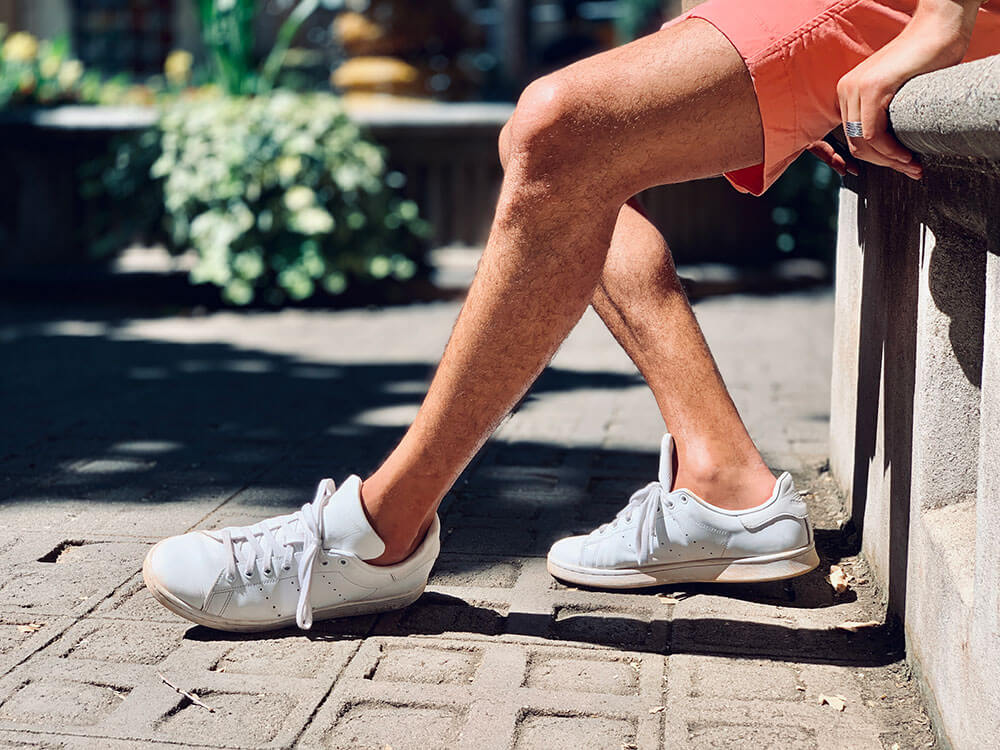 Canvas happens to be a cooler option but appears much cheaper. Therefore, if you are wearing a relaxed blazer and tailored chino shorts, you must stick to leather in order to sustain the dressier vibes.
You should treat the white sneakers in the same manner that you would treat a pair of boat shoes or driving loafers, having the footwear paired with other cruising items, such as comfortable shorts, a plain fitted tee, & aviator shades.
White Sneakers with Black Jeans
Considering the men's wear that is moving toward a minimal trend, white sneakers are, no doubt, an easy choice for die-hard lovers of monochrome.  They free you from an all-black look that is capable of feeling a bit heavy during the daylight. However, they cannot do without being extremely pared-back.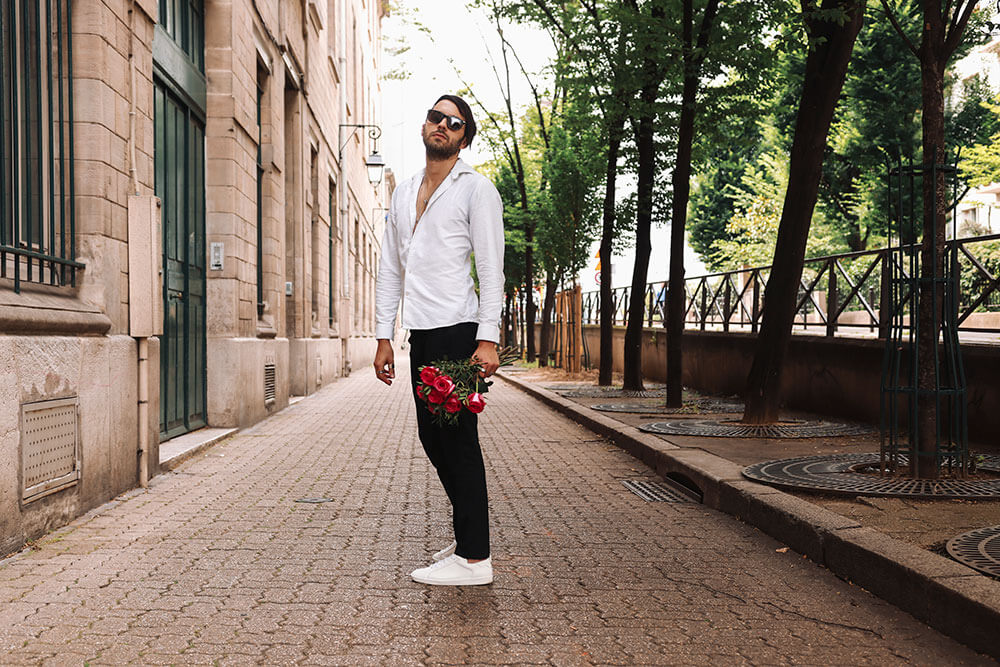 Wearing my Saint Laurent Whiter Leather Sneakers with a Black Jean, in Paris
You can choose between low and high for this look; however, as suggested by the minimal name, you should do away with unnecessary items, such as socks and you must keep shirts, jackets, and coats as symmetrical as possible.
There is a need for pants to be cropped or tapered and enhance the outfit with metallic or beanie jewelry.  However, the stark contrast existing between color-blocked shade & light ought to be the center of attention here, rather than messy add-ons.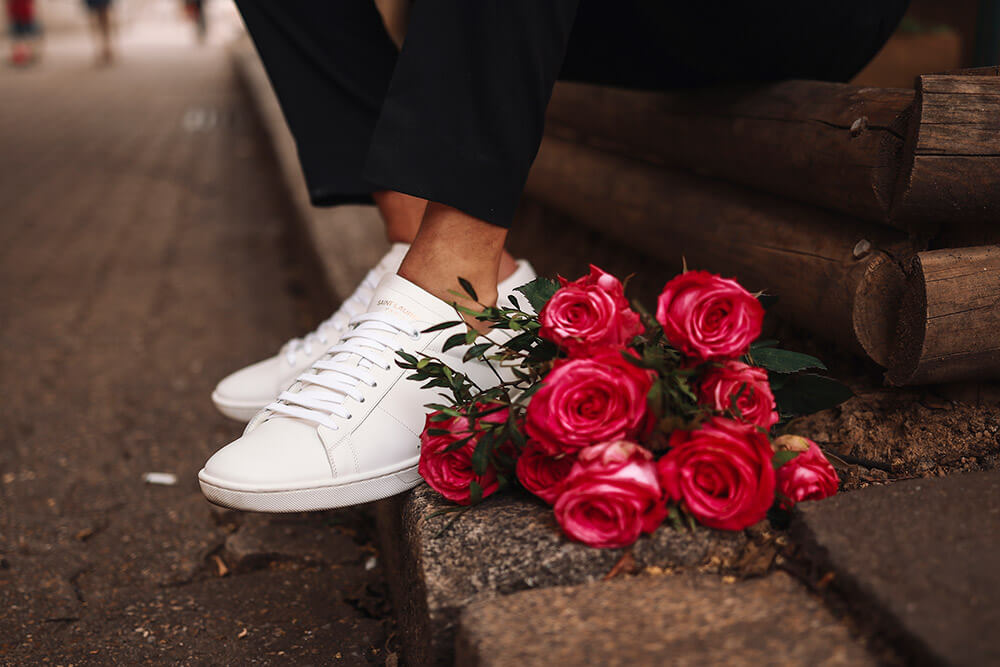 White Sneakers with Chinos
A penchant for slouchier silhouettes, which is inspired by urban subcultures of Americans, is required to have this look. To have a look which will be perfect from morning to night, you should base the outfit on jogger pants made with quality jersey cotton, with the cuffed ankle being the essential style indicator,  which is an improvement over the usual gym-y lounge pant.
You can pair it with a casual jacket, either a functional raincoat or sophisticated hoodie, and wear underneath an urban tee, which is a little bit slouched to do away with the relaxed urban mood.
White Sneakers with Skinny Jeans
Another important look this season is quality denim, which is motivated by the search of man for individual-look jeans and Japanese selvedge varieties. The white sneakers look great when paired with denim, I love to wear my Dior Technical B23 with my skinny or slim jean. Read also my post about how to wear slim jean.
Following the path of American workwear, try to double denim prior to rolling up the sleeves of some straight-fit jeans, and rocking out in the manner of a modern Paul Newman.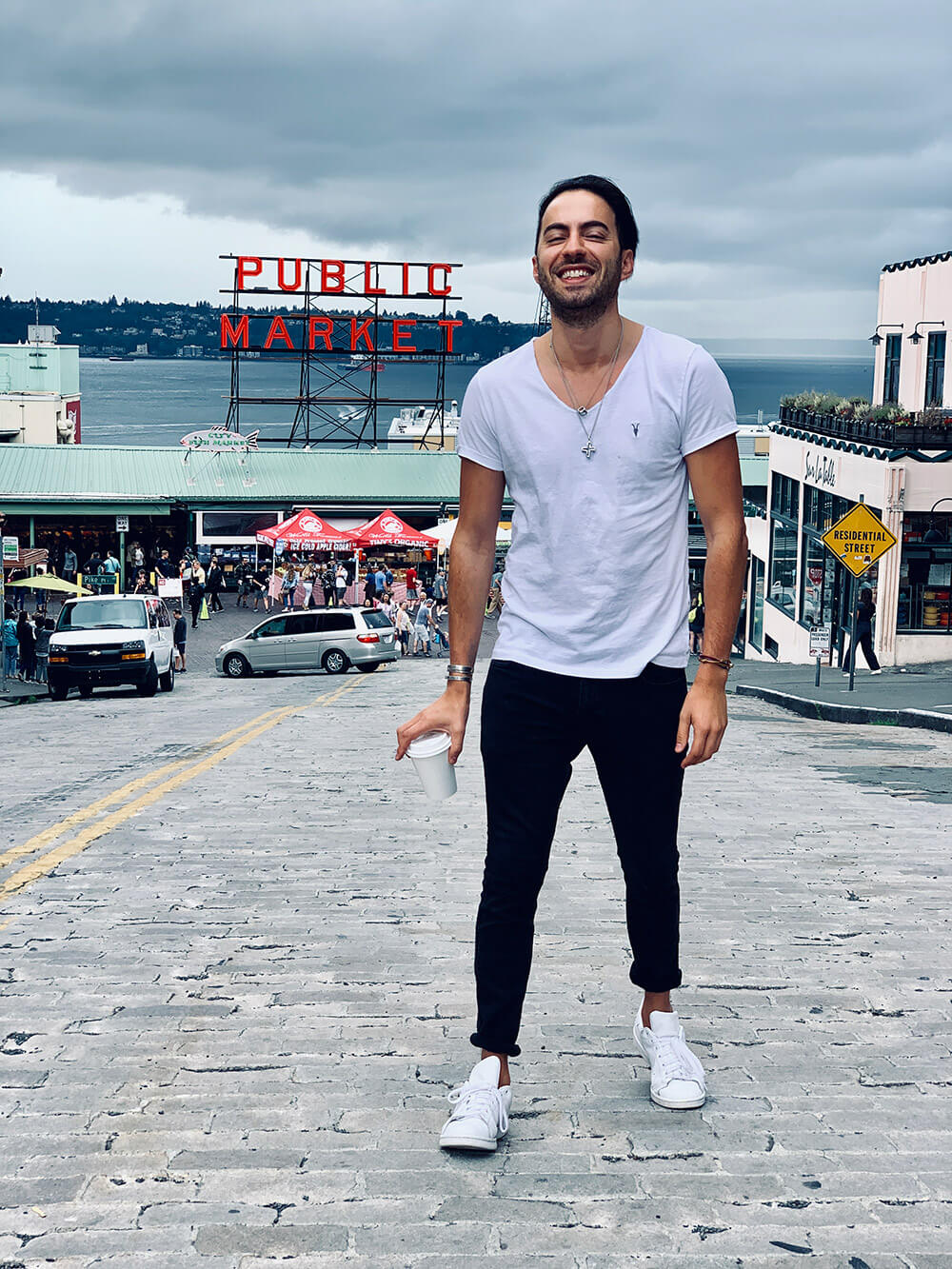 Wearing a skinny jean from Hollister with my White Sneakers "Adidas Stan Smith", in Seattle, WA
If you are in search of a more stylish and fashionable denim look, get rid of the denim jacket and put on a top coat & collared shirt, ensuring that the chambray aligns with the indigos keeping the look tonal.
White Sneakers with a Suit

While many people consider tailoring as a great commodity for the trendy gent, the tucked as well as the shaped aesthetic has given room for the adoption of white sneakers.  When paired with a blazer or suit, the sneaker confers informalities on a tailored outfit, particularly for nights out.

Wear a smart suit with your socks on,   particularly if you are wearing other trimmings, such as a waistcoat, pocket square, and tie. The cleanness that is required for this look works most perfectly with Adidas Stan Smiths, or in the alternative, you should put on hi-tops if you wish to have a boot sneaker look.  If you want to have more luxury variety, contact John Lobb, Acne Studios, or Gucci.

No matter what the brand, there is a need for the sneakers to maintain sleekness, absolute whiteness as well as brightness; a dirty pair is going to render any sartorial enhancement you have worked assiduously to achieve. And don't forget to learn how to clean white sneakers, especially if you want to keep then as new for a long time !

Lovers of sneakers should rejoice. The popular leather shoes have finally made their way from the gym to the club and to the street, here's ways for Men to Wear White Sneakers.

//php comments_template();?>