I often talk to you about men's sneakers, like Nike Air Max 97 Plus which are perceived by many as a model in bad taste, but what about the Dior Oblique Technical Canvas B23 model ? Here is my first article on a model of Sneakers from Dior Homme.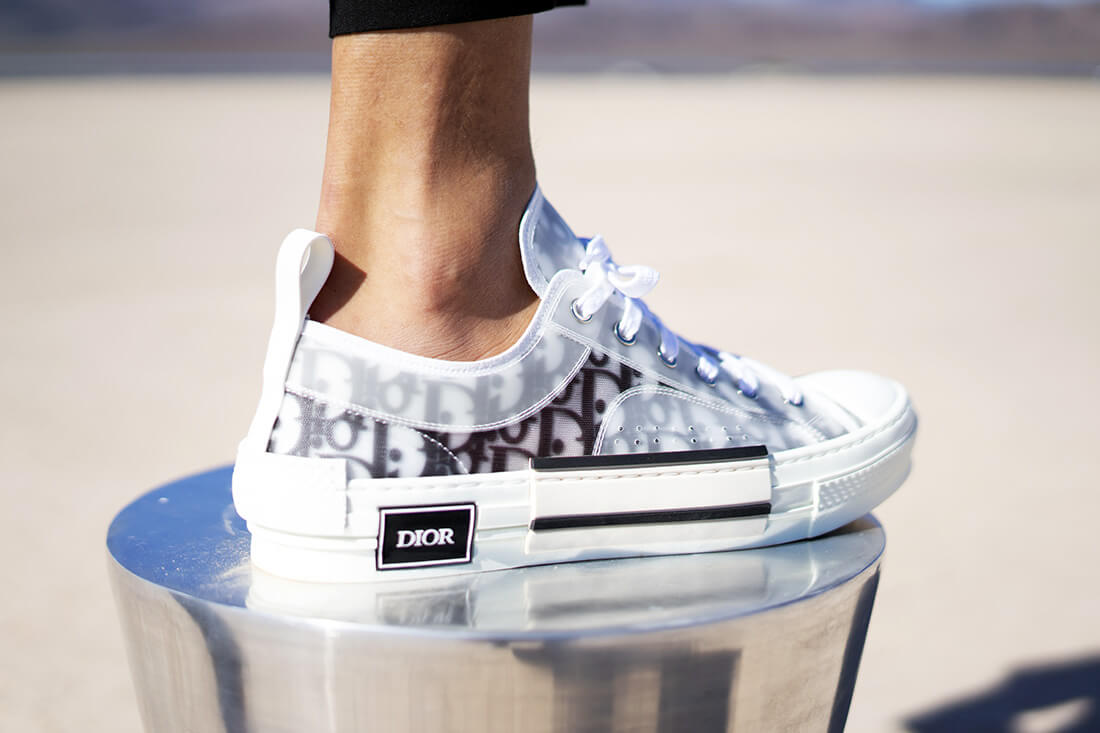 Sneakers Dior Homme : My review about the B23 luxury sneakers
I saw this model a few months ago in a shop in Paris and I fell in love with it. I'm not a fan of sneakers that put too much emphasis on the brand's logo, but in this case everything was different.
From afar, the B23 Technique Dior Oblique Canvas looks like a Converse Shoes. However, after wearing them for several days, they have absolutely nothing to do with it.
A few months after spotting them,  Today I'm home with my new sneakers carefully wrapped. Opening of the very beautiful box, here they are finally at my feet! This Dior Sneaker Model surprised me with the quality of the sole.
Pleasant for the foot, it is made of rubber and much thicker than what I have already worn, which gives me comfort and stability in the foot. This model is not made for running, that's for sure, but if you can be comfortable in your shoes why not!
As you can see from the pictures taken in a Nevada desert by Coralie, the lace is white, and made of cotton. The lining is made of white technical Canvas and the draw tab is made of white calfskin.
The Dior logo is visible in almost all of the basketball with sometimes transparent linings to mix the opacity of the Dior logo.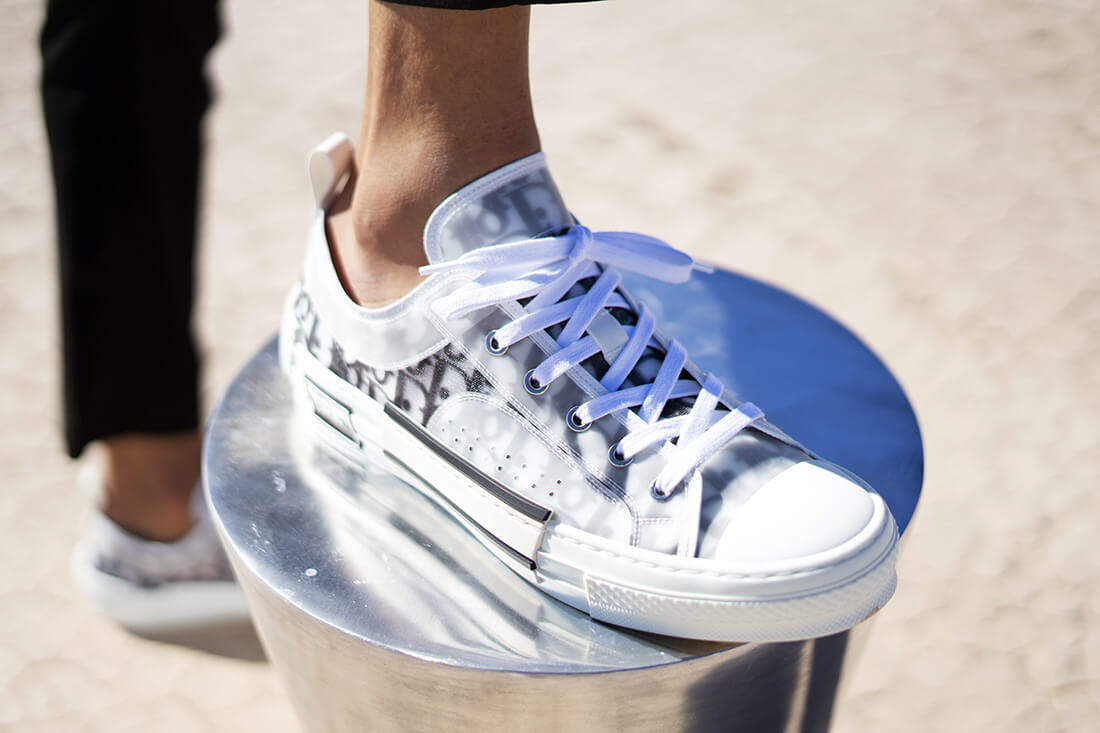 Dior B23 High Technical Canvas: The declination
The model I wear is the low sneaker model, but Dior offers the same model in a high version. I personally am not a fan of high sneakers, which I find longer or more complicated to put on.
It's a matter of practicality for me, otherwise I find the two different variations sublime.
The size of Dior Homme sneakers
This is often one of my fears when I first buy a brand of shoes or sneakers. For sneakers, whether it's Adidas, Nike or Le Coq Sportif, I always take a size 44 (EU) or 10 (US). So far nothing interesting! On the other hand, for leather shoes or other sneakers, I don't wear the same size at all.
For boosts or derbies shoes, I wear a size 43 (9.5 US) and the only exception is for pairs of converse shoes, strangely enough I buy a size 42.5.
In the shop, I asked to try the 3 sizes! And surprise, for the Dior Homme sneakers, it will be for me a size 43 (9.5 US), as for all the other shoes.
I took time to try other models to confirm my size. No bad surprises with Dior shoes if you buy online, and at worst, you can always make an exchange.
What to wear with B23 low sneakers?
On the picture below, I pose I know, but I wear a Disorder t-shirt from Sandro Homme, black running linen pants and the shoes presented in this article.
To make it easier for you to know how to wear them, here's everything you shouldn't wear with B23 Dior Oblique Technical Canvas:
Sports shorts made of synthetic or nylon
Wide sports pants
Short pants (It still exists…)
A pair of jeans with holes in them (I don't think it goes with the chic side of sneakers.
Suede pants
A lumberjack style shirt
And as I do, I wear them with my Dior Oblique Roller Bag
This list is only a personal opinion, you are free to test the combinations to infinity! I wear them with sockets, you can wear them without socks but you can damage them…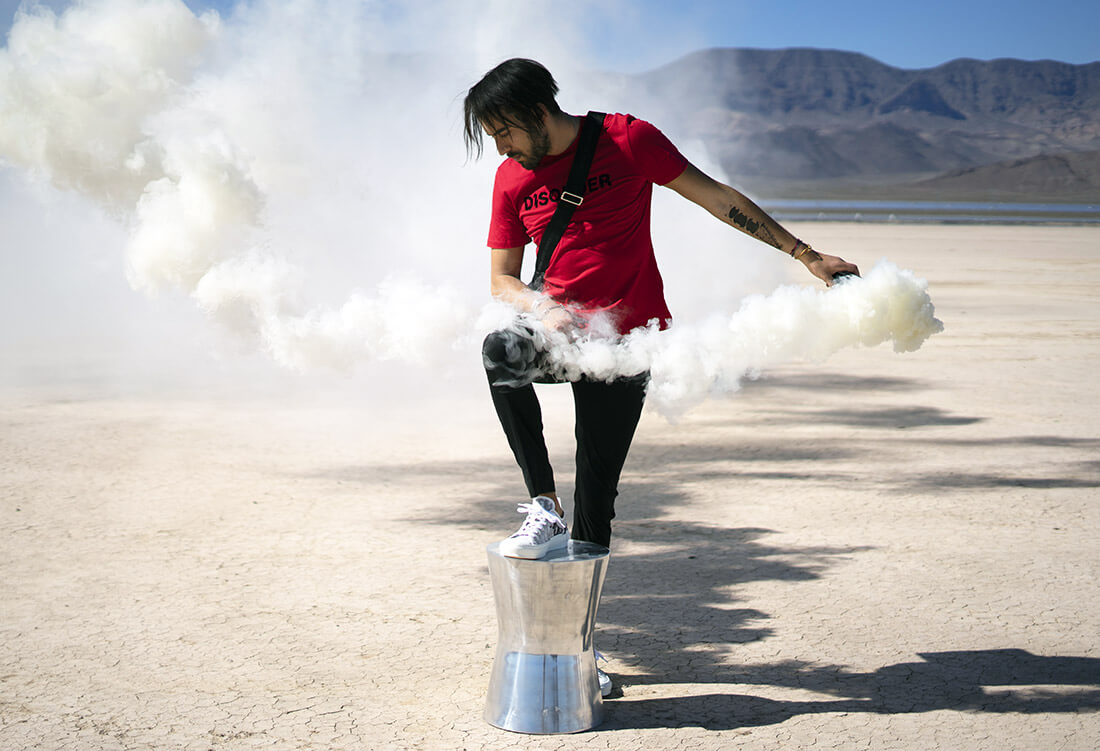 Where to buy Dior Homme sneakers?

A luxury brand means clearly identified points of sale or stores. You can buy them directly online on Dior's website and in all Dior points of sale (Dior Boutiques in the US)

The B23 Low model is sold for $990, the high model for $1100 before taxes.

As a reminder, this item is absolutely not sponsored, and despite the price displayed, they are of a very high quality and both models are made in Italy. It is for me a pair of sneakers that I will keep for a very long time and that I will take care of.

The model being recent and quite expensive, I have not found any resale to date on specialized sites such as Grailed which takes the time to authenticate used luxury products before shipping them.

Dior Homme Sneakers are more and more surprising, check out my test and review avout the Dior Oblique Technical Canvas B23.

//php comments_template();?>