It seems that there are as many denim options available to choose from out there as men who wear them.  While styles like "flare", "loose-fit", "bootcut" and "straight leg" are rather intuitive to understand, the differences between Slim Fit Jeans VS Skinny Jeans are a little more nuanced.
Both of these fits—a bit more daring and on-trend—have become especially prevalent in mainstream streetwear in the last several years. If you've been curious to add some fashionable variety to your jean collection, this guide will help you to decipher which fit—skinny or slim— is better suited for you.
Slim Fit Jeans for guys
In their most basic description, slim fit jeans are cut similarly to jeans that are straight fit. Featuring a narrower leg opening, slim fit jeans are meant to follow the natural tapering line from hip to ankle.
They are figure-skimming, but not figure-hugging. Therefore, their tighter fit will show off the contours of your body, without being skin-tight and restrictive.
In general, slimmer fit pants are what's in style now, and you will see that this cut is featured in pant types beyond jeans—like suits, joggers, and even work trousers.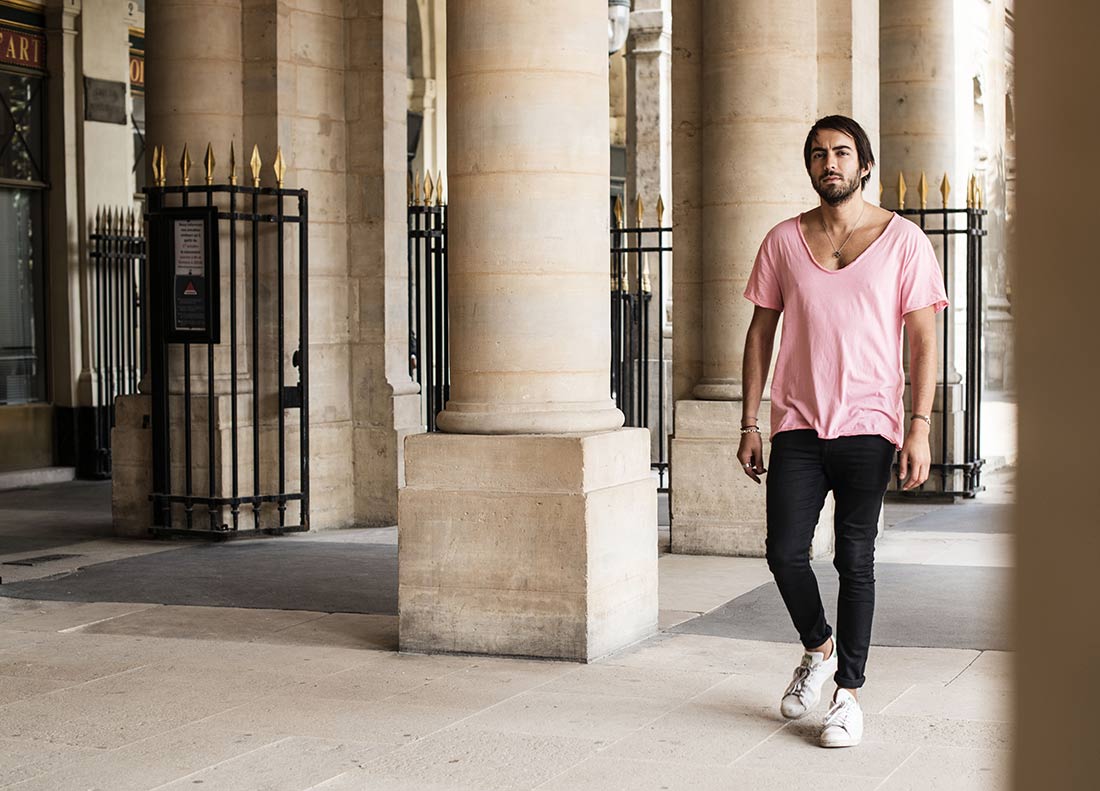 I'm wearing a slim fit jean from the brand Asos
Gone are the days of baggy, slouchy jeans, falling off the behinds of men everywhere. This is a positive step for fashion, because who wants to see grown men holding their belt buckles if they need to move any faster than a walk.
When shopping for slim fit jeans, you may notice that there are slight differences between  manufacturers. Trying on several different brands, therefore, is a smart way to assess which of these variations look the best on your body type.
Men who prefer slim fit jeans appreciate that they can get the trendier fit without sacrificing on comfort and mobility. Slim fit jeans say, "I'm trying, but not too hard."  And really, what can be cooler than that?
Men's Skinny Fit Jeans
Skinny jeans make a bolder fashion statement than slim fit jeans do. Their cut is extremely snug, and narrows from hip to ankle; skinny jeans are also quite tight around the backside area, too.
As the old adage goes, "we all put on pants one leg at a time," but in the case of skinny jeans, you many find that you are putting on one leg, then doing quite a bit of tugging and adjusting, before moving on to the next.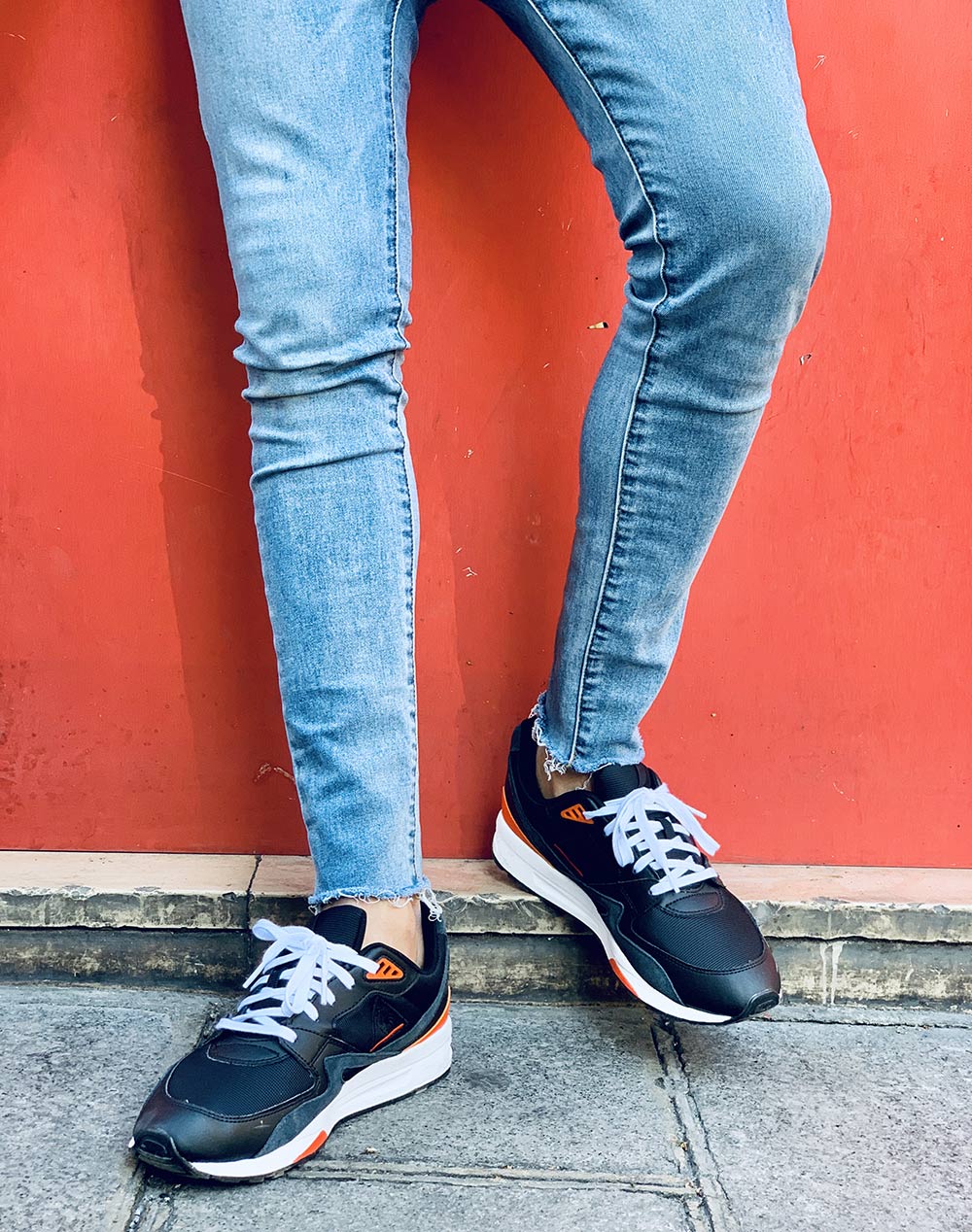 You may see the difference, here I'm wearing a skinny fit jean
Choosing this cut of jeans also means that you'll be sacrificing a bit of comfort for style. Movement will be restricted, but what's more, you may find that you need to work the jeans up your thigh somewhat, in order to provide room for your crown jewels.
Long favored by artists and rock stars, skinny jeans give off a definite attitude of confidence. Men who wear them should be in good enough shape (with big calves, not as me lol) so as not to create a "muffin top" effect at the waistband. After all, good fashion is meant to celebrate your assets, not highlight your shortcomings.
Choosing between slim and skinny jeans
Slim Fit Jeans VS Skinny Jeans ? What to do ? A good rule of thumb when choosing between slim fit and skinny jeans is to make your choice based on what you've got going on that day. If you're going to be more active, running around during the day between home and work or school, doing a lot of standing and sitting, or even a lot of walking, then a slim fit jean is your best bet.
Not only is it a more causal look, and therefore more appropriate as day or streetwear, but you'll do better with the added mobility they provide when going about your typical daily activities.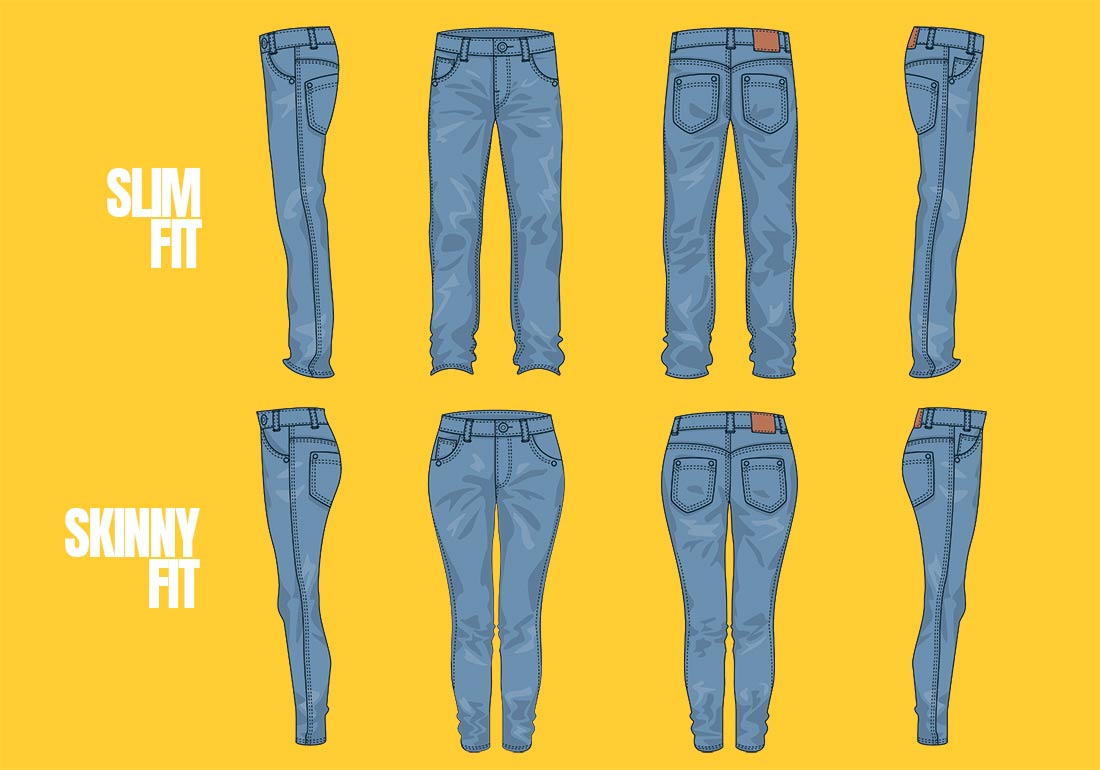 Skinny jeans, on the other hand, make a bolder statement. Got a hot date with an edgy love interest? Skinny jeans all the way. Strolling an art gallery or heading out on the town for a wild night out? Again, skinny jeans fit that vibe better. What you'll give up in leg freedom, you will gain in admirers of your fashion choices.

Pro tip: here's something women who wear leggings all the time know—form-fitting pants of any kind work their way towards the area of least resistance! In other words, just because skinny and slim fit jeans are both tighter in nature, don't forget the belt!

Otherwise, each time you sit and stand, you'll be doing the awkward "pulling my pants up as discreetly as possible" shimmy.  (spoiler alert—we can all see you making this adjustment!) You don't want to be caught (literally) with your pants down…

So, there you have it. Now that you're armed with this denim fashion know-how, you'll be even more empowered to be bold in your next jean-seeking adventure!

What's the difference between slim fit jeans and skinny fit jeans ? Everything you need to know about Slim Fit Jeans VS Skinny Jeans.

//php comments_template();?>