This post contains affiliate links and I will be compensated if you make a purchase after clicking on my links.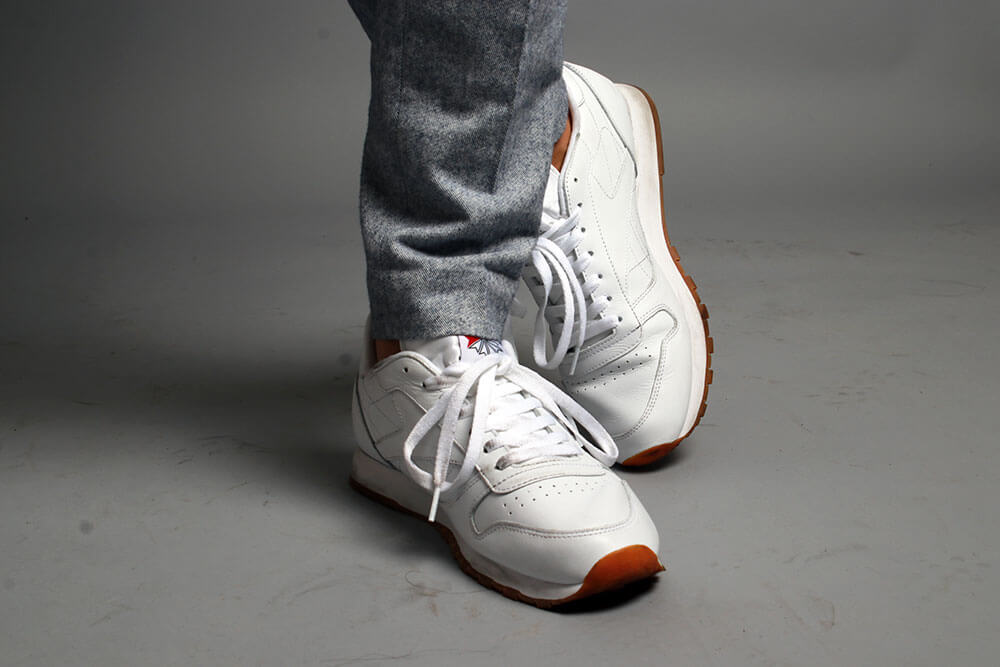 White sneakers tend to get dirty quickly and require regular maintenance, unlike cleaning colored sneakers, so I'll give you my tips and tell you how to clean white sneakers!
The methods for cleaning white sneakers, however, vary according to the materials of manufacture: canvas, leather or imitation leather. Discover my many practical and economic tips, which will give your shoes their initial whiteness, or almost!
How to clean white canvas sneakers?
The white canvas sneakers, very light and comfortable to wear, also tend to stain and absorb perspiration. Here are some of my techniques to effectively maintain your canvas sneakers.
Liquid laundry or soapy water
Your white canvas shoes can sometimes be machine washed. It is better to use a liquid detergent because the powder tends to get stuck in the folds of the fabric. I also advise you to slip your shoes in a net after removing the laces and the insole, washing separately by hand.
Soapy water or dishwashing liquid
Warm water, with soap or detergent, can be effective in getting rid of stains. However, avoid sponges that are too abrasive, which could damage the fabric. Do not forget to rinse your sneakers after cleaning.
White vinegar or diluted lemon juice
White vinegar and lemon are also particularly powerful stain removers. They can be used pure or diluted, using a soft sponge or a nail brush. A complete rinse of your white shoes will facilitate stain removal and avoid unpleasant odors.
Baking soda and crystals
Baking soda and its crystals are very effective for cleaning and whitening your trainers, while remaining ecological and economical. I advise you to dilute 3 tablespoons in half a liter of hot water.
Detergent products for dishwashers
The powder used for your dishwasher can help you remove difficult tasks. Dilute a dose of powder in a bowl of hot water and apply this solution directly to your tennis court with a cloth, a brush or a sponge. You can help yourself with a toothbrush to scrub the very roomy areas.
Hydrogen peroxide or 70 ° alcohol
You can also perfect the cleaning of your canvas shoes by rubbing with a sponge impregnated with hydrogen peroxide or alcohol, to restore their original whiteness. When done, rinse your shoes in cold water.
How to clean his white leather sneakers?
The white sneakers made of leather or imitation leather require a delicate cleaning, using specific products. The goal? Avoid scratches when cleaning. I reveal here several tricks that will allow you to maintain and extend the life of your shoes.
Cleansing milk
Alcohol-free makeup remover milk or baby milk is ideal for cleaning the leather of your sneakers. Pour a small amount onto a cotton ball or puck and apply to the surface in circular motions. Let dry then wipe your shoes with a soft clean cloth.
The oleocalcary liniment
The oleocalcary liniment is obtained thanks to a mixture of vegetable oil (olive oil or sweet almond) and water of lime. This preparation is particularly effective for leather care. It is applied in circular motions with a soft cloth, a ball or a cotton disc.
Glycerin or glycerine soap
When the leather of your sneakers is worn, glycerine or glycerine soap will clean it while nourishing and softening it. You can complete this step by applying a cleansing milk and a polish.
The white clay stone
Clay stone is very effective in removing very encrusted stains. It is used with wet sponge, without rubbing to preserve the quality of the leather.
White diluted vinegar
You can also use white vinegar to clean white sneakers made of leather or imitation leather. I recommend, however, to dilute it by half and apply it sparingly, in the same way as a cleansing milk.
That's it, you know everything to clean your white sneakers! In addition, it will eliminate any odors.
Cleaning kits

There are several types of cleaning kits on sale to help you get your sneakers back to their original look. There are some for all budgets on Amazon. They are sometimes provided with a brush, which I advise against using on leather.

Discover my tips for cleaning and sustainably maintain your white sneakers made of canvas, leather or imitation leather.

//php comments_template();?>