This post contains affiliate links and I will be compensated if you make a purchase after clicking on my links.
From the beginning of 2017 and the appearance of the first photos, the Nike Air Vapormax Flyknit, which will soon be available in several colors throughout the year became a very coveted model for sneakers fans.
As huge fan of sneakers, I want to share a new article with some fresh ideas and suggestions to help you pull off this look and how to best wear this earthly model.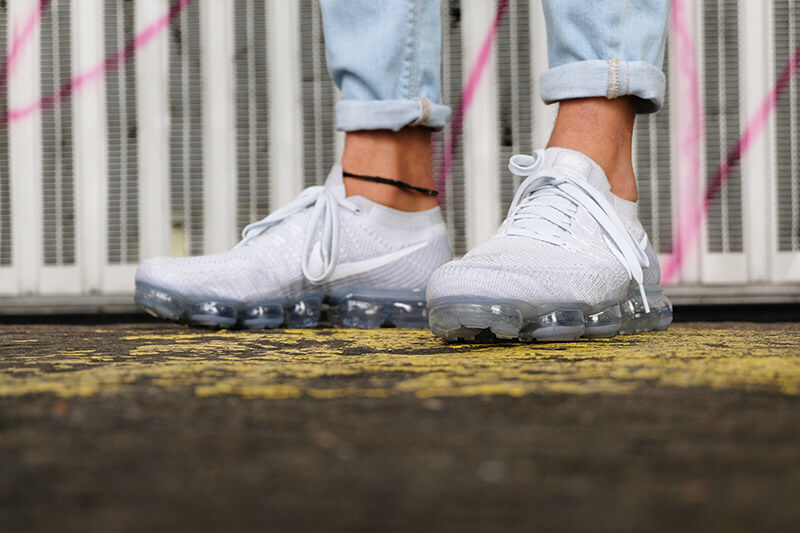 Bulging air bubble sole on this Nike model
It's probably the most outstanding element of this Nike model and it's probably what makes us a bit shaky when deciding what to wear with this type of sneaker.
On the pictures you see in the article, I'm wearing the Nike Air Vapormax Flyknit Triple White model.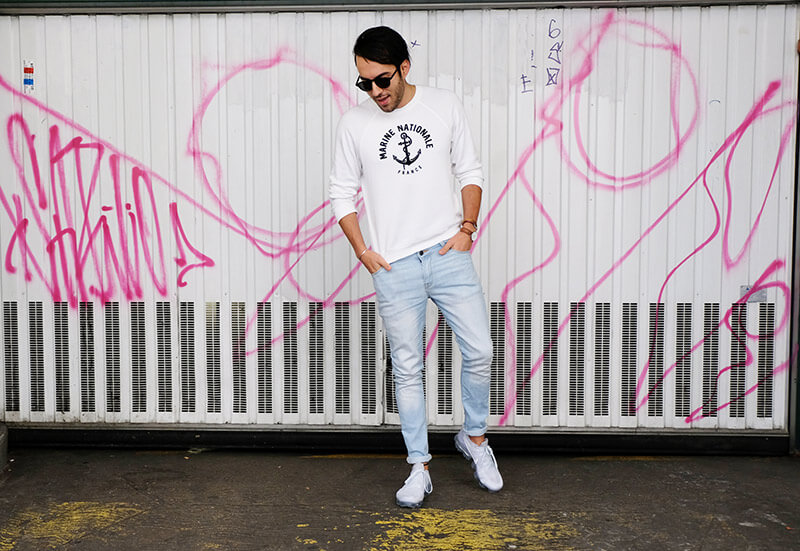 I tried them on with different outfit combinations to get an idea of what they go best with…undoubtedly, the "sportswear" style of the Vapormax and its bulging sole can make you think that only a tracksuit or jogging pants would make the best look, which I found to not be the case at all.
Because they are white, I clean my sneakers at least once a week
On the pictures of me, you see me wearing a Sandro Men sweater and washed out skinny jeans. For sneakers, visit the Nike's website if you want to see more!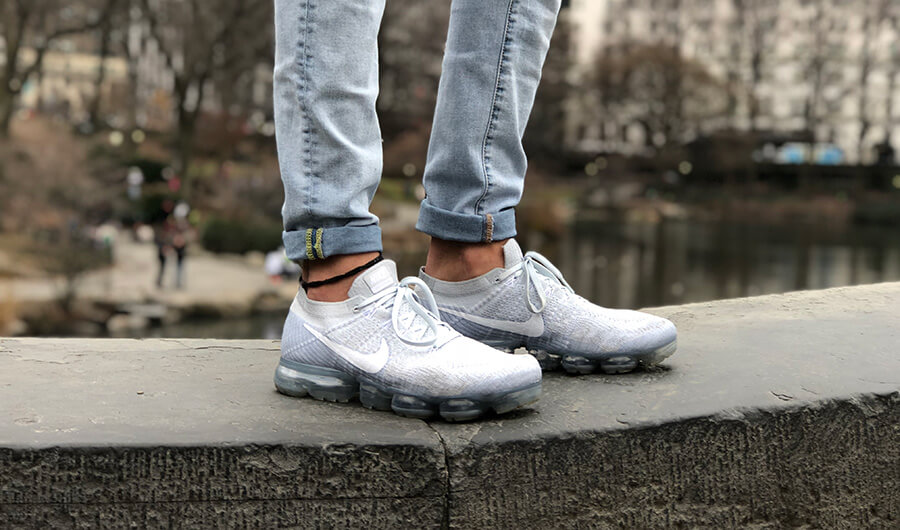 Ideas for Wearing Nike Air Vapormax Flyknit Aircraft
Let's agree now, we will avoid wearing this Nike model with a suit! What can be done with Nike Roche One Id, for example, cannot be done with any sneaker model!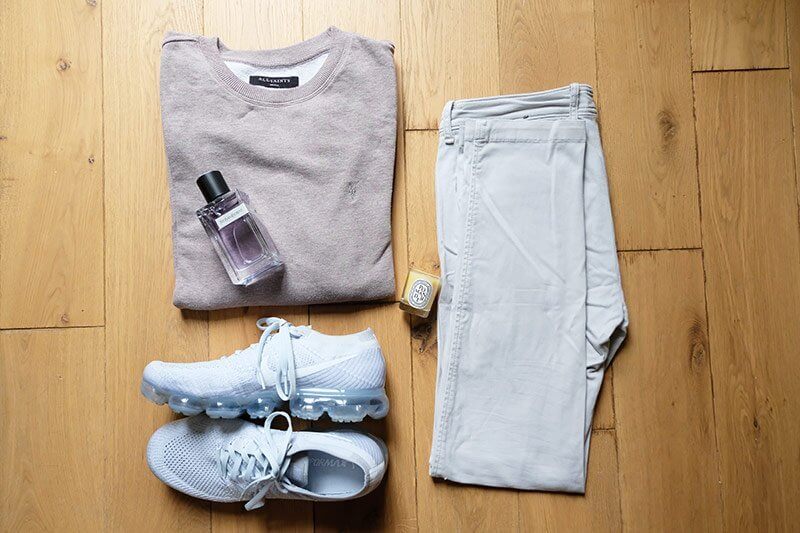 Top: Sweat Shirt Allsaints
Bottom: Chino from Abercrombie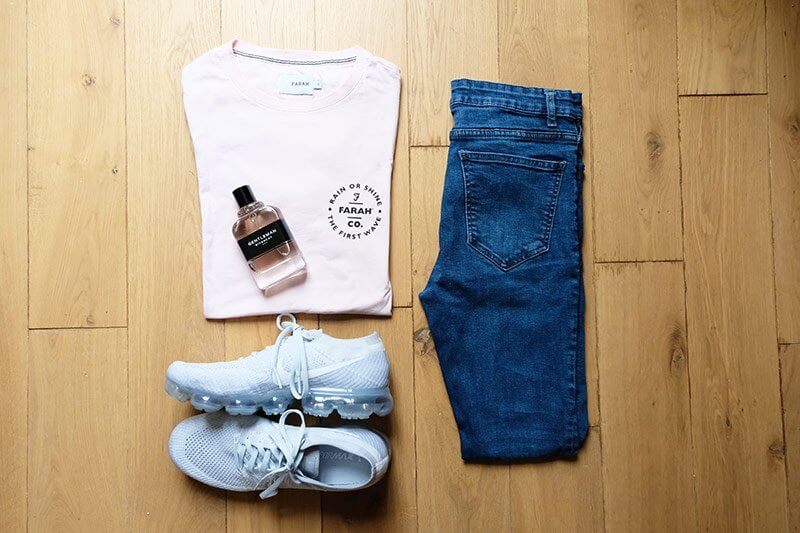 Top: T-shirt Farah
Bottom: Jean Super Skinny Asos, learn here how to wear a slim jeans.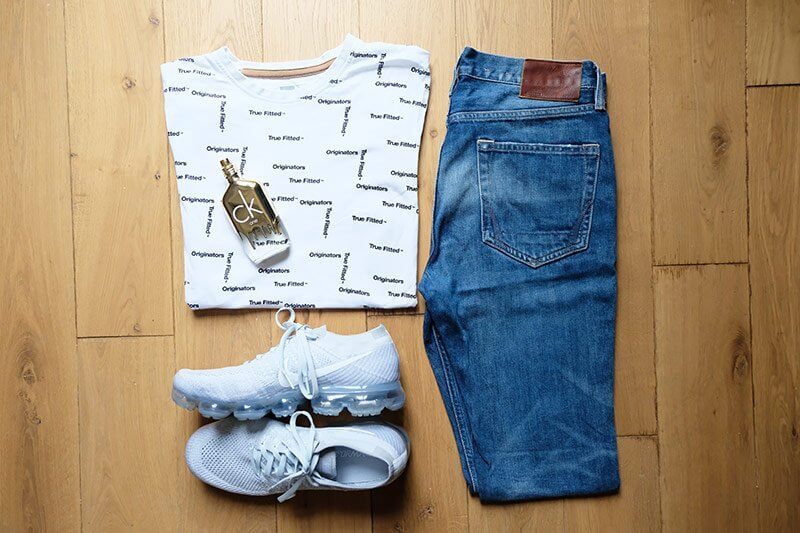 Top : Tee-shirt New Era
Bottom : All Saints Cigarette Jean
What are the different type of Nike Air Vapormax Flyknit ?
Nike Air VaporMax Flyknit: The original VaporMax Flyknit was introduced in 2017 and featured a full-length VaporMax Air unit for maximum cushioning and comfort.
Nike Air VaporMax Flyknit 2: This model was an updated version of the original, with slight design changes and improvements in comfort and fit. It was released in various colorways.
Nike Air VaporMax Flyknit 3: The VaporMax Flyknit 3 continued to evolve the design, featuring a more streamlined upper with a prominent Swoosh logo. It also came in various color options.
Nike Air VaporMax Flyknit 2020: This version focused on sustainability, using recycled materials in its construction, such as recycled polyester. It featured a similar VaporMax cushioning setup but with an updated look.
Nike Air VaporMax Flyknit 2021: As the name suggests, this model was released in 2021 and built upon the previous iterations with refinements in comfort and style. It featured a modernized upper design.
Nike Air VaporMax Flyknit 360: This version had a unique design element in that the upper was a single piece of Flyknit material that wrapped around the foot. It provided a snug and supportive fit.
Nike Air VaporMax Flyknit Utility: This model added a mid-height collar and a toggle lacing system for a more rugged and utility-inspired look. It was designed for all-weather wear.
Nike Air VaporMax Flyknit Gaiter ISPA: This iteration featured a gaiter-style upper for added protection from the elements and a distinct look. It was part of Nike's ISPA (Improvise, Scavenge, Protect, Adapt) collection.
Nike Air VaporMax Flyknit SE: Special editions of the VaporMax Flyknit often featured unique colorways and design elements. These limited releases catered to collectors and enthusiasts.
Collaborative Releases: Nike has also partnered with various designers, artists, and brands to create limited-edition VaporMax Flyknit models. These collaborations often feature unique color schemes and design details.
Buy your Nike Air Vapormax Flyknit now
If you want to bye a pair of Nike Air Vapormax Flyknit, you can compare models and prices using the button below.
Buy Nike Air Max 97 Plus on AmazonClick here
How to lace Vapormax ?

If you need help and advices to lace your sneakers, I found a very interesting video on Youtube :

Unique model and completely new in the sneaker's world, here are my ideas to wear Nike Air Vapormax Flyknit.

//php comments_template();?>