Many times men either wear too much jewelry or none at all. The first appears as a person who likes to show off and the latter look is rather bland and uninspiring. There is a happy middle ground that can make jewelry not go to these extremes. Over the history of time, men have worn in many different ways.
Different cultures wear items in different ways and also have a different statement when worn. There are no absolutes when it comes to the right way to wear, but there are guidelines that can be followed to get basic positive results, in regard to fashion and style. There is a way to enjoy and find balance.
This article will go over 5 basic rules when they are wearing jewelry and when to remove a piece of jewelry and when to add a piece.
1. Cufflinks
Cufflinks are not just for fashion and they certainly serve a purpose. When it comes to men and their jewelry, the most commonly worn item is definitely a ring, and falling into second place are cufflinks. Many cufflinks are not expensive and are made of less precious metals so the wearer does not have to worry about losing them.
However, for a more sophisticated look and appeal, cufflinks can be made with more precious metals such as platinum, rose gold, silver, yellow gold, and white gold. When wearing a more precious set of cufflinks, it is important to keep an eye on them through the course of an evening. Purchasing a nice set of cufflinks that are plated in precious metals will make the cufflink last a long time and can even be handed down from generation to generation.
View this post on Instagram
Decorative elements are many times added to a cufflink. Semi-precious stones are commonly added as inserts to the cufflink and the type of stones vary. Onyx, rubies, sapphires, and lapis lazuli are common additions to cufflinks to make them more prominent and original. Mother of pearl and jade are other common additions.
A shirt is required when wearing cufflinks and generally, a double cuff shirt, which folds over, is worn or a French cuff shirt to attach the cufflinks too. Cufflinks can be worn for White Tie events and that is when a single-cuffed shirt is worn most commonly.
There are other shirt combinations that can be worn for a more casual event setting. When a man wears a suit, cufflinks can be worn and this also includes a sports coat. There are many cufflink collections available on today's market that vary in price and looks.
2. Waistcoat Buttons and Shirt Studs
Being less commonly worn in today's world of formal events, waistcoat buttons were generally matched to the cufflinks to make matching items. With fewer and fewer black-tie events being attended these days, it is common to own a pair of cufflinks that can be worn at less formal events independently.
View this post on Instagram
Shirt studs also are traditionally worn at black-tie and white-tie events, and shirt studs also can be matched with cufflinks. Sometimes all three items can be matched for a full matching experience. When cufflinks, waistcoat buttons, and shirt studs are matched, this is called a full dress set and in today's world, this is not worn.
The best bet is to find a great set of cufflinks and leave these other items in the past. If you must wear all three matchings, vintage items are probably the best place to find a purchase.
3. Watches
There was a time when we needed a watch to tell us the time, but nowadays a cell phone generally is used for this. Even with the demise of the need to tell time from a watch, watches have stood up to the testament of time as a fashion statement. Watches can help bring an outfit together and in general, just look great.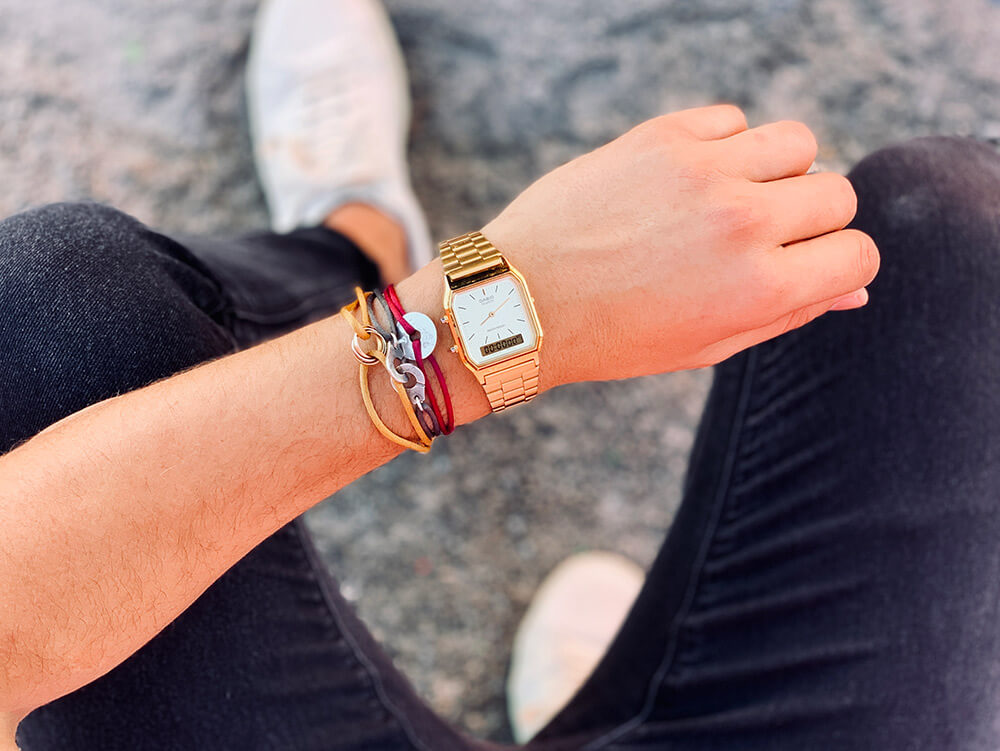 Some watches have many gears and items turning within that can look really awesome. Metal bands, leather straps, and even plastic straps are available. Depending on the outfit worn, a watch is all about how it makes the wearer feel and look. The styles of wearing watches have changed over time and the rules are very loose in today's fashion world.
A watch is an extension of oneself and with all the different looks and feels available, just be sure to pick a watch you love. A watch really can bring any outfit to life.
4. Rings
It is very common to see a man wearing a ring. There are many options that most don't bother with, however, wearing a ring is the number one choice. A wedding band is certainly the most common band chosen to wear. There are other bands to be worn and many are taking a liking to a signet and a pinky ring.
View this post on Instagram
Wearing a thumb band can signify freedom, independence, individuality, and even strength, while wearing bands on other fingers have different meanings. Generally, wearing more than two bands at any given time is overdoing it. Try to wear a max of one ring per hand to find a nice middle ground.
If the wearer has a wedding band on their left hand, then wearing one on the pinky finger or ring finger can work on the opposite hand.
5. Tie Clips and Tie Bars
Many who enjoy dressing up truly enjoy adding an accessory such as a tie clip or a tie bar. The tie clip or tie bar can help bring an entire ensemble together by adding that right amount of extra fashion to grab the eye.
Tie Bar
A tie bar actually has function and isn't solely to deliver an extra level of fashion. The tie bar can help keep the tie centered throughout the day or night. Many use the tie bar because their ties like to flow to one side more than the other, needing constant attention to keep it centered.
Tie Clip
Tie clips are similar in function. There are many tie clips on the market and there are even more in the way of vintage offerings. Mixing and matching a vintage tie clip with a new wardrobe may work, but a tie clip certainly is a modern aesthetic. Look for matching tie clips or something that compliments the overall attire.
Although the tie clip is not as commonly used as in the past, certain famous people do wear them regularly, including Prince Charles, and generally worn with morning hour wardrobes.
6. Bracelets
When wearing bracelets, keep it simple. Go with a metal or leather cuff that features a wide design instead of one that's slender. If you wear a watch, then match your bracelet to it or choose one that complements it. A silver bracelet is the safest option, but if you love gold, then go with it.
The general rule for men when wearing a bracelet is to wear it on the opposite wrist as your watch. However, if you enjoy wearing a lot of bracelets and have several in different materials, then you can wear them with your watch as long as they complement it.
View this post on Instagram
Bracelets are an easy accessory to wear. You'll be able to spruce up any outfit with a subtle leather or silver band. Bracelets are a great way to share your personality with the world without speaking. They can also be a way of showing your outside interests to your coworkers.
The key to sporting a bracelet is ease. When you keep this in mind, you won't wind up with something trendy. Ease comes from choosing a bracelet that's the right fit, proportions and general style. You should also consider where you'll be going when wearing it. The right bracelet will complete your outfit and reveal your sense of style.
7. Necklaces
Men's necklaces are different than the ones designed for women. Necklaces for men tend to be more subtle and are often a bit more rugged or rough looking. When buying a necklace, shop for a piece that's natural, one that looks like you've owned it for years and was passed down to you from your father or grandfather.
Big, fancy necklaces are available as are delicate pieces, and while you may want a few of these pieces for particular outfits or outings, the necklaces that most men choose to wear are understated.
There are five main categories for men's necklaces, which are dog tags, chains, pendants, religious emblems and chokers. Dog tags are a pendant necklace style, one that you can personalize with a message. Chains offer versatility since you can get them in different metals, lengths and styles. They're also one of the most classic style options.
Pendants are a good choice because they're easy to customize while necklaces with religious emblems are another classic choice. Most of these are pendant style as well. If you want a piece that's religious, consider getting one that's subtle. Chokers for men are on the trendy side. Necklaces are a great way to show your sense of fashion.
Conclusion

In conclusion, there are a great many styles in the world of fashion today and everybody likes to place their own small spin on their attire. It is easy to go overboard and wear too many items, such as a bracelet, more than one necklase, an earring and rings all at the same time.

This look might work for some, but overall, it is best to try and stick with the basic rules of wearing jewelry. History has shown that when in doubt, remove rather than adding more. Less is more.

Guys, you want to know how to wear properly jewelry designed for men ? Come and check out my guide !