As we welcome the springtime every year, fashion tends to consist of brighter hues and pastel colors. Justin Bieber recently wore a peach suit on his latest music video 'Peaches' featuring Daniel Ceaser and Giveon and plenty of people are talking about Bieber's recent style.
The Custom Made Suit
It may be a bit ironic that the musician wore a custom-made peach suit for his video as one of the looks, but it was a springtime vibe nonetheless. Justin's team reached out to designer RichFresh, who's a celebrity designer and co-founder of the Henry Mask brand.
The suit needed to be completed in two days with Bieber's team requesting the custom-made suit to be peach and vintage. The suit was created with an 80s-inspired vintage style and was completely peach. RichFresh made the suit seamless with some characteristics included that came from suit styles a few decades ago.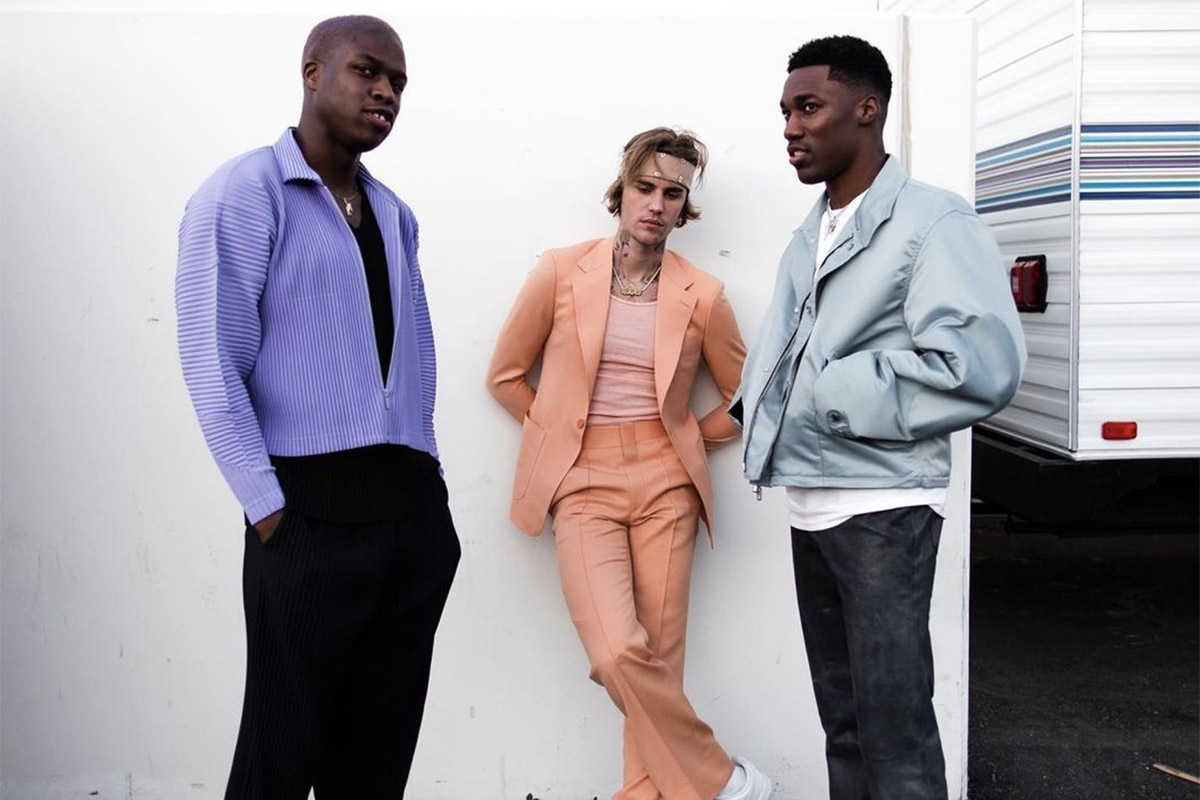 Justin's jacket embodied the 80's with large patch pockets, a small buttoning point, a cut that makes the shoulders broad, and wide lapels to create a bigger collar style. The peach pants had a crease going down the pant legs with a straight leg form versus flared out pant legs like some other vintage suit pant styles. They also had a hook closure as opposed to buttons, but hook closures are common on suits then and now.
Underneath the suit jacket, Bieber opted for a tank instead of a shirt that was a light peach color to coordinate better with the fully peach suit. The tank helped make the look seem like more of a spring hippie style. The other aspects of the full look help achieve what Bieber and his team were going for.
Shoes and Headgear
When it came to footwear for this look, Justin went to a timeless sneaker that is even a part of his usual style. Bieber wore all-white low-top Air Force One sneakers paired with white socks. Although sneakers were not usually a part of the typical 80's suit ensemble, it was a casual touch to the look overall. Air Force One sneakers have been around since the 1980s and continue to be a staple in fashion.
In the 'Peaches' video, Bieber wore two different items on his head in the scenes that showed him wearing the custom peach suit but without a tie. In some scenes, he wore a light tan bandana which helped make the look more hippie and vintage. The other scenes in the music video where he wore the suit showed him wearing a cream-colored beanie. Wearing a beanie hat is one of Justin's go-to's when it comes to putting together an outfit, so it's safe to say that he probably wanted to add his personal touch to this music video look. Pairing other accessories with the outfit pieces such as jewelry completed the full look in the video.
Jewelry
Gold compliments a color like peach very well and the musician wore several different pieces of gold jewelry while wearing the peach suit. Justin had a customized gold necklace from the Drew House brand. He has a history of buying jewelry from this brand and had Greg Yuna customize the piece.

Many fans of Bieber know that he has gotten more in tune with his religious side. The singer wore gold cross earrings for guys, created by Irene Neuwirth. In the video, Justin also had on a gold pinky ring to coordinate with the rest of the jewelry.

Many spectators feel the suit ensemble flowed well with the theme of the song. It's a bit different from Justin's usual style. Most times in photographs of the pop star show him in outfits that usually consist of cargo pants, beanies, hoodies, graphic tees, slides and socks, and more.

If you haven't laid your eyes on this vintage peach look, check out the 'Peaches' music video with 44 million views and counting :

A new song, a new style for our Justin Bieber ! And let's talk about each part of his new peach suit style.