Sandals, once seen as outdated, have come back into fashion in recent years. The Birkenstock brand, with its famous German quality, offers a rich range that allows to combine comfort and elegance in all circumstances. I'll give you my tips to choose the best model for you.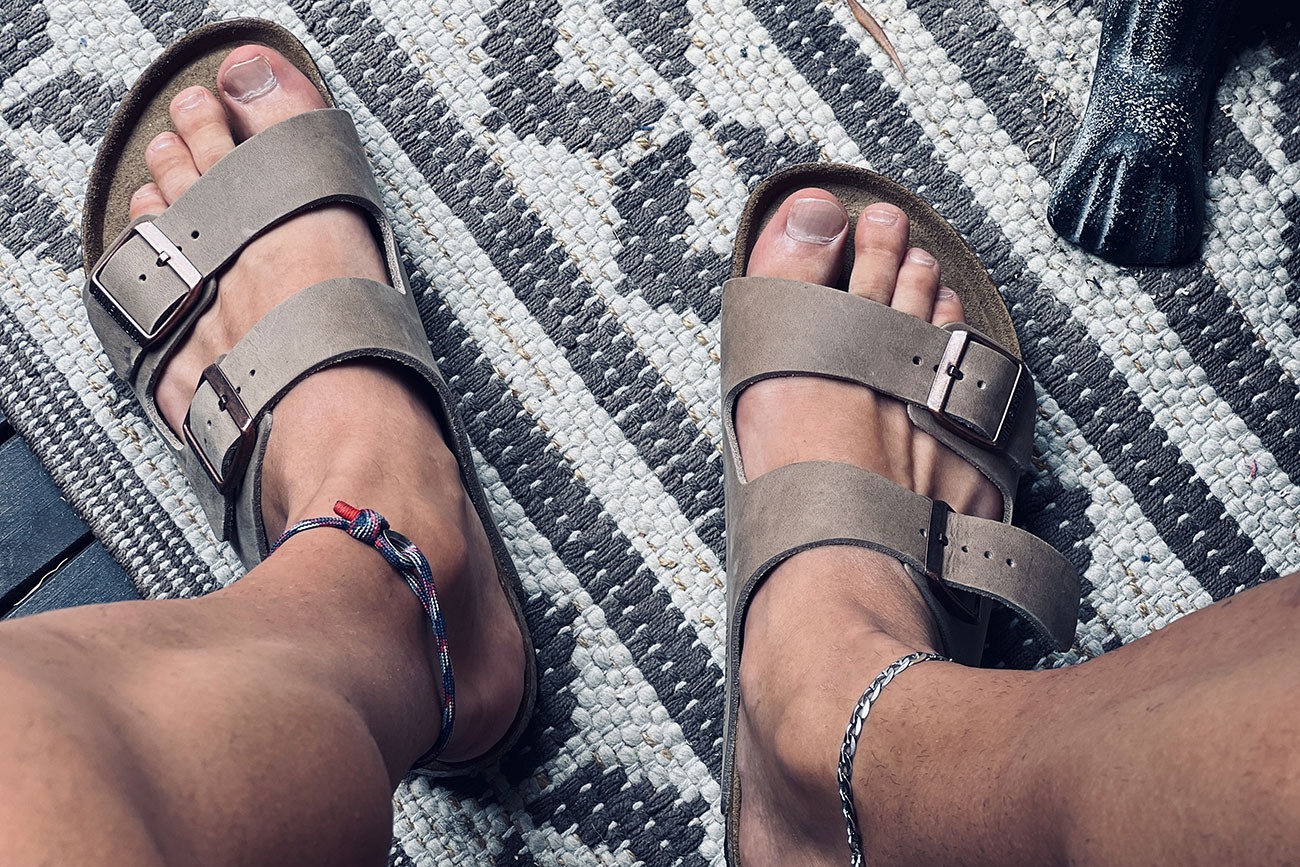 Birkenstock sandals for men: give your feet a vacation
Did you know that the bed of these legendary sandals was designed with the footprint in the sand in mind? Our feet, regardless of the terrain or season, are indeed perfectly supported, always with an incredible feeling of comfort.
That's why I recommend you adopt them as your summer companions. Whether you're strolling through the streets of small mountain villages, or strolling along the beach without hurrying, they will allow your feet to enjoy the summer air, while being held securely by the ergonomic sole and the quality leather straps.
For the beach itself, I recommend the Madrid model. Easy to put on, they will quickly adapt to your mood of the moment, depending on whether you want to have your feet in the water (the Madrid can be removed very quickly) or prefer the comfort of a thick, ergonomic sole for walking in the sand. If you want to go old school with a nod to what beaches were like in the 80s, you can even turn to plastic Birkenstocks. Yes, I said plastic! But don't be fooled: despite the somewhat surprising material from the German brand, the elegance and craftsmanship are of course there.
Not a beach person? You prefer long walks in the forest or on the plain? Then the New York model is for you. They are beautiful, sturdy, and above all have a strap that holds your heel at the back. They promise fabulous hikes during which your feet will be perfectly supported, while being free to commune with nature!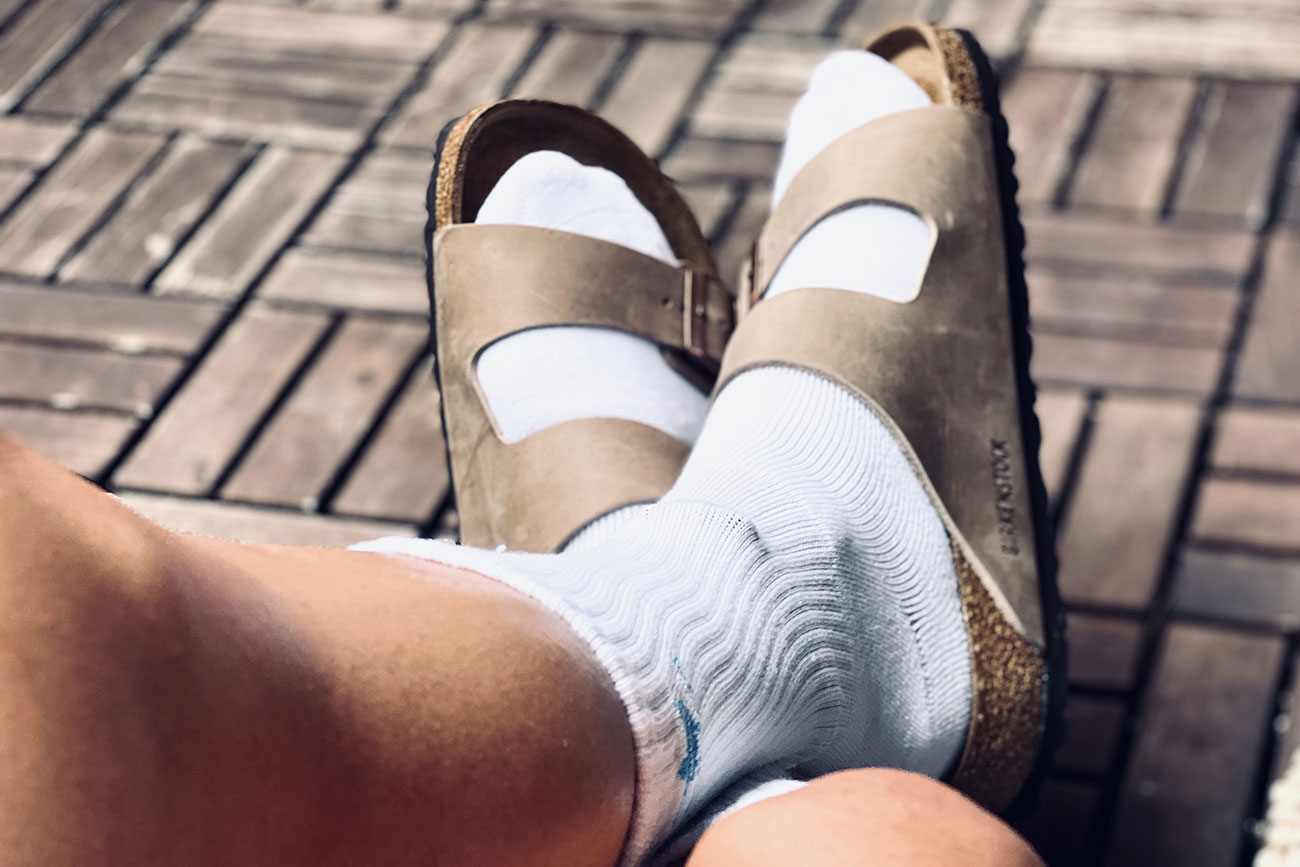 Some people prefer to wear them with socks, yes I know a lot of people find it old-fashioned, but the sock-clapper style has become a fashion!
Another way to approach chic and elegance
I'm talking about one of the most important fashion revolutions of the last few years: the promotion of the sandal to the status of accessory for chic evenings. So it's only natural that the Birkenstock brand should be the benchmark for a look that is both elegant and casual. The noble materials used, the carefully drawn designs, the impeccable finishing touches… everything works together to make it the ambassador of casual chic.
To go to this social evening organized in this famous 3 star restaurant located on the seaside, I strongly recommend the Arizona model! Its wide bands, available for example in bold leather, will give your feet a stylish, masculine and casual look. A little reminder: if it is not shocking to go to a party wearing sandals, a little pedicure, the same day or the day before, is highly recommended!
How to dress for a demanding outfit that includes sandals? The recipe is not very complicated, but requires that you find the right balance between character and casualness. For example, linen pants and a Mao collar shirt will go great with your Birkenstock Arizona, and the whole ensemble will evoke a chic yet cool style that's sure to go down a treat in select places.
Sandals that won't let go of your sneakers!
Birkenstock sandals aren't just for vacationing or for a classy, original look. Many have already adopted them for everyday use.
I've been told several times that some winegrowers will only walk through their vineyards in their German sandals. And, even if you don't think about it immediately, it is clear that these shoes are incredibly well suited for professional use. Their sturdiness, their ergonomic sole, and the incomparable fit they offer to the foot: all these are attractive assets for people whose job requires them to stand.
If you work in an office and your hierarchy allows it, don't hesitate to go to your workplace in sandals! Treat yourself to the luxury of working barefoot, even if you're indoors during the summer.
For everyday use, I recommend the Madrid for its lightness, or the New York for its ability to hold your foot throughout the day. I guarantee you that with your men's sandals, you will look at everyday life in a different way!
How to wear Birkenstock sandals for guys ?
Birkenstock sandals are a popular and comfortable footwear choice for guys, and they can be styled in many different ways depending on the occasion. Here are a few tips on how to wear Birkenstock sandals for guys:
Casual look
For a casual look, pair your Birkenstocks with a basic t-shirt and a pair of denim shorts or jeans. This look is perfect for a day out running errands or grabbing a coffee with friends.
Beach look
Birkenstocks are perfect for a day at the beach. Pair them with swim trunks and a tank top or a light linen shirt. Don't forget to pack a beach bag with a towel, sunscreen, and a hat.
Dressy look
Birkenstocks can also be dressed up for a more formal occasion. Pair them with a blazer and dress pants or a button-up shirt and slacks. This look is perfect for a summer wedding or a dressy event.
Athleisure look

Birkenstocks can also be paired with athletic wear for a comfortable and stylish athleisure look. Pair them with joggers or workout shorts and a tank top or athletic t-shirt.

When wearing Birkenstock sandals, it's important to remember that they have a unique shape and style that can be complemented by choosing clothing that is simple and clean. Stick with neutral colors and avoid patterns that clash with the style of the sandals. With these tips in mind, you can confidently wear Birkenstock sandals for any occasion.

Classy and comfortable, the Birkenstock sandal is the male accessory that adapts to all situations.