Diptyque's Kyoto floral fragrance, which I'm featuring here, was launched in 2021. It is intended for men as well as women, another perfume
The designer who is responsible for this production is Alexandra Carlin. The latter works with Robertet. She has no less than sixty perfumes among her creations. Her natural artistic sensitivity inspires her creations.
She completed an apprenticeship at ISIPCA, a reference school in the field of perfumery, cosmetics and aromas. She is particularly fond of essential oils. This designer knows how to play with originality in her compositions and expresses her talents in the new Kyoto perfume by Diptyque.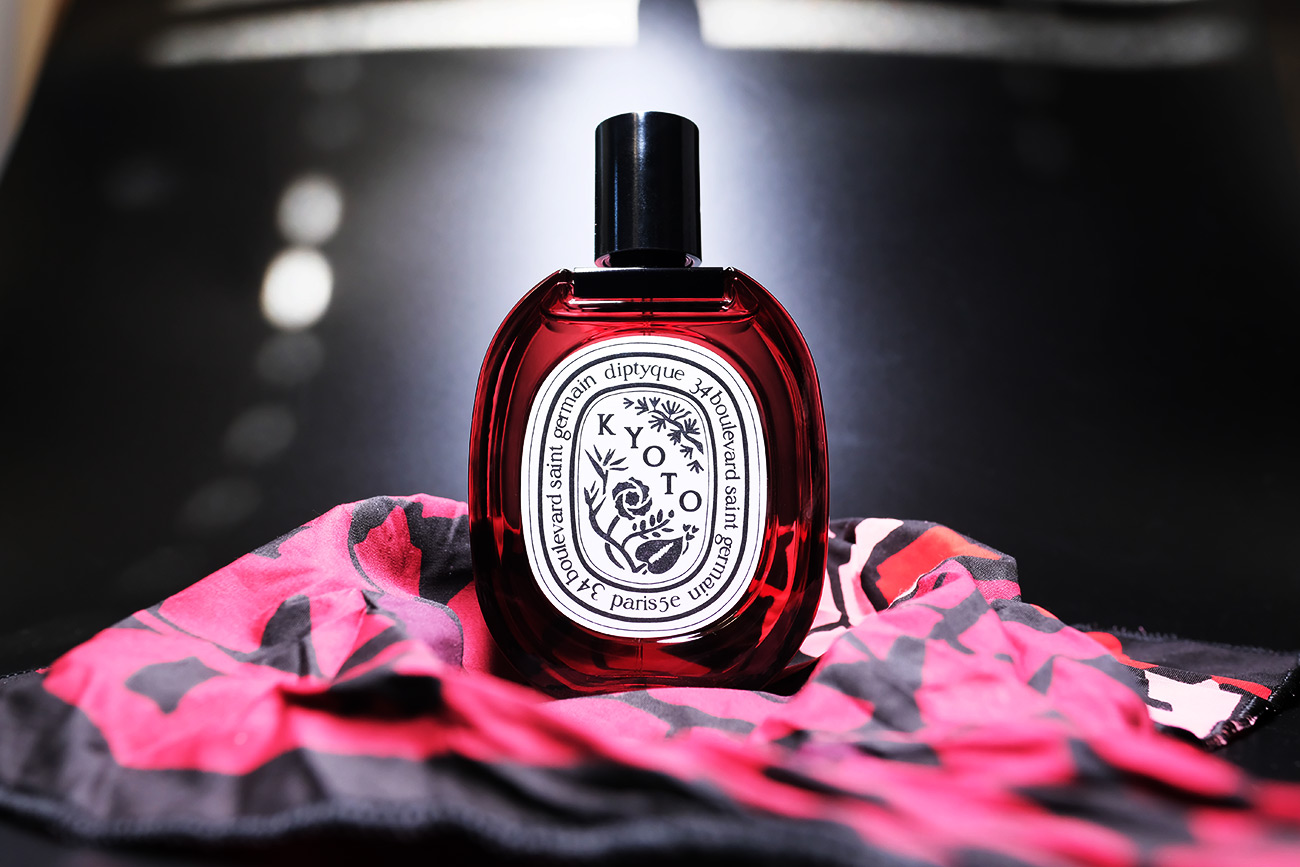 The history of Diptyque's Kyoto fragrance
The name of this unisex perfume obviously refers to the city of Kyoto located in Japan. Former capital of this territory, it is a true city of art and history. The cultural wealth of this place is notable and recognized in the world. It inspired the designer to create a fragrance with the balanced scents of incense, rose and vetiver.
These three ingredients are in a way three symbolic pillars that evoke the earth, the man and the sky. The bottle is draped in the Furoshiki technique, wrapped in a fabric printed with a pattern created by Diptyque: the Sarayi. The color oscillates between pink and purple! The uniqueness of this fragrance is expressed in both its olfactory and visual rendering.
Also read Diptyque Eau Duelle : A powerful and subtle fragrance
The compositions of the perfume and its olfactory family
As mentioned above, Kyoto perfume is composed of three main scents: rose, incense and vetiver. These ingredients are not negligible since they are among the most prized by perfumers. Their olfactory qualities distinguish them and make them stand out from the crowd.
Rose is a must for master perfumers and perfume designers. However, it was once considered outdated. I would say that the floral scent is complex, as it changes both with the weather and the time of day. If the roses are harvested very early in the morning, their scent will be all the more intense and powerful. It is when they are ready for pollination that roses release their fragrance. Still called the "Queen of Flowers", the rose is a true symbol of femininity.
I recommend this extraordinary fragrance for your daytime and evening outings. This floral scent will accompany you all day long and give a touch of freshness to your travels.
Diptyque's Kyoto fragrance has garnered some very favorable reviews and once again, I have fallen in love with this diptych fragrance. Some note the major role of the rose that pushes to choose this perfume as a new ally. The colors of the packaging are also part of the positive remarks of this product!
SCENT

10

FRAGRANCE HOLD

9

BOTTLE

10
The Kyoto perfume by Diptyque Limited Edition is remarkable for its original scents, let's discover it together.