Do you love the bewitching and gourmand smell of vanilla? Are you familiar with Diptyque's subtle Eau Duelle fragrance? Even if you don't like the sweetness of vanilla, this essence will seduce you with its amazing spicy blend that makes this elixir an amazing and seductive fragrance for both men and women.
A unique perfume ?
L'Eau Duelle is a unisex fragrance that starts with a powerful note of dry unsweetened vanilla (imagine a freshly cut pod) to which are added a few notes of resinous (calamus), peppery lemon (elemi), subtly musty leather (I assure you that this surprising scent is incredibly pleasant here) to which are added a few vapors of spices such as saffron, cardamom or pink pepper. Without forgetting the sensual black olibanum and the vaporous cypriol.
It is a new mixture that seems impossible and yet works very well
Diptyque, the creator, is well known for its original perfumes such as Ombre dans l'Eau, Orphéon or Tam Dao. Founded by three art lovers in 1961, the brand first designed fabrics with original prints. The success was not there. One of the three founders, totally in love with potpourri, led his comrades towards perfumes. Seven years later, Eau Diptyque was born, the label's most iconic fragrance, discreet and luxurious.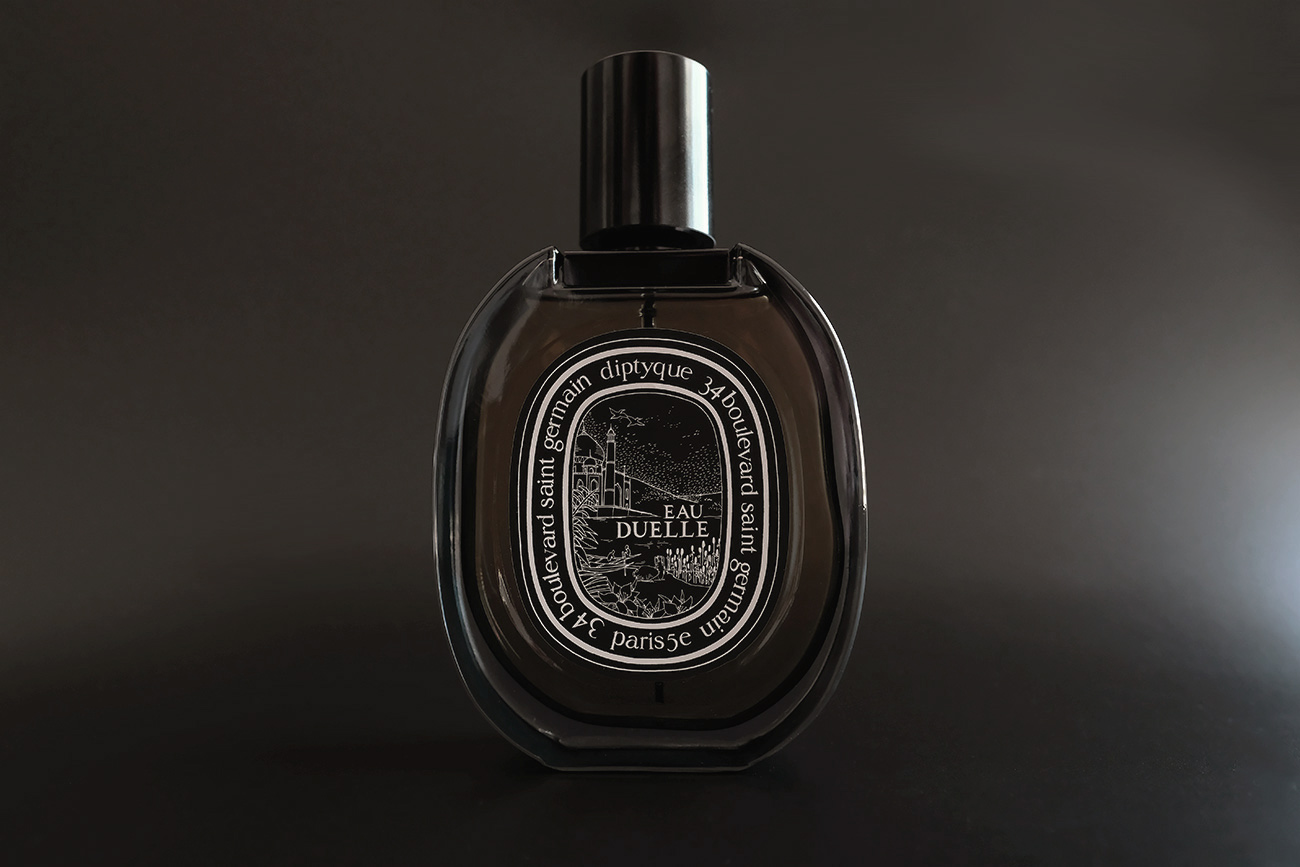 Today, Diptyque is known around the world for its unique and original creations that harmoniously blend natural materials that invite travel without ever following fashions or codes.
Eau Duelle arrived on the perfume market in 2010. Since then, it has conquered lovers of scents apart from both women and men.
A smell that you don't smell everywhere
I must admit, the description made me want to know more. Was it another vanilla scent that was too sweet, even sickening? Vanilla is indeed used a lot (even too much) by some perfumers. But here, I must say, it is totally different.
The scent is based on a very unsweet vanilla, even very discreet. Resinous, spices and leather come to the fore very quickly and overshadow the vanilla with a surprising amber nuance. It is very good for all those who like "a little" vanilla. Aficionados will be disappointed.
Note that this spicy vanilla remains very discreet. Many complain that the scent does not last throughout the day. The cold spices, which are at the heart of the spiciness of the perfume, also disappear quickly. The powerful elemi that is felt as soon as it is placed on the skin fades away. The cardamom is also forgotten. Unless you have a hypersensitive nose, these variants are probably forgotten a little too quickly.
The perfume then plays a game of hide and seek. You wear it, you smell it, then it disappears and reappears when you least expect it. This strong and subtle aspect is the mark of Eau Duelle, at once powdery and all sweet and powerful and spicy. You never know what to expect with this fragrance, which varies incredibly from skin to skin. The trail is also dependent on the skin and some will leave a strong trace, others will remain invisible olfactory.
It is therefore normal that the perfume divides its users. Some will find it too discreet. Others will not. Some will appreciate its spicy trail, others will love its gourmand vanilla.
Eau Duelle will appeal to those who hate classic vanilla fragrances and will satisfy those who only like enchanting spices. Like all Diptyque creations, it's impossible to define this fragrance precisely but I think it's a very good perfume for winter. So I suggest you try it to see how it will match your skin. You will surely be surprised.
Let's add that this oriental is enclosed in a pretty vintage bottle, very simple.
SCENT

9

FRAGRANCE HOLD

10

BOTTLE

9
A fragrance rich in vanilla but not sweet? Discover the amazing Eau Duelle by Diptyque that will surprise and enchant many!