This post contains affiliate links and I will be compensated if you make a purchase after clicking on my links.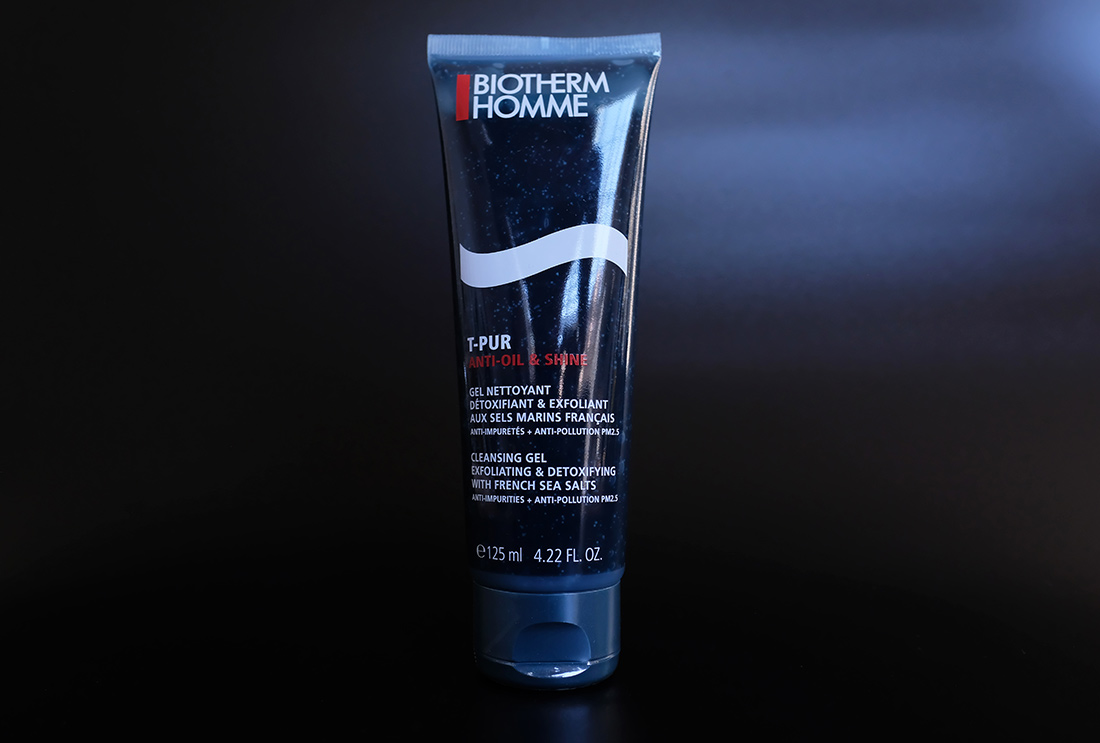 Biotherm is a famous French brand dedicated to skincare for men and women. The beauty products company has recently renewed some of its range of men's products. The products of the T-Pur range are specifically designed for oily skin and their imperfections and I decided to test out the Biotherm Homme T-Pur Anti Oil & Shine Cleanser.
I live in Las Vegas where the climate is dry, my skin is nonetheless greasy, however, when I return to France where the climate is much wetter, my excess of sebum will be horrible …
The T-Pur range
The dark blue and black representation of the products of this innovative range makes them easily identifiable on the shelves of shops.
Their declination, from day cream to deodorant and shaving foams, makes it possible to acquire a coherent panoply. If like me, you have to deal with oily skin, you know how painful it can be. Unpleasant feeling, embarrassing shine, blurred complexion disturbs daily life.
It is difficult to find the right product that provides a real sense of purity. Even more to keep this cool all day long. So I tested the cleansing gel T-Pur hoping it will keep its promises.
T-Pur Cleansing Gel: a targeted action
T-Pur Detoxifying and Exfoliating Cleansing Gel comes in a large, flexible 125ml tube. With a small amount of product applied on a wet face, you can wash your face morning and evening without risking abrupt drying.
The gel has an exfoliating action to deeply purify the skin. Marine salt crystals are the natural element that attacks impurities. These active grains do not alter the smooth impression of the gel which keeps a malleable texture.
The other major component of the preparation, just as natural, is silicon. It absorbs the excess of sebum, at the base of the problems of this skin type.
Rinsed well, the Biotherm Homme T-Pur Anti Oil & Shine Cleanser continues its action to limit the brightness of the complexion. If you wish, you can complete this treatment with several other products from Biotherm. T-Pur Skin Renewal serum boosts purifying efficiency. The T-Pur Anti-Oil & Shine gel hydrates the face and mattifies it for a long time, usually 10 hours in my case.
My opinion about Biotherm Homme T-Pur Anti Oil & Shine Cleanser

The daily scrub is often criticized in skincare tips. It may attack the epidermis and have the opposite effect than the one expected. When wanting to dry off skin too much you can cause irritations!

To protect yourself it greases in advantage. A vicious circle to avoid. With this cleansing gel T-Pur, I did not have this bad surprise. The texture is nice, fresh on application. Massaging with lightness, I had the real impression of relieving my skin and eliminating impurities. After rinsing, my skin became soft, without red marks or irritations.

Biotherm remains one of the few brands to offer men's products for oily skin with such a complete range. T-Pur fulfills its role effectively.

I recommend this care to find a skin with a refined grain. I forget to check the shine of my face during the day. I feel clean, impeccable, surer of myself despite this small aesthetic difficulty. The skin, maintained in a suitable way, tolerates better the repeated gestures of the shaving for a found equilibrium.

Buy BIOTHERM Homme T-Pur Anti Oil & Shine CleanserBuy now on Amazon.com

BIOTHERM Homme T-Pur Anti Oil & Shine Cleanser detoxifies and exfoliates men's oily skin. My review about this product.