As a teenager, I had acne problems, I even used Accutane treatments to clear my skin. Today, cleared of my acne, I kept a skin with fat and shininess so I found a product named Biotherm Homme Moisturizing Gel Mattifying and it truly saved my life!
My skin reacts to hot shots and stress immediately. The oily and wet skin is something quite painful to manage on a daily basis, so I was very eager to test this moisturizing gel that absorbs and ultra mattifies skin and give you my opinion.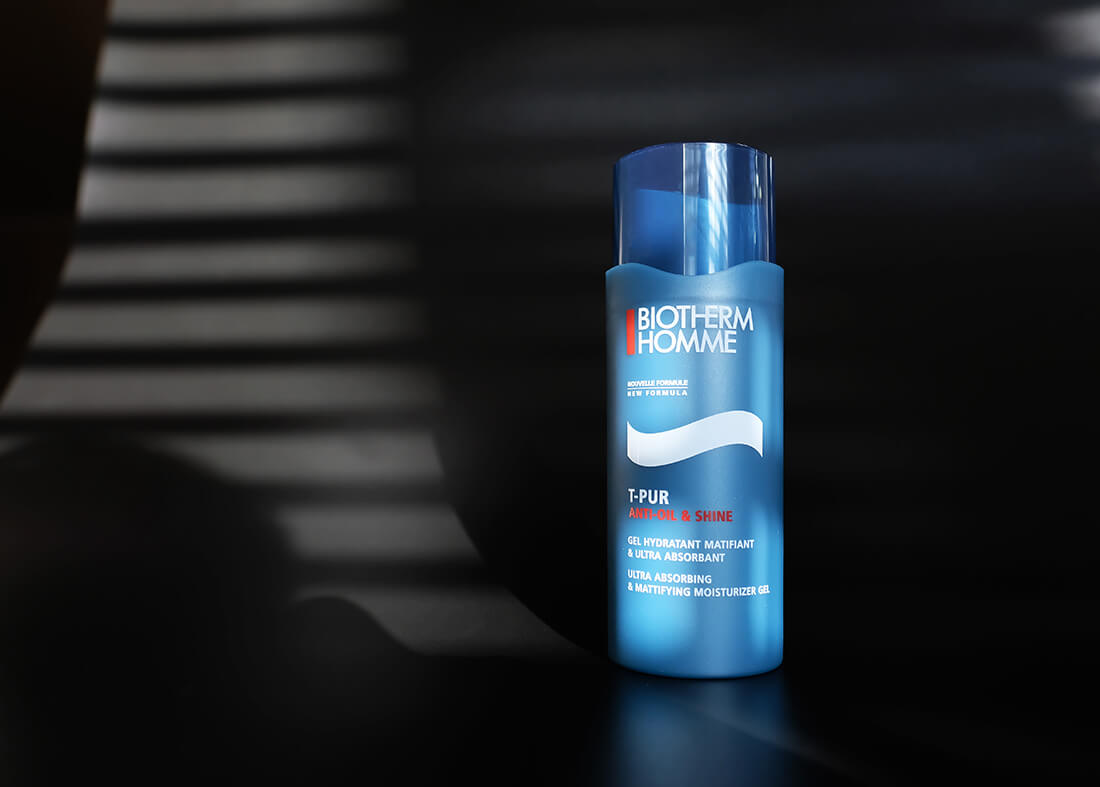 What type of skin is the Biotherm Anti Oil & Shine T-Pur moisturize for?
This daily moisturizing gel is for oily and shiny skin. To face this kind of challenge, we must have a product that keeps the skin clean all day while knowing how to moisturize it.
This gel has been designed to regulate sebum, and thus reduce the oily skin effect while limiting the moisture of the skin by making it matte and soft.
How does one apply this Biotherm moisturizing gel?
I applied the gel just after my shower, in the morning, after cleaning and drying my skin. It is important to use it on a clean skin. I spread it with my fingertips massaging my face, starting with my forehead.
What is the composition of this gel to make it so mattifying?
This gel has been designed with three components essentially: marine algae, zinc, and mineral perlite.
The seaweed coupled with zinc has the power to regulate sebum, guilty of oily skin. As for mineral perlite, a porous, ground volcanic rock, it has an impressive ability to absorb moisture. Combining these three active ingredients guarantees a mattifying result for several hours.
What did I feel when I applied the gel on my skin?
The product comes in the form of an ultra-light gel, nothing to do with a compact cream and thick difficult to penetrate, it's quite the opposite here, and it was very pleasant.
The texture was very nice to spread on my face. I felt a feeling of instant freshness which was very appreciable. Then, throughout the day, I had the feeling of having a skin always clean and fresh.
My opinion on this Moisturizing Moisturizing Gel

I totally adopted this gel in my everyday routine. Worn all day, the feeling of freshness on my skin remained, It felt like I was coming out of my shower.

While I took the subway several times and chaired the meetings, my skin did not shine, so it remained mattified and soft. I also felt less perspired. Some use of foundation for men to standardize everything, to use after the mattifying cream and think to let dry.

Buy Biotherm Homme Moisturizing Moisturizing GelClick here

If you wonder how much this magic anti oil costs, the bottle of 50ML is generally sold between $36 and $45 according to the shops and outstanding promotions. The average price of the 6.76 Oz is $60. Using it every morning and 2 nights a week on weekends, a tube holds me about 2 months.

My opinion and test about Biotherm Anti Oil & Shine for Men, a moisturizing and mattifying gel. You'll love to not have a shining face anymore!

//php comments_template();?>