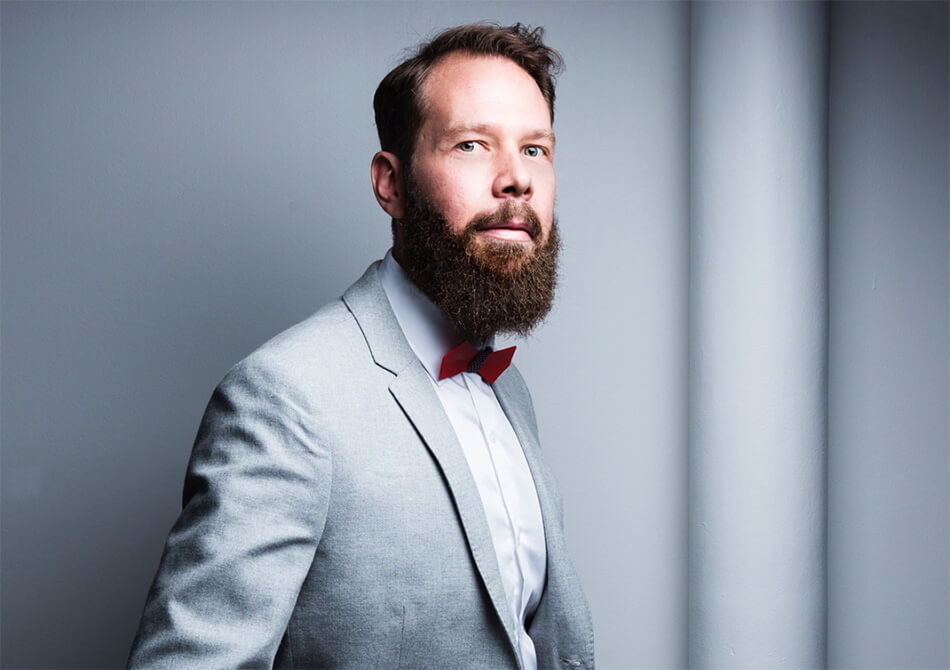 Model : Julien - Pic by Géraldine Aresteanu
Today I am here to talk about your beard. A well-kept fleece is an ultimate accessory for your look. After choosing your outfit, putting on cologne and having your hair done with care, all that depending on your mood, I bet you think you're ready for your day? What about your beard?
It must be given as much attention as the rest, otherwise, it will ruin your whole look. I will give you tips and examples of products that will allow you to treat and maintain your beard daily.
Products for your beard
Let 's not forget that the maintenance of a neat and stylish beard is to be done every day. I'm talking about 4 essential steps to do every morning: washing, brushing, shaving, and care.
For washing, head for the shower with the use of a beard shampoo. Prefer this care adapted to your beard rather than the shower gel, which risks leaving the hair of the beard rough and dry. The second step to remember is the hydration of the skin. Many bearded young people pass their turn.
Beard Kit for Men Grooming & Care W/Beard Wash/Shampoo,3 Packs Beard Oil,Beard Balm Leave-in Conditioner,Beard Comb,Beard Brush,Beard Scissor,Beard Grooming Kit Gifts for Men Husband
Bossman Essentials Beard Kit for Men - Beard Oil Jelly, Fortifying Conditioner Cream, Beard Balm - Grooming Growth Care Accessories (Magic)
Honest Amish Beard Balm Leave-in Conditioner - Made with only Natural and Organic Ingredients - 2 Ounce Tin
Honest Amish - Classic Beard Oil - 2 Ounce
Last update on 2023-12-02 / As an Amazon Partner, I make a profit on qualifying purchases./ Images from Amazon Product Advertising API
Still, hydration is paramount. If the skin under the beard is not treated, it quickly becomes dry and has difficulty to grow the hair harmoniously. They will be born without strength or vigor. I recommend the use of a moisturizer for dry skin, which will be better for a skin covered with beard hair.
I'm talking about hydration, but it's not just the skin you need to moisturize. The hairs themselves need specific care. It will save you the feeling of scratchy beard and find yourself with a rough beard and without shine. For this, two products exist on the market: beard oil and beard balm.
You may also like "How to Grow a Handlebar Mustache ? A step by step guide"
Which oil to use for the beard and how often?
Beard oil is essential for the daily hydration of beard hair. Its regular use can nourish the hair from root to tip. Wondering if oil will not make the beard greasy? Do not panic, its formula has been specially formulated to avoid this impression!
Know that a beard oil will be your best ally to discipline the hair. This is what guarantees a beautiful beard, well supplied and drawn. The frequency of application of an ideal beard oil is one to two times a day. Morning and evening seem perfect.
You do not know how to dose the oil to properly hydrate your fleece?
I give you a little tip that works for me: 2 or 3 drops of oil in the palm of the hand is enough for my beard. Mine is a beard 1 inch in length. Of course, this quantity is to be adapted according to the size of the hairs.
You heat this oil, and you apply it on the hair. Another trick to measure the elixir is to see what is left on the hands: if they are dry, it is that it was the right dose. If you still have oil on your hands, there was too much product. The first few times, it will be normal to go wrong, then you will adjust the quantity.
How to use a beard balm?
The difference between a balm with a beard and oil is the addition of wax in the common base so that the balm has a solid appearance. Beeswax or shea butter are added by the manufacturer to facilitate dosing.
The beard balm is easier to apply, because it does not slip between the fingers, but the use is the same. It is put to hydrate the beard, but it is also used to tame the rebellious hairs. Its texture allows for a more detailed beard styling and longer lasting fixation.
If you have rebellious hair, I recommend shaving balms with the mention "fixing". The application of the balm is the same as for the oil: we put a hazelnut balm in his hand, it is heated and applied.
What products to grow a beard?
We agree a beautiful beard is a hydrated beard. But the most important point remains that of the amount of hair. If you have a little beard, you will have trouble to have a homogeneous design, even if you hydrate it perfectly.
If you have sometimes to shave your beard, don't forget to read my tips to deal with ingrown hairs !
Products and lifestyle so that the beard grows well
So, what to do? First, you can hide the defects of implantation of the hair with some small techniques well-known barbers. By redrawing the contours on the cheek every day, for example. Shaving must be done with a precision instrument, to avoid accentuating imperfections instead of hiding them. A second method is to apply a pencil of the same color as the beard and to rub with the hand. This brings a shadow on the skin that hides the lack of hair.
I advise you if you real advise you, if you have really little hair, to turn to products that help regrow hair. Be careful though, because even though men's testimonials boast of the benefits, there is no scientific evidence of their effectiveness
On the side of natural solutions, we have castor oil, dietary supplements or yeast. Side drugs, Minoxidil or Biotin share the market.
The best solution, in my opinion, is to adopt a healthy lifestyle and good eating habits. Why this ? Because, like all the rest of the body, the growth of your beard hair depends on the health of your body.
The better your metabolism works, the more robust and shiny your hair will be. The diversity of the diet is a factor of beauty because you provide your body with the different vitamins necessary for its proper functioning.
Is it possible to have a beard transplant done?

As a last resort, for those who really want to have a beard provided, I suggest a beard transplant. This operation involves implanting in the areas to fill hair from the back of the skull. They are thinner than the beard hair and will thicken as the cup. The surgery will cost you between $3.000 and $6.000.

I hope I brought you all the info you were looking for on how to treat and maintain your beard, and don't forget, there is so many benefits of having a beard ! I'll see you soon for new post on the bearded world!

Find all the practical and important information to treat and maintain your beard every day. Ready guys ? Let's start now !

//php comments_template();?>