Florida is known for its sandy beaches, famous theme parks and vibrant nightlife. The Sunshine State attracts millions of visitors each year, and with so much to see and do, it's not hard to see why.
From iconic sites to hidden gems, Florida offers a wide range of attractions for all ages and interests. Whether you're looking for an outdoor adventure or a cultural excursion, join us in discovering the best attractions in Florida.
Why visit Florida?
Florida is a popular tourist destination for vacationers from around the world. With its white sandy beaches, family-friendly attractions, and numerous theme parks, it's no wonder people are drawn to this sunny Southern state. In this article, we'll explore the reasons why you should consider visiting Florida on your next trip.
White Sand Beaches
Florida is famous for its beautiful white sand beaches. With over 1,000 miles of coastline, you're sure to find a beach that suits your tastes. Whether you're looking for waves to surf or calm waters to swim, you'll find what you're looking for in Florida. Some of the state's most popular beaches include Clearwater Beach, Miami Beach and Panama City Beach.
Family Attractions
Florida is also known for its family attractions, including theme parks and zoos. Walt Disney World, located in Orlando, is one of the state's most popular destinations. With its theme parks, resorts and family-friendly activities, it's a great place for a family vacation. You can also visit SeaWorld, Universal Studios or Busch Gardens for similar entertainment experiences.
Outdoor Sports
If you are a fan of outdoor sports, Florida is also a great destination for you. With its tropical climate, you can enjoy a variety of activities, including golfing, fishing, hiking and biking. The Florida Everglades is also a popular place for bird watching, fishing and kayaking.
Culture and History
Florida has a rich history and unique culture that is worth exploring. Historic towns like St. Augustine, which I was lucky enough to visit, which was founded in 1565, offer a glimpse into America's colonial history. Miami's Little Havana neighborhood is a great place to experience Cuban and Latin American culture, including food, music and art.
Food and Drink
Florida is also known for its unique local cuisine and refreshing drinks. Seafood cuisine is a specialty of the state, with dishes such as shrimp, lobster and crab. Fresh citrus fruits, such as oranges, grapefruit and lemons, are also widely grown in Florida and can be enjoyed in local juices, smoothies and cocktails. Thanks to its proximity to Cuba, Cuban cuisine is very present in South Florida.
Theme Parks: Discover the magic of Disney World, Universal Studios and more
Disney World
Disney World is a must-see attraction in Florida. It includes four different theme parks, namely Magic Kingdom, Epcot, Hollywood Studios and Animal Kingdom, each with its own unique atmosphere, attractions and shows. Universal Studios is another great attraction that should be on every visitor's list.
They are home to the "Wizarding World of Harry Potter," where visitors can experience the magical world of Hogwarts, Hogsmeade and Diagonal Alley. Visitors can also enjoy thrill rides such as the incredible Hulk roller coaster and Revenge of the Mummy.
Kids and adults alike will love this park!
SeaWorld
SeaWorld Orlando is a water theme park located in Orlando, also in Florida. The park was opened in 1973 and has become famous for its shows featuring marine animals such as orcas, dolphins and sea lions.
This incredible place has many attractions and activities including roller coasters, water slides, interactive exhibits, animal encounter areas, and dolphin, orca and sea lion shows.
The park also has a strong educational focus, with many programs to raise awareness about conservation and protection of marine life. Visitors can participate in educational experiences and meet with marine biologists and animal caretakers to learn more about the animals that live in aquatic environments.
Universal Studios
The park opened in 1990 and is famous for its attractions based on popular movies and television shows. Universal Studios Florida offers a wide variety of attractions, shows and entertainment for all ages.
Some of the most popular attractions include roller coasters like Hollywood Rip Ride Rockit, scenic rides like Harry Potter and the Escape from Gringotts and motion simulators like Transformers: The Ride-3D.
The park is also known for its many themed areas, including the Wizarding World of Harry Potter, The Simpsons World and the New York Zone. Each of these zones offers an immersive experience with attractions, restaurants and stores inspired by the worlds of popular movies and TV shows.
In addition to the attractions, Universal Studios Florida also features live entertainment, meet-and-greets with popular characters, dining and shopping. The park also hosts several special events throughout the year, such as Halloween Horror Nights during the Halloween season and Mardi Gras.
FYI, there is the same park in California in Los Angeles.
Nasa (Kennedy Space Center)
A visit to NASA Park in Florida is an exciting and educational experience for those who are passionate about space exploration and science in general. Here are some of the things to do on a visit to NASA Park in Florida:
Visit the Kennedy Space Center: The Kennedy Space Center is the historic launch site for NASA missions. It offers a variety of tours, including a guided bus tour that takes you through the launch sites, historic buildings and interactive exhibits.
Explore the NASA Visitor Center: The NASA Visitor Center features a variety of interactive exhibits about NASA missions, space technology, Mars exploration and more. You can even see a life-size replica of the space shuttle.
Attend a Rocket Launch: If you get the chance to visit NASA Park during a rocket launch, you won't want to miss this unique opportunity. You can purchase tickets to watch a live launch from the Kennedy Space Center.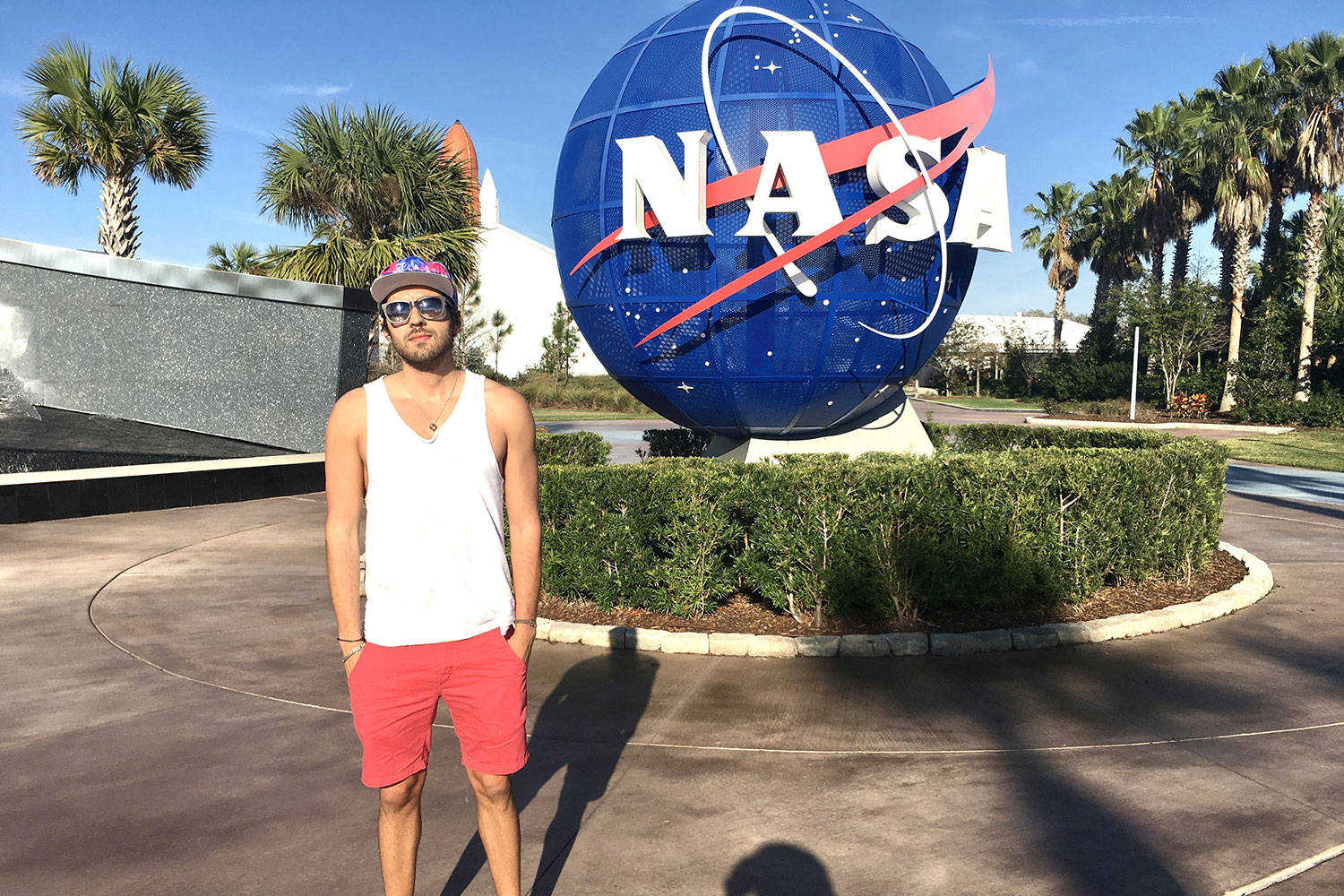 Beaches: enjoy the sun and sand at Clearwater Beach, Miami Beach
Florida is known for its beautiful beaches that attract millions of tourists every year. Here are some of the most popular beaches in my opinion:
Miami Beach
Located on an island off the coast of Miami, Miami Beach is famous for its crystal clear waters and lively atmosphere. The beach is lined with restaurants, bars and hotels, and offers a breathtaking view of the Miami skyline. I propose you to discover my program for a week there!
Clearwater Beach
This white sand beach located on the west coast of Florida is often considered as one of the most beautiful beaches in the country. It is lined with restaurants and stores, and offers a wide variety of water activities.
Siesta Key
Located on the Gulf Coast, Siesta Key is a soft, white sand beach that stretches for nearly three miles. It is famous for its turquoise waters and spectacular sunsets.
Daytona Beach
This beach on the east coast of Florida is known for its beach car races. It also offers many water activities and a wide variety of bars and restaurants.
Key West
This island on the southern tip of Florida is famous for its lively nightlife and vibrant art scene. The city's beach offers great ocean views and is lined with bars, restaurants and stores. I'll tell you all about it in this post about Key West!
National parks: explore the beauty of the Everglades, the Dry Tortugas and Biscayne Bay
The Everglades National Park
Everglades National Park is one of the world's unique national parks. It is a wetland ecosystem that is home to a large number of wildlife species, including alligators, crocodiles, panthers and many species of birds, fish and reptiles. Visitors can enjoy a boat tour, hovercraft ride, or canoe ride on the park's beautiful waterways.
Dry Tortugas National Park
Dry Tortugas National Park is located on a group of seven small islands in the Gulf of Mexico. The park is home to a Civil War-era fort and a breathtaking coral reef, ideal for swimming, snorkeling and scuba diving. For history buffs, the highlight of this national park is historic Fort Jefferson.
Biscayne Bay National Park
Located near Miami, it is a paradise for water sports enthusiasts. With crystal clear waters and rich marine life, the park offers a range of activities such as snorkeling, boating, fishing and kayaking. This national park is also famous for its mangrove forests, which serve as a habitat for rare species of animals and birds.
Museums: discover art, science and history at the Ringling, Kennedy Space Center
Ringling museum
One of the most popular museums in Florida is the Ringling, located in Sarasota. This museum houses an extensive collection of art, including works by Rubens, van Dyck and Caravaggio. The Ringling also includes the Ca' d'Zan, a stunning Venetian Gothic mansion designed by John Ringling himself.
Kennedy Space Center
Another iconic museum is the Kennedy Space Center, located in Cape Canaveral. Here, visitors can learn about the history of space exploration, watch rockets being launched and even meet astronauts. The museum features interactive exhibits that allow visitors to experience space travel firsthand, making it a must-see attraction for anyone interested in science and technology.
Other museums

Florida is also home to several more specialized museums, such as the Salvador Dali Museum in St. Petersburg, the Museum of Discovery and Science in Fort Lauderdale and the Vizcaya Museum and Gardens in Miami. These museums offer an incredible variety of unique exhibits and activities, making them ideal for visitors from all walks of life.

Discover Florida's best attractions, from theme parks to the beach to the vibrant nightlife. Plan your trip now!