You plan to go to Miami to discover the beauties of this fascinating city? I propose you a program to explore the neighborhoods of Miami in seven days. Fasten your seatbelts, take off immediately!
Miami Beach, the best of Miami
I invite you to discover Miami Beach over two days. This district extends from 5 th to 41 th street. You can find many hotels, cafes and restaurants. The view of the sea is also magical with white sand beaches and green palm trees.
Some people like to say that Miami Beach is the American Riviera. I guarantee you that it is absolutely not. It is much more breathtaking!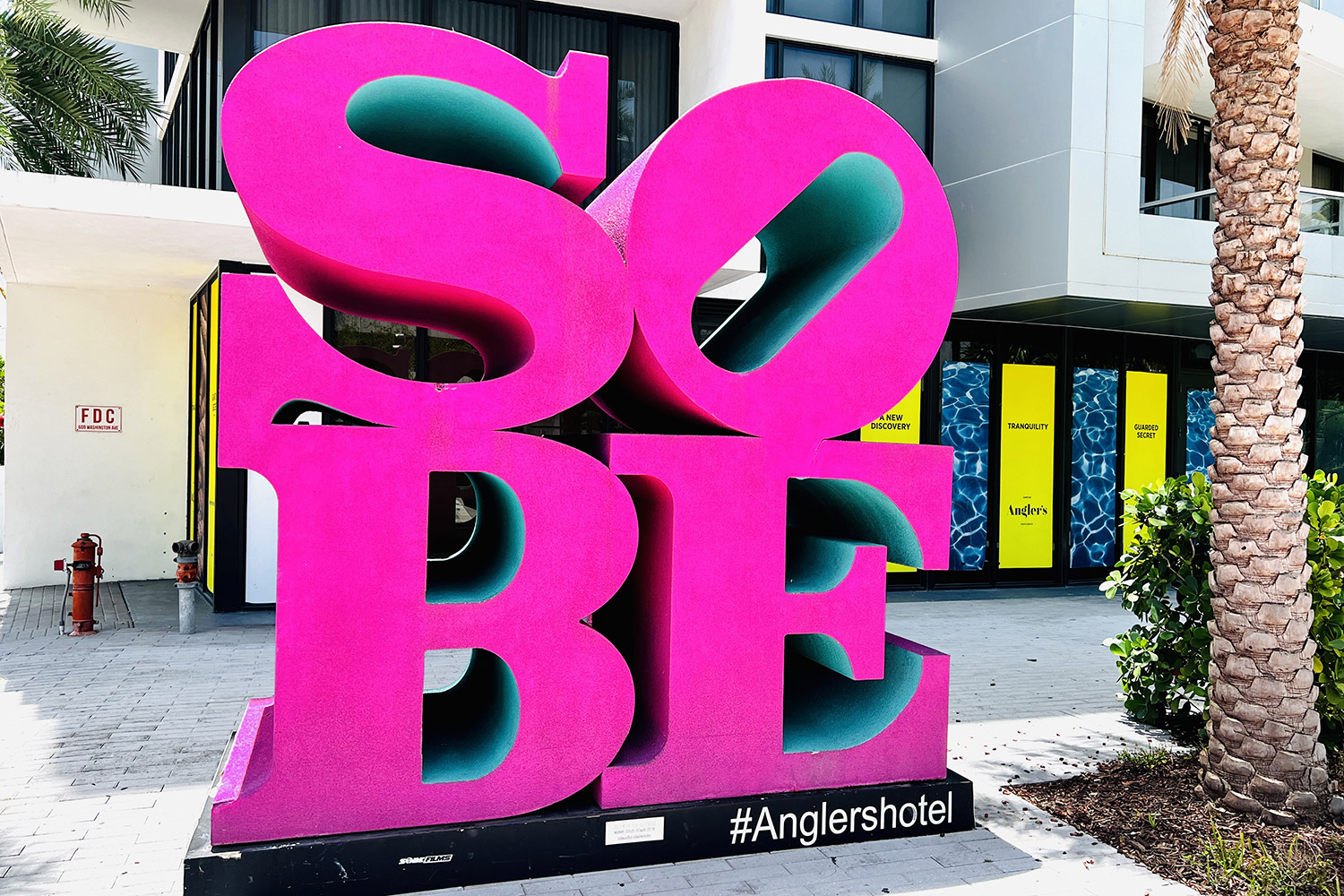 Day 1: Discover the Art Deco style on Ocean Drive
Located in South Beach with a beautiful view of the Atlantic Ocean, Ocean Drive is known for its architecture with French, Spanish and Italian influences.
This neighborhood was saved from demolition by Barbara Capitman who created the Miami Design Preservation League
Indeed, in the second half of the 1970s, real estate developers aimed to destroy the buildings of the seafront to establish skyscrapers.
The Art Deco style had its heyday in the 1920s and 1930s. Multiple decorative motifs characterize this movement, also called "Tropical Deco". The pink flamingo and the sun star regularly appear in the decoration of facades. The combination of white, blue and green is one of the most common. It brings to mind the tropical vegetation of Florida and the water that surrounds this wonderful peninsula.
Among the most notable buildings, I would like to mention the Leslie Hotel with its bright yellow painted façade. The Carlyle is sumptuous with its three stories and three vertical columns.
Pink and yellow are combined in pastel tones. As for the Cardozo, it is a perfect example of the Streamline style. Its curves and patterns are inspired by futurism.
Day 2: Discover Miami Beach
I don't think you know that most of the sand on Miami's beaches was brought in by humans to compensate for shoreline erosion. Nevertheless, South Beach is a place that you must discover. We often associate sunsets with beaches.
I invite you to rewrite this code of romance! In Miami, the Sun rises from the Atlantic Ocean. Settle down at dawn on the shore to enjoy the freshness of the trade winds. Thanks to the Gulf Stream currents, the clear blue water welcomes you with a very pleasant temperature.
For culture lovers, South Beach is full of interesting activities. The New World Center is home to America's Orchestral Academy. Symphonic concerts are given there for the greatest pleasure of music lovers. Several contemporary art museums will satisfy lovers of paintings and sculptures.
The Bass Museum of Art welcomes you with its majestic architecture of Mayan inspiration. It holds the only Egyptian mummy in all of Florida.
Day 3: Little Havana
Little Havana is a Caribbean oasis located in Miami. This neighborhood is home to about 90% of Latin American residents. It embodies an astonishing fracture at the architectural level and of the morals. The facades are often inspired by Cuba and the Caribbean. As for the state of mind, it is frankly optimistic. Little Havana is a refreshing stopover in Miami, which I absolutely recommend you to discover.
Calle Ocho (8th Street) is the lively and invigorating artery of this neighborhood. It is the ideal place to enjoy a Cuban-style coffee. It is an espresso with strong aromas and a sweet crema (foam).
It is prepared with an Italian coffee maker. The beans used come from Cuba. The island produces an Arabica coffee with a good aromatic profile. Take advantage of the lunch break to discover traditional Cuban specialties like Moros y Cristianos.
This dish is made of white rice and black beans. I recommend Papas Rellenas, a kind of appetizer made of mashed potatoes, rolled in egg and breadcrumbs.
For dessert, the Cuban flan has a creamy consistency and is served with vanilla and sometimes lemon flavors. To end the meal, I invite you to enjoy a cigar sold on site.
Day 4: Coconut Grove
Coconut Grove is a place full of history since it was one of the first occupied sites of the city of Miami. A spirit of idleness has reigned there since the second half of the XIXᵉ century. This neighborhood diverges from the rest of Miami, which is more mercantile. A feeling of gentle languor animates the streets of Coconut Grove.
Cocowalk offers a rich diversity of restaurants: Cuban, Italian, French, etc. It is also a shopping mecca, with many shops to choose from. Palm trees and other species of trees refresh this artery.
I urge you to visit Vizcaya Museum and Gardens. This villa was commissioned by James Deering. It is built in the Italian Renaissance style with gardens inspired by those he visited in Europe.
Visitors truly feel as if they are immersed in 16thᵉ century Italy
Decorated stucco and limestone adorn the facade of this sumptuous villa, whose interior is richly appointed with furniture and artifacts dating from the Middle Ages to the modern era. The gardens are magnificent. The fountains and landscaped pool blend beautifully with the surrounding mangrove and tropical vegetation.
Day 5: Coral Gables
Located a few miles from downtown Miami, Coral Gables is composed of tree-lined avenues with refreshing shade. You will discover a neo-Mediterranean architecture with squares, green parks and fountains.
I advise you to discover the Biltmore Hotel. It is one of the most famous historical monuments in Miami. You will feel like you are entering a Mediterranean palace, set in a tropical landscape. There are many stores around for a shopping spree.
It's also a great place to eat. The Cascade restaurant is framed by lush flora. The Biltmore Hotel's pool is also worth a visit. It is lined with beautiful palm trees and shimmering flowers like hibiscus.
Botanical enthusiasts will marvel at the Fairchild Tropical Botanic Garden. A variety of tropical species will delight your senses as you take in a magnificent view of Biscayne Bay.
Day 6: Key Biscayne
Want to discover an island paradise near Miami? Key Biscayne is a true oasis with white sand beaches and lush subtropical vegetation. Water sports and boating are activities you can enjoy on site, allowing you to set sail and let the trade winds fill your sails. At noon, you can enjoy local specialties at the Rusty Pelican, which offers a sumptuous view of Miami.
Key Biscayne is an ideal place for nature lovers who want to recharge their batteries after a few days of exploring Miami. A hike through the tropical flora leads you to the magnificent lighthouse that warns ships cruising off Cape Florida.
Day 7: Downtown Miami
To finish your stay in Miami, I invite you to explore downtown. Immerse yourself in the heart of the buildings where financial sagas are played out on a global scale. The skyscrapers light up at night to greet special events.
You can find restaurants and cafes where you can taste fruit juices with Caribbean flavors. Downtown is very cosmopolitan: Americans, Haitians, Cubans, Puerto Ricans, etc.
The Miami-Dade Cultural Center houses several museums that trace the history of the city and Florida. The monumental library has thousands of books. It is quite easy to get around downtown Miami thanks to the Metro Mover. This aerial metro allows you to go around Downtown in one hour. The trains are air-conditioned and you can sit comfortably.
Don't forget to visit the Wynwood artist district!
The Bayside Marketplace is another must-do activity. It is possible to go there at night. It is a very important attraction in the heart of the city. 150 stores and cafes welcome you for an American-style shopping experience. Laser shows and fireworks are sometimes organized and will close your stay in Miami in a great way.

Discover Miami and its wonders with my day by day program for a 7 days stay!