This post contains affiliate links and I will be compensated if you make a purchase after clicking on my links.
Las Vegas is for many people the city of luxury casinos, gambling, alcohol and even drugs … except that this is not at all what it is!
The city has changed profoundly over the last few years and for the sake of your enjoyment, hotels now offer some of the craziest attractions. After reading my post about things to do in Los Angeles, and what to do on the road from Los Angeles to Vegas, let's see what to do in the city where I live, Las Vegas !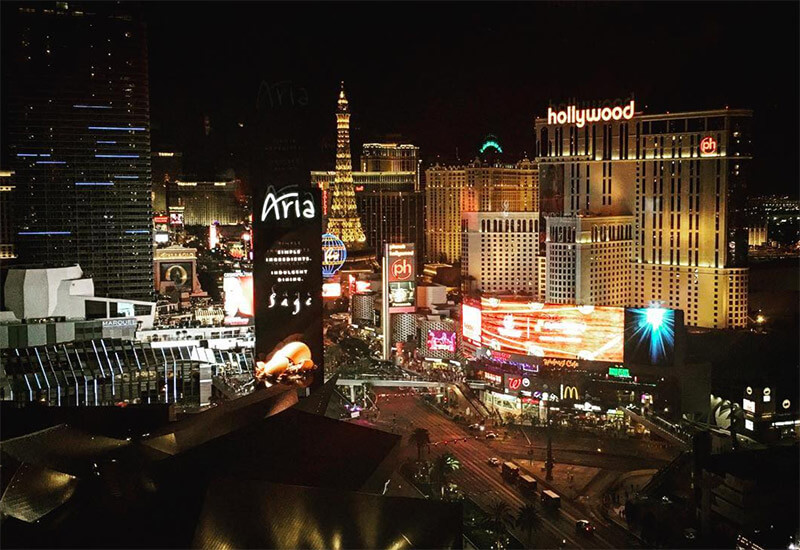 1. Swim with sharks!
No, it's not a joke! You will be able to swim among sharks in a special kind of swimming pool. It is located in old downtown Las Vegas, at the Golden Nugget Las Vegas Hotel to be more precise. The pool is normally free to access, and no need to have a room at the hotel to enjoy it.
Address: 129 Fremont Street Experience, Las Vegas, NV 89101
2. Fly over Old Las Vegas
Also at Downtown, enjoy the "SlotZilla Zip Line" attraction and for a few seconds fly over Fremont Street either sitting or fully laying down.
Address: 425 Fremont St # 160, Las Vegas, NV 89101
3. Have a drink at an ice bar at 10 degrees
The Ice Bar is a chain of bars found in various cities in the world: Prague, New York, and of course there are three in Las Vegas! Discover the Minus 5 Experience!
All information and addresses on www.minus5experience.com
4. Take a roller coaster ride through and around a hotel
Located right in the New York – New York Hotel & Casino, the attraction starts inside and ends by going around the building. No, this is not a joke!
Address: 3790 S Las Vegas Blvd, Las Vegas, NV 89109
5. Take pictures with pink flamingos
The Flamingo Hotel & Casino has a small park with free access where you can come and mull over pink flamingos … this is normal, it's Vegas!
Address: 3555 S Las Vegas Blvd, Las Vegas, NV 89109
6. Marvel at the biggest gold nugget in the world
Also at the Golden Nugget Las Vegas hotel, a huge gold nugget is displayed in the lobby for the enjoyment of precious stone admirers. Of course, it sits behind toughened glass …
Address: 129 Fremont Street Experience, Las Vegas, NV 89101
7. Have a drink with a splendid view of the Strip
It's not worth going to the Stratosphere Hotel and paying $20 to get to the top to enjoy the beauty of the strip, especially at night when everything lights up.
Located on the top floor of the Delano Hotel, the Skyfall Lounge offers a magnificent view of the Strip. Entry is free and the terrace is accessed through the bar. There is a dress code required.
Address: 3940 S Las Vegas Blvd, Las Vegas, NV 89119
8. Drink wine and paint a canvas at the same time
Do you like wine? Me too! How about spending an evening at a painting class while drinking and tasting wine? The concept is a bit different but nonetheless fun!
Address: 6587 S Las Vegas Blvd Ste. 175, Las Vegas, NV 89119
9. Driving at over 125 miles per hour
Alone or accompanied by a professional driver, you can enjoy the thrill of riding in a fast dream car at over 125 miles per hour.
With the promo code REEAD, you'll get a free lap ! (value between $40 and $100) book on www.exoticsracing.com
You may also like Top 10 things to do in Vegas if you (or your child) are under 21 
10. Get a cocktail served by a robot! Yes Yes !

Here there are no bartenders! Farewell to the 15% gratuity and hello to robotic service. You order your cocktail on a tablet, you pay, and there in front of you at the bar, a robotic arm will fix your cocktail before your eyes. Once your cocktail is ready, your name will be displayed on the main screen of the bar.

All you have to do is enjoy your drink! Who said we get bored in Vegas? Surely not me!

Book your activities for Las VegasClick here to save money !

Whether you are spending a weekend there or on vacation, here are 10 things to do in Las Vegas at least once.

//php comments_template();?>