If there's one place that calls for luxury, it's Vegas. When you're heading to Sin City to gamble and have fun, you'll want to pick where you stay very carefully. Your casino hotel is going to define how good of a time you have. 
So how do you pick one? 
Not to worry, this guide is here to help. Here are the top five luxury casino hotels in Las Vegas.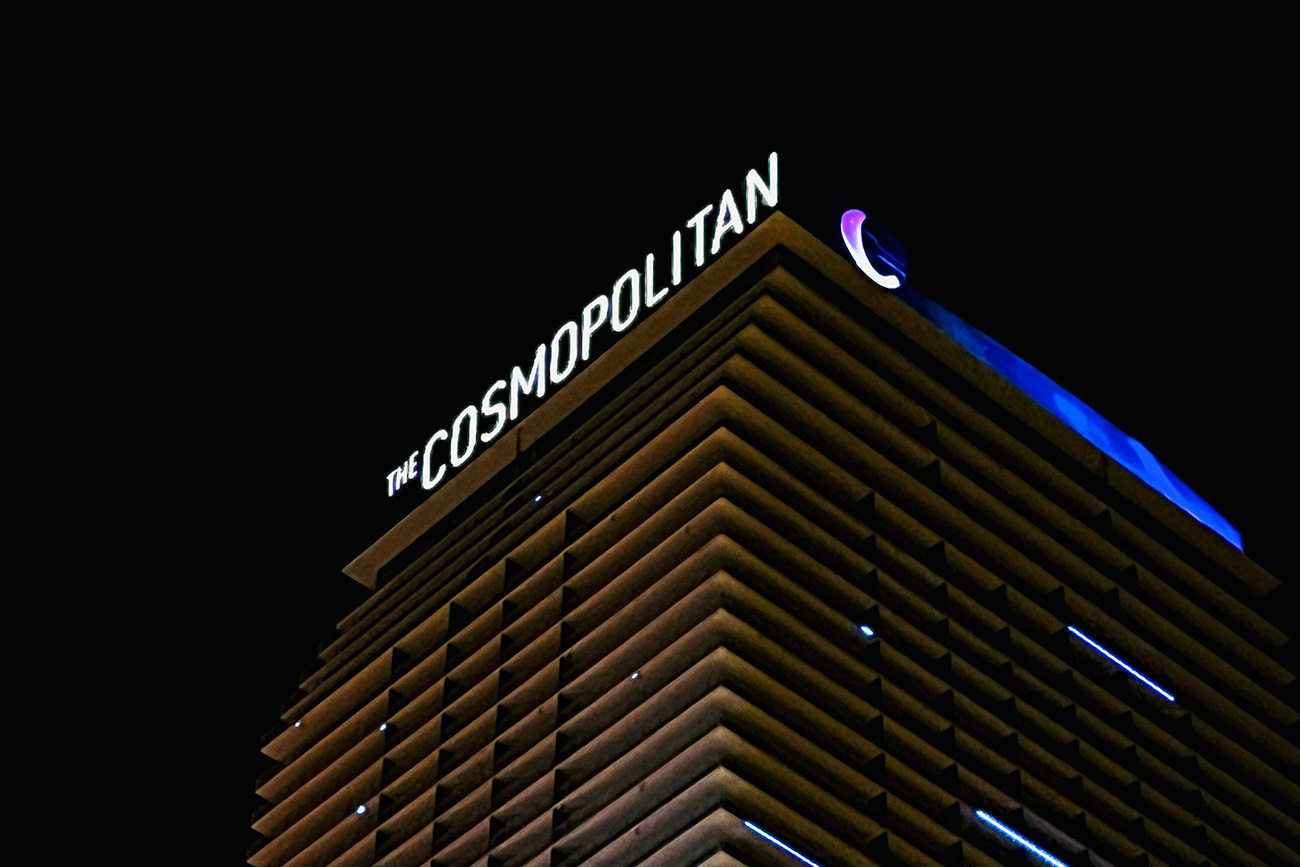 1. The Cosmopolitan of Las Vegas
A great casino hotel for groups, the Cosmopolitan is the perfect intro to Vegas glitz and glamor. This is the hotel for bachelor parties, big birthday bashes, and Hangover movie-level shenanigans. It's definitely my favorite hotel and casino !
Choose a room with balcony views so you can get the full advantage of being at one of the most central hotels on the Strip.
Stepping into the hotel casino is like entering a crystal ball, with sparkling chandeliers everywhere. Glamor is literally built into the casino floor. Betting on tables is a highlight here, and the casino will inspire you to gamble like a high roller even if you aren't one. Baccarat, blackjack, and more are all popular games here.
The restaurants are full of celebrity chef names, but the top pick for luxury dining here has to be Superfrico. It describes its theme as "Italian American psychedelic" cuisine. Curious? You should be. 
The eatery is designed like a secret speakeasy. Performers like dancing bears and women juggling lighted balls put on a show while you eat or sip a cocktail. It's a totally immersive experience. Diners recommend the pistachio mortadella and table-side mozzarella as some of the best dishes on the menu.
2. Nobu Hotel Las Vegas at Caesars Palace
The Nobu Hotel was named the best small luxury hotel in the city this year. It's got the best of both worlds as the outside has the iconic Caesars Palace Greek-Roman statues. But inside, this hotel-inside-a-hotel has a modern, slick, Japanese vibe. 
If you want to channel your inner James Bond, you don't have to leave the resort. Put on something snazzy and head to the on-site casino by Caesars Palace to bet in style. The casino brand even has an app if you want to play from your room. The Caesars online casino lets you play slots, table games, and more. You can even do sports betting on your device. 
When you've worked up an appetite, head to the world-famous Nobu restaurant on-site. Plan in advance, as reservations are a hot ticket even with all the other amazing restaurants available.
Tired of all that gambling, eating, and drinking? Relax at one of the seven pools on the property. Or, take a timeout in the spa, which has all the elevated amenities and Asian treatments you'd expect. 
Feel like Caesar himself in the Roman baths or chill out (literally) in the arctic room. The spa is 50,000 square feet, so you might just need a whole day to wind down.
3. Bellagio Hotel & Casino Las Vegas
Home to one of the most popular casinos in town, the Bellagio is a great choice for first-timers to Vegas. 
Even if you haven't been before, you've probably seen the iconic dancing fountains. There are over 1,000 of them, and they set the tone for what's inside the hotel: glitz, excess, and classiness. 
The Bellagio is one of the city's older hotels, but that means it's had time to really perfect the art of what it does. Everything here is the best of the best. 
There's the casino, a decadent playground where you can play all night (or morning if that's your thing). There's plenty of older and newer slots, a pit with table games and the distribution of the machines and space make for an enjoyable playing experience.
Then there's the art: what other hotel has its own gallery, the Bellagio Gallery of Fine Art, with works from Picasso on site?
When it comes to food, the Bellagio has the top restaurant in Vegas, French hotspot Le Cirque. It will set you back at almost $300 for a tasting menu. But it will be the best meal you've ever had.
4. Aria Resort & Casino Sky Suites
Vegas is the home of "go big or go home" and at Aria they took that literally. The casino is 150,000 square feet, and there are more than 4,000 rooms to pick from. So if you're easily bored, this is the casino hotel of your dreams. 
There's plenty to do to keep you entertained. Since it's owned by MGM, one of the biggest names in casino properties, the gambling here is excellent. One of the best buffets in the city can be found at Aria too, or you can dine at one of the 16 restaurants. 
Or go shopping in the hotel's own CityCenter shopping plaza, and then end the night partying at the Hakkasan Group's nightclub. Relax at the large spa or hop into one of the three pools for some downtime. 
This is one of the newest hotels in Vegas, so all the tech in the rooms is top-notch. With one touch you can control the curtains, lighting, and more from your in-room tablet. Want to take it a step further? The MGM app lets you check in from your phone and use your device as a digital key.
5. Wynn Las Vegas 
With world-class facilities, cuisine, gaming, and entertainment, the Wynn is known for being one of the best casino hotels on the Strip. This wonderful resort has everything, including a beautiful pool and spa area, lovely guest rooms, and much to keep you occupied while you're there.

It's not just me saying that: more Forbes Five Star awards have been given to the Wynn and the Encore than to any other independently run hotel in the world.

More than 20 restaurants, super sophisticated nightclubs, and luxury shops await you at the Wynn. Encore, its sister hotel, has a bright, stylish aesthetic. It's a younger, more modern atmosphere than The Wynn. Both hotels have flawless design that's a feast for all your senses.

Hopefully this has inspired you for your next trip. If you're looking for something different to do in Vegas check out my recommendations. These are the craziest, most original things to do in Vegas, like seeing lions up close and personal. Have fun!

After many years living in Las Vegas, here's my Top of the Most Luxurious Vegas Casino Hotels ! Good luck guys !