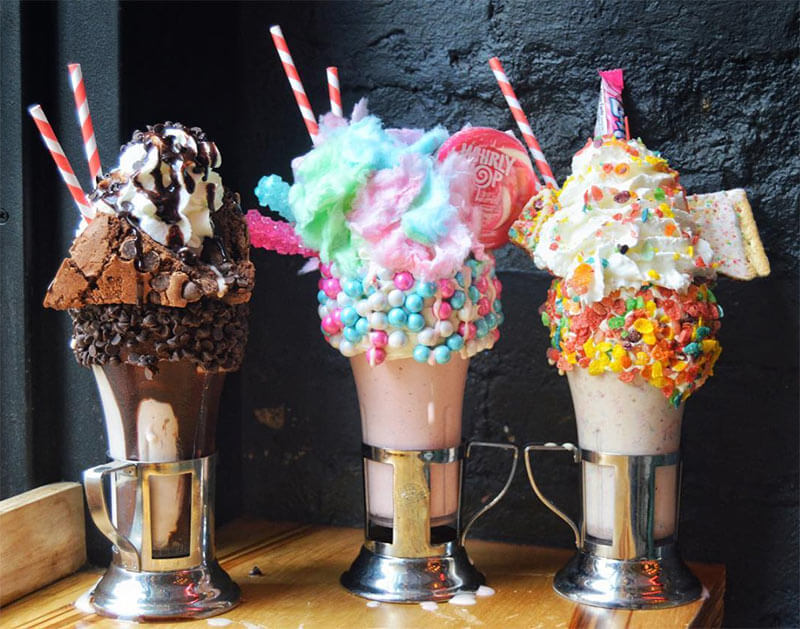 I have been invited by a friend to test the new restaurant Black Tap in Las Vegas, opened at the end of December 2017 at the Palazzo hotel. What was my surprise when I tasted the best milkshake ever !!! It's one of my favorite things to do in Las Vegas !
The best milkshake of Las Vegas !
First, because I didn't test all the milkshake around the world but only Vegas ! And seriously, I think it's because they have something special that make all the difference.
Can you imagine a milkshake with candies, peanut butter, cheesecake, vanilla ice cream, cakes, cream and so many more things ? Close your eyes and please try ! Because a milkshake is not only milk, some cream and flavors…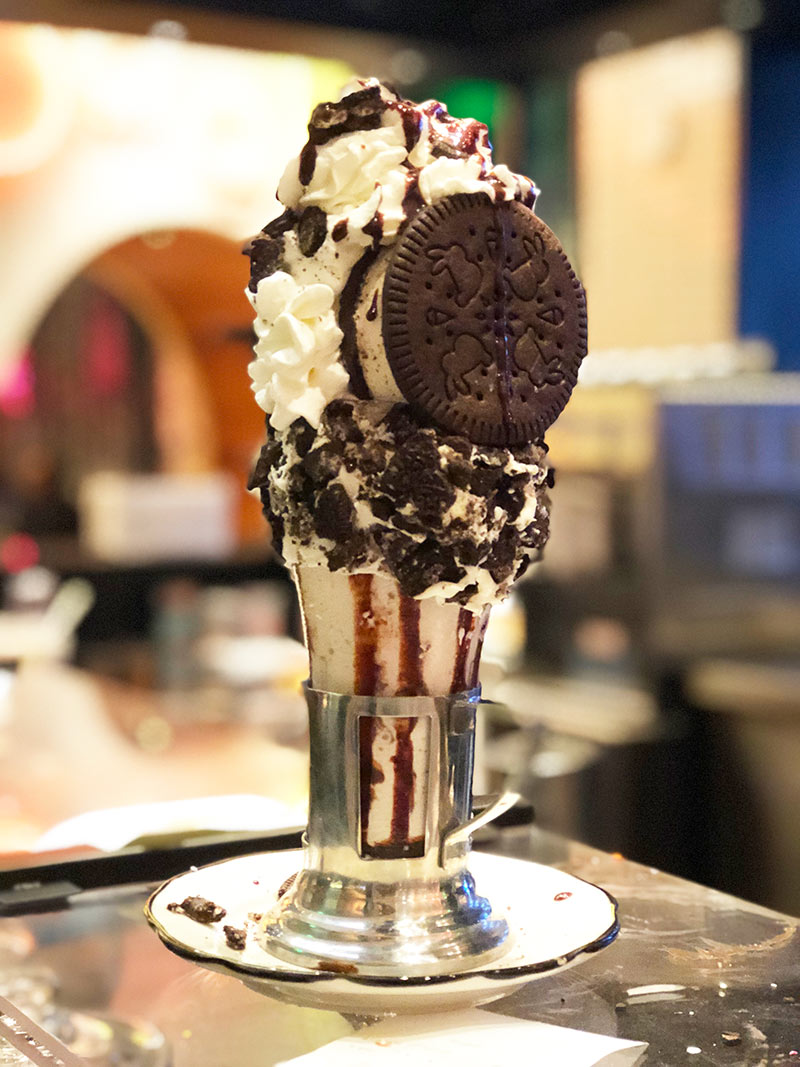 It's not milkshakes, they are crazyshake milkshakes !
I ordered the biggest milkshake of the menu, the Cheese Cake Crazy Shake ! Made with vanilla frosted rim with rainbow sprinkles, topped with a funfetti cake slice, whipped cream, rainbow sprinkles & a cherry, yes, you'r not dreaming, it's a milkshake as you can see on my picture.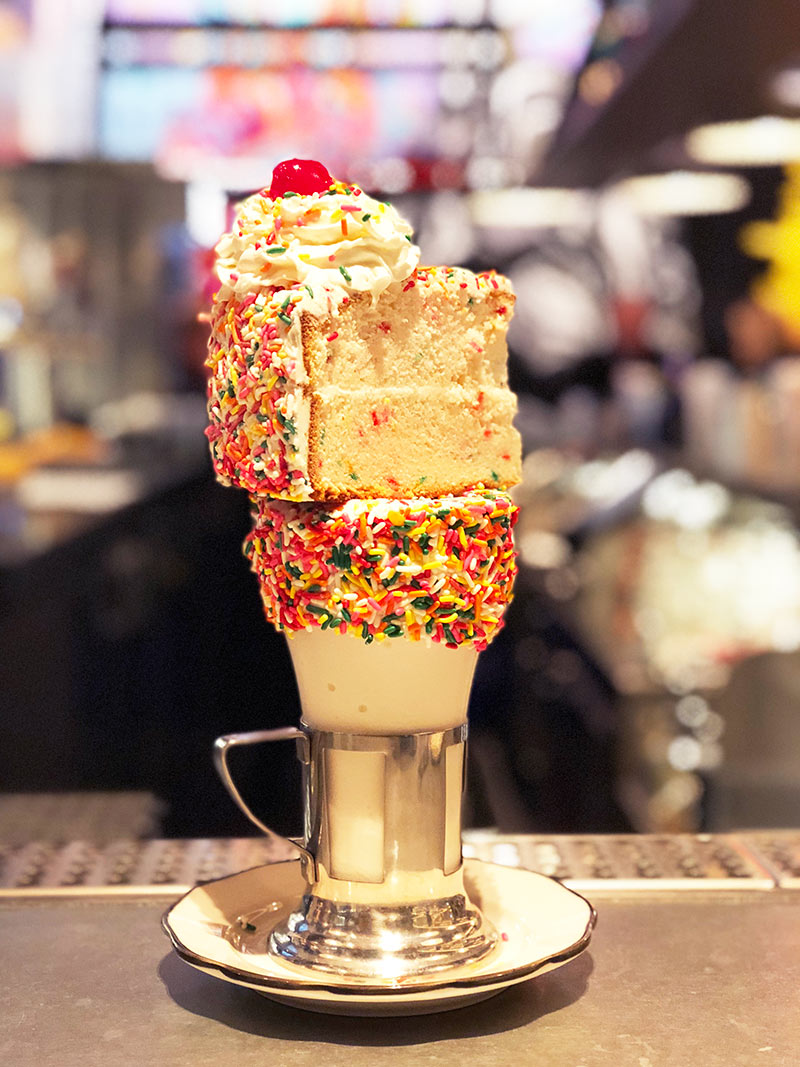 On the table behind me, I saw the Candy Shake and I asked if I can take a picture of this crazy one ! The girls said yes of course !
This one is made with vanilla frosted rim with blue, pink & pearl chocolates, topped with a pink lollipop, rock candy, whipped cream & cotton candy.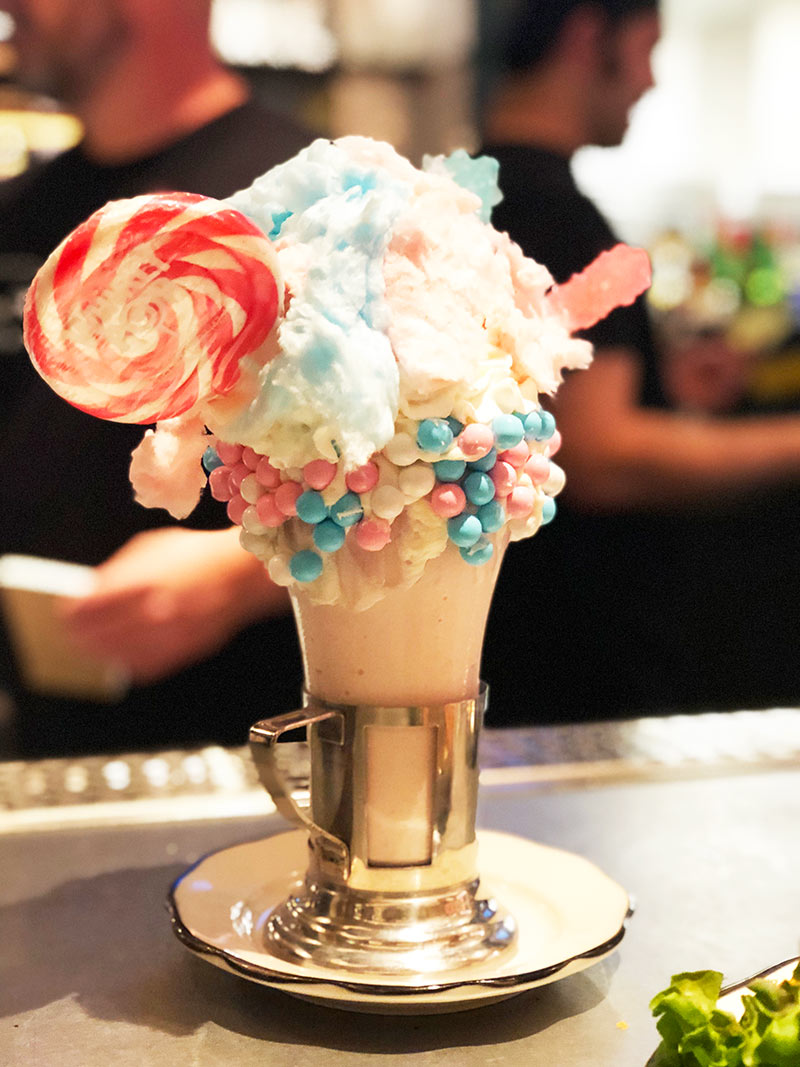 Yes ! It's porn food and I don't recommend to order one each day, but If you workout and take care of you, you can make an exception an order a shake with more than 1500 calories !
How much is a black tap shake?
A shake is between $13 and $25, depend of what type of shake your order and the topping you want to add.
What type of food can we order ?
They offer a variety of food and not only shakes ! You can order burgers with delicious pickle onions, soda fountains, craft beers and many other things !
They serve American food with selection of salades, sandwichs and more. The other thing I want to say : It's a friendly family place to eat !
How to get to Black Tap Las Vegas ?

THE VENETIAN Hotel, 3355 S LAS VEGAS BLVD LAS VEGAS, NV 89109

Open from Sunday-Thursday: 11:00am – 12:00am Friday-Saturday: 11:00am – 2:00am
Located adjacent to The Venetian Poker Room

You don't live in Vegas or don't have any plan to visit the city ? No problem !

Black Tap is also in Ne York, all locations on https://blacktapnyc.com/locations/ and don't forget to pay with your American Express card to earn points or cash back ! A crazy shake price is $15 before taxes and tips if it's not to go.

Mail pic : Black Tap's Instagram

You love food porn? You'll have to taste the best milkshakes of las Vegas and may be the best I ever tasted.

//php comments_template();?>