For the near four hour drive from Las Vegas to Los Angeles, here are my recommended best stops to enjoy the trip:
1. Seven Magic Mountains
Twenty minutes after departing Las Vegas from the south end, you will be able to cross a series of small colored stones called the Seven Magic Mountains.
This work was created by the Swiss artist Ugo Rondinone. If you like to take pictures, take a moment to stop there, it's about 15 km south of Las Vegas, on the highway to Los Angeles.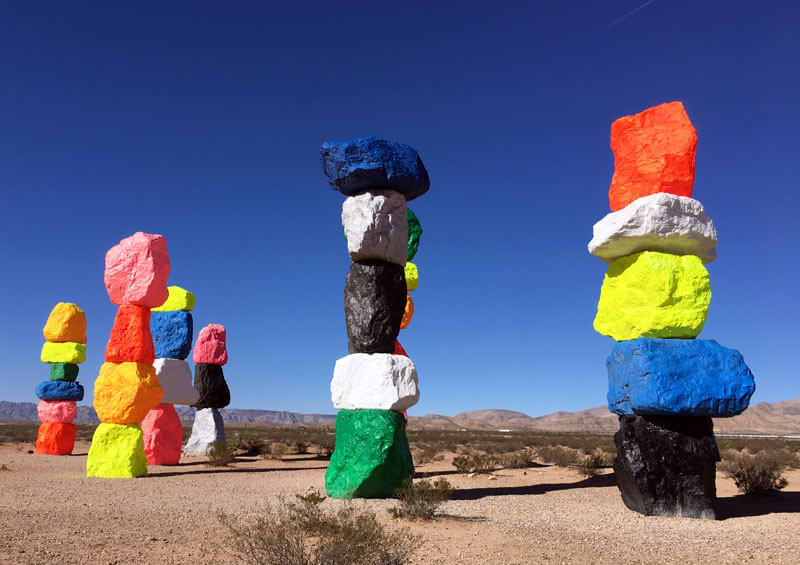 2. Calling you… Bagdad Café
Still along the same road, you can make a stop at the mythical Baghdad Cafe that still exists and which contributed to the success of the 1980s film.
You can enjoy a drink and have lunch or just listen again to the famous "Calling You", which seems to annoy the owners who listen to it all day long …
3. Peggy Sues Diner
Travel back the 50's for a lunch in an unlikely setting, everything is done to make you travel back in time and enjoy a good homemade omelet.
What to expect: A quintessential American menu, waitresses and waiters dressed as in the 50's, and even a souvenir shop if you need to pick up a small gift.
Take a moment just to check out this place. Signs for the diner come up several times on the road to Los Angeles, you will not miss it. To get there, it is about a 2-hour drive from Las Vegas.
View this post on Instagram
4. Route 66
The stretch of Route 66 between Los Angeles and Las Vegas may be relatively short, but it offers a rich tapestry of unique sights and attractions. As you embark on this historic journey, here are some noteworthy places to explore:
Victorville, a city in the Mojave Desert, boasts a Route 66 Museum where you can delve into the highway's history and significance. Nearby, Elmer's Bottle Tree Ranch presents a whimsical art installation featuring a "forest" of metal "bottle trees" adorned with colorful bottles and found objects.
Further along, Amboy reveals the dormant Amboy Crater, an intriguing volcanic formation ripe for exploration. Roy's Café in Amboy, with its retro diner and iconic signage, offers a classic Route 66 experience.
In the Mojave National Preserve, the Kelso Depot Visitor Center serves as an informative stop, detailing the region's natural and cultural heritage. Nearby, Zzyzx Road leads to Zzyzx Mineral Springs and Health Spa, with its unique historical backstory.
5. Calico, California's ghost town
A 10-minute drive from Peggy Sues, you can visit the ghost town of Calico, which will take you back to the days of American westerns in just a few minutes, or even several hours if you like to take your time.
Restaurants, bars and parks are all on the agenda. If you're a fan of photography, you'll be happy to do it in a setting worthy of American films! Summer can be very hot (July and August), so with young children not the best time in my opinion.
Bottom line

The 5 activities presented above are enough to make the drive to Los Angeles and enjoy very nice stops! Do not leave it for the last minute, rentals can be very expensive in Los Angeles, from Hollywood to Manhattan Beach.

When is Los Angeles, take a take to read my advices about things to do in Los Angeles, enjoy !!!

Have you planned to make the drive from Las Vegas to Los Angeles? Do not miss a few stops that will the trip more enjoyable.

//php comments_template();?>