The chino pants are a trend in terms of pants especially for men for several years now. Offering an optimal comfort but also a lightness of the most increased.
This type of pants makes the pleasure of many men, especially since it has become an essential basic in my wardrobe.
If you want to adopt the chino pants for men and you wonder what are the rules to respect to avoid the faux pas in terms of look and dress style, here are some tips that you can adopt.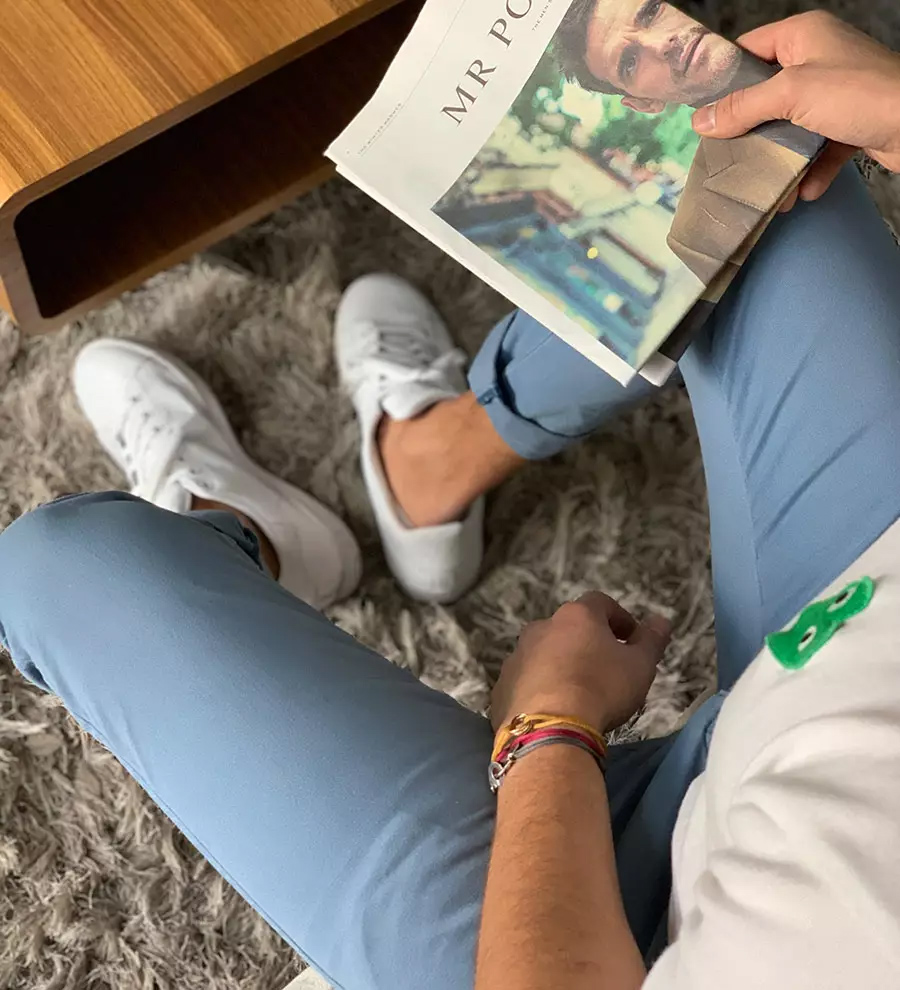 The chino pants, a pant adapted to all seasons and all events
Unlike denim, chino can be declined in different colors and it is a very good alternative to jeans. I usually like to wear a light colored chino. This means that it will fit perfectly with all styles and desires. I personally own a beige, light blue, pink (for summer) and a black one.
You can wear it in winter as well as in summer, but also during spring and fall. You just need to find the right match and the problem is solved.
It is not uncommon for some men to opt for a chino when they go out and are invited to a fancy party. Therefore, it is advisable to opt for a high-waisted chino, the ideal to lengthen your figure.
This cut is the most traditional and certainly the most successful. However, in order to wear it, you will need to enhance it with a jacket. In spring and summer, I pinroll my chinos so that they rise above my ankles.
Choosing a quality men's chino pant
There are a few visual characteristics that don't fool you! To help you choose your chino to welcome into your men's wardrobe, you should check the following:
Two front Italian pockets or slash pockets, or western pockets, as offered by the brand Allsaints
Two back welt pockets
Loops to insert a belt at the waist
A light and flexible material, it is above all a casual pant
How to choose the size of your chino?
Generally after a few washes, all pants relax a little, that's why I suggest you take a chino more or less close to your body.
I buy pants online from brands I already know, but before I buy I always try on my chino to check some points and not have to send it back:
The cut of the chino must be tight without a skinny effect
At the level of the buttocks it is necessary that it is maintained and that at the between leg there is not excess of fabrics.
At the level of the length to you to see if you wish to make a reverse manually, or to adjust it at a tailor so that that falls just at the level of the shoes
My pants size is 30, and sometimes I cheat by buying 29 especially with my chino that after the first washings relax and take almost a size above.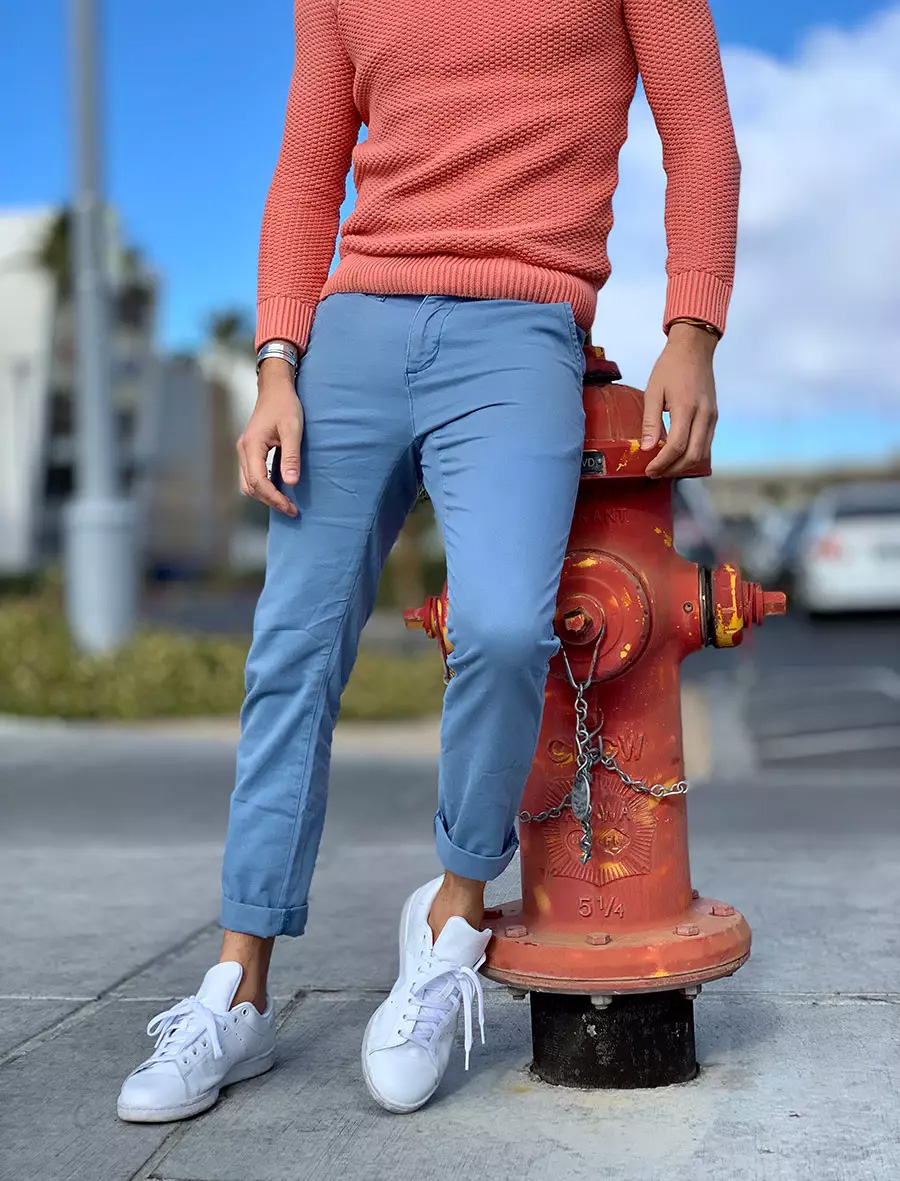 What cut of chino to wear when you are a man?
Now that you've chosen a quality chino that fits you in the waist, the cut is going to make your style, or almost.
As mentioned below, a chino should be worn fitted. I said not to take it skinny but it will also depend on your musculature, a friend with very muscular legs does not have much choice…
There are 3 types of chino cuts:
The slim fit chino (fitted cut)
The skinny fit chino (very tight fit)
The tapered fit chino
To finish on this point, it's up to you to see which type of chino will suit you best.
What to wear with chino pants when you are a man?
The tops you can wear with a chino
For a casual chic look, you can wear men's chinos with :
an oxford shirt or a flannel shirt
a plain colored V-neck or round t-shirt, avoid very wide collars
a cardigan
a hoodie
a polo shirt
The casual style allows you to wear these pants with other less formal clothes
What material to choose for chino pants?
A final parameter in the choice of your chino to take into account is that of the material. Some models are 100% cotton, while others are a mixture of materials.
Cotton
The 100% cotton chino is comfortable to wear. You can have a 100% cotton English twill Cavalry, which means that the fabric is very thick. It is the washing that makes the cotton soft and supple. Italian cotton is one of the most famous cottons. Lightweight cotton is pleasant in the summer.
Organic cotton
Guaranteed without herbicides or pesticides, it is the assurance of wearing healthy pants, designed in a sustainable way and respectful of the planet. Choose pants with full information on the origin of the cotton.
Recycled cotton
The ADEME states that each French person throws away 12kg of clothes per year. The cotton is recovered, crushed and spun. A new weaving allows to make new chinos. The mix of cotton and recycled cotton ensures a greater resistance, because the recycled fibers are shorter.
The linen/cotton blend
Paul Smith, Ralph Lauren or Tommy Hilfiger offer this blend which brings more lightness to cotton. On the other hand, 100% linen wrinkles more. That's why ready-to-wear brands like to mix materials to make a nice chino.
The hemp and cotton mix
Hemp is back. It is a rougher and thicker material. It brings solidity. You can opt for eco-friendly dyes without heavy metals for an ecological pant. Like any chino, demand the welt pocket in the back, and why not, for more comfort, an elastic in the waistband. As hemp is a rather thick fabric, it is less pleasant to wear it in summer. This model is appreciated by fans of eco-friendly fashion. Even Pepe Jeans tries it!
Men's shoes you can wear with a chino
You can wear it with sockless shoes for a more casual look even at work, while still looking chic:
Low top converse
Chelsea boots with pants that fall underneath or that you wear shorter than the boots
A pair of sneakers (Stan Smith, Saint Lauren, Uniqlo, Coq Sportif…)
For the color I tend to wear white sneakers regardless of the color of the chino, and for the Chelsea Boots I alternate between my black leather and gray suede ones.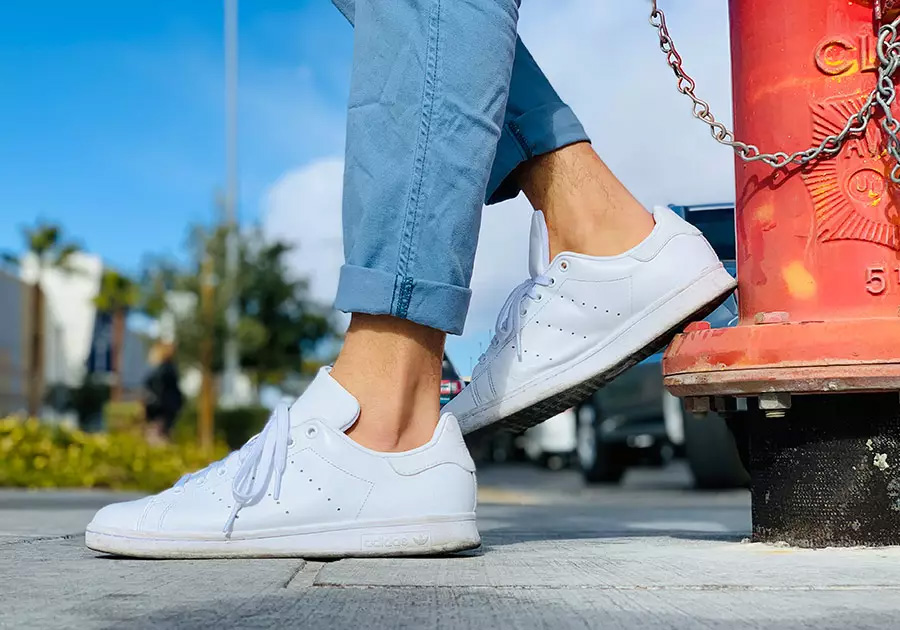 In summer and sometimes even in winter, men's chino pants have become a must-have piece, here is how to wear them.