Have you ever thought of an eau de parfum for men that perfectly matches your personality? The house of Moncler stands out with its smart refillable bottle that delivers, at the same time, an original perfume and a connected bottle!
Discover in this article the Moncler eau de parfum for men, its application, as well as my detailed review.
Moncler for men: a connected eau de parfum!
After their warm and comfortable down jacket, the brand Moncler unveils its eau de parfum for men.
Designed in a slightly woody scent, the Moncler perfume for men transports you languidly to the heart of the Alpine Green forest. It is in this energizing bubble that your skin is completely enchanted by the freshness of sage and the purity of mountain pine.
Presented in a 150 ml refillable bottle, Moncler's eau de parfum for men is decidedly masculine. With a bold touch of cedar wood, the perfect balance of all the scents in this perfume accentuates the originality of your personality.
Find in this perfume a perfect harmony between each essence that composes it, and, depending on your skin type, some fragrances dominate over others. What makes that you can very well wear the Moncler eau de parfum with all the styles of clothing.
So, to highlight your bold and intrepid side, I advise you to put a few drops of perfume on two strategic places on your body. The ideal is to perfume the parts that give off the most heat. This allows the fragrance to be revealed over a longer period of time. You can then deposit your perfume on the inside of your wrists, in the fold of your elbows, or behind your ears.
The application to personalize the Moncler perfume bottle
Much more than a simple perfume bottle, the container that the brand Moncler has chosen is also very smart! The perfume water is presented in a flask closed by a silver shell.
The surface of the bottle is equipped with an LED screen that allows you to personalize it with luminous messages, using the application accessible via the QR code located on the packaging box of the perfume. This new technology is rather innovative and original. And the use of the application is rather simple and accessible.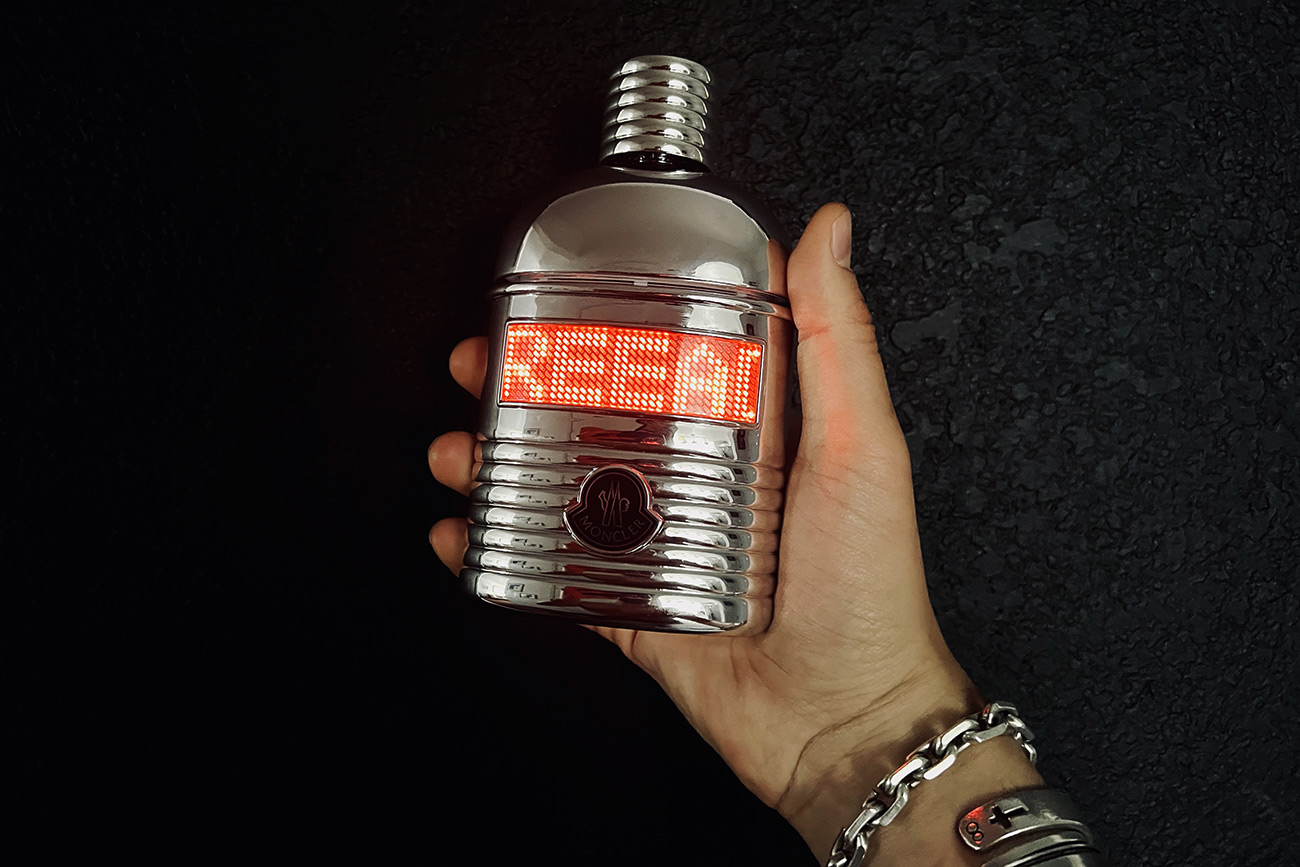 Indeed, once you have flashed the QR code that allows you to download the application, you just have to pair the bottle with your smartphone. From the interface of this application, you write the message you want to scroll on the screen of the bottle. Nothing could be easier! All you need is for the bottle to be connected via Bluetooth, just like any other connected device.
This technological feature is an excellent idea to leave you a little tender message that you will enjoy reading every morning!
Opinion on Moncler eau de parfum for men
I find that the Moncler perfume for men gathers in a single bottle all the fragrances that reveal the singularity of each man. This perfume is both very soft and tenderly fresh, but also discreetly romantic and dynamic.
This makes it relatively mysterious, as it can be worn in all circumstances. Whether you're playing sports, going to work, or going to a party with friends, you can also wear Moncler eau de parfum for men on a romantic date or just a day at the beach.
It is this versatility that makes this fragrance for men both strong and special. On the other hand, if you're looking for a light scent while maintaining a unique character, in that case, I recommend this perfume for men from the Moncler brand.
As far as using the application linked to the bottle is concerned, it is simple to install and use. Its interface, although very basic, perfectly meets its initial function. That is to say, its objective is to be able to display a personalized message on the perfume bottle, quite simply. To do so, you just have to access the application, write your text, and validate it.
SCENT

9

FRAGRANCE HOLD

9

BOTTLE

9
Woody, fresh and connected, discover the Moncler eau de parfum for men! How to wear it, what it's made of, how the app works and detailed review!