Bois Doré is an eau de parfum for men and women created by the luxury brand Van Cleef & Arpels. This tasty scent was imagined by the French perfumer Fabrice Pellegrin. Son of perfumer Georges Pellegrin, this designer receives an award, making him the 2017 Perfumer of the Year.
After a long apprenticeship alongside his father, he too revealed his talents, years later. Notably with Bois Doré, which I'll let you discover in this post if you are looking for a new fragrance !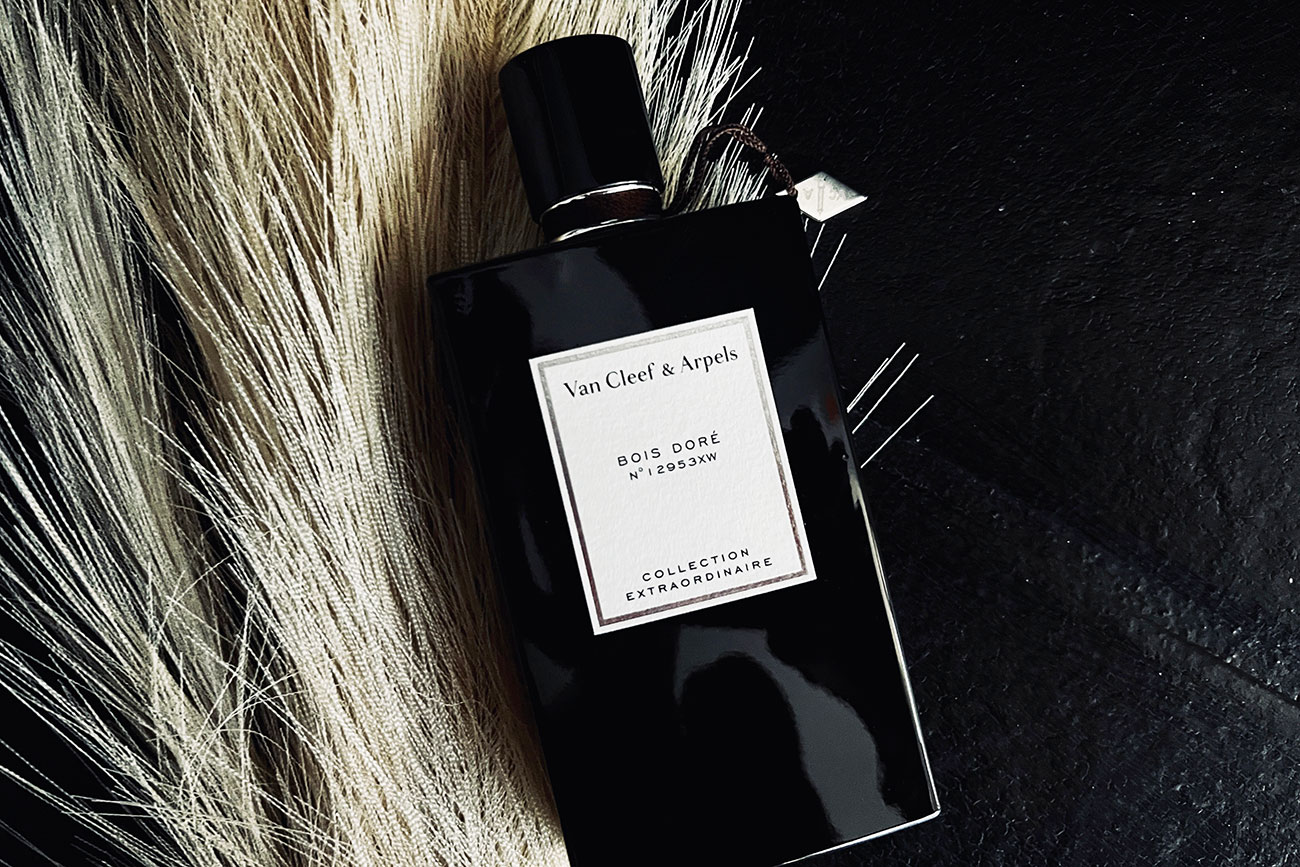 For the little story…
That same year, Fabrice Pellegrin designed the perfume Bois Doré from the "Collection Extraordinaire" for the luxury perfume company Van Cleef & Arpels.
In a statement by the designer about the intentions of his invention, he says that it was a real goldsmith's work, whose imagination wanted to make the perfume Bois Doré appear as if it came from the fusion of a wood and Gold.
It retains the Cedar wood for the noble side, and the Tonka Bean for the power it gives off, like a nugget of Gold. Musk and Vanilla would then come to sublimate this alliance making it deliciously irresistible.
An olfactory family for an inspiring composition
Bois Doré belongs to the Woody and Oriental olfactory family. I find its composition original with Pepper and mineral notes in the top note, Vanilla and Cedar Essence in the middle note, Tonka Bean and White Musk in the base note.
Pepper in perfumery is considered the "Queen of spices". It has the particularity to be associated with all olfactory families. Used mainly as a base note, it can be found in oriental, woody and even floral compositions. I can guarantee you a real journey with spicy colors.
Vanilla is an ingredient appreciated in perfumery. It is part of the Orchid family and has about 110 species. Commonly used as a base note, it is sometimes greedy, woody and powdery.
Cedar in perfumery combines elegance and power. Among the species that hold the attention of perfumers, it is possible to find the Virginia Cedar and the Texas Cedar.
In addition, the Tonka Bean is native to the Caribbean and South America. Coming from a tree, it is during the transformation that these small fruits reveal their olfactory flavors, thanks to the small crystals of coumarin obtained after maceration. The tonka bean is one of the raw materials that give character to perfumes.
White Musk is a synthetic molecule. In perfumery, it suggests about 30 different facets. With notes at once floral, sensual, fruity, its peculiarity makes that it is felt differently and personally by each individual who approaches it. I assure you!
The notes and opinions collected on Bois Doré
On the internet, the overall rating of this perfume is very positive as it represents about 4 stars out of 5. The reviews left by the consumers meant both a very good quality/price ratio, a good longevity and a pleasure of use.
Another positive point is the packaging: the packaging really highlights the fragrance, which some comment as chic and sober.
Some find it powerful, corresponding more to men than women, while others ensure the mix of the perfume
Check the prices of Bois Doré Van Cleef & Arpels on Fragrancenet.comClick here now !
Bois Doré becomes your daily friend
I recommend this eau de parfum which is ideal for cold and winter times. It gives a touch of character without playing too much. Best used in the evening, it is a real ally for your outings and for your night dates.
SCENT

10

FRAGRANCE HOLD

10

BOTTLE

10
Bois Doré by Van Cleef & Arpels is a fragrance with multiple scents that I tested for you guys !