As eco-responsible consumers, we try, as much as possible, to ensure that the different products we use are not harmful to the planet (read my article about Recycled Converses), our skin or our hair.
On this subject, there are an incredible quantity of shampoos on the market, but some are of much better quality than others and, above all, much better for the environment. Are you familiar with the new Christophe Robin Hydrating Shampoo bar with Aloe Vera? If the idea may surprise you, you'll be just as surprised when you see that it is just as effective as a classic shampoo, or even more effective.
Although its appearance is quite recent, we find more and more of them today, and the shapes are quite original: pebble, donut, fluted, flowers…
They have become quite popular, for good reason, they have a lot of advantages, among others, they are suitable for all hair types, as is the case with the moisturizing solid shampoo with aloe vera of the Christophe Robin brand that I'm going to talk to you about.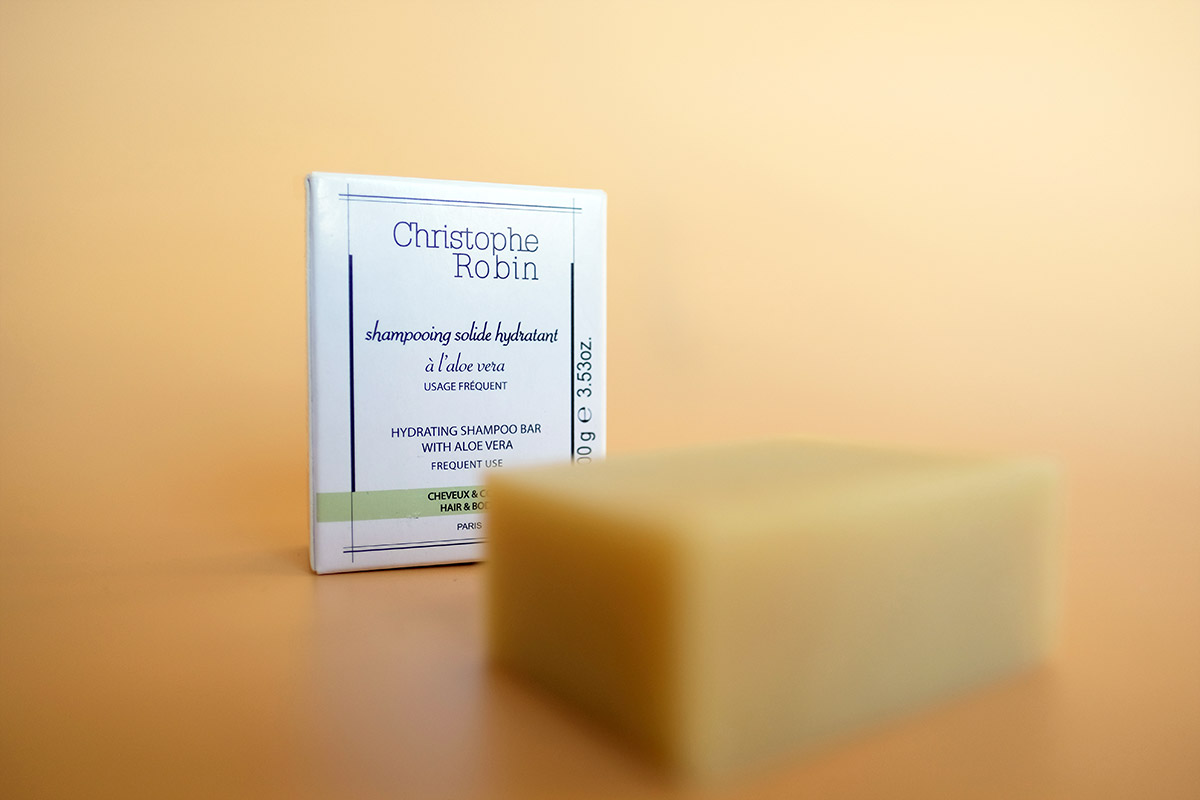 Hydrating shampoo bar with Aloe Vera: composition and virtues
First of all, I find the format of the solid shampoo very original. If you also like organic products, you will be spoiled, because this one is 100% natural and handmade, without paraben, silicone and SLS. In short, a 100% vegan shampoo.
It is composed of aloe vera, natural glycerin and castor oil. It can be used for both hair and body to gently wash your hair. It moisturizes your hair and gives it full tone and strength.
For the body, it also has a moisturizing effect, as it nourishes the upper layers of your epidermis and brings softness and comfort to your skin. No need to put a large quantity of shampoo to obtain a foaming effect. Small more, the smell is very pleasant.
After several days of use, you will notice that your hair looks stronger, thicker and shinier. This shampoo is suitable for both men and women.
Another great advantage for those who are used to using a conditioner… this solid shampoo is made with nourishing oils, which means that it doesn't contain any intensive degreasers that make hair dry and straight, so there's no need to use a conditioner.
Last update on 2023-12-01 / As an Amazon Partner, I make a profit on qualifying purchases./ Images from Amazon Product Advertising API
Christophe Robin Hydrating Shampoo bar: simple, pleasant to use and very economical.
The use of this solid shampoo is very nice, but it still takes some time to get used to it. However, after testing it, I can assure you that you won't be able to go back to the classic shampoo format.
The manufacturing of this shampoo is 100% artisanal, by saponification, and each soap is unique, because it's hand cut
For those who don't know and therefore don't know how it works, first wet your hands and then rub the shampoo between your hands until a lather appears. You then massage the foam into your scalp to diffuse it all over your scalp. As for a classic shampoo, you then proceed to rinse, but abundantly.

You can then possibly apply the moisturizing mist with aloe vera without rinsing, of the same brand, to facilitate the disentangling of your hair.

After use, it is important not to leave the shampoo dry in the shower, but it should be stored in a dry place.

Solid shampoos are great for traveling and very easy to store in a vanity because they take up very little space and don't run.

The format of this solid shampoo is very economical, as it can last between one and two months depending on how often you use it. Knowing this, and adding the fact that it is handcrafted with 100% natural ingredients, the price of 16 euros does not seem excessive.

A solid shampoo that is good for your hair… A solid shampoo that is good for the environment… what more could you ask for? When we know that 176,000 empty plastic shampoo bottles are thrown away every day, what are you waiting for to go to zero waste?

This solid shampoo is 100% natural and vegan, suitable for all hair types, discovered by Christophe Robin Hydrating Shampoo bar.