Looking for the perfect watch is like finding a wife or girlfriend. A watch is the most famous jewelry that men wear almost everyday. Have a great one, and you'll hold onto it forever; have the wrong one, and you'll be eager to get rid of it after some time.
So much has transformed since the first watches of the 16th century. However, the watch industry is still one 'that's formed on slow gains and not dependent on an ever-changing conveyor belt of fresh pieces for the gentlemen.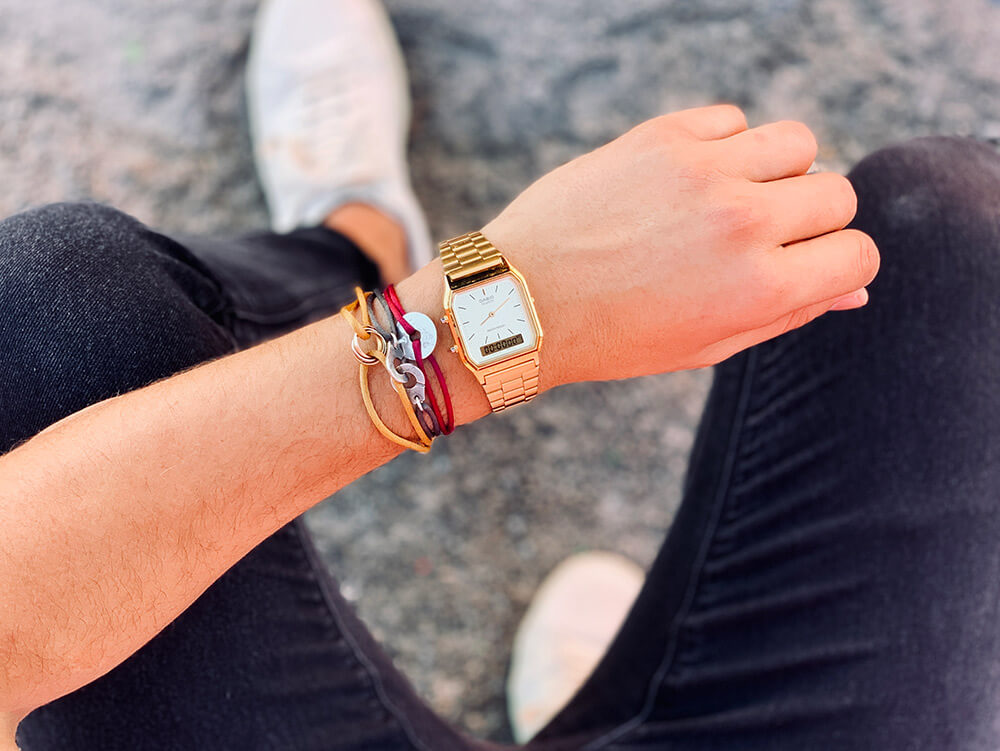 Trends in Watch Making
What's more? Trends in watchmaking tend to come around very regularly and only become genuinely rooted after several years, rather than after one season or two. But how does a trend begin, particularly when it comes to men's watches?
For the ultimate part, all it takes is just one watchmaker to present something different and unique into the market to grasp the gentlemen's interest. When it's done fine, it produces a series of actions for several other makers to follow suit.
As 2020 loops around the corner, 'it'll be a thrilling time for the world of watches to experience what new trends will be embellishing the stage. Here's the best watches for top fashion trends.
1. Angular Partners
Commonly, the shape of a watch is distinct in only two ways, being either circular or angular most of the time. The more classic styles are circular, with many still go for it to this day. Angular watches, though, continuously tend to steal the spotlight away due to its size and shape on your wrist.
Cartier Santos
Talking about angular watches, there's no more superior brand that says for angular watches other than the Cartier Santos. Initially a pilot's watch, the Santos is an icon in its own way with an abundant past to guide it for many more years to come.
2. Thrilling Touch of Unique Colors
Most men are fed up with the common. We believe that unique and diverse colors will rule supreme in the future. Primary colors will still be famous, but brands will look for ways to broaden the horizons. People look for hints of bright, exceptional colors mixed with the basics for a bit of an extra flavor on pieces that will be offered as limited editions.
'G-SHOCK's MT-G Collection
Coming out with an attention-grabbing rainbow bezel for the MT-G 'brand's 20th anniversary, the fresh MTG 1000RB-2A combines bold and bright colors without encompassing the toughness that G-SHOCK is famous for. Boasting an elegant scratch-resistant sapphire crystal with a non-reflective coat, this watch has excellent readability even on the brightest days.
3. Vintage Vibes
In ageless fashion, not following new trends is a trend in itself. The watch epitome of this sentiment is an undying vintage-styled timepiece. Retro timepieces will always have a home in a gentleman's heart. It comes hand in hand with reminiscence, which functions undoubtedly exceptional in the world of watches.
Patek Philippe 5212A Calatrava
With its untainted lines, people recognize the Calatrava as the very soul of the premium symbols of the Patek Philippe designs. Along with the Omega Specials, Patek Philippe delivers on its promise to never leave a great looking watch on its shelf forever with a 1955-vintage 'triple calendar' Calatrava. Utterly sophisticated, it charms every new generation of watch lovers by its timeless modest perfection.
4. Long-lasting Solar Watches
Driven by light, solar watches present a durable design. Not to mention, they are totally fashionable that come in various colors and styles. From athletic to stylish designs, long-lasting solar watches won't let you down with your life's journey.
Citizen Eco-Drive BM8180-03E
For the active outdoors men, the Citizen Eco-Drive BM8180-03E solar watch is the vital accessory for any venture. The stainless steel watch combines a black dial with a sewn canvas nylon band. Bonus features include a textured crown, buckle clasp closure, unidirectional bezel function, and mineral crystal dial window.
5. Special Editions
The distinctiveness of a timepiece is of the ultimate significance. Brands used to hide their technologies, but now, there are high anticipations for tech and processes. Watches with distinct forms and meaningful alterations to the dial, texture, finishing, and shape that are typically premiered on limited-edition models.
Omega-1957-Trilogy-Set-557
This timepiece is from the Seamaster series of Omega, the renaissance of an icon. Black dial with radiant silver-tone hands and index hour pointers is the genuine beauty of this timepiece. Driven by Omega caliber 8806 automatic movement and a 55-hour power reserve, this limited edition Omega Special timepiece has attested to be the choice of many watch lovers.
Takeaway

It 'doesn't have to be a limited edition to be exceptional. It can be in any unique structure and distinctive style. The pure aesthetic will rest on a man's preferences, but the trend will favor timepieces that embrace the specific brand's identity.

Finding the best watches that'll suit your style will always be a great feeling. Check out these tips on how looking for the best watches for your fashion.

//php comments_template();?>