Replica Beach Walk is an eau de toilette designed by Maison Margiela. Created in 2012 by Jacques Cavallier and Marie Salamagne, this eau de toilette is best described as floral, fruity and gourmand. Top notes are bergamot, lemon and pink pepper; middle notes are ylang-ylang, coconut milk and heliotrope. Base notes are musk, benzoin and cedar. Discover all our users' opinions on this fragrance here.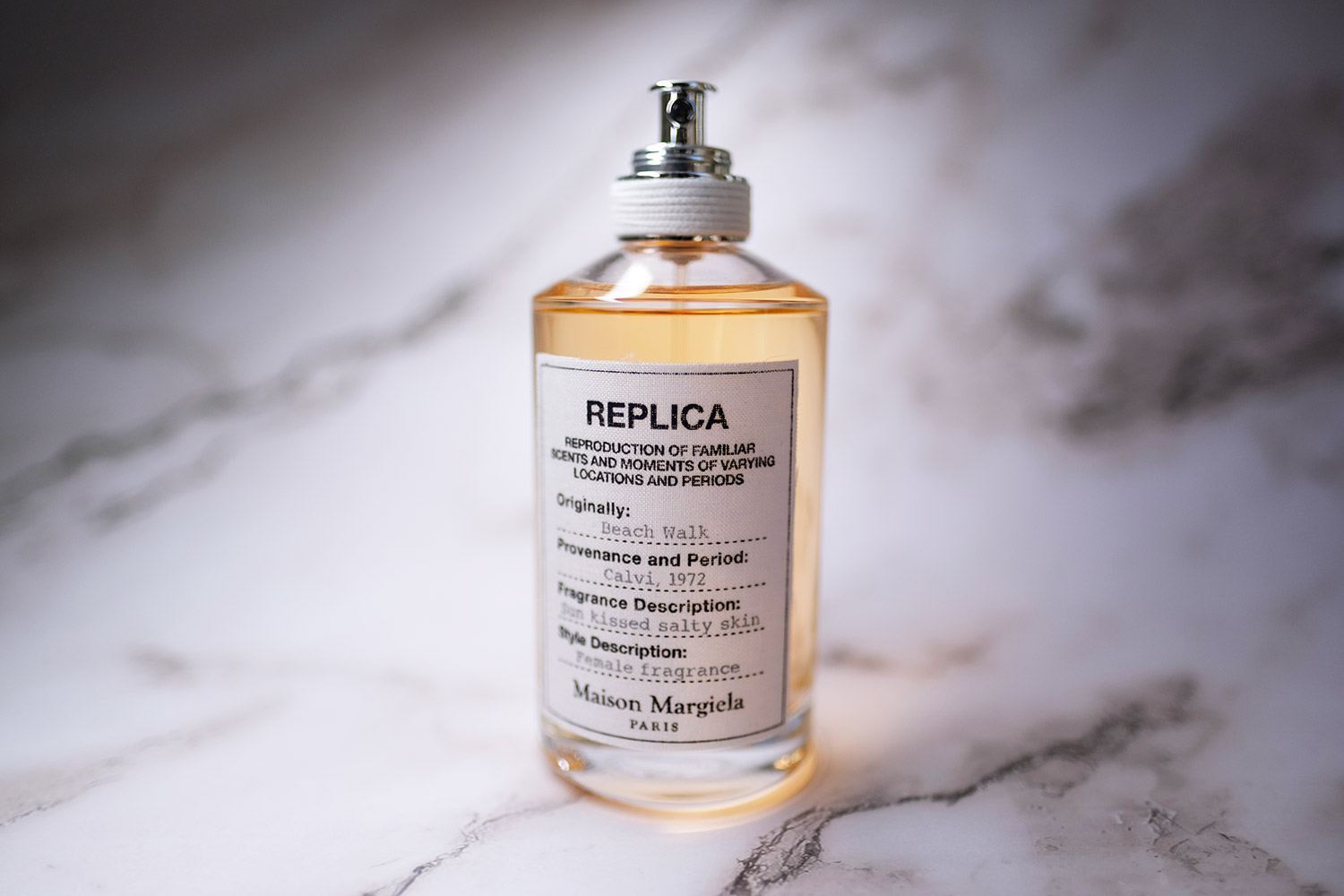 A fragrance that takes you on vacation
We love Replica Beach Walk for the sensations of warmth and sunshine it creates. As you apply it to your skin, the fragrance immediately makes you feel everything that reminds you of the edge of the beach: the waves and warm sand beneath your feet, or the smell of sun cream and sea spray. An eau de toilette that invites you to travel.
Ideal for summer
Replica Beach Walk immediately brings to mind a pleasant sunny day. The main reason is that it's the ultimate summer eau de parfum. You can carry it with you wherever you go on vacation. With its lingering scent of sunscreen and floral nuances, it's considered a summer must-have.
A feeling of freshness
Replica Beach Walk eau de toilette is appreciated for its sensual scent. We love the sensation of freshness provided by its musky notes of lemon, pink pepper and bergamot. Coconut milk then takes its place, bringing softness to the whole and rounding out the composition.
A long-lasting eau de toilette
For an eau de toilette, Replica Beach Walk satisfies in terms of staying power. It is rated as "correct" by the majority, although for some, the fragrance "doesn't hold at all". Indeed, most users note this drawback: the scent disappears fairly quickly. But in reality, it depends on the type of skin you have. What's more, on the whole, the scent is "strong" enough to be perceived, without being overpowering.
Beautiful packaging
Transparent and round, the Replica Beach Walk bottle reveals its water in the color of the sun. And we love it for that. It's "sunshine in a bottle", according to many. In fact, the bottle is modern and uncluttered, with no fuss or stoppers.
Replica Beach Walk "brings back memories…".
Almost everyone who tried this Maison Margiela treasure loved its memorable effect. The opinions were almost unanimous: "it reminds me of something, but I don't know what!". That's precisely what the blend of scents was intended to do, and it did! Eau de toilette has the gift of making you draw on your memories.
A feeling of comfort
If you had to give Maison Margiela's Replica Beach Walk fragrance a character, many would say it's absolutely "comforting." This is particularly true of the many compliments we receive for wearing it. Being a niche fragrance, both elegant and escapist, the eau de toilette makes a perfect impression.
A fragrance that lasts
Not to be underestimated, very few sprays of the product are enough to smell good all day long. This makes the bottle as long-lasting as you want it to be. This is the perfect combination with its price, making it the perfect investment.
The ideal gift for men… and women!
Top quality, sensational fragrance and long-lasting product: Replica Beach Walk is the perfect gift for a loved one. So don't hesitate to give it as a bonding gift: anyone would be delighted to receive it.
SCENT

10

FRAGRANCE HOLD

10

BOTTLE

10
True to its name, Replica Beach Walk, an eau de toilette by Maison Margiela, takes you on a trip to the beach.