Well known to perfume lovers, and more particularly to niche perfumes, Maison Margiela offers a range called Replica. Its principle? To olficially reproduce different moods and moments in life so that you can take a piece of memory with you. Here I present the Jazz Club eau de toilette, released in 2013, designed to evoke the hushed atmosphere of a Brooklyn jazz club.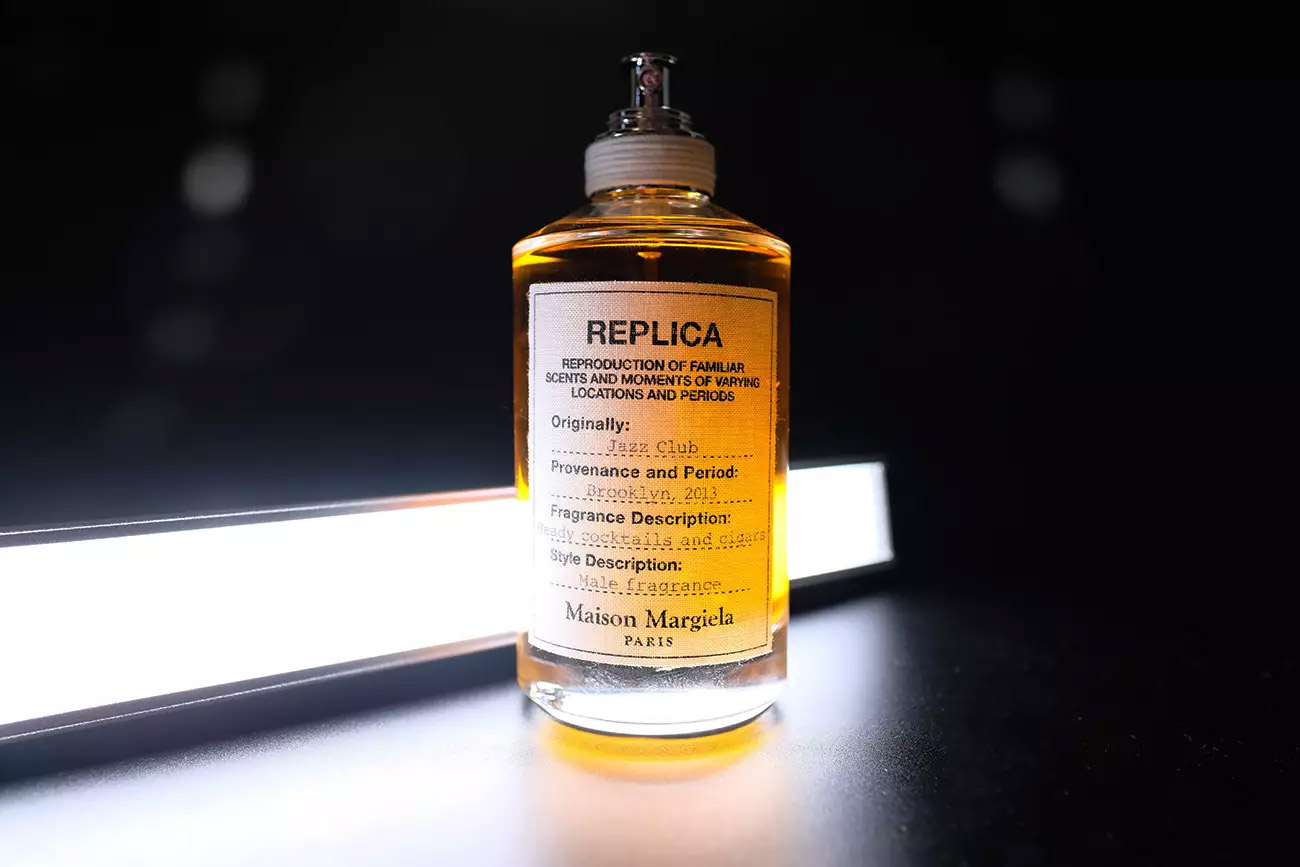 A recognizable minimalist bottle
Let's start with the first impression left by the bottle. All the perfumes in the range are presented in a vintage apothecary style bottle, with a minimalist look, flanked by a typographic label. This gives a real sense of luxury and fits perfectly with the image the brand wants to give to the perfume. It's easy to hold, so you'll find it easy to put this perfume on properly!
Namely a collection of scents and memories, all labeled and arranged along a shelf. The transparent glass lets see the beautiful color of whiskey of this eau de toilette jazz club.
An original composition combining lemon, rum and tobacco
No it is not the recipe of a Cuban cocktail, it is indeed the composition of the Jazz Club by Maison Margiela. More precisely, it opens with notes of lemon, pink pepper and neroli, before revealing sage, rum and vetiver. After a little while, the fragrance will deliver recognizable notes of styrax, vanilla bean, and finally tobacco leaf.
At first glance, this is a pretty powerful cocktail of scents, but we'll see that the designers at Maison Margiela have managed to balance their juice to bring out the ingredients little by little without any of them being too prominent.
Take the Brooklyn jazz club atmosphere everywhere
This composition, if it doesn't speak to you at first, forms a very original cocktail that achieves its goal of reproducing the overheated atmosphere of a night in a Brooklyn jazz club. It evokes open shirt collars and the sweaty skin of jazzmen, amber cocktails waiting on tables while cigars burn. It's undeniably a success and a simple press of the sprayer really takes you on a confusing olfactory journey.
How to wear Maison Margiela's Jazz Club fragrance?
Even if the bottle indicates that it is a perfume for men, Maison Margiela's policy, especially in this Replica range, is to offer unisex fragrances, as they do not refer to the person wearing it, but to a place and a time in the bottle. So you can use it, whatever your gender.
Despite what the description I gave above might suggest, this perfume is not heavy at all. One could imagine it very powerful, but it is not. In fact, its overall balance makes it a contemplative scent, which leaves a slight trail behind it, like a jazzman would leave one as he passes by you on his way off stage.
If the opening on lemon notes suggests a fresh scent, think again. Its lightness makes it suitable for summer use, but its warmth and sweetness make it ideal for fall and winter.
What is remarkable about this perfume is also its evolution on the skin. After a few hours, it will naturally melt into your body odor, adding a touch of sweetness, enhancing your charm like a pinch of chili would to an exotic dish.
Worn by a man or a woman, the touch of musk added afterwards by this symbiosis makes this perfume very sexy to wear and will not leave anyone indifferent.
SCENT

10

FRAGRANCE HOLD

10

BOTTLE

10
A true olfactory journey, the fragrance Jazz CLub by Maison Margiela takes you away for a night in a Brooklyn jazz club.