If you're planning to discover New York, you'll obviously need to find local accommodation for your stay. And the choice is vast! What if I were to suggest an establishment that I think you're sure to love? Let's discover the Moxy East Village, where I stayed for 3 nights!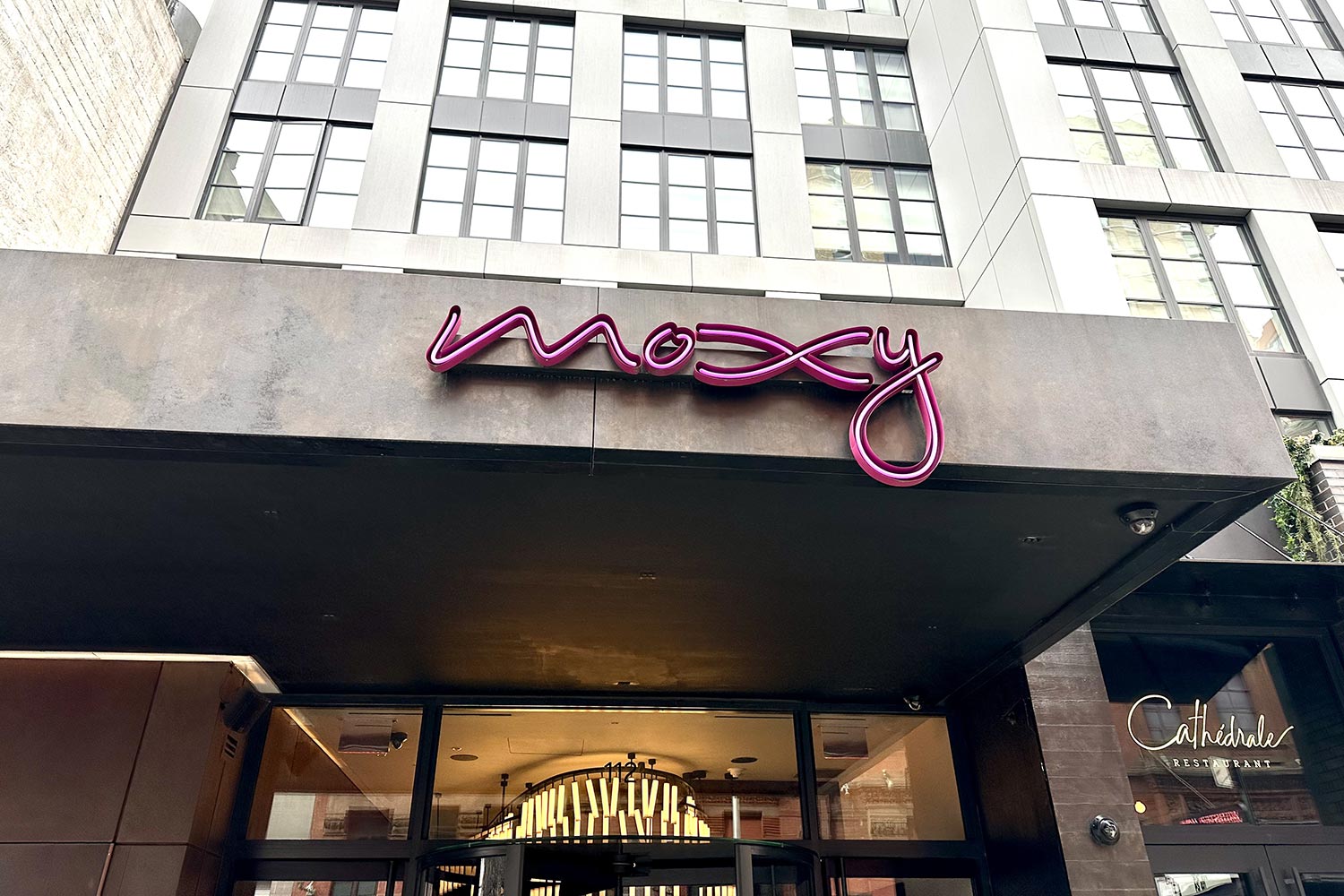 Presentation of the Moxy East Village
As its name suggests, the Moxy East Village is located in New York's famous East Village neighborhood. It was designed by the Rockwell Group, experts in the construction of leisure facilities such as theaters, restaurants and hotels. There are other Moxy hotels in Miami, for example.
The concept of this hotel is to make you travel! But not just anywhere. As soon as you arrive, you'll discover an amazing itinerary through history. You'll cross the decades and discover the first settlers, the punks and the activists of today. Let me remind you that this neighborhood is well known for its avant-gardism and counter-culture.
The venue houses 286 rooms spread over 13 floors, various coworking spaces, facilities showcasing the latest technologies available and cultural programming off the beaten track.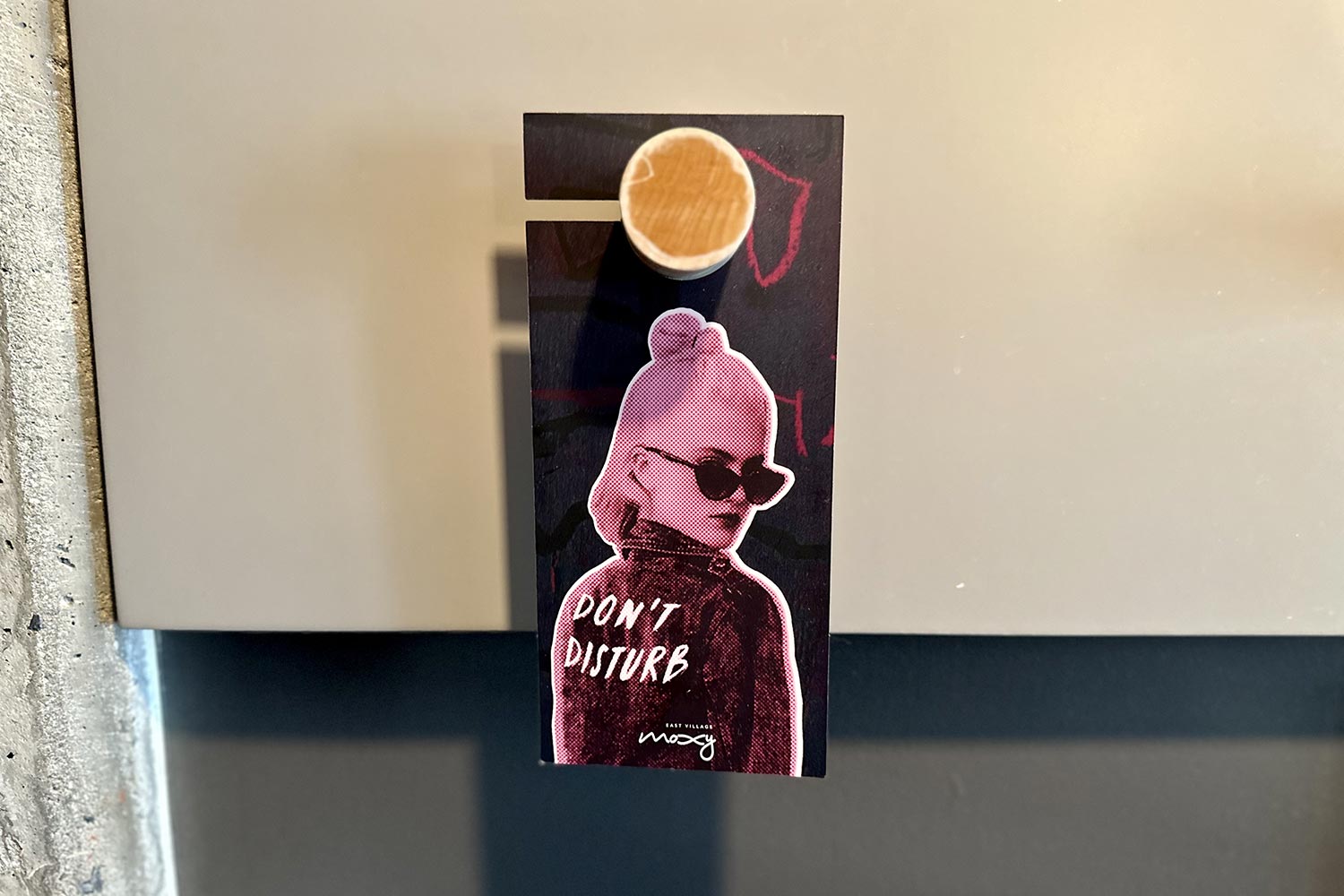 For your information, Moxy hotels are a member of the Marriott group, so don't forget to earn points during your stay!
When it comes to dining, you can enjoy a French-Mediterranean restaurant, an underground establishment (the Little Sister lounge) or the Alphabet Bar.
The Moxy aims to be a place that takes into account the planet, its inhabitants and their protection. To this end, it has installed a system that continuously disinfects and purifies the air (Atmosair). The various surfaces are regularly disinfected using an electrostatic method. Allergens, viruses, bacteria and mold are eliminated by a dedicated system (ASEPTIC PLUS+®).
The 4-star hotel aims to be both welcoming and rebellious. Prices remain reasonable.
The rooms
Once you've pushed open the door to your room, you'll discover a cozy space with very large industrial-style windows overlooking the neighborhood. The decor is simple yet warm. No outrageous luxury. Here, you simply feel good. You can spend long minutes relaxing under the Italian rain shower. You can also take advantage of the many free streaming applications in your room (such as Netflix).
Choose from single or double rooms with Queen-size beds. You can even opt for a room with twin beds that can accommodate up to 7 people.


All rooms have flat-screen TVs, hairdryers and free toiletries. Rooms are accessible to disabled guests. You can also borrow books free of charge, as well as vinyl records and a turntable to listen to quietly in your room. All styles and eras are catered for.
Guests can also take advantage of free bicycles for wandering around the Big Apple and an extensive fitness area.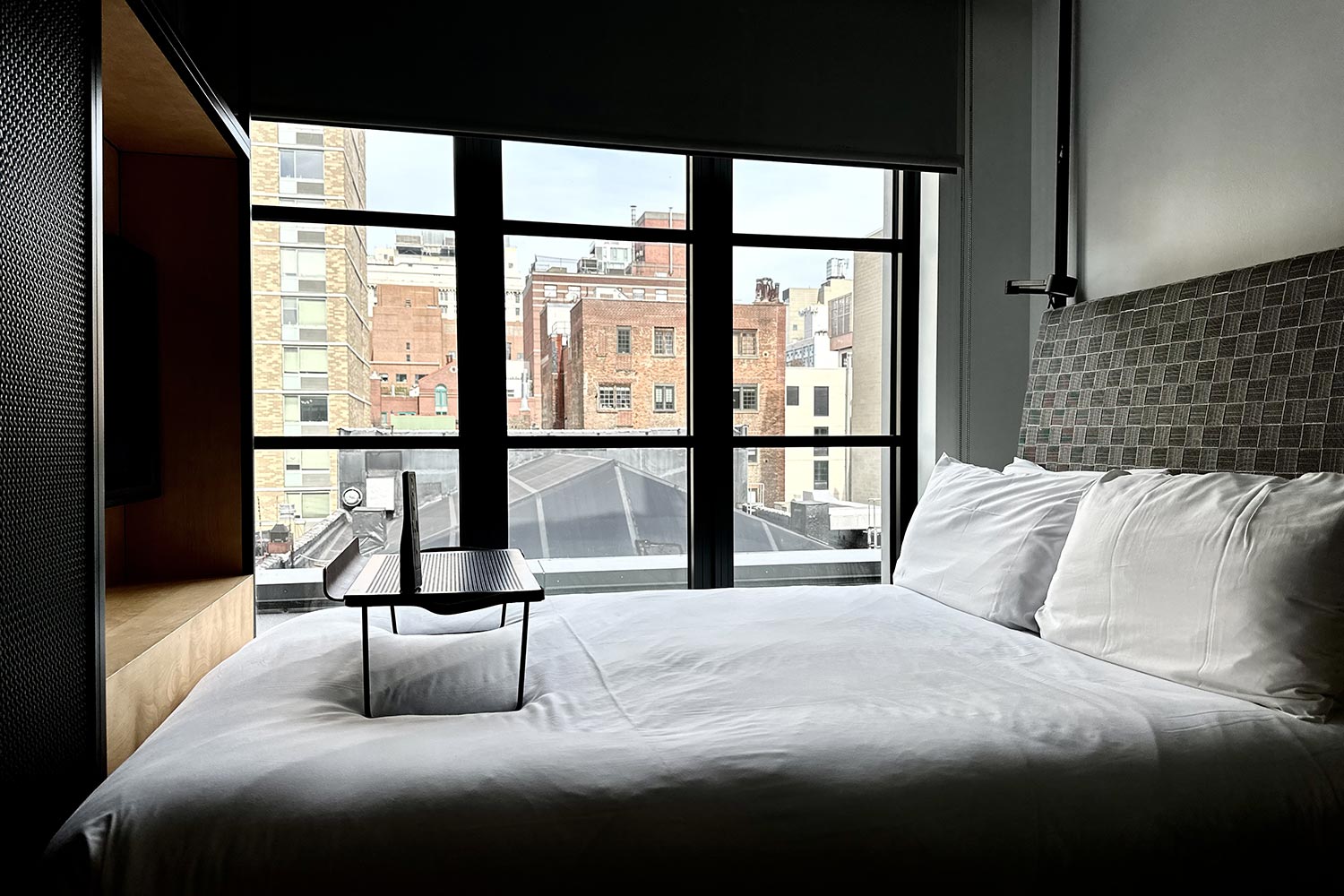 Space at its best
To enjoy the neighborhood, you can observe it from your room window, but also from the roof of your hotel. Take advantage of The Ready bar. With its surprisingly eclectic decor, you can relax in a cool atmosphere. I should add that the roof and part of the walls are retractable. Depending on the season, you'll be able to enjoy a unique view of the East Village. A special feature? The drinks and snacks prepared before your very eyes are kept in coolers! It's fun and unusual for an establishment of this level.
So you can nibble on a taco à la minute while relaxing in front of an exceptional view, or discover the salted caramel espresso martini.
The Alphabet bar
The hotel is home to another place where you can sip a delicious drink. The Alphabet Bar is located in the lobby and welcomes you 24 hours a day. Here, you'll discover a unique decor featuring a bar completely covered in organ pipes, theatrical curtains and concrete walls adorned with mirrors of all shapes and tagged for a unique style.
Adjacent to this bar, you'll find a café, the Café d'Avignon Popup. A retro atmosphere welcomes you. Teas and coffees are king here. You can accompany them with delicious viennoiseries or savoury snacks.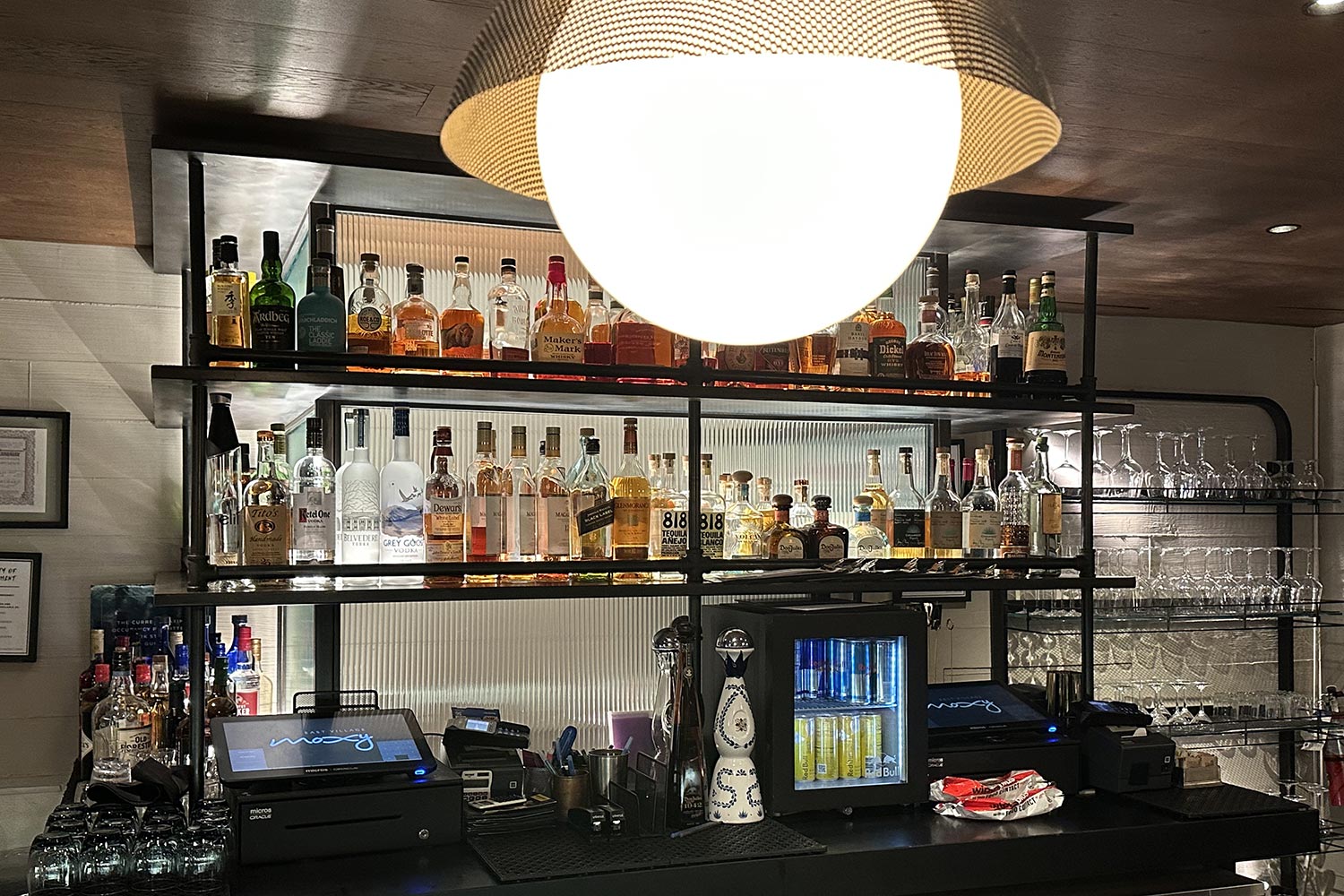 An incredible restaurant!
The Moxy East village also has something to delight your palate with its Cathedral restaurant. Its chef, Jason Hall, concocts a cuisine inspired by Mediterranean cuisine (southern France, but also Spain, Italy and Greece). The kitchen is open-plan and the decor is incredible. Here, you'll be in the middle of an opera house, with its impressive curtains, metal trellis covering the ceiling, domed ceiling and beautifully planted outdoor terrace, everything is there to take you away.
Enjoy, for example, a dry-aged entrecôte with roasted leeks or a variety of scallops with Kyoto carrots.
Bottom line
As you can see, the Moxy East Village is both an upscale establishment and a simple place to stay. It's the perfect base from which to explore the Big Apple. The hotel is not far from the airport, subway and bus stations, which can be very convenient. The majority of guests who have spent a few nights here have given the place very positive reviews. Trendy and hype at the same time, it seduces with its welcoming atmosphere, unique decor and quality services.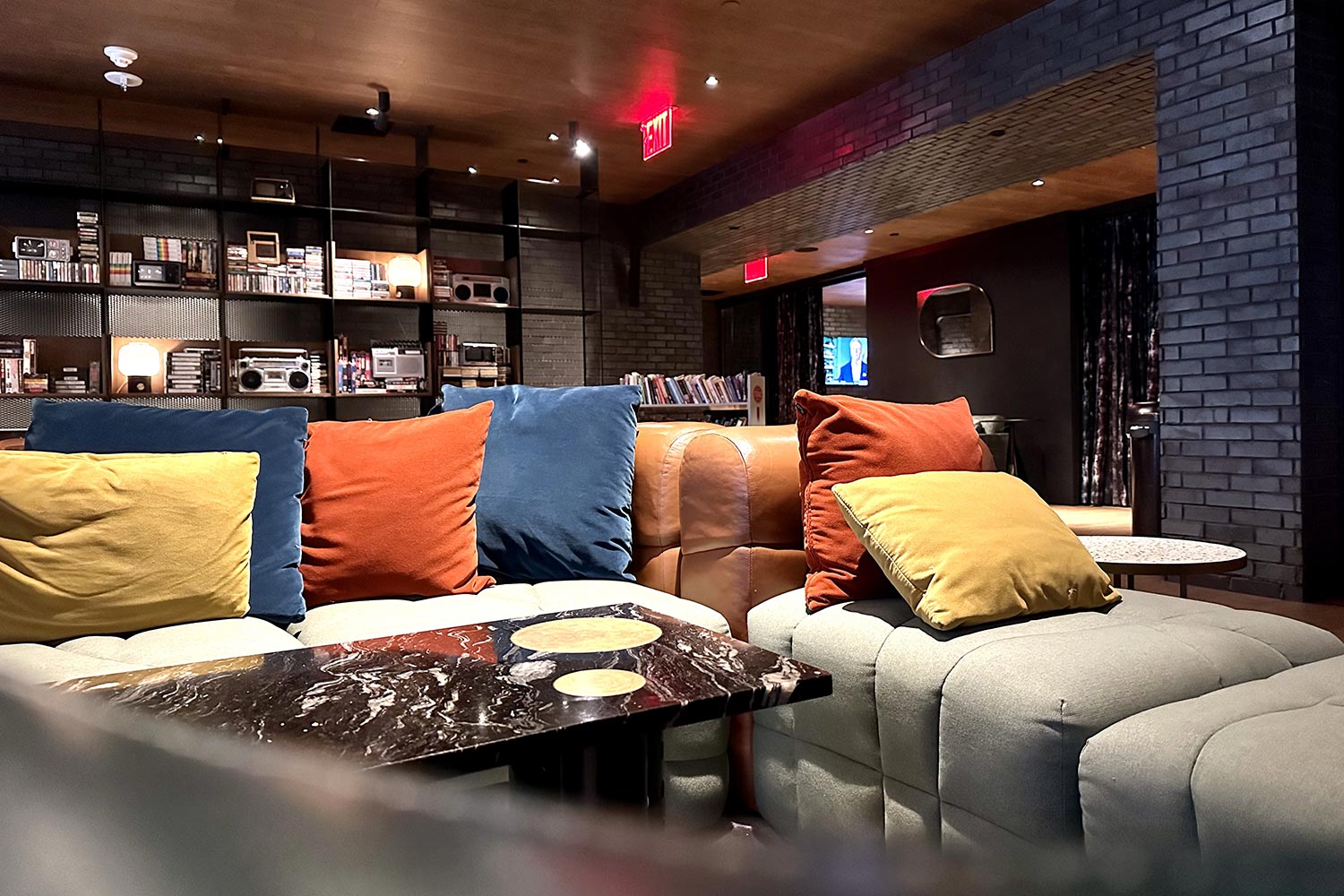 Need to book a hotel for your stay in New York? Here's an address that might interest you: the Moxy East Village!