This post contains affiliate links and I will be compensated if you make a purchase after clicking on my links
Are you going on vacation to New York? Before you fly to the Big Apple and after introducing you the New York Explorer Pass and my comparison between the New York City Pass and the Sightseeing Pass, I suggest you discover another good travel plan: the Go New York Pass.
This pass will allow you to benefit from reduced tickets for many attractions and monuments. How does it work, what are its advantages, why and where to buy it, I tell you everything!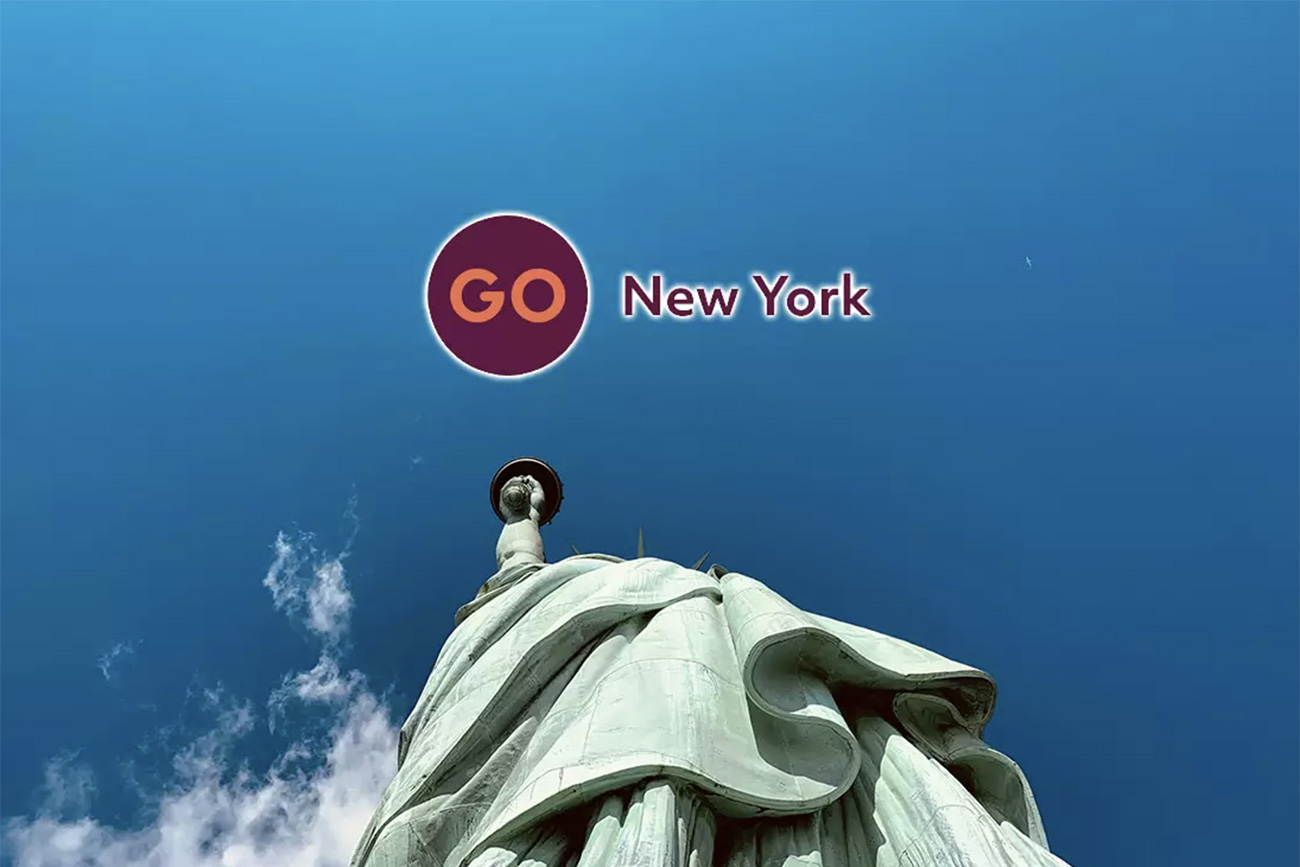 What is the Go-New-York Pass?
The Go New York Pass is a ticket of 3, 4, 5, 7 or 10 attractions that you compose yourself according to your desires, your budget and your pace.
Freedom to visit
When you buy your tourist pass to visit New York, you just have to choose the number of attractions you want to see during your stay, no need to determine them in advance, and you will have access to a catalog of 90 must-see sites in the city.
Its real plus in my opinion? Freedom. No need to plan your program in advance or to overload your day to visit as many places as possible in a minimum of time.
The pass is valid for 30 days from the first visit, and you choose the sites to visit as you go along and according to your desires.
Real savings and time saving
No unpleasant surprises, all the entries you choose are already paid for and included in the pass! You don't have to pay anything extra once you've paid for your pass, just let yourself be guided by your desires. What's more, by using Gocity, you can save up to 50% on the price of admission to the various sites.
Finally, one last point that I think is important: the Go New York pass also serves as a ticket that cuts through the crowd. Thanks to it, no need to waste time waiting in endless lines to enjoy some of the most popular attractions.
Activities to choose from to compose your trip
I present below a part of the catalog of 90 typical New York attractions that make up the pass, from the most unavoidable to the most original.
You can compose your own itinerary according to the number of activities purchased with the Pass, for a stay that perfectly matches your desires, without having to endure visits that do not interest you.
Must-see attractions
For me, New York is the Statue of Liberty and the Empire State Building. With the Go New York pass, take on these two must-see attractions in the city that never sleeps!
Visit the most popular sites in the city: art lovers will spend hours contemplating the works of the Museum of Modern Art, the MOMA, the famous MET or the Guggenheim Museum, while sports enthusiasts will love to walk the grounds and listen to the history and anecdotes of the famous Madison Square Garden and Yankee stadium!
The more original attractions
Would you like to discover something a little off the beaten track? The catalog is full of suggestions for original outings: why not schedule a visit to the city's catacombs by candlelight or a trip on a magnificent sailboat?
Go out and feel the soul of New York through a walking tour to discover its most emblematic districts or its typical gastronomy!
I also recommend for the younger ones to take a trip to Luna Park, LEGOLAND Discovery Center or to explore the American version of the famous Tussaud's Museum.
Activities to choose from
Here is the complete list of activities you can choose to do with your pass:
Lady Liberty Cruise: Circle Line Sightseeing
Top Of The Rock Observatory
Hop-On Hop-Off Big Bus – Classic Day Tour
The Statue of Liberty and the Ellis Island Ferry
Madame Tussauds New York
9/11 Memorial and Museum
9/11 Memorial Guided Tour
9/11 Tribute Museum – Gallery Admission
The Museum of Modern Art (MOMA)
The American Museum of Natural History
The Met
Intrepid Sea, Air and Space Museum and Space Shuttle
Central Park Bike Rental – Full Day
Central Park Bike Tour
Ripley's Believe It or Not® Times Square
Guggenheim Museum
Saint Patrick's Cathedral Tour with Express Entry
The RIDE
The TOUR
Big Bus New York Night Tour
Madison Square Garden® All Access Tour
Radio City Stage Door Tour
Rockefeller Center Tour
The City Lights Experience® Helicopter Tour
Inside Broadway Walking Tour
Fashion Windows® Walking Tour
Statue of Liberty and Ellis Island Walking Tour
National Geographic Encounter – Ocean Odyssey
Gulliver's Gate
SPYSCAPE
The Downtown Experience by THE RIDE
Brooklyn Bridge Full Day Bike Rentals
Brooklyn Bridge Bike Tour
The Whitney Museum of American Art
9/11 Museum Workshop – Hands-On 9/11 Tour
Museum of Eroticism
Food On Foot Tours
Spirits On Foot: Beer, Spirits and Wine Tour
Luna Park at Coney Island: 24 ride pass
Deno's Wonder Wheel at Coney Island
Hamilton Happy Hour Tour
Harlem Gospel Tour (every Sunday)
Yankee Stadium – Classic Tour
Statue of Liberty Express Cruise
LuminoCity Festival
Statue by Night Circle Line Downtown Cruise
Clipper City Sailboat – Daytime Sailing or Harbor Lights
Washington DC – One-Day Trip from NYC
On Location Tours – Tour of NYC Film and TV locations by bus
Walking tour of Central Park
Walking tour of Central Park's TV and movie locations
Greenwich Village Walking Tour
High Line – Chelsea – and Meatpacking District Tour
Walking Tour of SoHo – Little Italy – and Chinatown
The Met Breuer with Audio Tour
The Met Cloisters
Museum of the New York Historical Society
Museum of the City of New York
The Cathedral Church of St. John the Divine – Highlights Tour
Brooklyn Bridge and DUMBO Walking Tour
Candlelight tour of the catacombs
Ghosts of Greenwich Village Tours
NYC Slavery & Underground Railroad Tour Tickets
Full day bike rental in Harlem
Cultural Walking Tours of Harlem by Harlem One Stop
Alternative Street Art Walking Tour on the Lower East Side
Walking Tour of Little Italy and Arthur Avenue
Walking Tour : Midtown's Top Architectural Attractions
Best of Brooklyn Walking Tour in Williamsburg
Brooklyn Museum & Brooklyn Botanic Garden Combo Ticket
New York Botanical Garden
Lincoln Center Tour
Wall Street Walking Tour
NYC Landmarks Cruise by Circle Line
Downtown Secrets Tour
Hudson River Sightseeing: bike rental by the day
When Harry Meets Seinfield Bus Tour by On Location Tours
Gossip Girl Sites Bus Tour by On Location Tours
Graffiti & Street Art Walking Tour in Brooklyn
Graffiti & Street Art Workshop
Surrey Bike Rental on Govenors Island
HighFlyer Zipline at Foxwoods Resort Casino
LEGOLAND® Discovery Center
Stop the Zombies! 7D Dark Ride at Coney Island
Winter Village at Bryant Park Ice Rink (sponsored by Bank of America)
Helicopter Tours over New York City
New York Water Taxi: Day Pass
Marvel & DC Superheroes Tours
Shearwater Classic Schooner Day Trip Statue of Liberty
Harlem Jazz Series
Holiday Markets & Christmas Lights Walking Tour
Best of NYC Cruise by Circle Line Sightseeing
Lights of the Harbor Cruise: Circle Line Sightseeing
City Rambler Walk Through History Tour
Queens-Flushing Meadows International Food Excursion
Color Factory
Trolls the Experience
Grand Central Audio Tour
How to buy your Go New York pass ?

Convinced by this new pass ? I explain you how to buy your Go New York pass : go on the website by clicking on the button below :

Get your Go New York Pass now !Click here to see offers and save money !

Then, select the offer that suits you: Choose 3, 4, 5, 7 or 10 activities, or a customized pass. Once paid, you have the choice to use it directly with your smartphone or by printing it from the confirmation email.

And if you change your mind or don't use your pass, no problem. With the risk-free guarantee, Gocity will reimburse you for any unused pass for 30 days from the date of purchase.

Discover this lively and special American city on a budget with this pass, which I think is quite unique. It's nice not to have to plan every single visit and to leave a lot of room for the unexpected, for my part, that's how I enjoy traveling the most!

Don't forget to read my article on the mistakes to avoid when staying in New York, it will save you money and time, and if you haven't found the hotel of your dreams yet, I had the chance to try some that I will remember for a long time, my list is here.

Go New York Pass: enjoy prepaid tours at discounted rates with complete freedom! New York is yours!