It was probably the best stopover of my life, the one in New York and where I had the chance to spend a night in the TWA Hotel. For fans of airplanes, this hotel is a paradise on earth and I will tell you about my stay and my opinion.
The TWA Hotel cost about $400 million, and this hotel in a former JFK airport terminal in New York is magical.
It was while browsing on Instagram that I discovered the first pictures of the TWA Hotel, this hotel at JFK airport in New York. And my first reaction was this: No it's not a hotel, it's a movie set!
This hotel has an incredible view of the airport runways! A view as magical as the Ludlow Hotel with its bathtub view of Manhattan.
I decided on my way back to the US to book a night in New York to stay at the TWA Hotel. I arrived in New York on a Friday at 9am.
TWA Hotel, a hotel for aviation fans
This hotel is located in a former terminal of the JFK airport in New York. Apart from the decor, the entire building is authentic and its futuristic shapes from the past are true works of art.
If like me you can spend hours watching planes take off and land, the hotel will totally satisfy you! With 500 rooms to its credit, this hotel allowed me to live a fabulous trip back in time, while admiring a hundred planes.
Below, I'll tell you about the rooftop of the hotel, where I spent 2 hours with a good glass of rosé and especially to marvel at the take-offs and landings of A380s, B-787s, and other large aircraft.
Book a room at the TWA Hotel JFK
Rarely is it possible to book a room only on the official website of the hotel. Why is that? This is due to the particularity of the duration of the stays. Here you can book your room as follows:
7am to 11am
8am to 8pm in the evening
10 am to 4 pm in the afternoon
12pm to 6pm in the afternoon, perfect to have lunch and enjoy the pool before your evening flight
3pm to 11am the next day (to spend a night on site)
To find out the prices, you have to go directly to the hotel website. For information, my night cost me about $250. Don't forget to pay for your stay with your American Express card to benefit from your travel insurance and earn Amex Miles or Points!
Book your room here now !
All about the hotel
Let's get to the heart of the matter and I'll share with you my experience in this incredible hotel.
Getting to the TWA Hotel
It is very easy to get there! The hotel is just in front of the terminal 5 of JFK and to reach it, an elevator is located in front of the counters of the company Jet Blue.
If you land at another terminal, take the AirTrain for free to get to Terminal 5. My plane landed at Terminal 2, I arrived in 10 minutes, once on the train, at T5!
From New York, follow the directions to JFK and you can park in the terminal 5 parking lot to get to the hotel. Please note that valet parking is available at the main entrance of the hotel.
TWA hotel lobby
Once out of the elevator taken from terminal 5, I find myself in a giant circular hall, the floor completely soaked with red carpet.
I walk and drag my 27 kilo suitcase to the check-in counters to get my room access card.
Further on, you will find a kiosk with old magazines for free consultation, a free photobooth for souvenir photos, a reading room with lots of books and tourist guides, a sign announcing the flights on arrival and departure, just for the decor.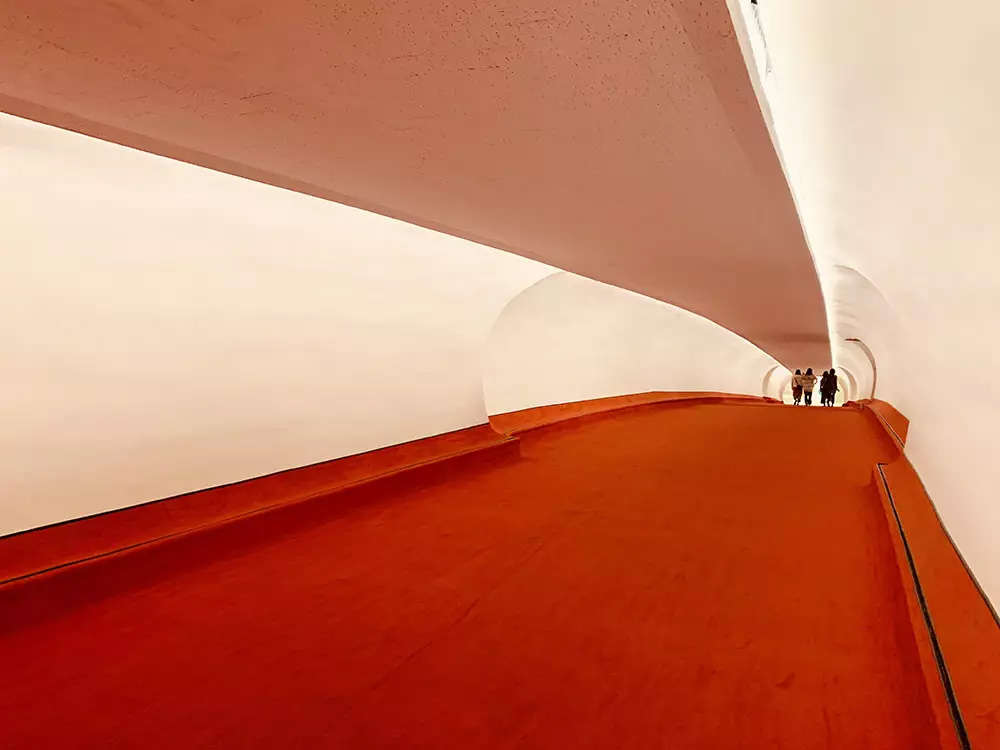 Check-in at the TWA Hotel
The hotel's theme means that check-in is like an old airline! The counters are automated but there is always someone on hand to help you if needed.
You need to bring an ID, your reservation name and a credit card for the deposit.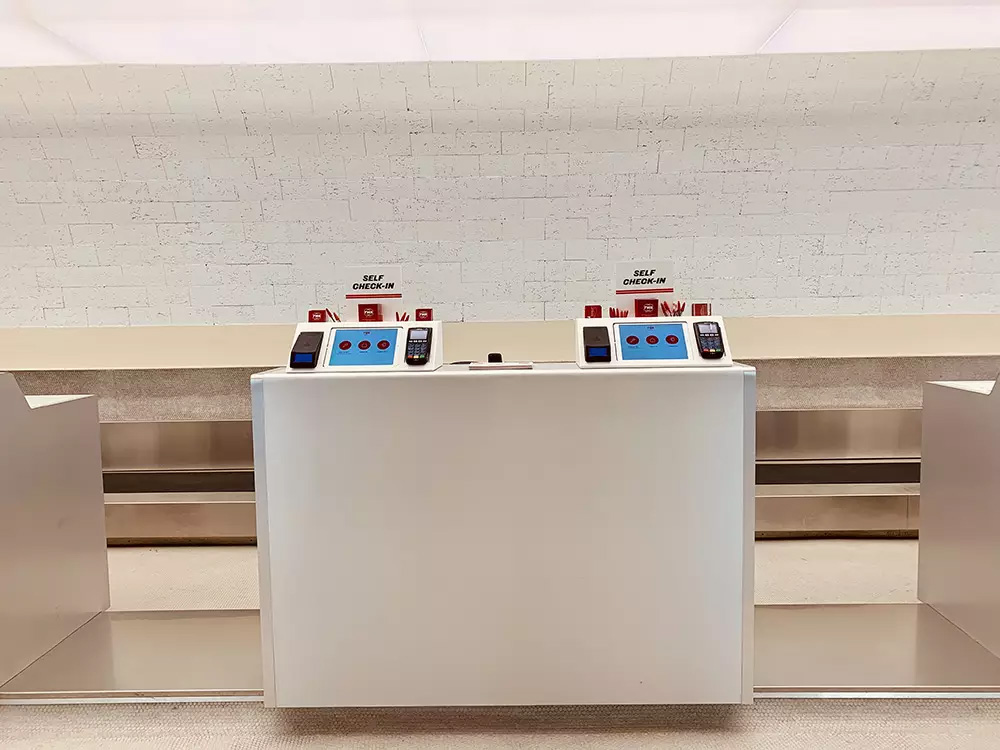 TWA hotel room
The room has a 70's design! Between the colors and the accessories, this trip back in time continues and I am happy. I had a direct view on the terminal 5, at night I watched the passengers walking in the terminal, I could not sleep …
In the room several services are offered:
TBA pencils (Free I guess)
A very complete mini bar with reasonable prices for a hotel of this type (the beer was 6$)
A bathrobe
A giant TV screen with over 100 channels
A high speed WIFI connection
A wireless charging station for cell phones
USB plugs
Dryer
A safe with code
Only two things were missing in my opinion: A coffee and tea machine and an iron.




Swimming pool of the TWA hotel : An infinity pool…
This is the reason why I decided to book a night in this hotel. There are thousands of hotels in airports, but a hotel with a swimming pool directly on the airport runways is quite rare!
On this October day, it was cold, and even if the pool is heated, I didn't feel like jumping in the water. There are several deckchairs and towels available.
The access to the pool is free for the hotel's guests and is not free for the non-clients.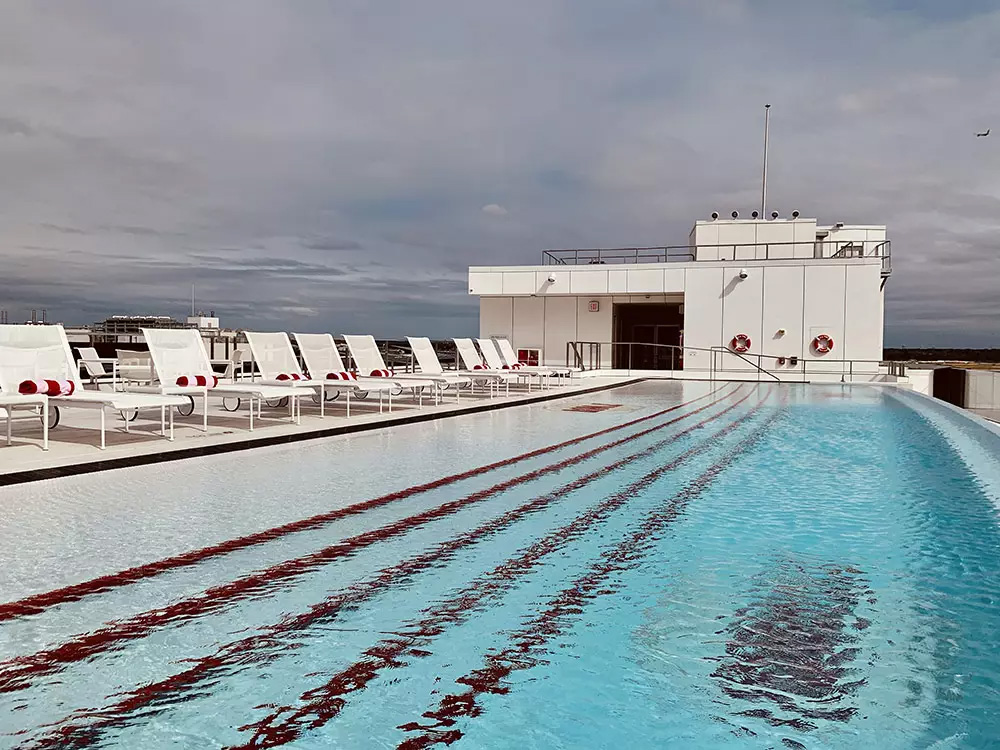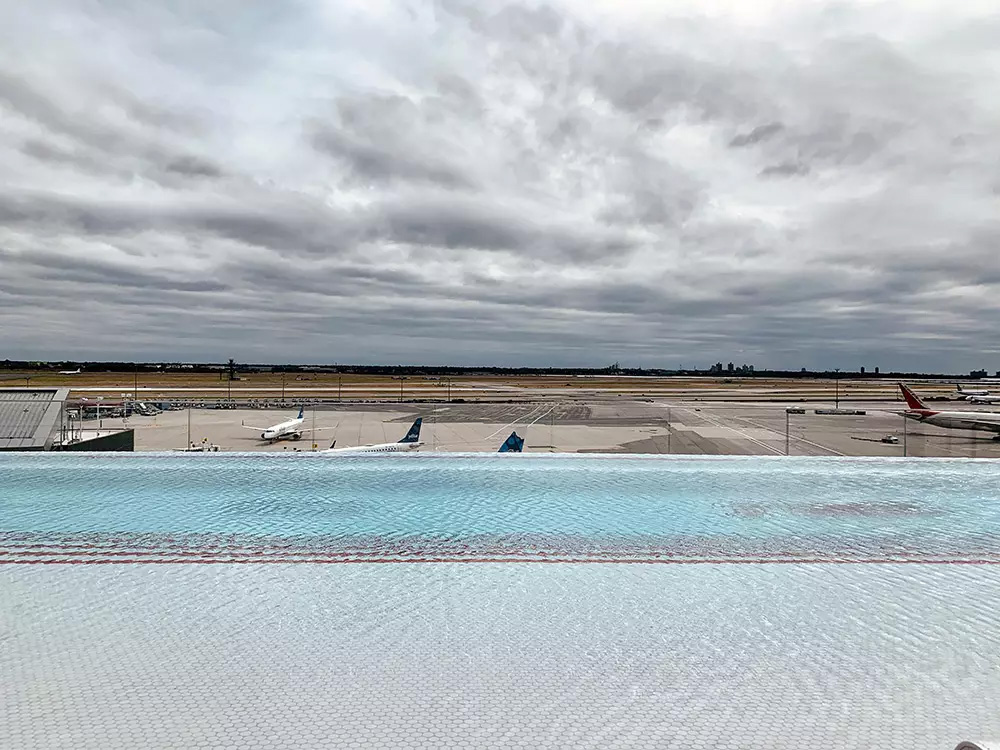 TWA Hotel gym
The gym offers several cardio machines, if you want to work out it's ideal. Personally, I was so tired that I didn't feel like going to work out, but if I had a crazy urge to keep pushing to build up my calves.
TWA Hotel Memories
Hidden behind the food court, there is a souvenir store which offers a lot of things with the effigy of the hotel: beach bag, bathrobes, books on the history of the TWA, t-shirts, GOLA sneakers in special edition TWA…
Eating at the TWA Hotel
For breakfast, lunch or dinner, you won't die of hunger! Here's everything that's offered on site:
Dining room (Food Court)
There is a food court which proposes Fast Food of several types of cooking: Mexican, American, Asian…
Café Intelligentsia
As mentioned above, my room did not have a coffee machine, and I woke up at 4:30 am because of the time difference…
At the hotel, the breakfast is only served from 8:00 am, which is quite late I think, but fortunately the Café Intelligentsia opens at 5:00 am!
Of course, I was the first one downstairs to order my coffee. I let myself be tempted by a pain au chocolat… I usually avoid pastries in the US, they are expensive and not really good, unless you fall on a French pastry.
Coffee and pain au chocolat : 11$ ! Wow, but after biting into the chocolate bread which was delicious, I quickly forgot what I had just paid.
The pool bar
For drinks and food, the bar offers its own menu (pretty poor in food) but the view will make you forget about your food cravings.
I had a glass of Rosé from the south of France… In fact I had 2, I was so happy to admire the planes that I did not see the time pass.
The connie
Have you ever had a drink in a bar that is located in an old plane? No ? Then you're in for a first! Located between the hotel and the terminal 5, on board you feel like in a real plane. A hostess even comes to seat you before taking your order.


Jean-Georges' Paris Cafe
Here I am at the hotel's restaurant, the Paris Cafe. This restaurant is just beautiful! Unfortunately I didn't have the time to dine there, so I couldn't give you my opinion on the cuisine.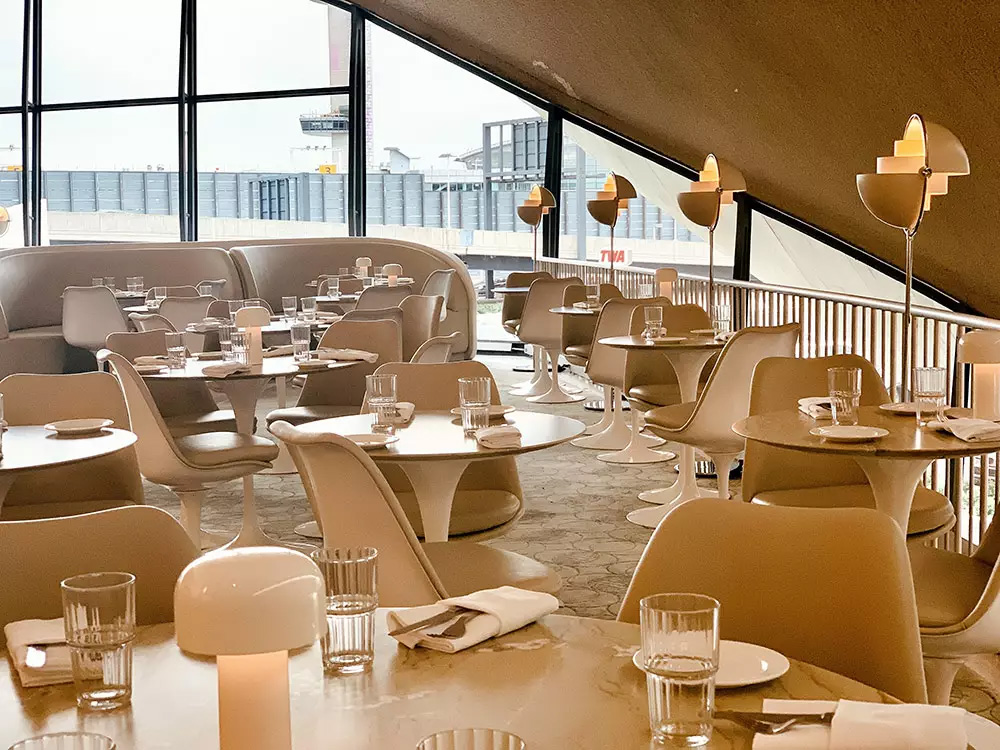 Visit the TWA Hotel if you don't have a room?
Don't have a room at the hotel? No problem! You can visit the hotel and have coffee, lunch and even dinner on site. Only the access to the rooftop will be charged if you don't have a reservation for the same day.
My opinion of the TWA hotel

Overall, I had such a wonderful time that I give this hotel 5 out of 5. I couldn't have spent 3 days there as it can get boring quickly, but for a day or night, it was just perfect.

I'm going to share with you my experience and review of the TWA Hotel which is located at JFK airport, a real trip back in time.