Today, I want you to discover the ankle bracelet for men. More common in the women's jewelry department, it remains more rare in the men's department. It is however a very current trend, which will allow you to assert your style. In this article, I propose to discover this jewel for men which you will have pleasure to seize. Materials to choose, season to wear it, you will know everything about this type of jewelry!
The meaning of the side you wear the Ankle Bracelet
Before anything else, it is important to make a point about certain customs in terms of ankle bracelets. For some civilizations, this type of bracelet has long been a way to claim its membership in a social environment. It could also indicate a religion.
In the 90s, when the ankle bracelet was worn by a woman, it could indicate sexual availability. However, I would like to point out that this type of jewelry is no longer necessarily a sign of this type. So there is no need to rush to the people who choose to wear it!
As a potential message carrier, some people attribute particular meanings to it. It would be possible, for example, to make one understand one's sexual preferences according to the side on which one wears the ankle bracelet. On the right side, it would affirm one's membership in the heterosexual community. On the left side, it could indicate that one is bisexual or homosexual. You are free to consider or not this interpretation.
Leather anklets
For a really masculine side, there are materials to be favored. For example, it will be possible to find leather bracelets. The big trend this summer is the braided leather. It allows you to obtain rather thick bracelets, which are really different from feminine jewelry. Some brands also choose to combine it with metal pieces representing objects.
Be careful, leather bracelets should be removed before going in the water. This will allow you to extend their life. Genuine leather will also need to be moisturized regularly to keep it looking great. They can be accompanied by some fancy embellishments, such as shells and other charms.
Men's Ankle chains
The bracelet can also be an ankle chain. Here too, we often find large links to differentiate ourselves from the products available in the women's department. As for the materials, it will be possible to find Men's Ankle Bracelet made of precious materials such as gold or silver. It is therefore possible to find this kind of jewelry in real jewelry stores.
As an alternative to precious metals, it will be possible to find stainless steel bracelets. The advantage of this type of material is that it is often more resistant than silver or gold. You will therefore be able to enjoy your jewelry with a little less risk of breakage. Your accessory will also be less expensive. As for the colors, by choosing a quality bracelet, you won't have any bad surprises.
Fabric bracelets as in my picture
To add a colorful touch to your look, do not hesitate to bet on the fabric anklet. It could be for example a Brazilian bracelet composed of one or more colors. It will then be possible to match your bracelet to your outfit. Be careful, some of them have a closure with a knot, which it will not be possible to remove. But it is essential to choose your color carefully if it is a bracelet that does not have a traditional fastening.
My advice is to choose your Men's Ankle Bracelet according to your skin tone. If you are lucky enough to have a nice tan, don't hesitate to choose flashy colors. It will bring a touch of originality to any of your outfits. Some will also be decorated with accessories like pearls or shells.
An ideal accessory for summer
If you want to get hold of the ankle bracelet, I advise you to do it in summer. It is usually at this time of year that you wear low shoes or sneakers that will allow you to highlight the jewel. You can choose to match it with casual shoes like flip-flops or flip-flops.
To be on the cutting edge of fashion, feel free to wear your anklet with a pair of loafers, white sneakers or flip-flops (without socks this time). It can contrast a dressy outfit for a wedding or a day at work. By adding a cool touch to your look, it reveals your personality and attitude.
Branded Men's Ankle Bracelet
If you have a summer version of the Men's Ankle Bracelet in mind, you may be imagining buying yours at a market. You'll be able to find this type of accessory in the boutiques of major brands. More and more ready-to-wear stores are offering their own ankle jewelry for men. This type of bracelet can bring an extra touch of sophistication to your look. Quality materials are also often used with this type of product.
Some brands make a small discreet reference to their logo. Others choose to offer you the opportunity to mark your belonging to their brand in a more visible way. You can discover medallions and charms with their effigy.
You now have all the cards in hand to grab the anklet for men. Whether it is discreet or rather showy, it will bring a little more to your outfit. Star of the summer, it can also accompany you in the winter, as a little wink to the summer season.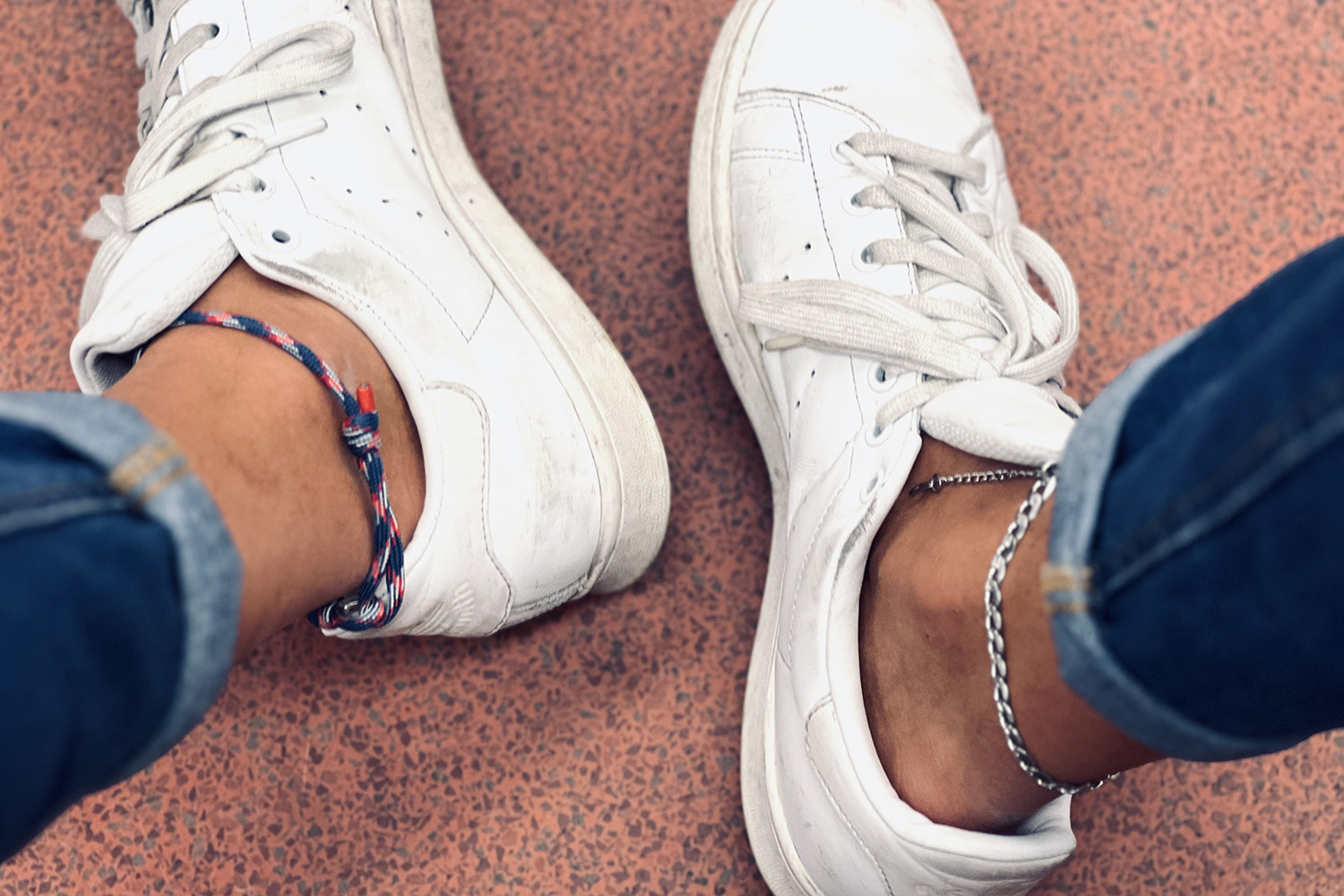 Discover the trend of the Men's Ankle Bracelet, with the most fashionable materials of the moment, and the tips to buy the right one !