There are so many styles out there, which brings about the question: How to choose a leather Perfecto biker jacket? To answer this, I will try to help you with this article containing some tips and also some pictures of my last leather biker jacket purchase from All Saints.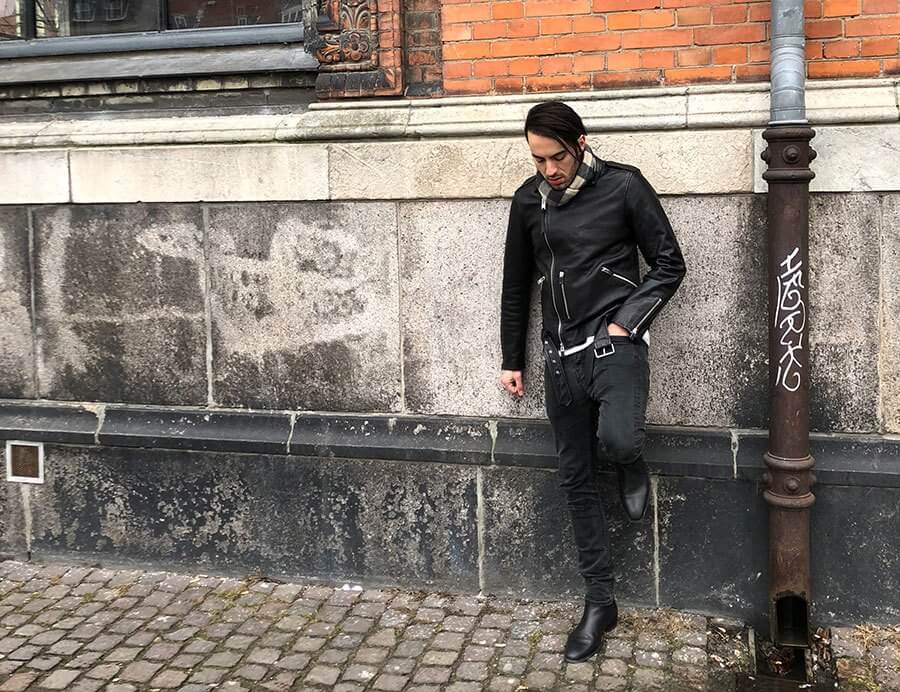 Wearing perfecto from Allsaints – MODEL PERFECTO STENS – $ 520
The History of the Perfecto jacket
A biker jacket
In 1928, at the request of an order placed by a Harley-Davidson dealer, Irving Scott, a new type of jacket was created; which is the motorcycle jacket or commonly known as the biker jacket.
The design instructions for this order were clear: the dealer wanted a heavy-duty jacket to protect bikers in case of a fall.
The classic Perfecto jacket
Only leather from horse was used to make this jacket. It had a very specific design:
A zipper on the front that allows to double the thickness in case of an impact to the torso.
Buttons to snap the collar in place and avoid it from flapping on the windage.
Zipper cuffs for tightening.
A belt in order to precisely adjust the jacket to the person's width (so that it is positioned correctly on all parts of the body)
The perfecto jacket gives a style
If this jacket style was originally created for the biker, it subsequently inspired many movements: rockers, greasers, punks.
A symbol of the biker, the rocker and then of rebellion, the biker jacket finally made its debut into fashion in 1991.
The leather Perfecto today : trendy colors
Even if black is the classic look, nothing should stop you from setting yourself apart by choosing a brown, beige, camel or other shade of brown.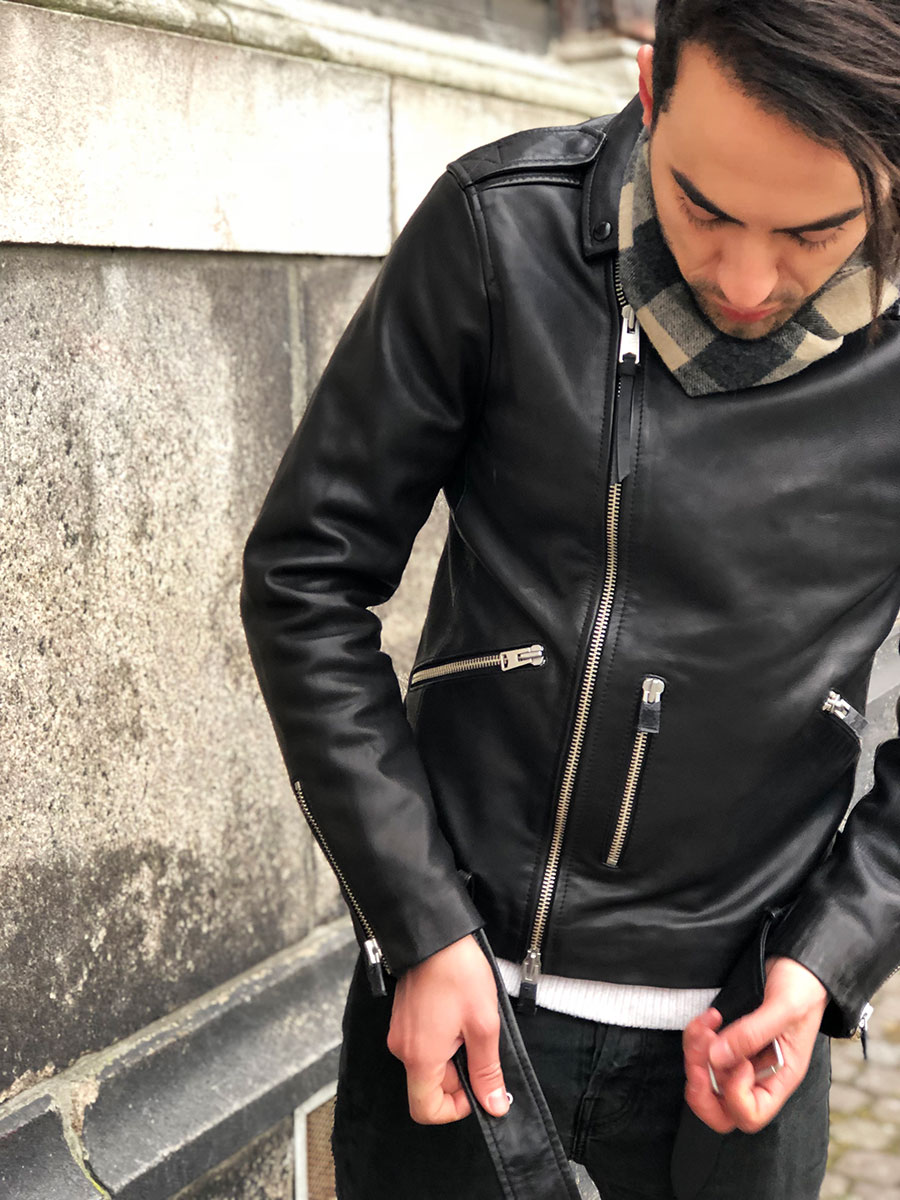 Materials of the Perfecto jacket
At the time it was conceived, this jacket was made exclusively from horse leather and its manufacture has gradually evolved:
Bull or cow leather
To give a raw look, some jackets are made from buffalo skin.
Some versions are made of velvet, calf or goat leather. This leather has the quality of being a quite flexible material. Its appearance and feel add a bit of softness to a jacket with hard and rough lines. On the other hand, this gives it a more elegant look.
The biker jacket in crocodile skin or ostrich leather is rare, yet beautiful.
The multi-material style tries to take the upper hand: wool, leather, nylon… This gives the jacket different aesthetic aspects: matte, shiny, flexible, hard, rough, soft…
Choosing the style of your Perfecto jacket
Choose from the different cuts that fit you best: curved, wide, fitting to the body. The biker jacket can be fitted to any type of clothing it is worn with.
Giving yourself a rocker style
You can also give yourself a particular style:
The biker jacket and the destroy style: Wear with a classic T-shirt and print pants in graphic art style.
The biker jacket and the elegant style: choose a flexible biker jacket (velvet, light tones…) A white shirt and silk trousers.
Do not hesitate to mix styles, it's very trendy and fits perfectly with the spirit of today's fashion.
The Perfecto biker jacket and the casual style: the biker jacket in fleece was a perfect combination. Pair it with a collar t-shirt, trousers with pockets and the trick is done.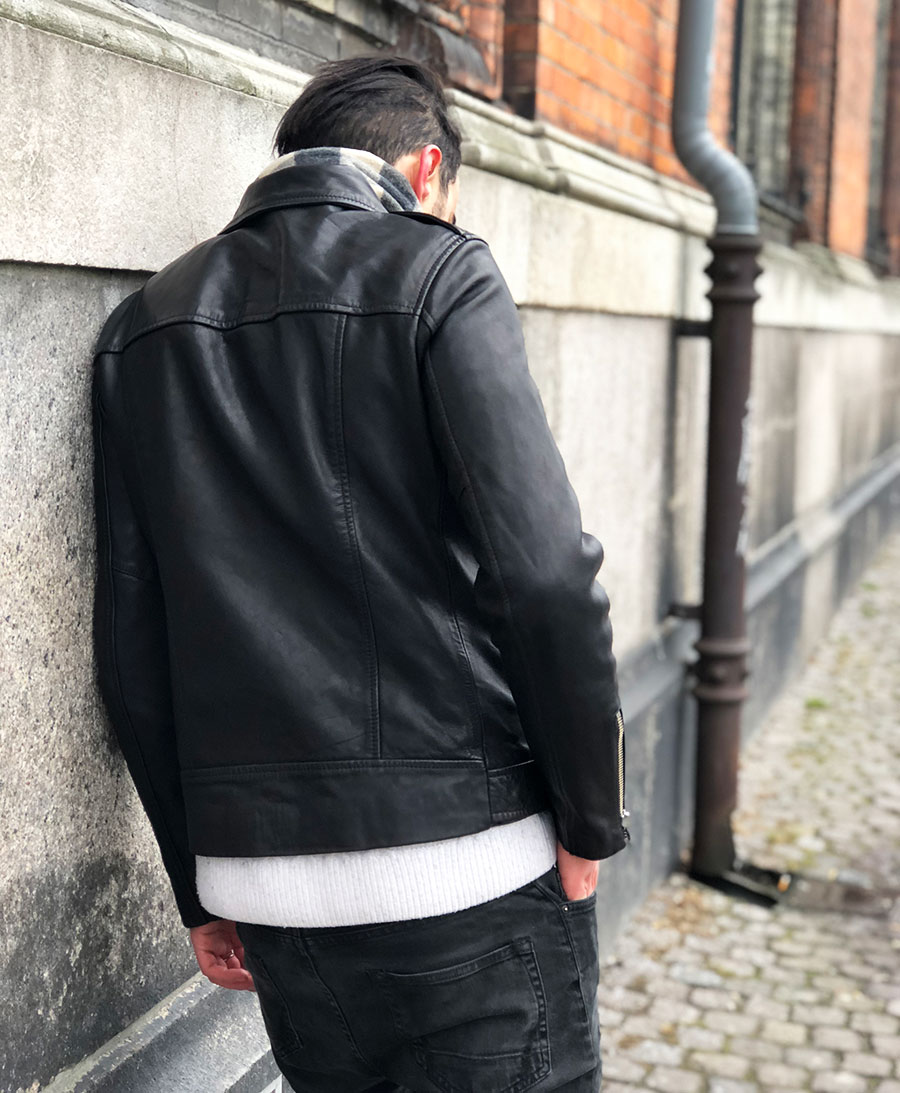 Should I wear my Perfecto biker jacket open or fastened ?
Good question! Everything will depend on your style and also your body type.
If you are more on the slim side, you can wear your Perfecto biker jacket fastened, as long as you do not wear a thick wool sweater underneath.
If you are thick-bodied, then you have the choice to fasten the jacket and see if this suits you and especially see if the jacket feels comfortable. In the second case, you can also wear it open, to have a cool look and less restricted style.
I often wear a slim jean with my Perfecto, and also for the shoes my Paul Smith Boosts or Saint Laurent sneakers.

How to care for your Perfecto leather biker jacket ?
While the classic leather biker jackets are very easy to maintain, this is not the case for the more luxurious ones (woolskin, velvet…).
The latter are extremely sensitive to frequent wear and use. Very regular upkeep will guarantee their longevity, provided that your biker jacket is of good quality.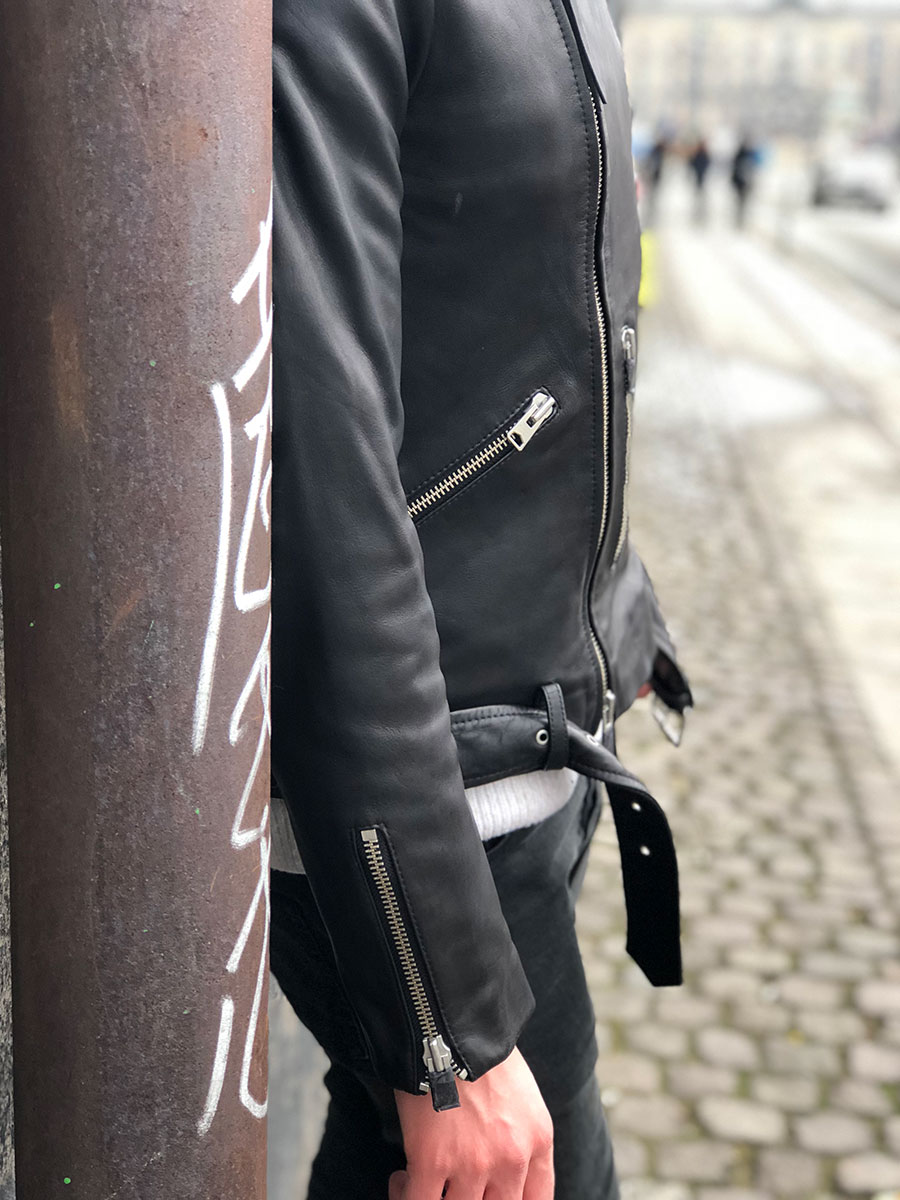 Before you start buying your next leather jacket, I will tell you how to choose a Perfecto for man, how to wear it and maintain it.

//php comments_template();?>