Havaianas, a name synonymous with comfort and style, has been adorning the feet of many across the world. Originating from Brazil, these stylish flip-flops and footwear have become a popular choice for many, from beachgoers to city dwellers. But with a myriad of styles and designs available, how does one choose the right pair? Here's a guide to help you pick your perfect Havaianas.
1. Know the Types
Espadrilles
When it comes to casual footwear that's both comfortable and stylish, the Havaianas espadrilles stand out. These aren't your typical rubber flip-flops; they are a step up in style and sophistication.
Design:

Espadrilles from Havaianas feature a canvas upper and a rubber sole, combining the traditional espadrille design with the comfort Havaianas is known for. They come in a variety of colors and designs, ensuring there's something for everyone.

Occasion: Espadrilles are versatile. They can be your beach buddy, your stroll-in-the-park companion, or the perfect footwear for a casual brunch with friends.
Flip-Flops
While we're highlighting the espadrilles, it's hard to ignore the classic Havaianas flip-flops. They come in various designs, from plain to patterned, making them a staple for every wardrobe.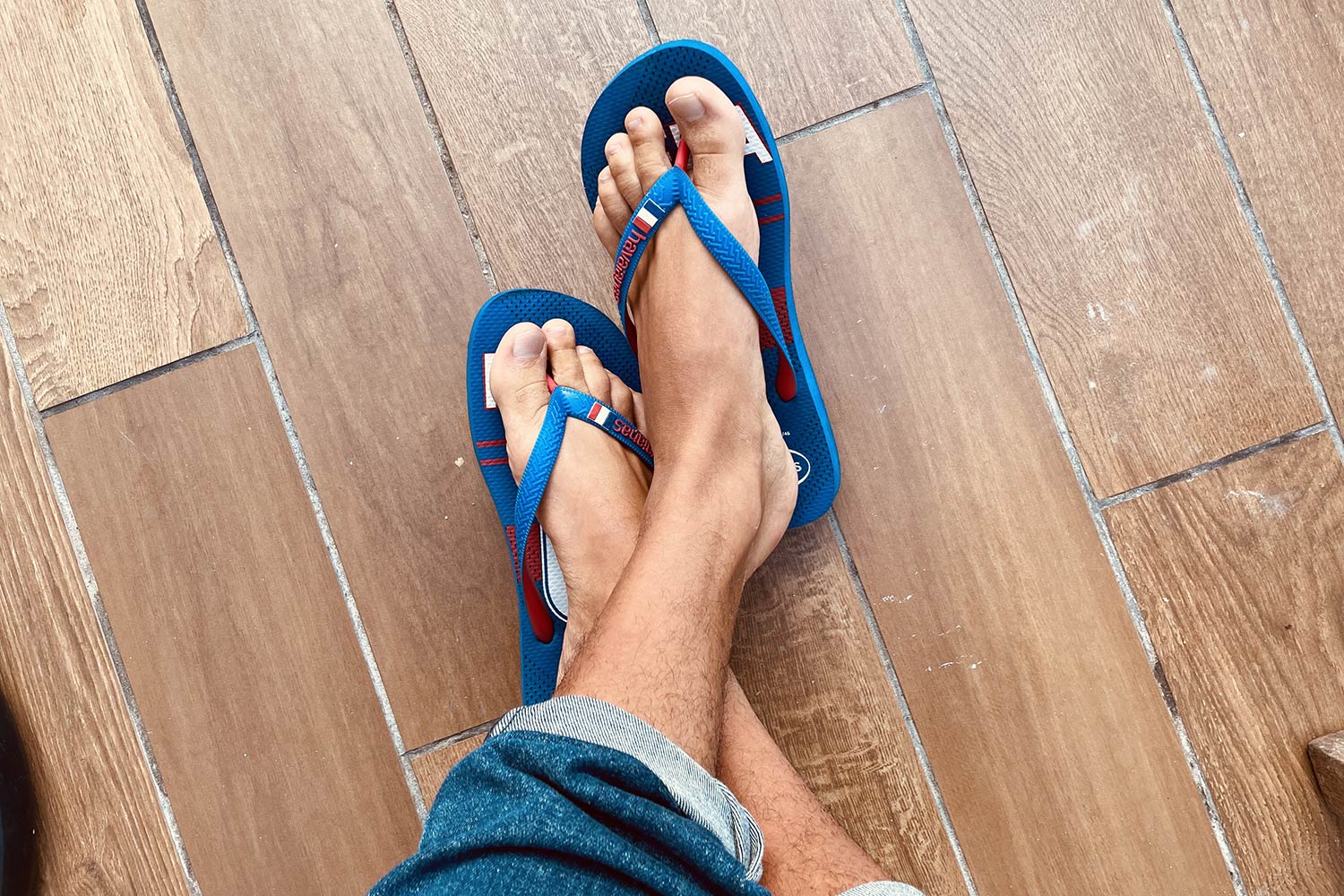 Sneakers
Recently, Havaianas has ventured beyond the beach and into the bustling streets with their line of sneakers. These aren't just any ordinary sneakers; they carry the spirit and comfort of the brand into a design suitable for everyday urban wear.
Design:

The Havaianas sneakers maintain a simple yet trendy design. They have a canvas upper like the espadrilles but sport a design akin to typical low-cut sneakers. With a rubber sole for added comfort, these sneakers are both stylish and functional, providing support for those longer city walks.

Occasion:

While the espadrilles can be your go-to for a beach day or a casual brunch, the Havaianas sneakers are versatile enough for daily wear. Whether you're heading to work, college, or just a day out shopping, these sneakers fit right in. They're a fantastic choice for those who love the Havaianas brand but require something a bit more closed and protective than flip-flops or espadrilles.

Pairing:

Havaianas sneakers can be paired with almost any outfit. They look great with jeans, shorts, or even casual dresses, making them a must-have in any footwear collection.
You may also like Flip-flops or slides for men, how to choose ?
2. Consider Your Foot's Comfort
Havaianas are known for their comfort, but everyone's feet are unique. It's crucial to try different styles and see which one feels the best. For instance, some people might find the espadrilles' snug fit more comfortable, while others might opt for the open-toe freedom of flip-flops.
3. Think About Your Wardrobe
When choosing your Havaianas, consider your wardrobe. For a more dressed-up look, the espadrilles might be the best choice. Their canvas material can elevate a casual outfit, making it suitable for more formal events. On the other hand, if you're looking for something to wear with your swimwear, the classic flip-flops might be more appropriate.
4. Durability Matters
One of the standout features of Havaianas is their durability. However, usage plays a vital role in how long they last. Espadrilles, being made of canvas, might require a little more care than the rubber flip-flops, especially if they get wet. It's essential to let them air dry and avoid prolonged exposure to moisture.
5. Authenticity is Key
There are many imitations out there, but genuine Havaianas have a distinct feel and quality. Ensure you're getting the real deal by purchasing from official stores or trusted retailers.
6. Set a Budget
Havaianas come in a range of prices, depending on the design and type. It's a good idea to set a budget before shopping. Remember, the most expensive isn't always the best for you. Find a pair that fits comfortably within your budget and meets your style needs.
You may also like Slides and socks: 5 ideas to combine colors!
7. Keep It Stylish
With the plethora of designs available, there's a pair of Havaianas for every style. Whether you're into bright, bold patterns or prefer solid, neutral colors, there's something for you. Don't be afraid to express yourself through your choice of Havaianas.

Choosing the right pair of Havaianas is more than just picking a design. It's about considering the type, comfort, wardrobe compatibility, durability, authenticity, budget, and style. By keeping these factors in mind, you'll be stepping out in style and comfort, with the perfect pair of Havaianas adorning your feet. So, choose wisely and walk with confidence.

Discover tips for wise Havaianas selection. Find your perfect pair with our expert advice. Step up your style today!