Nothing is more comfortable to walk in all lightness than with the combination of tap and socks. This fashion trend has been around for a few years now. You can find it at home, at the corner of the street when leaving the house, and even in the most beautiful US streets in front of the big fashion boutiques.
In this post, I have gathered for you the best color combinations so that you can be the most socks and slides trend !
1. Classy in black slides and white socks
The combination of black flip-flops with white socks is a bit of a staple for being trendy, casual and all-around at the same time. This association will go with your best outfits of big brands, like Balanciaga, Celine and Givenchy. You can pair it with a plain outfit. You can choose your shade of the day with black, gray, beige or white.
Pairing your black flip-flops and white socks with a plain outfit will allow you to highlight your entire outfit without difficulty. Remember to be original, black and white do not rhyme with banality. So nothing prevents you from having black tap shoes with elements or patterns to give them relief. All eyes will be riveted on your feet.
2. Atypical in red slides and yellow socks
You prefer your tap shoes with socks rather than your classic pairs of sneakers? It's because you're all about originality and ultimate comfort. You don't mind attracting attention, on the contrary you want to be the example of the current trend.
So, try the red flip-flops and yellow socks. It's a great color combination, you can't go wrong with it. Remember that you are part of the fashion trend. Keep it simple so you don't look like you're going out in pajama mode.
A quick reminder on how to wear your flip-flops and socks like a boss. To make sure you don't make a fashion faux pas, make sure you wear socks that are long enough. They should hide your ankle, but not extend beyond your calves. Too short is not the best and too long, you will look like a soccer player.
Choose branded socks! This will make all the difference, as much on the perceived quality as on the design. When you wear sportswear, socks with three stripes are a must-have to take care of the small details.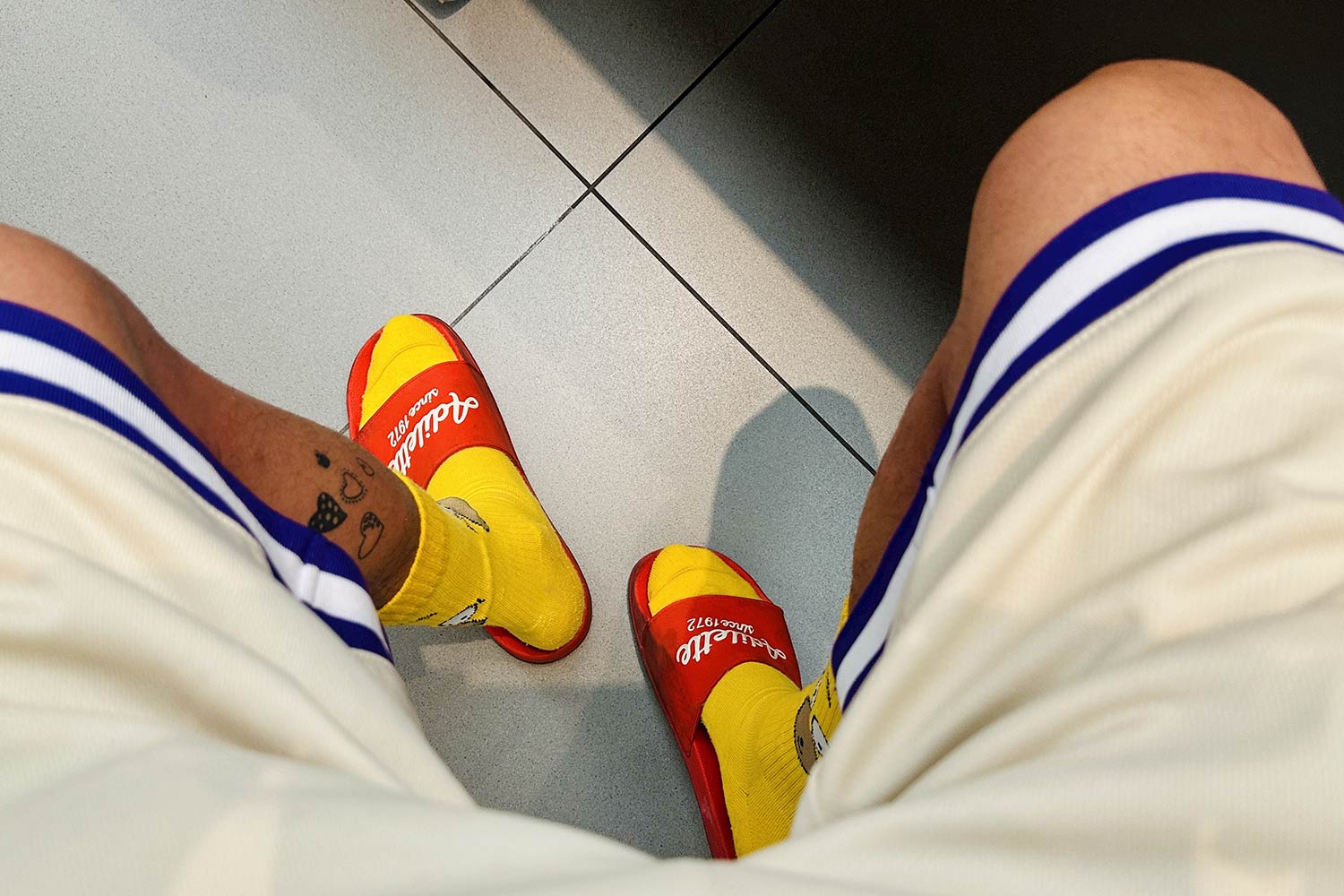 3. A dedication with blue slides and orange socks
The origin of this fashion is multiple. It was first made popular in the United States with the players of basketball teams who between two quarters, relax in flip-flops and socks before putting on their sneakers again.
That's why the combination of blue tap shoes with orange socks will be a perfect nod to NBA basketball teams, such as the Houston Rockets, Charlotte Bobcats and New York Knicks.
Basketball fan and connoisseur, this color combination is perfect for you.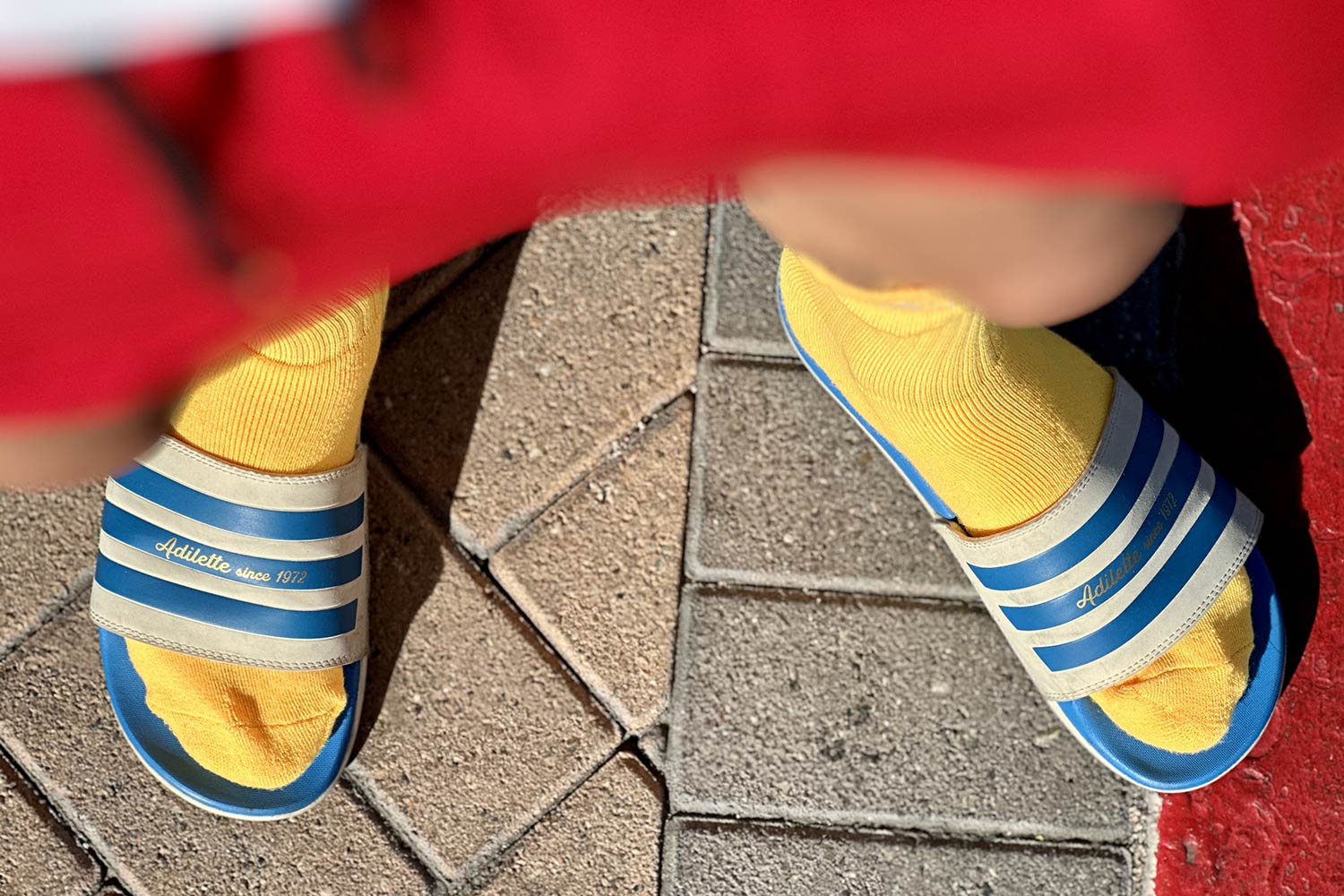 4. Be the master of white slides and pink socks, the adidas slides and socks style !
White and pastel pink? Yes, it's all good. Whether you're a man or a woman, it's the perfect combination to show that you have taste and know what you're doing when it comes to fashion and color combinations.
And if you choose these colors randomly, we remind you the rule to follow. To be trendy and classy, pick a color you like and pair it with a neutral color. Your bright pink or pastel socks will go perfectly with your white flip-flops this way.
More generally, a bright color goes with a neutral or close color. Otherwise, you can choose to stay with the same color, pairing your color from lightest to darkest.
5. The ultimate green slides and black sock fashion
The combination of green flip-flops and black socks is a bit of a favorite. It will definitely go with a black and classy outfit, a well-cut 7/8th pants, or black cotton fleece shorts.
On top, wear a designer t-shirt with a discreet logo if you're indoors, and for outdoors the perfect combo remains the warm sleeveless down jacket with a black sweatshirt to finalize the ensemble.
But above all, don't forget the accessories! Backpacks or shoulder bags are your friends. We think especially of the shoulder bag of the brand Gucci in its version Supreme GG of small size. Original, classy and trendy, all the elements are gathered to attract compliments.
Bonus! Blue on Blue!
One of my favorite colors, I tested the blue socks with blue adilettes and black Allsaints shorts, here is even a picture for you to visualize, personally I love it!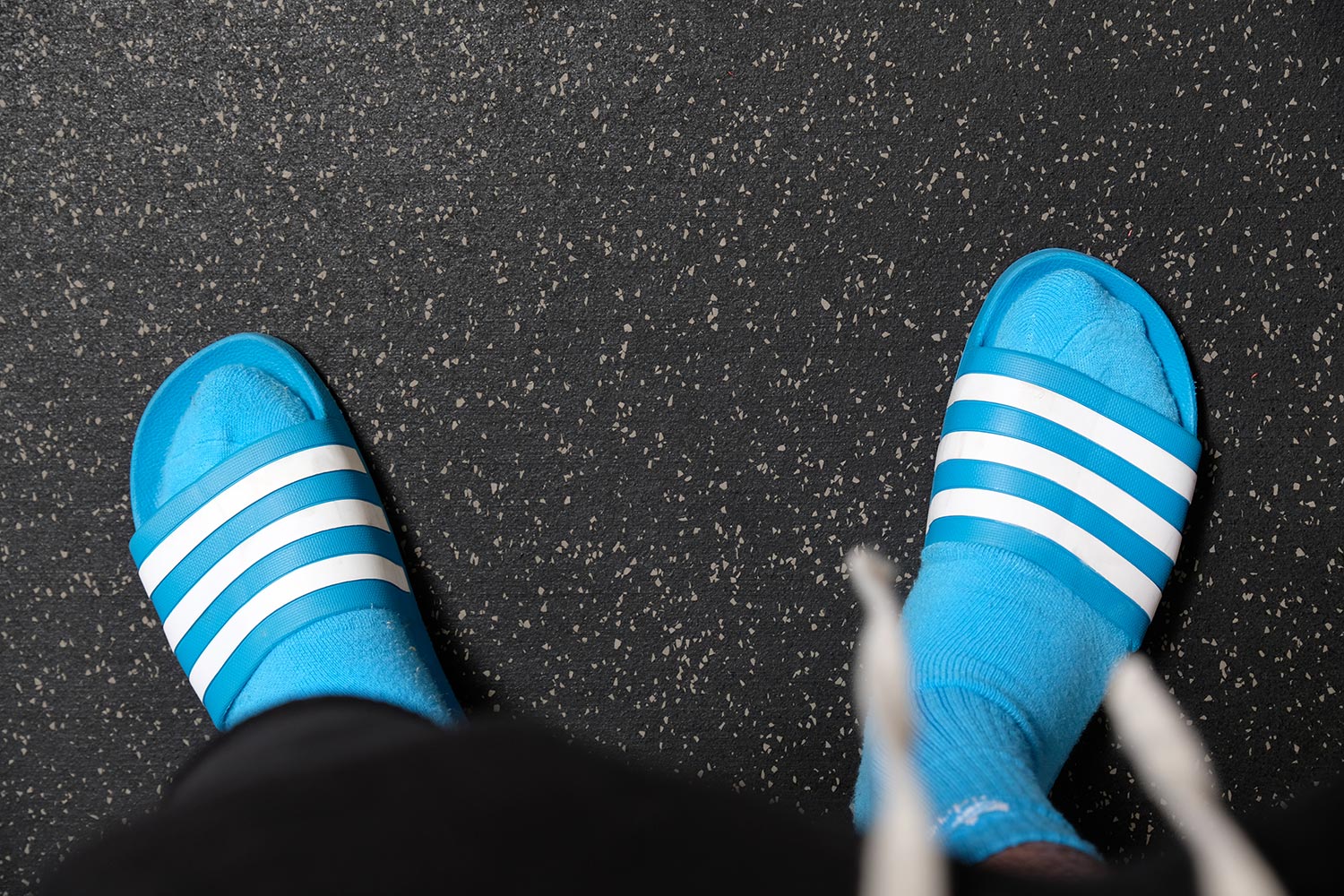 By following my recommendations, you will be on the cutting edge of fashion in flip-flops and socks to stay trendy all year round.

Want to know how to pair your slides and socks? We give you the most trendy color combinations.