What makes this regimen the best anti-aging skincare routine? There are several qualities that set it apart from other product lines on the market. Firstly, it's the design of this regimen that makes it advanced skin care. And it's a complete system to use.
These items aren't like the ordinary skin care options available in just any supercenter or department store. The natural extracts used for base ingredients in the advanced skin care kit come from minerals, plants, and fruits.
These ingredients have extremely high levels of purity due to strict formulaic standards. Everything in this self-care skin care product line is made vegan and cruelty free. They're also made without any sulfates, phthalates, parabens, or unnatural fragrances.
All of these Blu Atlas advanced skin care products are made in the USA:
Volcanic Ash Face Cleanser
Purifying Face Mask
Exfoliating Scrub
Face Moisturizer
Vitamin C Serum
Restorative Eye Stick
After introducing to you their Blu Atlas Atlantis Fragrance, an excellent fragrance for men, let's try this skin care routine !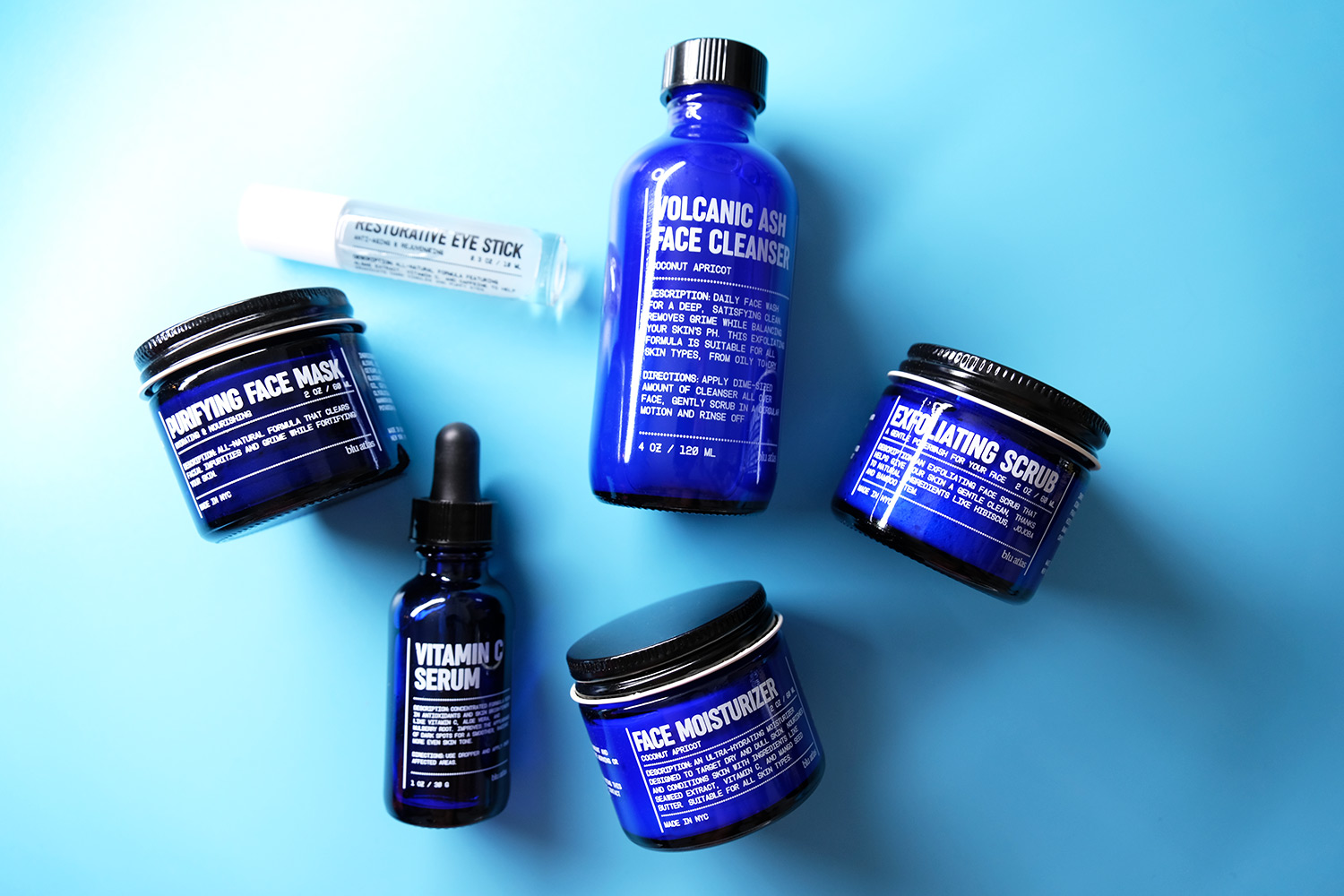 Volcanic Ash Face Cleanser
What's so great about this product? It has a dual purpose and works as a detoxifying and exfoliating agent for men's skin. Moreover, this cleanser can be used daily on every type of skin, whether oily or dry. Consistent use of this face cleanser actually balances the pH of skin. Directions for use are as simple as scrubbing a small amount to face directly and rinsing thoroughly.
What goes into this facial cleanser for the best anti-aging skincare routine? The headline ingredients include volcanic ash, lactobacillus ferment filtrate and pomegranate seed oil. Volcanic ash has absorbent qualities and clears the skin and tightens pores. Lactobacillus ferment filtrate does its job to sooth and strengthen skin on contact. Pomegranate seed oil brings a lot to the mix of ingredients with omega fatty acids and vitamins A, C, and K.
Exfoliating Scrub
What's one of the best things to do for men's skin, especially after a good cleansing? That would be a gentle yet exfoliating scrub to wash skin completely clean. This scrub takes care of skin by finishing the job cleansers started. Directions for use include gently scrubbing skin, rinsing with warm water, patting dry and moisturizing.
How does this exfoliating scrub get the face so clean? The short answer is flowers, oil, and powder. Extracts of the hibiscus sabdariffa flower have high levels of antioxidants which protect against pollution and free radicals. Jojoba oil consists of fatty acids, antioxidants, and vitamins A, D, and E while nurturing skin deeply. Walnut shell powder exfoliates as it helps to prevent oil build up on skin to improve skin complexion when used over time.
Face Mask
This face mask not only hydrates, but it also nourishes skin while getting rid of any surface residues. Altogether, its qualities strengthen and fortify facial skin. Directions for use are incredibly simple, but there is a non-negotiable condition that applies. This face mask must be rubbed over a freshly cleaned and dry face. Afterward, simply let it dry and rinse away using warm water.
There are few active ingredients in this face mask. It's made of clay, berries, and algae. The composition of Kaolin clay is very simple, as substances go, but it removes impurities extremely well. The extract of Goji berry holds lots of minerals and vitamins while helping to even the tone of skin. Extracts of Nannochloropsis Oculata provide skin with essential nutrients, beta-carotene and antioxidants.
Face Moisturizer
What do you get with this moisturizer as part of the best anti-aging skincare routine? It does more than moisturize the face, by conditioning the skin with anti-aging properties. Also, it's not just adding moisturizing the skin but ultra hydrating as well. These benefits don't just happen topically, because the compounds and solutions specifically target dry skin that has turned dull.
To get the best use of this product, simply apply a small amount to the face daily.What are the active ingredients in this skincare routine for men hydrating product? The combination consists of mango, seaweed, and vitamin C. Mango seed butter brings vitamins C and E to the hydration solution. This helps skin withstand everyday exposures to sunlight and pollution. Seaweed extracts does a triple number as it hydrates, exfoliates and provides antioxidants. Ascorbic acid is the vitamin C in the moisturizer, and it's crucial for keeping skin looking lively.
Vitamin C Serum
If you just can't seem to get rid of any dark spots on your face, Blu Atlas creates the best anti-aging skincare routine for that. And the vitamin C serum, as part of this routine, offers more than a cleaning experience. It's a treatment to be used immediately for dark spot removal and the evening of skin tone. Improved quality of skin smoothness and disappearing spots are the results of steady application of serum with dropper.
What's packing all that power in this little eye dropper? The serum is made from a combination of mulberry, apple and vitamin C. Extracts of mulberries are innate antioxidants, and they reverse uneven skin tone over time. Extracts of Pryus Malus, also known as the apple, perform autoxidation double duty. They get rid of the free radicals already in the skin and stop future molecules from making contact. Vitamin C, in the form of ascorbic acid, does its job by detoxifying the skin. And it boosts the formation of collagen.
Eye Stick

How often should an anti-aging and rejuvenating eye stick be used as part of the best anti-aging skincare routine? For the best results, this product should be applied everyday. Simply slide the applicator around the eye area to be rid of dark circles and puffiness. It's a perfect capper for all other products in the Blu Atlas advanced skin care kit.

What's in this eye care solution for men's skin? The winning mixture is made from flowers, vitamin C and coffee. Rosa damascena (rose) flower water contains vitamin C and phenolic substances. It translates to anti-degenerative qualities, biochemically speaking. Similar to other products in a skincare routine for men, the advanced skin care kit, vitamin C ascorbic acid detoxifies and helps with collagen. Coffea canephora has roots in areas of the Saharan Desert, and its caffeine has particular antioxidants that helps prevent damage to men's skin.

Ready to order ? Visit this link for more info and offers !

Sponsored post

Looking for an Anti-Aging Skincare Routine that works and can help getting a better skin ? Check out my Blu Atlas Review !