This post contains affiliate links and I will be compensated if you make a purchase after clicking on my links.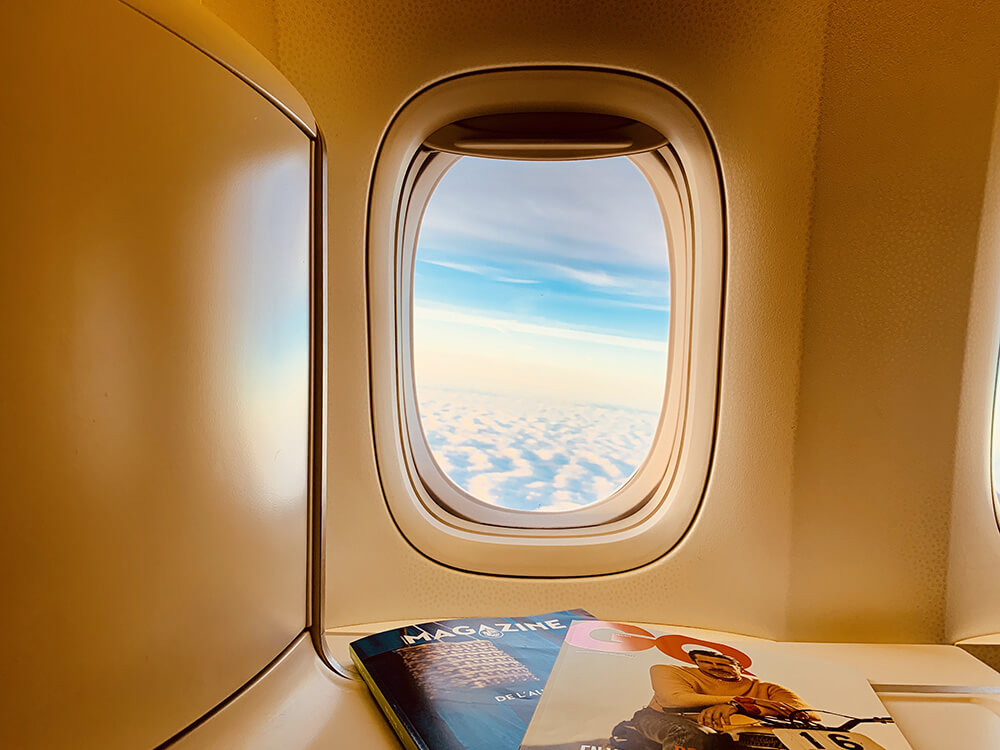 I often talk to you about my travels and the Flying Blue Air France frequent flyer programme. Today I want to give you the reasons to buy Miles to help you travel a little more, or cheaper!
You could travel in Business Class for much less!
Let's take an example: A return trip from New York to Paris in Business class costs $2880.94 in my simulation. The simulation starts on March 3rd, 2020, with a return on March 11th, 2020 as you can see on the screenshot below: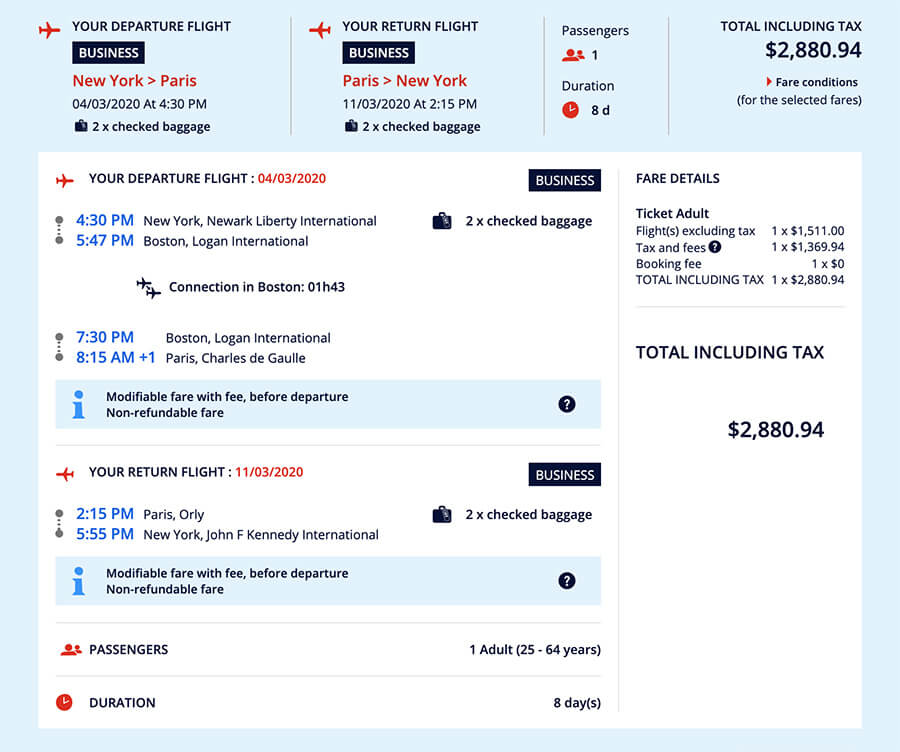 Then, I decided to do a simulation for the same flight and at the same time, but in Miles: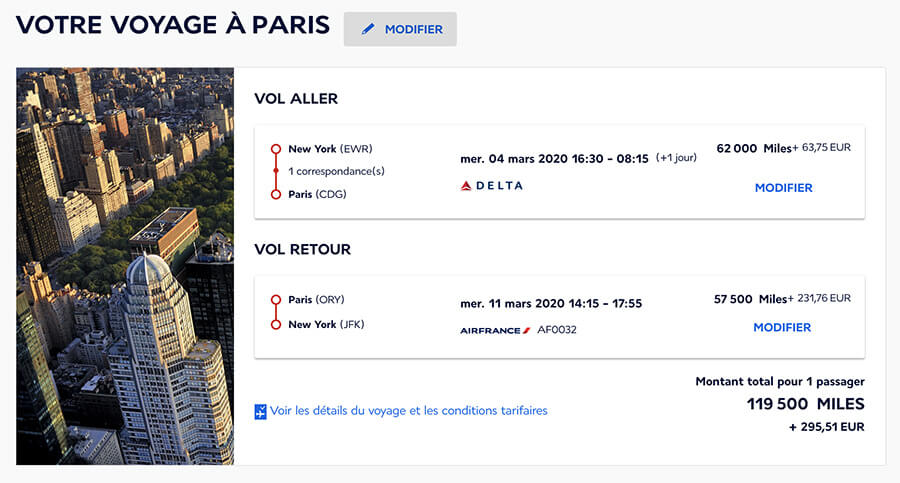 If you have already some Miles, you can use them to book this flight as the value of 119,500 Miles is $1 195 + the taxes at €295,51, approximately $330. The total for this ticket in Miles is $1 525, less cheaper than paying for the ticket $2880.94.
If you don't have enough Miles from Air France Flying Blue, you can buy the difference ! The limit of Miles you can buy per year is 75,000.
Buy Air France Flying Blue Miles on Points.comClick here !
* Annual limit for a Flying Blue Ivory or Silver member, for others, the limit is 100 000.
You could get from 50% to 100% bonus Miles!
Depending on the period of year, the Flying Blue Air France program offers incredible promotions as you can see on the example below: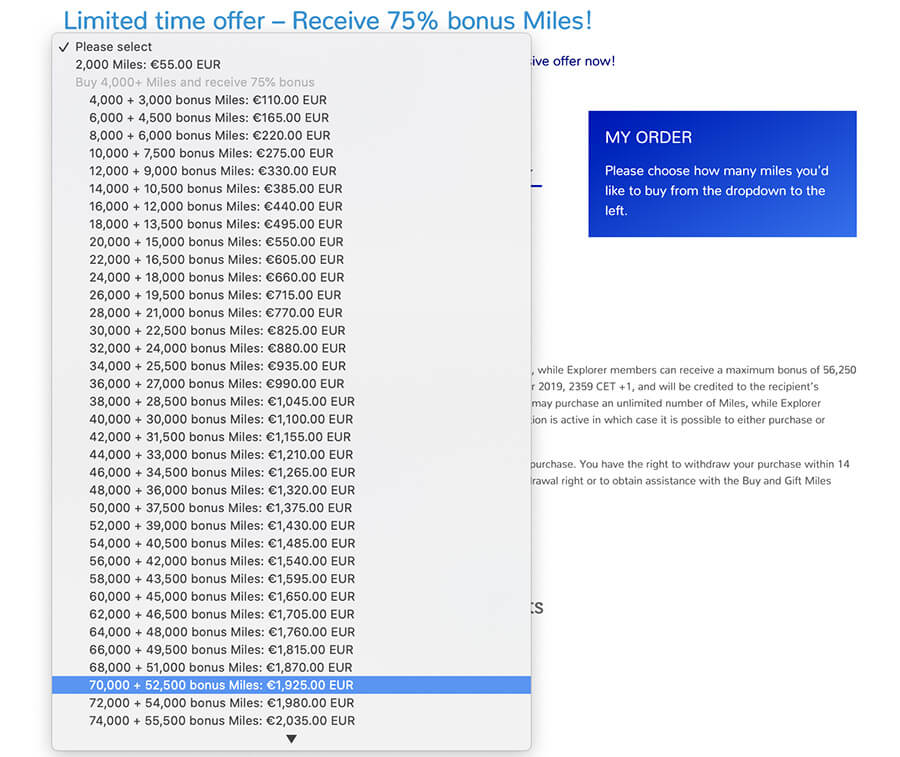 If you had purchased Miles with this 75% promotion, you would have had to buy 70,000 Miles at €1,925 (Approx $2 150) and benefit from 52,500 free Miles credited to your loyalty account. In total, 122,500 Miles for the price of 70,000 Miles, crazy no ?
For your information, tickets purchased with your Miles, the price of the checked bag is included!
You have understood, in this case you want to travel in business class from New York to Paris for €1,925 + €295,51 of airport taxes, i.e. a total for your business flight ticket will be €2,220.51 (Approx $2,480). With this  promotion, you would have saved $400.94 on the purchase price of the ticket.
Not clear ? The price to buy this ticket is $2,880.94, if you buy Miles with this 75% bonus promotion, and pay the taxes on the ticket paid with your Miles, the total will be $2,480.
Don't forget, there is a so many ways to earn Miles ! Check my advices to know how to earn Air France's Flying Blue Miles without flying !
Flying Blue Rewards Promos
Well, in this article I give you a very advantageous example but this is not always the case. To save money, you will have to be patient and check for Air France's prices and offers.
Every 2 months, the Flying Blue website updates its Promo Reward's page. The offers cover a range of flights around the world, with a reduction in the usual amount of Miles required ranging from 20% to 50%.
You can book a one-way ticket!
The other advantage of buying Miles if you need them, is to be able to book only a one-way ticket without surcharge!
For example, a New York – Amsterdam one-way ticket, with no obligation to pay a huge surcharge (often more than a round-trip ticket).
How to buy Flying Blue Air France Miles?

There is only one site in the world that manages this for almost all airlines and hotel loyalty programs.

Several times a year, there are also promotions such as in October 2019, where 75% of Miles are added free of charge to the number of Miles purchased! To access the page dedicated to the purchase of Miles, click on the button below:

Buy Air France Flying Blue Miles on Points.comClick here !

Conclusion :

It is much more rewarding to buy and use Miles for long-haul flights in Premium, Business or First class than on domestic or medium-haul flights.

In addition, don't forget that you can spend your Miles with all SkyTeam's airline partners: Delta, KLM, AeroMexico, Thaï, Alitalia…

Are you an Air France's Flying Blue member? I'll give you some reasons to buy Miles and travel for free or cheaper. Let's go !

//php comments_template();?>