March is ideal for visiting Las Vegas because the temperatures are not too hot or cold. Some nights may still get chilly, but the daytime hours are cool, breezy, and comfortable. Most of the time, you can get away with wearing casual attire in Las Vegas in March, such as short-sleeve t-shirts, long-sleeve shirts, jeans, and sweatpants. But bring a light jacket in case the nights do get cold.
It is the perfect weather to participate in various outdoor activities for your March travels in Las Vegas. Then, if you are in the mood to enjoy indoor entertainment, you can watch some of the many thrilling and critically acclaimed shows performing throughout the city.
Top Things To Do In Las Vegas In March
Embark on an enchanting journey through the vibrant tapestry of Las Vegas, where a medley of captivating experiences awaits. Hypnosis shows cast a spellbinding allure, merging mind-bending illusions and interactive amusement. The towering High Roller Observation Wheel unveils the city's splendor from breathtaking heights, a Ferris wheel of unmatched grandeur.
Delve into the enigmatic world of the Mob Museum, a repository of American mafia history, and stand in awe at the Hoover Dam Bypass, a testament to engineering marvels. Cirque du Soleil's "Mystere" weaves a symphony of acrobatics and narrative, while the natural beauty of Red Rock Canyon offers trails for outdoor enthusiasts. From hypnotic performances to scenic vistas and historical intrigue, Las Vegas beckons with an array of wonders to enthrall every explorer.
1. Hypnosis Shows
Hypnosis shows are unique magic-style entertainment productions. Instead of conducting conventional magic tricks, the performers use hypnosis and mind-reading powers to create an interactive and amusing entertainment experience for audience members. Some of these hypnotists can put people under their control and get them to do what they want. Of course, it is all good fun and not to be taken seriously.
The five best Las Vegas shows in March with hypnosis acts include Paranormal Mind Reading Magic, The Mentalist, Hypnosis Unleashed, Banachek's Mind Games, and Totally Mental. After seeing a few of these shows, you will be convinced that the performers must have some unworldly psychic and hypnotic powers.
Try to reserve a seat near the center stage if you want to volunteer to participate in a hypnosis act. Then you'll have a better chance of being selected for a hypnotist's routine if you wish to volunteer to do so.
2. High Roller Observation Wheel
The High Roller Observation Wheel is a sophisticated Ferris wheel featuring a series of 360-degree glass cabins rotating up to 550 feet above the ground. It is known for being the tallest observation wheel in the world.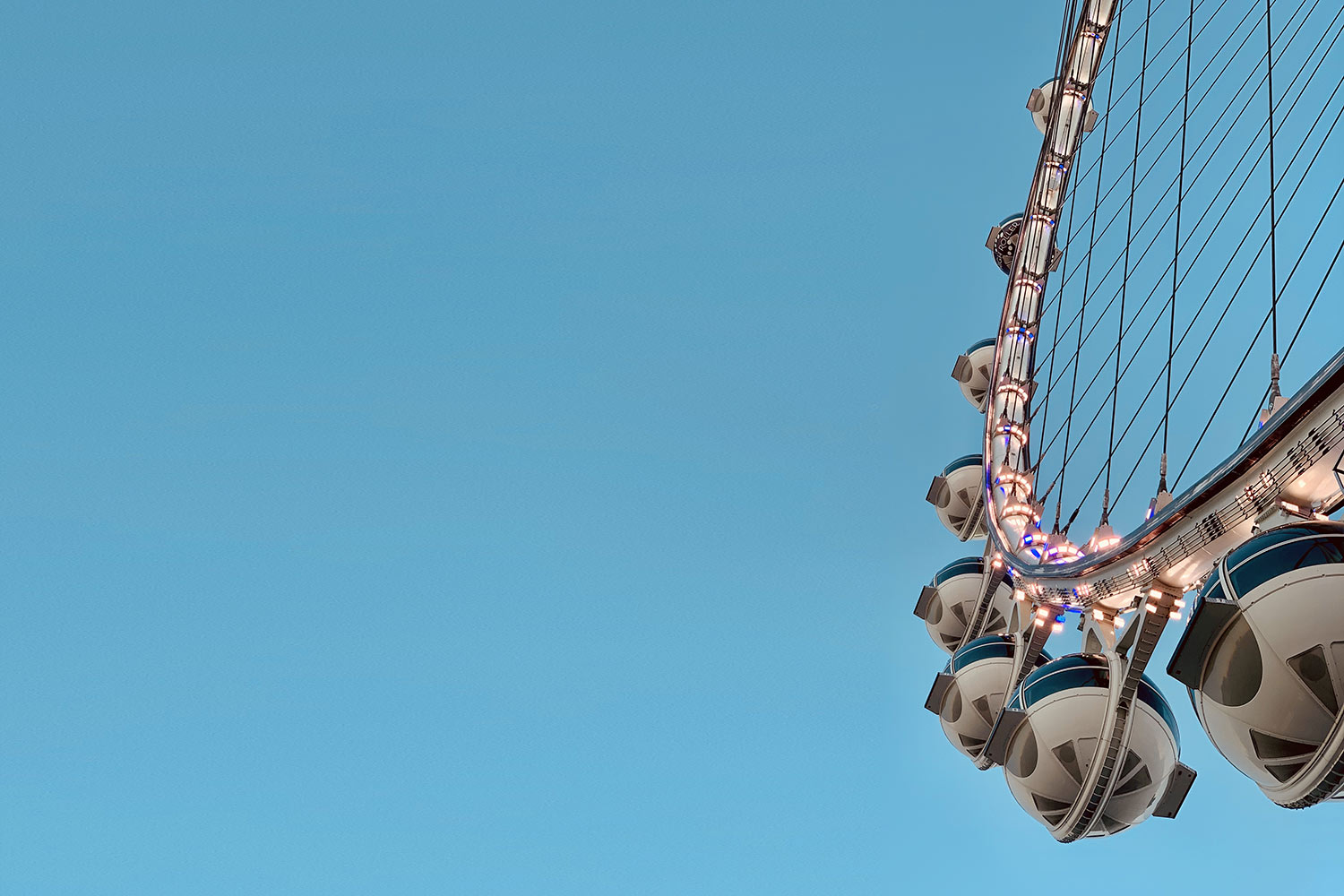 The glass cabins offer panoramic views of the Las Vegas Strip and its beautiful buildings, lights, mountains, and attractions. Each cabin fits up to 29 people, but there is an option to reserve a private cabin for you and the rest of your group. Some people like to reserve private cabins to celebrate special occasions. But if you don't mind sharing the cabin with other people, the tickets are cheaper that way.
You can find the High Roller at the LINQ Hotel on the Las Vegas Strip. It takes about 15 minutes for a cabin to rotate from the ground to the top of the 550-foot observation wheel and then another 15 minutes to reach the ground again. Feel free to take photos and selfies throughout the 30-minute ride.
3. The Mob Museum
Do you like to watch mafia movies? Are you fascinated with the history of the mafia in the United States?
The Mob Museum is the perfect place to visit if you want to learn about famous American mobsters and observe some historical artifacts from their organized crime days. The museum features artifacts from the Saint Valentine's Day Massacre in Chicago, such as the iconic Tommy submachine guns, sunglasses, leather briefcases, and more.
The Mob Museum also includes artifacts from law enforcement officers and agencies who took down famous mobsters like Al Capone. With so much critical history to see at the Mob Museum, how can you resist going?
4. Hoover Dam Bypass
The March weather is cool and comfortable enough to do something outdoors. Why not visit the iconic Hoover Dam structure? It is only a 50-minute drive from the Las Vegas Strip to the Hoover Dam. And if you sign up for a guided tour, a commercial bus will escort you to the Hoover Dam, so you don't have to drive yourself.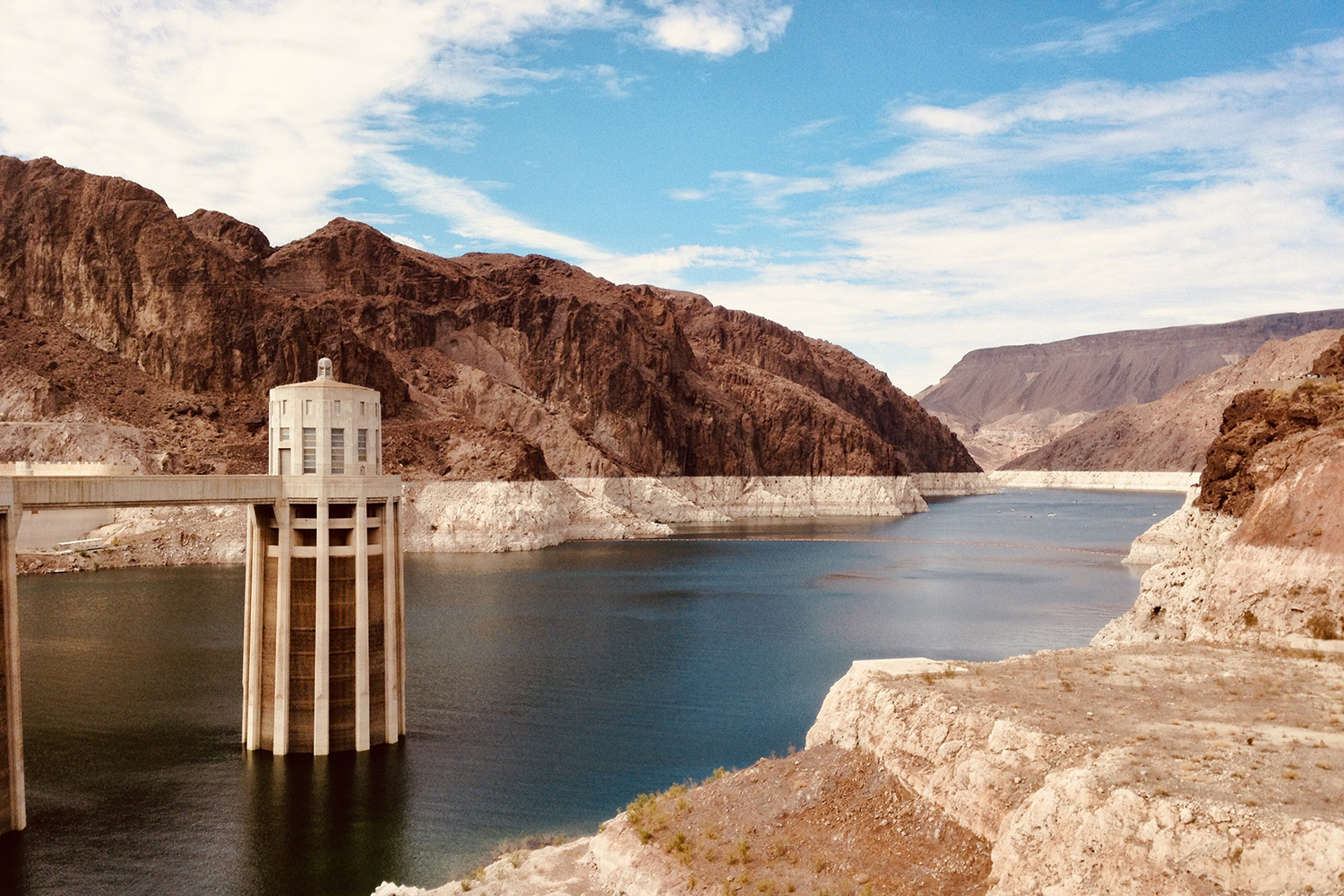 Stop by the 2,000-foot-long concrete bypass bridge overlooking the Colorado River and Hoover Dam. It gives you picturesque views of the dam and the beautiful river underneath. Then, you can visit the Hoover Dam for a self-tour or professional guided tour.
5. Cirque du Soleil's "Mystere"
All Cirque du Soleil productions in Las Vegas are worth seeing because they offer high-value entertainment, unlike any other shows in the city. You can expect stunning acrobatics, risky stunts, exciting characters, original storylines, attractive costumes, eye-catching visual effects, great music, and more.
Mystere is one of the oldest Cirque du Soleil productions. After three decades of entertaining audiences in Las Vegas, Mystere continues to attract tourists due to its fantastic production value. Its story explores the origins of human life and humans' role in the universe. Everything you can imagine is in Mystere, such as clowns, acrobats, dancers, original creatures, vibrant colors, musicians, and death-defying stunts.
6. Red Rock Canyon
Red Rock Canyon is a gorgeous natural outdoor landscape featuring beautiful red rock formations, wildlife, plants, and over 20 walking and hiking trails. If you want to explore the outdoors of this conservation area about 30 minutes from Las Vegas, then you will want to visit Red Rock Canyon. It is the perfect place for outdoor lovers to visit and explore.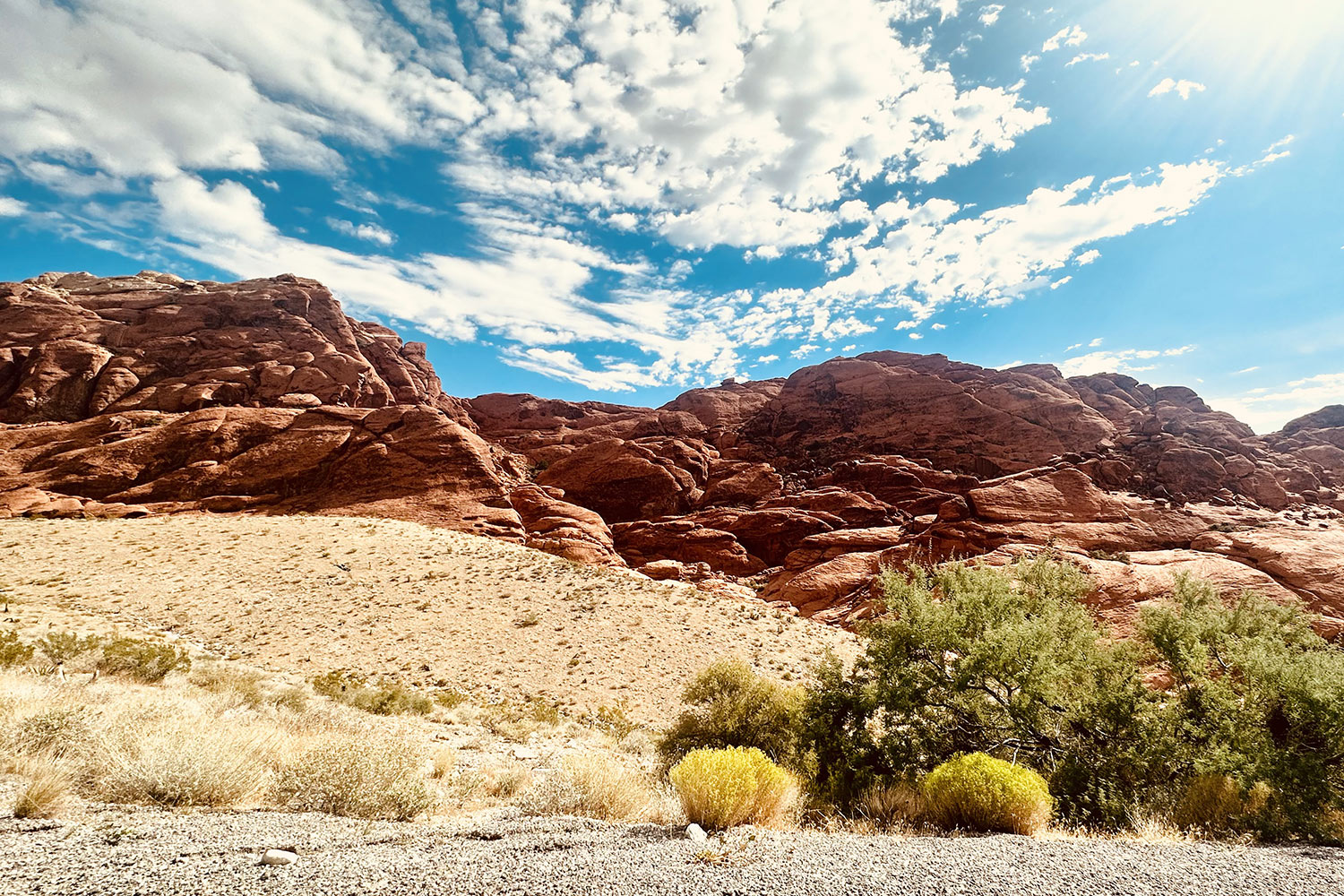 Guided tours are available for people interested in visiting the Red Rock Canyon and seeing and learning about the best parts of it. Choose from a 4×4 ATV, walking, or horseback riding tour. Each one offers a unique experience at the Red Rock Canyon that you will never forget.
Final Tips

Feel free to dress comfortably during your Las Vegas trip in March. You can wear casual clothes like T-shirts and jeans, but bring a light jacket in case it gets cold at night. Overall, you will enjoy all the various indoor and outdoor attractions available to experience in Las Vegas in March.

Discover Las Vegas in March: Perfect weather, outdoor adventures, hypnotic shows, iconic landmarks, and captivating attractions await.