This is probably the most festive hotel in Las Vegas and one of my favorite and best places to stay in Vegas. This hotel is part of the "Autograph Collection" series of luxury hotels of the international Marriott chain.
Before booking your stay in Las Vegas, don't forget to subscribe to a travel insurance (if you are traveling from abroad) because the health costs in the USA are very hight, and finally, don't forget to pay everything with an American Express card all your expenses to earn MR points, Delta Skymiles, or Marriott Points (The Cosmo is a Marriott Partner).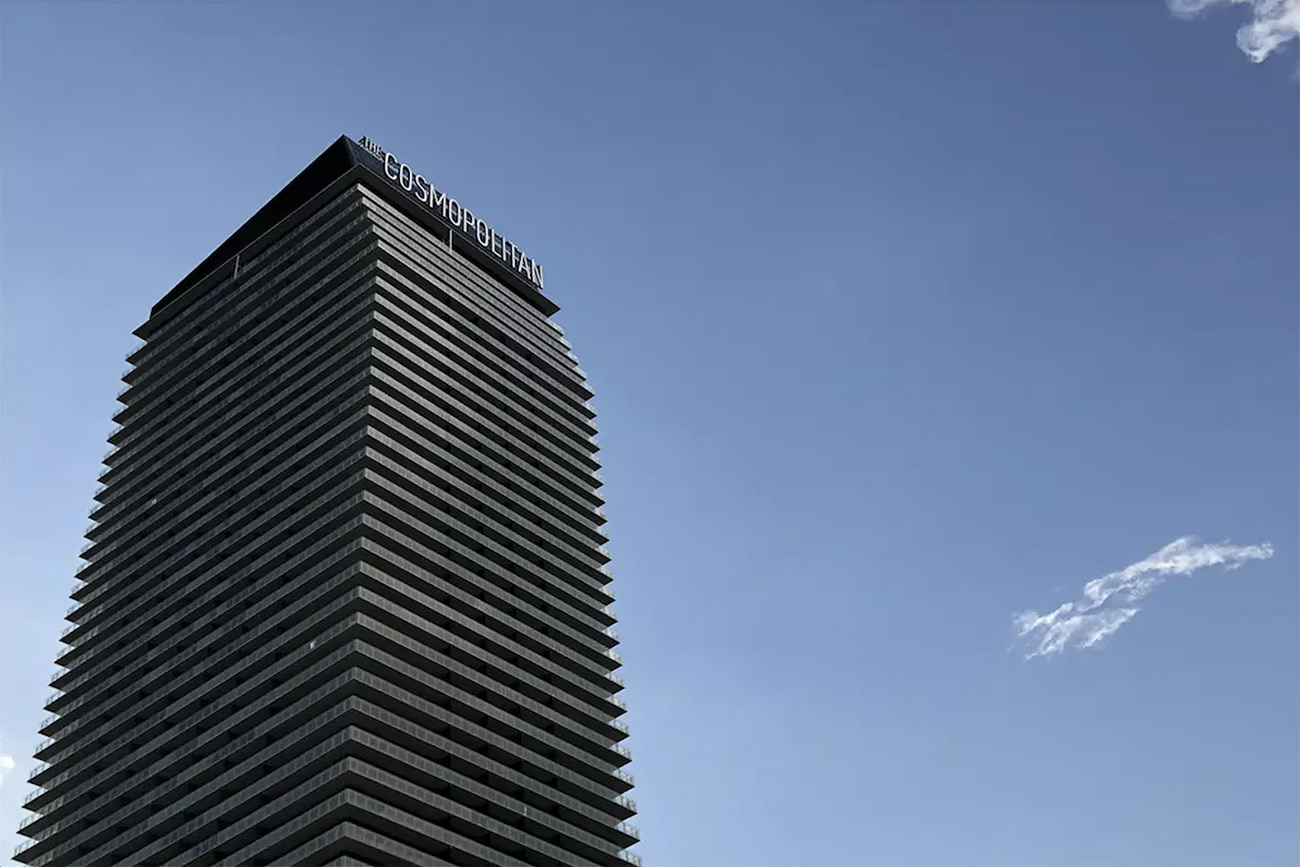 The location
The hotel is central and directly on the Strip, between the famous Bellagio and its magical fountains, the luxurious shopping mall The Crystals (Louis Vuitton, Saint Laurent, Paul Smith, Gucci, Versace…) and right in front of the Planet Hollywood hotel!
Basically, you can easily walk from the Cosmo to several other hotels or stores without the need to rent a car, which will save you some money!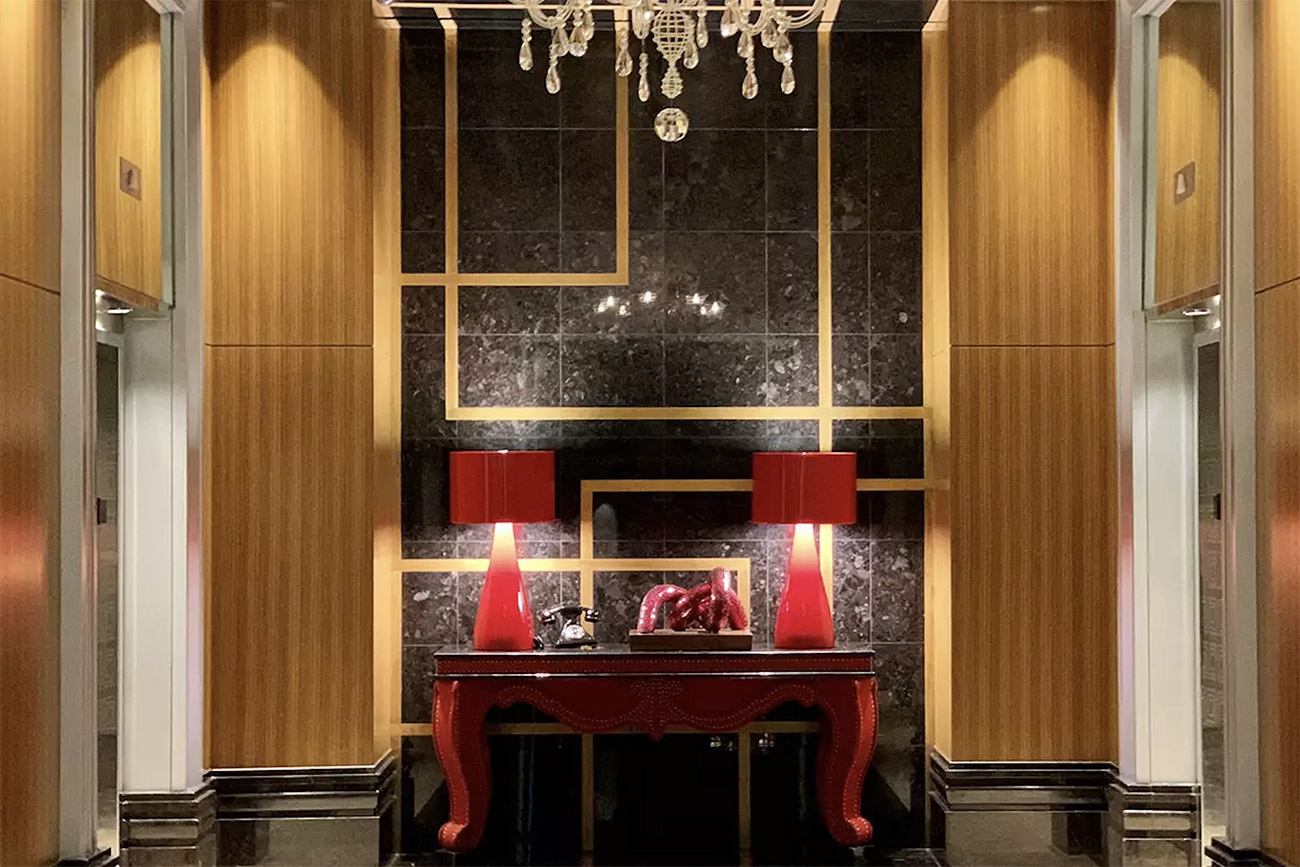 Address: 3708 Las Vegas Boulevard South, Las Vegas, Nevada 89109 USA
The rooms of the Cosmopolitan Las Vegas
Check in is from 3pm and check out is at 11am, unless you have a loyalty status that gives you access to the possibility to have the room earlier and leave later, depending on availability.
It's just like the hotel! The rooms are spacious, bright and ultra trendy! They are offered in several configurations, from the double room to the presidential suite which is over 100m2! Enough room to party with friends.
For you, I made some pictures of my room, and I was on the side in the view of the fountains of Bellagio unfortunately :




Mini bar, giant TV, digital screen to order everything, iron, ironing board, coffee machine… everything is there to make you feel at home!
Another advantage is that almost all the rooms have a balcony, so it is possible to be outside, which is very rare with the Strip hotels.
Bars and restaurants
The hotel offers 3 floors of bars and restaurants for all tastes and budgets. With no less than 25 bars and restaurants, you will not be bored I project.
The bars all offer the same thing (except for the secret bar which I invite you to look for because it is very well hidden…), the Cosmo offers different cuisines in its range of restaurants such as :
Tekka Bar (Sushi)
$$$ (My favorite, a delight for meat lovers): Tekka Bar offers a delightful sushi experience that will tantalize your taste buds. While sushi is the star, meat lovers can also find tempting options. The fresh ingredients and skilled chefs ensure an exquisite dining experience.
Steakhouse at STK
$$$ (My favorite, a delight for meat lovers): STK Steakhouse is a paradise for meat enthusiasts. This upscale restaurant serves top-notch steaks cooked to perfection, along with a trendy ambiance that makes it perfect for a night out.
Gourmet Japanese Cuisine
$$$: This Japanese restaurant offers a gourmet dining experience that goes beyond sushi. Expect meticulously crafted dishes with a focus on traditional Japanese flavors and modern culinary techniques.
Asian American Cuisine
$$: For a fusion of Asian and American flavors, this restaurant is your go-to spot. Explore a diverse menu featuring dishes that blend the best of both worlds, catering to a variety of palates.
Tapas with Jaleo, a Spanish Gourmet Restaurant
$$: Jaleo brings the vibrant spirit of Spain to Las Vegas with its tapas-style dining. Savor the rich flavors of Spanish cuisine with an assortment of small plates and delectable bites.
Paella Grill under the name É By José Andrés
$$: É By José Andrés is your ticket to a gastronomic journey through Spanish cuisine. Their paellas are a highlight, showcasing the authenticity and flavors of Spain.
Blue Ribbon, an American Cuisine Delight
$$: Blue Ribbon offers a diverse American menu with a focus on comfort food. From fried chicken to sushi, there's something for everyone, making it a great choice for group dining. The burger is amazing and they have a large choice of wine !
Wicked Spoon (Buffet)
$$: Wicked Spoon is an indulgent buffet experience where you can explore a wide range of cuisines. From breakfast classics to international delights, this buffet is a food lover's paradise : Meat, sushi, crab legs, salads, Mexican food, pastries and more !
EggSlut, the Egg Specialties
$$: EggSlut specializes in, you guessed it, eggs! Whether you're in the mood for a mouthwatering breakfast sandwich or an inventive egg-centric creation, EggSlut has you covered.
The pool
Heated all year round, the Boulevard Pool (because there are 3) offers a breathtaking view of the Strip and more particularly of the Eiffel Tower of the Paris hotel. A bar is available near the pool and offers various cocktails, beers, wines and food to eat on your deckchair while basking in the sun.
The other 2 pools are smaller and more discreet. At the 3 pools, it is possible to rest on any deckchair, except that in high season they become rare but it is possible to reserve a cabin, that can be worth it financially if you are 4 or more I think.
Is it a hotel for children?
Clearly… no! There are a lot of adults and young people who come to have fun, there is not really anything to occupy the children in this hotel, except by going on the Strip where there is a multitude of activities. In this case, there is no point in sleeping at the Cosmo which is much more expensive than the Planet Hollywood which is across the street.
At 10 minutes walk from the hotel, go and try the best Tea Time in Las Vegas!
The Cosmopolitan Las Vegas loyalty program
The official program of the hotel is called Identity… except that the Marriott Bonvoy program also works, well almost!
Well clearly, if you don't live in Vegas, you don't really have to sign up for Identity except in some cases and I will try to be as clear as possible.
If you want to book with a card with no fees abroad, but without miles to earn, I suggest you to discover my review of the Boursorama Ultim bank card
If you don't play slot machines
Charge everything to your room (bars, restaurants, stores…) and at checkout, if you have given your Marriott membership number, you will receive your points directly on your account in addition to the points earned thanks to your nights at the hotel.
Book your room at The Cosmopolitan Las VegasClick here to see offers on Hotels.com
Book your room at The Cosmopolitan Las VegasClick here to see offers on Expedia.com
If you play slots
Continue to charge everything to your room but :
Sign up for Identity at the Identity Desk
Use the card at all hotel slots
Once your points are in your Identity account, transfer them to Marriott for free
This is because Marriott Bonvoy cards do not work in the machines and therefore do not earn you points, well, not directly.

Below, an 8 minutes video that presents almost all the parts of the hotel, it will allow you to project yourself in this place that I find both chic and festive :

Finally, you should know that this hotel is classified as a category 7 hotel, one of the most expensive to use your Marriott points to get a free night, and that on site you will have to pay the Resort Fees of $45 per night.

Hotel Cosmopolitan Las Vegas, my full review about one of my favorite and the best hotel of the Strip: Design, party and food and more !