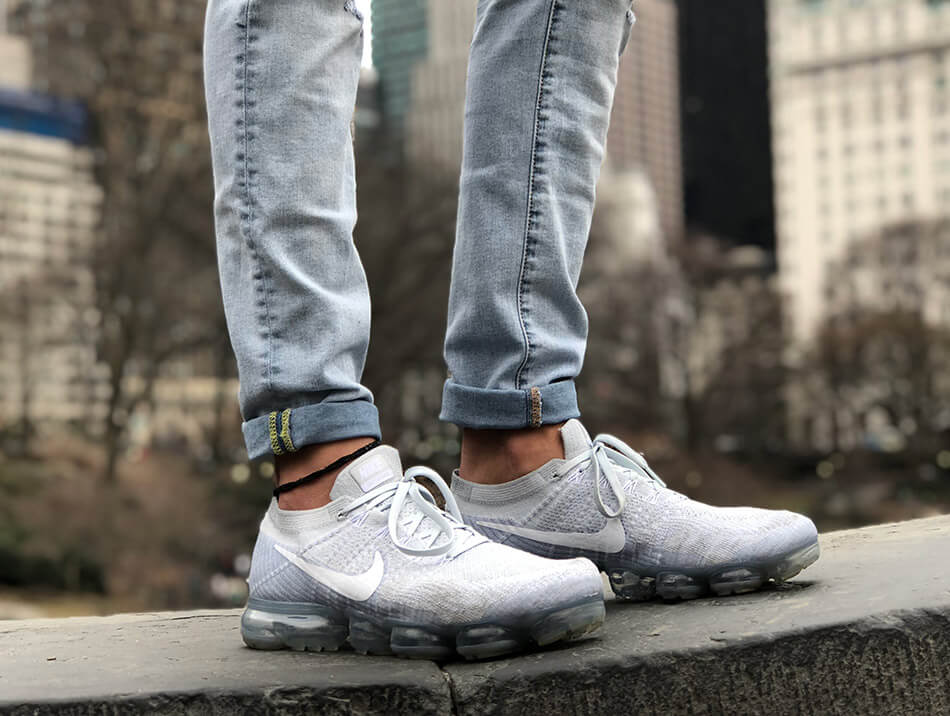 Photo was taken at Central Park in New York from my pinroll
When we got a nice pair of men's sneakers, we usually want to show it and showcase it.
After my article that explains with what to wear the Nike Air Vapormax Flyknit, I will explain how to make a pinroll for your pants or jeans!
Jeans or pants, doing a pinroll is a breeze!
You're ready to go out and you particularly appreciate your new sneakers. History of not having your pants or jeans that falls on it and hides a part, so we will do a pinroll.

Make a double setback. Whether you're wearing pants or jeans that are wide, skinny or even ultra skinny, you can do a pinroll.

The success of the hem made by mom, dad or a tailor, it's up to you now!

To make a pinroll you must hold a pan and then fold it to tighten the jeans at the ankle.

Hold the same fold and roll up to make the first hem. Do not release the lapel and make a second hem manually.

Here you have your pinroll and your sneakers are totally clear and visible.

Some brands of jeans and pants offer short models that fall on the ankles and are perfect with a nice pair of men's sneakers. This way you will not have to resort to a pinroll.

Personally, I do it before putting on my jeans or pants so that it is perfect, or almost. If you can not, I found a video that explains how to do a pinroll in seconds:

To wear sneakers and showcasing them, you can wear shorts or learn how to do a pinroll!

//php comments_template();?>