Delta Airlines is undoubtedly a major player in transatlantic travel. Since its creation almost a century ago, the airline has gained an undeniable reputation thanks to its professionalism, but also to its relationship with its customers. This is evidenced by its tenth award from Business Travel News in 2020 for its performance during the pandemic.
Customers are of prime importance to this company, which has set up a loyalty program called SkyMiles. Quite complex at first glance, it allows regular customers to obtain quite interesting advantages. Here's a quick overview…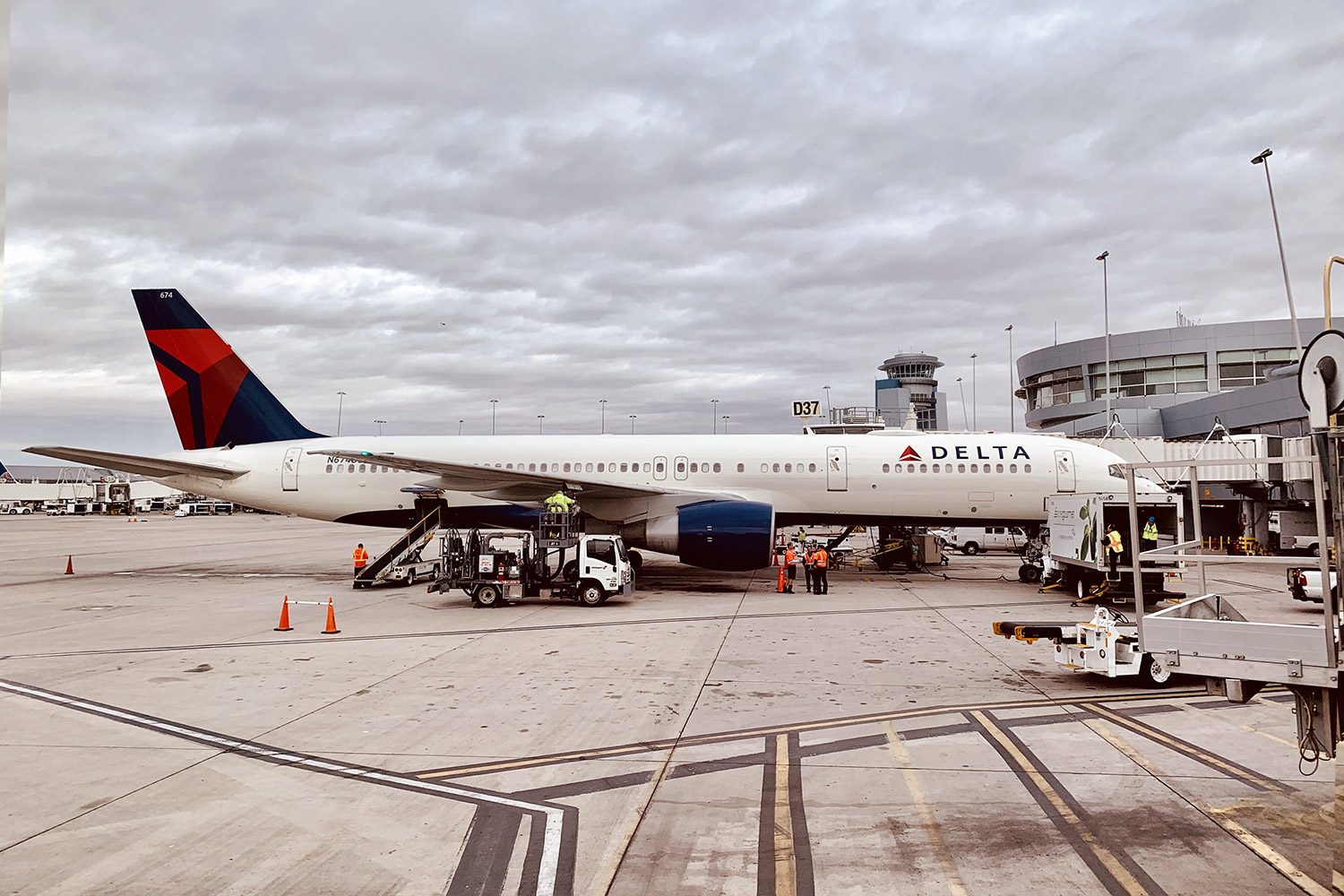 The seven levels of the Delta SkyMiles program
There are seven statuses in the SkyMiles program. Seven successive and indispensable levels to reach the Holy Grail: the Delta 360° status, by invitation only and valid… for life!
Let me tell you how to get there. The first level, which is the basis of the Delta SkyMiles membership, is automatically acquired with registration in the loyalty program. It does not provide any benefits per se.
For tiers 2 to 4, 25,000 miles or 30 flight segments on a Delta aircraft are required to move from one to the other.
The second status, called the Silver Medallion, provides, among other things, the possibility of being upgraded on departure, a free baggage or priority on waiting lists.
The next status, Gold, offers the possibility of waiving certain service fees or access to lounges on international flights.
Platinum status offers a litany of benefits in miles or travel vouchers.
The step up to Diamond status is a little higher, the highest status you can achieve in one year. It's only attainable after 125,000 miles or 140 flight segments. But it gives access to the CLEAR program (only for American passengers), developed to improve passenger authentication at boarding using a biometric process.
Beyond that, there is the Million Miler status, accessible as its name indicates, from one million miles. It is one of the two lifetime statuses. It offers the possibility of obtaining numerous gifts on luxury luggage or jewelry brands. Finally, the Delta 360° status is obtained only by invitation from the company. It allows you to benefit from private car transfers or privileged telephone support. I will not hide from you that it is relatively difficult to reach!
To summarize in figures :
Silver Medallion
Number of MQM required to obtain it: 25 000 MQM (or 30 MQS).
Number of MQDs to earn: 3,000 MQDs (or waived MQDs)
Top benefits: Bonus miles (40%), free baggage, free upgrades, priority check-in and boarding.
Gold Medallion
Number of MQMs to earn: 50,000 MQMs (or 60 MQS).
Number of MQDs to be earned : 8,000 MQDs (or 60 MQS)
Bonus miles earned: 60%.
Top benefits: Free baggage, free same-day flight change, free upgrade, priority access to security lines, expedited baggage service.
Platinum Medallion
Number of MQMs required to earn: 75,000 MQMs (or 100 MQS)
Number of MQDs to earn : 12,000 MQDs (or 100 MQS)
Bonus miles earned: 80%.
Top benefits: Free baggage, free flight changes, free upgrades, a bonus benefit.
Diamond Medallion
Number of MQMs to earn: 125,000 MQMs (or 140 MQS)
Number of MQDs to be earned: 20,000 MQDs (or 140 MQS): 20,000 MQDs (or MQD waiver)
Bonus miles earned: 120
Top perks: Free baggage, free flight change, free upgrade, free Clear membership, three bonus benefits.
How to earn Delta Skymiles?
By now you know the different statuses available when you travel with Delta Airlines and its Skyteam partners like Air France or Aeromexico. I will now explain how to earn points.
Actually, there are two methods. The first one is obviously to fly on the company's planes and as regularly as possible. Earning miles does not really correspond to the distance flown, but rather to the price paid for the ticket. Thus, for each dollar spent to buy your ticket, between 5 and 11 miles are accumulated, depending on the status of course. I would like to point out that these miles never expire and can therefore be carried over from year to year.
The number of take-offs is also important. Each segment or MQS is defined by a takeoff and a landing. Thus, for the same route, a direct flight will bring you only one MQS whereas a flight with two stopovers will allow you to obtain 3 MQS. A number of 20 MQS allows you to obtain the superior status, as well as miles.
The second method is to earn miles with airline partners. There are a multitude of ground operators such as car rental companies and hotel chains. Some countries have also concluded special agreements. This is the case in the USA or in France with American Express. Many co-branded cards issued by this bank allow you to earn even more miles. The Blue Delta SkySmiles card, for example, has no membership fee and earns 2 miles for every dollar spent on a Delta Airlines flight. Six other cards are offered in the US. They require an annual fee, but also provide a multitude of benefits.
I would also like to point out that as a member of the SkyTeam alliance, Delta Airlines has formed partnerships with other airlines such as Air France, Aeroflot and Alitalia. Flights on these airlines therefore allow you to accumulate benefits that can be used in the SkySmiles program.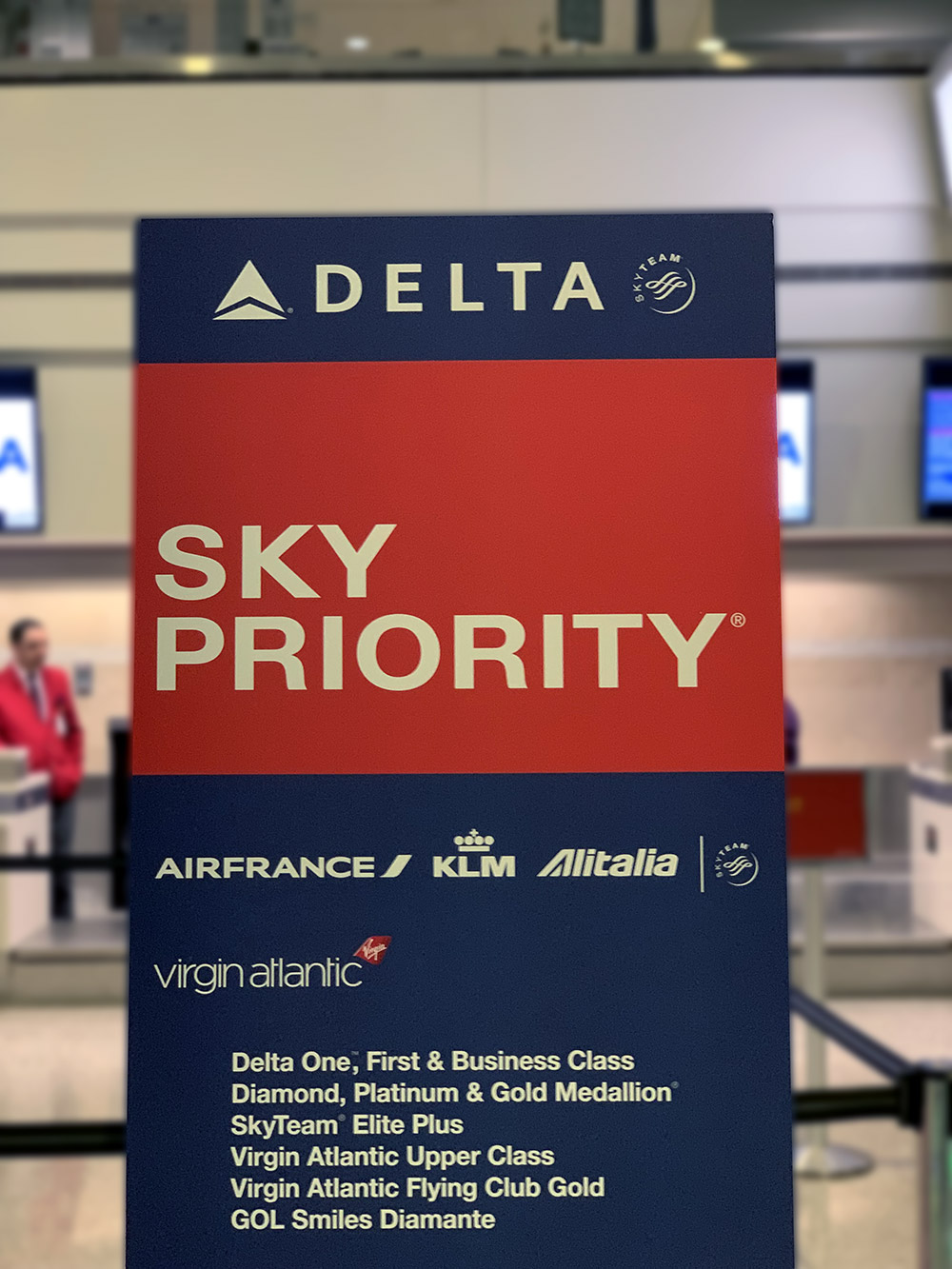 Collecting miles is cool, traveling for free is better!
Once the miles have been accumulated, they can be exchanged for flights of the company or flights of its partners. Everything is done from the official website of Delta Airlines by choosing the destination, the date and the fare class as you would for any other trip. An option allows you to display the number of miles required and therefore to know if the number accumulated is sufficient. However, there is no table showing, for example, that with 30,000 miles you can fly from New York to Paris in business class.
The number of miles required now depends on too many factors to be given as a flat rate. I assure you, we're doing just fine! The subscription also allows you to obtain an upgrade on a scheduled flight, or even to travel on a private jet if you feel like it and have the budget! But for that, you'll need to have accumulated at least 2.5 million miles! For more reasonable pleasures, there is a litany of benefits on hotel stays, vacation packages, car rentals… Airbnb is also a privileged partner of the SkySmiles program.
However, the advantages offered by the company for services through its partners are often less advantageous than on its own flights. The conversion rate between miles and dollars is different depending on whether you are renting a car on arrival or upgrading on the same flight. So it's best to find out beforehand.
Recent changes with some good… and some bad

Since January 2020, the airline has decided to clear up its SkyMiles offer, which had existed since 1995 and sometimes seemed very complex or at least unclear. I'll summarize the main changes for you. The first one is the number of miles reported by Delta credit cards.

The threshold used to be 2, as was the case with other airlines. It has been raised to 3, or even more for some. On the other hand, the annual fee for these cards has increased significantly, reaching $550 for the most expensive card.

Access to Delta lounges has become more expensive, from $29 to $39, except for Delta SkyMiles Reserve cardholders, for whom it remains free, and American Express Platinum cardholders. Most of the changes on Delta Airlines cards are not revolutionary at first glance, but frequent travelers will benefit from more complete offers. This was at least the goal of the company.

As for the traveler, it is better to study his needs and his frequency of travel before joining the program and climbing the different levels. Depending on how often the airline is used, the most expensive card is not always the most interesting. Finally, I would like to remind you that all the information about the program is available on the airline's official website.

How does the Skyteam Alliance member Delta Airlines' frequent flyer program work?