One day I received a newsletter informing me of this novelty proposed by the restaurant of the Hotel Bachaumont, the famous Tea Time, more and more famous among fans of good things at tea time. After testing breakfast, lunch and dinner, it's time for Tea Time!
The last tea time I tested was the Waldorff Astoria in Las Vegas, the concept is generally the same everywhere.
The concept of Tea Time
At tea time, or almost, take the time to taste exceptional teas accompanied by sweet and savory preparations to enhance your moment.
Some Tea Times in Paris offer champagne, white wine or even mimosa and cocktails
The latter allows you to enjoy hot and cold drinks for about 2 hours and to taste mixtures more surprising than the others.
You can also try Monsieur Dior, the new restaurant in Paris by Dior !
There are 2 types of Tea Time: The sweet one, with only sweet pieces, or the mix which proposes sweet and salty pieces at the same time.
At the helm is the excellent pastry chef Sophie Coulombel who, I must admit, totally surprised me with her pieces and her mix of flavors that exploded in my mouth one after the other.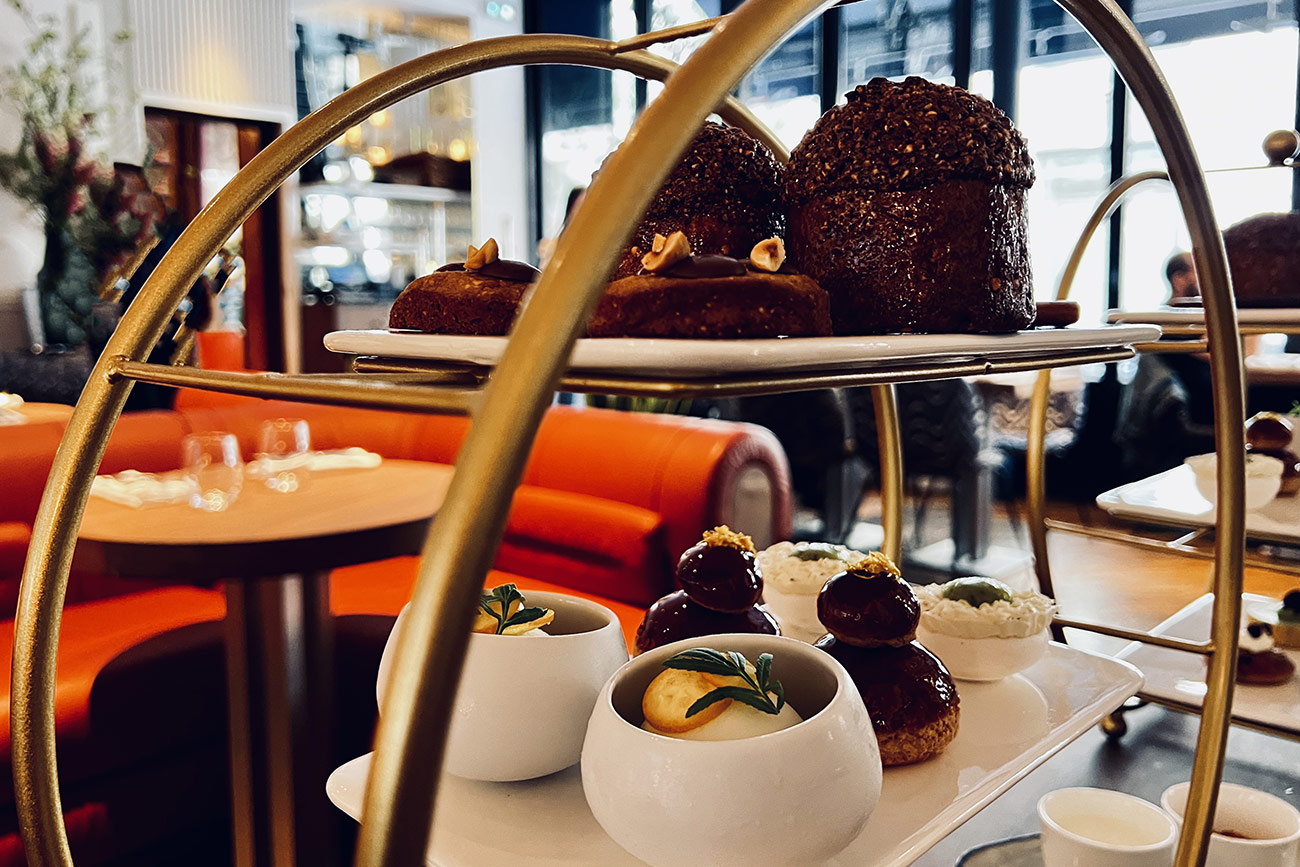 I enjoyed myself!

Greedy as I am, I decided to opt for the Tea Time offer at 29€ which includes 6 sweet and 2 savory pieces.

In addition to the hot chocolate I ordered (yes I didn't want tea that day), with my friends we enjoyed a glass of champagne to accompany this moment, offered at the price of 10€ (in addition to the 29€).

A few minutes after we were seated, a beautiful decor approaches us with all our delicacies, what a pleasure for the eyes! But let's get down to business.

Avocado pie, olive cake, yoghurt and yuzu ice cream, lemon palvova, chocolate choux, chocolate praline pie… I have to admit, I ate it all very quickly and I could have recommended some so much it was simply delicious.

I advise you on the one hand to make the gustatory experience with friends or with your family and especially to reserve in advance because the Tea Time is proposed only from Wednesday to Saturday and between 3 pm and 5 pm.

Traveling to France soon ? Book your Tea Time now !

Address : 18 Rue Bachaumont, 75002 Paris Phone : 01 81 66 47 00

As a fan of the place, I couldn't help but try the Tea Time at the Hotel Bachaumont during my visit to Paris.