Thankfully, if you are looking for natural deodorant for men, you need look no further than this handy guide on how to find the best natural men's deodorant that actually works, and how to make your own natural deodorant at home in a few easy steps!
How to Find Natural Deodorant from a Store
If you aren't up for making your own natural deodorant, no worries: there are many viable options you can find at stores that will do the trick. It may take some time to find a deodorant that is truly natural, but the effort is well worth it when you consider the payoff: a deodorant with natural ingredients that will help you sell fresh without fake smelling fragrances or irritating ingredients.
When you are searching for a store bought natural deodorant, make sure you look for deodorant that fits the following characteristics; these are the most important characteristics in a deodorant for men.
There should be some ingredients designed to absorb sweat. A proper deodorant needs to be able to absorb sweat–otherwise it isn't going to do a very good job of neutralizing your armpit odor.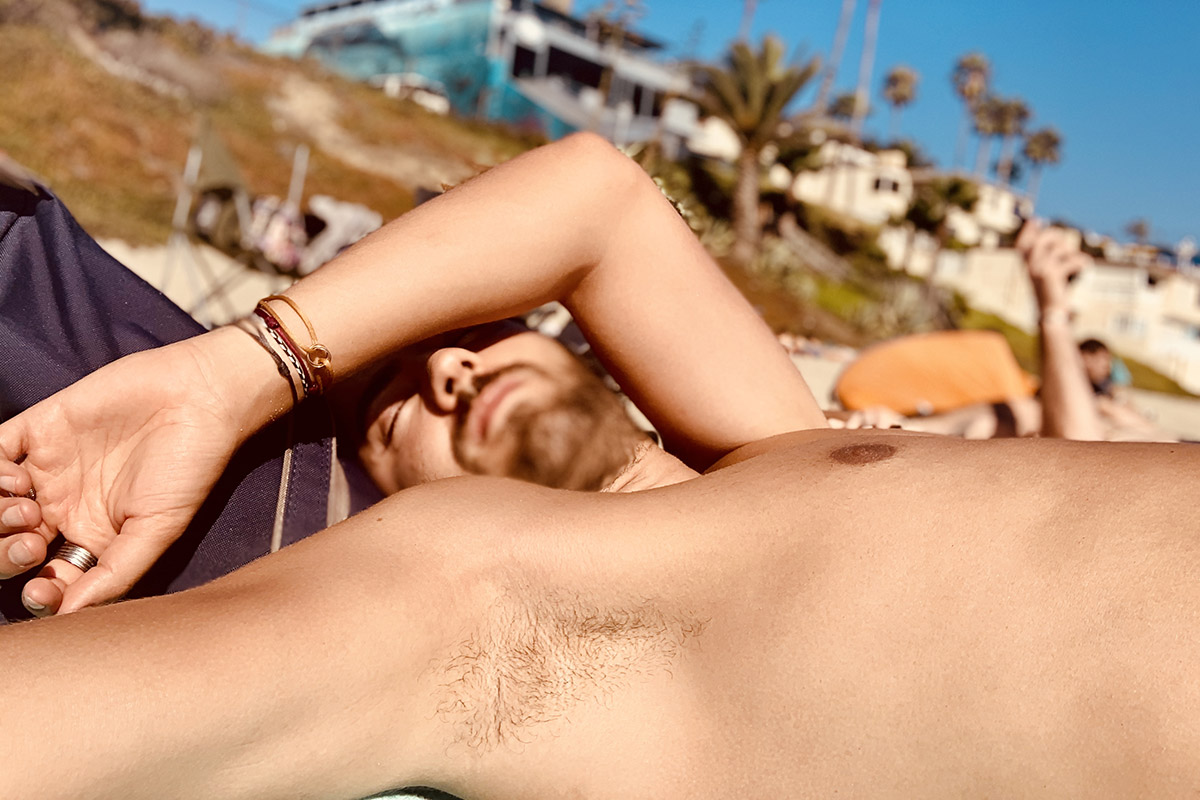 To this end, you need to find a deodorant with ingredients that absorb sweat in some way. One of the most common natural ingredients that can do this is baking soda.
However, it should be noted that baking soda has a very high natural pH which is about double the natural pH of the skin's protective acid mantle layer. You want to make sure that the deodorant has some baking soda, but not too much as this can be irritating to the skin.
Deodorants that respect your skin
If you can, look for deodorants which use ingredients like cornstarch or even diatomaceous earth, which will help absorb sweat without irritating the skin. Diatomaceous earth in particular is a good natural ingredient as it has antimicrobial properties that eliminate odor-causing bacteria.
There shouldn't be aluminum
Aluminum is found in a lot of deodorants, to make sure you check the ingredients list carefully. Aluminum blocks pores which reduces sweat, but it can be irritating to the skin. There is also some concern over whether or not aluminum is safe to use on the body regularly, but this is still up for debate.
Consider deodorants with essential oils for fragrance
Fake smelling fragrances aren't just cloying to the nose: they can be irritating to the skin, too! If you want a store bought deodorant that will help you smell nice without potentially getting your skin red and itchy, opt for products that use essential oils to add scents.
Make sure that the deodorant doesn't have more than about 2% essential oil, as percentages above that can be irritating. Common essential oil scents in men's natural deodorant include cypress, cedar wood, frankincense, tea tree, sandalwood, mandarin, cinnamon and clove.
How to Make Your Own Natural Deodorant
If you aren't up for something store bought and you want to make your own deodorant, you're in luck! Making your own natural men's deodorant is surprisingly simple as long as you follow the steps.
The following is a basic guide to creating your own DIY deodorant for men. This particular instructional guide creates about 5 ounces which is enough to fill two tubes.
What You'll Need
You will need the following ingredients:
Essential oil drops (you can play around with the ratios; a good ratio is 8 drops, 8 drops and 18 drops of 3 different oils)
3 Tbsp. baking soda
2 Tbsp. diatomaceous earth
5 Tbsp. beeswax (chopped or pellets)
6 Tbsp. coconut oil
1/4 cup arrowroot powder OR cornstarch
You will also need the following tools to make a deodorant
Small pot
Deodorant tubes
Hot pad or towel
Glass jar
Step by Step Instructions
Melt your beeswax and coconut oil
The first thing you need to do is take your heat safe glass jar and add in the coconut oil and beeswax. Place the jar inside a pot with a few inches of water inside. Heat the pot over medium high heat until the beeswax has melted.  Remove the jar from the hot using the towel or hot pad to cool.
Add in other ingredients
Once the mixture has cooled–wait about 1 minute after removing it from the heat–it's time to add in your baking soda, diatomaceous earth, arrowroot and essential oils. Whisk them until fully incorporated.
Quickly add the mixture to your tubes
The mixture is going to get solid quickly, so you need to move fast for this step. Add in the mixture to your tubes or other container. Wait for it to solidify and it's ready to use!
Final Thoughts
Since natural deodorant tends to be a bit thicker than store bought deodorant, make sure you only apply a thin layer. You can rub it into the skin if you'd like as well.

If you use too much, it may feel sticky or tacky. With natural deodorant, you should wait a few minutes before putting your shirt on, as the 'fresh' mixture can stain.

Deodorant is something every man needs to smell fresh, but finding the right deodorant can be tricky! This is especially true when you are looking for a natural deodorant that doesn't smell overly fake or floral.

//php comments_template();?>