The result of the union of two designers of modern collections, Golden Goose sneakers have made a place for themselves in the luxury sportswear landscape.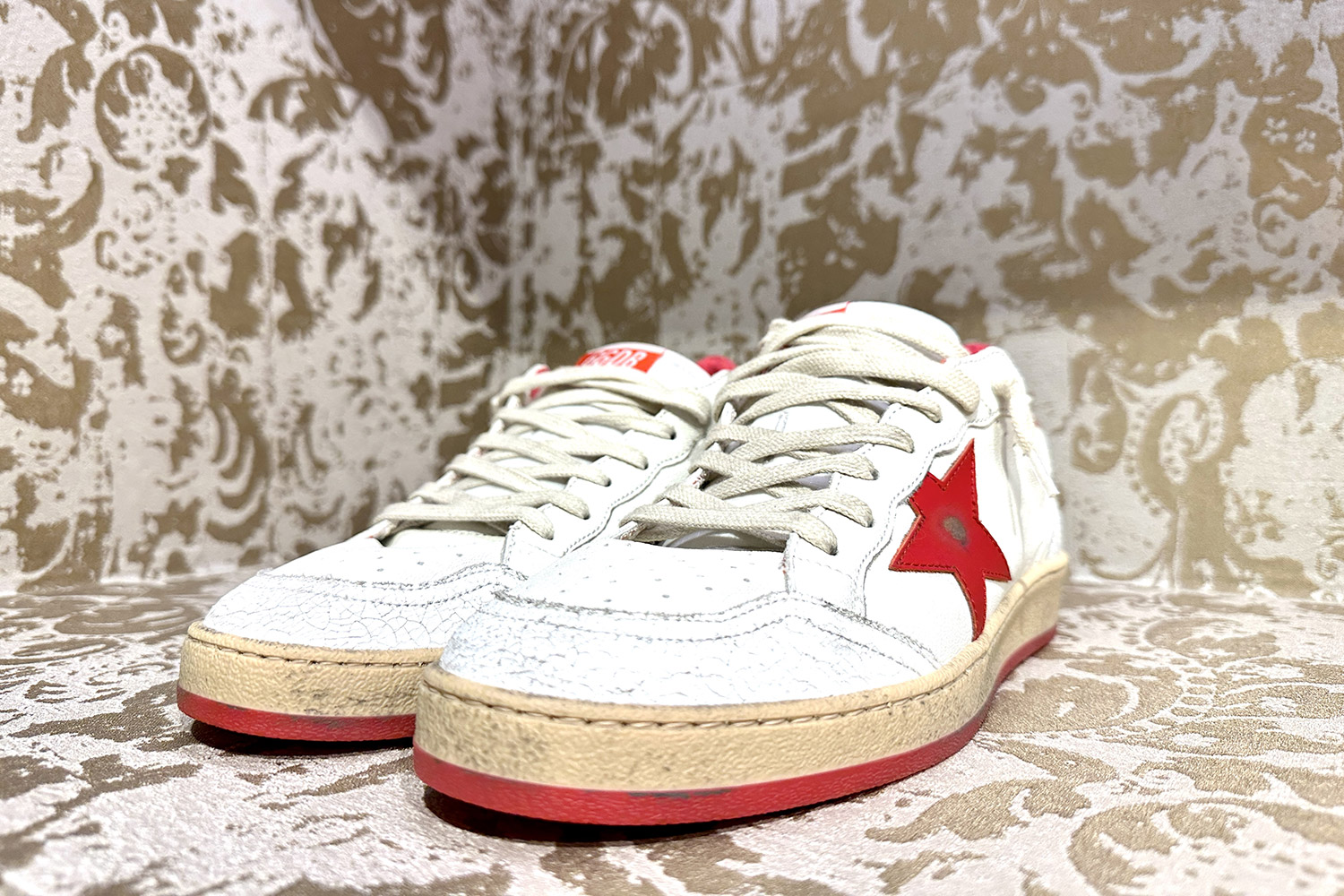 Who are the creators of Golden Goose sneakers?
Francesca Rinaldo and Alessandro Gallo created the Golden Goose brand in 2000. This couple of Venetian visionaries once again pays tribute to the cradle of the shoe, Italy. Their creation has become mythical. A fashion staple, the low-top sneaker has been a must-have for casual chic for the past two decades.
Did they just surf the wave of a desire for comfort among consumers of luxury products? Did they have a genius idea, at the right time, in the right context? Or are they simply virtuosos in the shoe business themselves?
Probably a bit of all of these, but above all they have adopted an incomparable branding logic. It was a risky bet to make a product with a worn effect and a shiny star embroidered on the side.
Focus on Golden Goose sneakers
Golden Goose sneakers give themselves the right to not be what other new sneakers are: pristine white, looking like they came from the factory. The most fashionable Venetian couple's sneakers have an aged and worn look. Their vintage design makes them look like they're from another age. And yet, the global success of this creation has revolutionized the fashion world. I've often asked myself these questions: what are its manufacturing secrets? And why such a craze for a fashion accessory with such a look?
Why such an impact?
Appearances are deceiving. In the case of the Golden Goose sneakers, they are clearly illusory. Their design has been studied to the last detail. The Golden Goose workshops make it a point of honor to produce exceptional products. Each pair is the subject of meticulous work. The materials used are noble. The hand-tanned leather gives this unique look.
However, their manufacture goes beyond luxury leather goods. All the techniques used aim to create a high-end shoe, certainly, but also comfortable. With its integrated soles of 3 cm, the feet say thank you. I can tell you that. The walking sensation that comes with this slightly offbeat visual provides many benefits including comfort. The other strong point remains the infinitely variable assemblies.
Lovers of vintage associate them with jeans. With pants, shorts for an original style, Golden Goose sneakers go with any outfit. Especially since it is possible to change their appearance.
The workshops of the famous brand offer a customization of the shoes. Sneakers markers (understand designers) dedicated to this task take care of customers. They are true artists, allowing buyers to express their creativity and their desires. Through custom advice, they design and rethink orders to satisfy the slightest desire of consumers. Their motto is to provide an experience that is inimitable to other competitors.
Without naming brands, for the same price, there is the brand with a comma or the iconic one with a rooster. None of them offers such a service. Customizing a sneaker at their place necessarily goes through another way. But at Golden Goose, sneakers become inimitable objects because they are unique.
View this post on Instagram
Some ideas to wear them with style
To be apart, to be daring in your look, several ideas came to me. I imagined some associations to enhance its silhouette or be chic and in the wind while being comfortable in Golden Goose sneakers. I reveal them to you without waiting.
For a sporty look, we stay in the simplicity with a pair of jogging and a pair of white sneakers. Well, as white as Golden Goose can be.
For a more classic outfit, but without pretension, we can imagine coordinating a pair of beige pants with our famous low top sneakers or high top sneakers. The colors of stars are varied and endless. In a fall-winter closet, a blue glittering embroidery will bring dynamism.
The indestructible jeans, it, couples with all genres. Unisex style, we can think of a slim fit. To refine a waist a little thick, the anthracite will do its job and slim the profile.
Finally, in combination with Bermuda shorts, the color variations can go from light to dark, from plain to multicolored. It is necessary to dare! No border, no barrier limits the imagination.
The possibilities are endless, but there is one determining factor in a purchase: the price.
View this post on Instagram
The high prices of Golden Goose sneakers
When you decide to fill your collection with Golden Goose sneakers, you expect to pay a lot of money. A great brand has a price. How much does luxury cost? This value takes on another symbolic meaning depending on the wallet of each person.
There is, however, a stable variant in this equation. We talk about quality. The manufacturer's reference marks a pledge of excellence. Work pays, we pay work. You can not find comfort and lightness and nobility of raw materials by paying a medium price.
Golden Goose sneakers start at 400€. This is the low range with a basic pair. The high range has no maximum since customization has a cost. And since imagination has no limits, you can reach the stars.
Bottom line

For men, for women, the unisex side of Golden Goose sneakers gathers its followers. Fashionistas love them, young people adore them, the more mature have adopted them. In short, all Golden Goose sneakers are in the wild. And the adventure continues! This brand has all the makings of a great one. It combines innovative ideas with retro standards.

The iconic couple Francesca Rinaldo and Alessandro Gallo is a dream come true. Their love of beauty has been fully expressed through an original find. The textile industry still has a lot to offer. I can't wait for you to discover other nuggets. I have glitter in my eyes.

Originality is at its peak with Golden Goose sneakers. Pair with any outfit, they light up your style!