An emblematic district of the Big Apple, Times Square owes its name to the famous newspaper that set up its offices at the city's cultural crossroads. Until 1929, Times Square was the hub of the city's entertainment scene, with its theaters, music halls and cabarets. With them, hotels flourished, bringing with them a little more delinquency and corruption every day. With its sex shops and prostitution, Times Square resembled the Pigalle district of Paris.
In the 90s, the mayor decided to clean up the area, and strip clubs were asked to leave. The final change came in 2009, when New York City closed Broadway to automobile traffic. Times Square was transformed into a charming pedestrian avenue in Manhattan, devoted to shopping and entertainment. Where to go? Where to dine? Which hotel to stay in? Find out in the article to follow. You'll be amazed at just how much there is to do in this part of New York, where life never stops.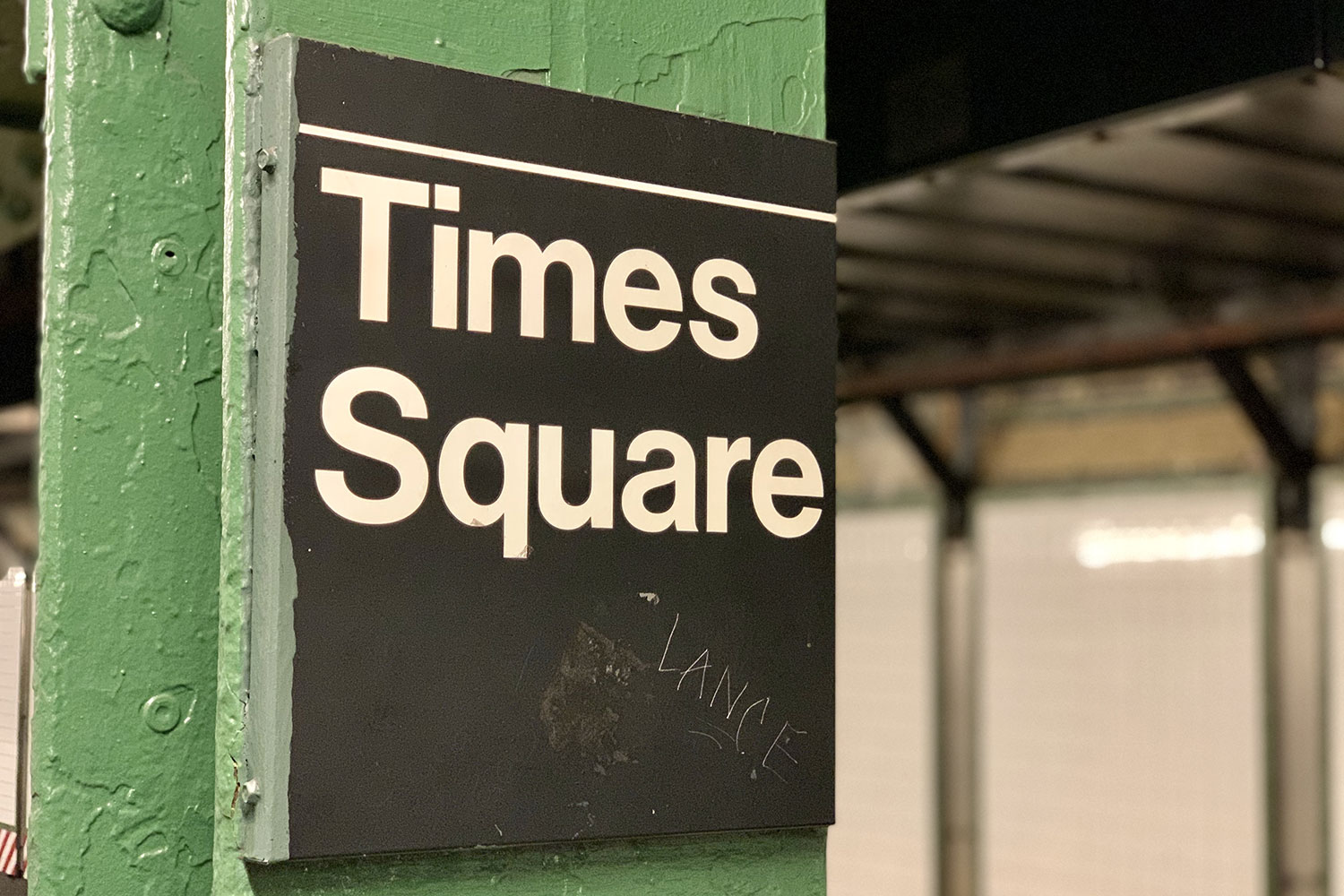 Enjoy the atmosphere
Landing in Times Square is like arriving in the heart of New York. Prepare to be amazed. The first thing to do is enjoy the atmosphere and spectacle of the street. If you're looking for a dazzling place in the first sense of the word, Times Square is the place for you. Between the neon lights of the fashion boutiques, you'll find the world's largest giant screen, measuring 27 meters high and 100 meters wide, all in high definition.
For a panoramic view of Times Square, be sure to climb the 27 red steps of Duffy Square between Broadway and 7th Avenue. Access is free 24 hours a day, 7 days a week, so you can admire the site in its entirety and capture the electric atmosphere of this corner of the city.
See a musical show
This is the world's biggest spot for musicals. Dozens of companies perform here all year round. Before touring the world, the shows are performed on Broadway, attracting thousands of spectators. The Lion King, Aladdin, Chicago, Harry Potter and the Cursed Child, The Story of Michael Jackson's Life and Moulin Rouge are just some of the musicals performed here regularly.
To avoid long lines in front of the theater, it's best to buy tickets online before your trip. The reason is simple: the closer you get to the performance date, the higher the ticket price. What's more, by booking online, you can choose your seat.
Shopping
For fashion, beauty and souvenir shopping, you'll be spoilt for choice. American Eagle, Levi's Store and Forever 21 are iconic Times Square boutiques. At American Eagle, if you buy for a minimum of $10, don't forget to climb to the top floor to have your photo taken. All you have to do is step in front of the store's screen to see your photo displayed.
Other stores worth a visit include the Disney Store and M&M's World, a store filled with candies of every color. You'll also find clothes, home decor and must-have gifts related to the store.
Visit Times Square by double-decker bus
There's no better way to see the neighborhood than by scheduling a tour on a double-decker bus. These Hop-on Hop-Off buses criss-cross the streets of New York, offering unobstructed views of the sites of interest. You'll pass the Empire State Building, the Rockfeller Center and the city's green lung, Central Park. What's more, the bus leaves and waits for you in front of MoMA, the world's first museum of modern art, with major works by Picasso, Warhol and Pollock.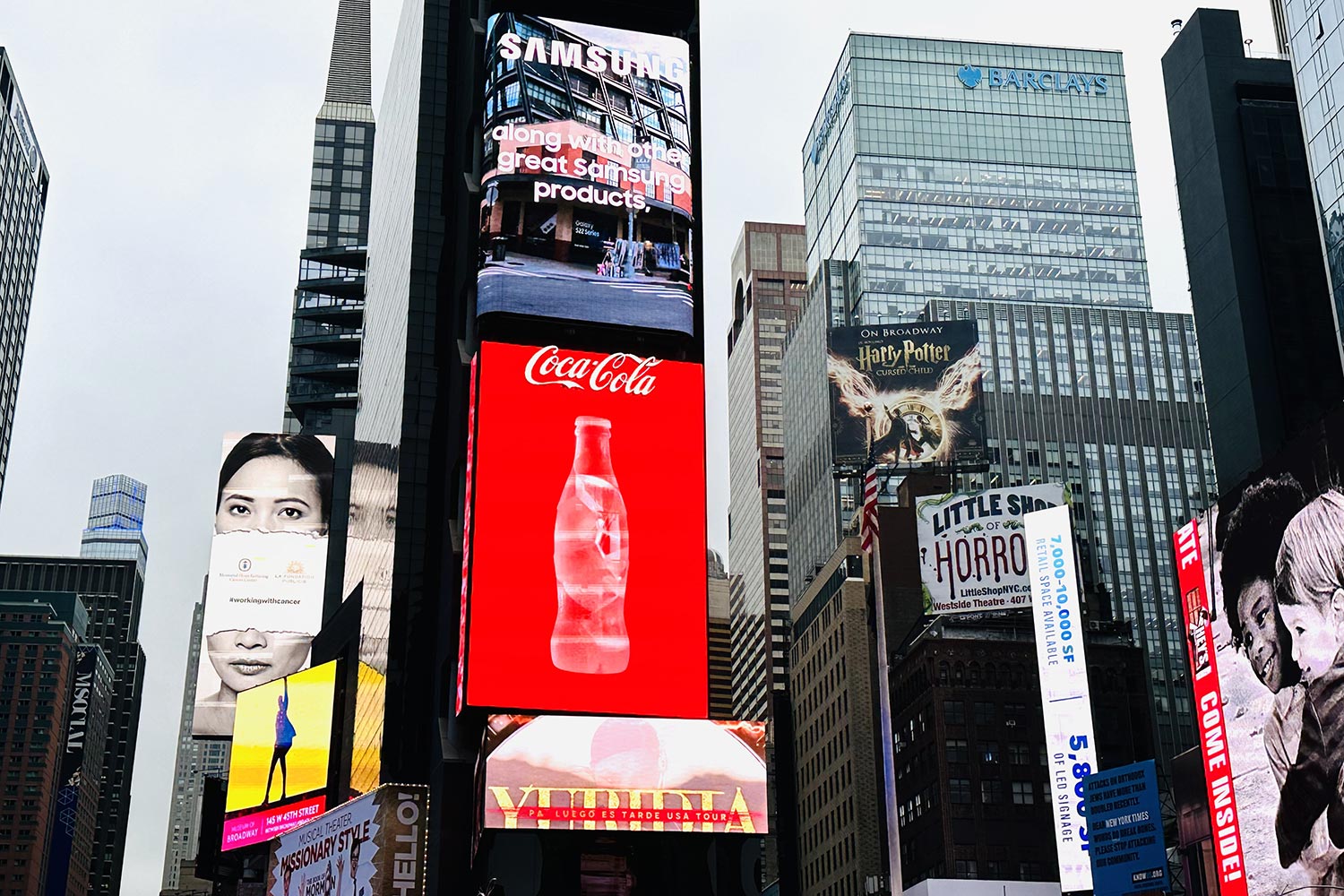 Where to eat in Times Square?
For a drink or more, The View is the place to be. From the top of this panoramic restaurant, you'll have New York at your feet. The view is simply incredible, as the bar rotates on itself within an hour. To find The View, go to the 48th floor of the Marriott hotel. If you wish to dine or lunch there, it's advisable to book in advance. You'll then enjoy a wonderful experience as a French chef prepares a four-course meal right before your eyes.
Fancy a made-to-measure burger? Then head to Bareburger. Everything is top quality, starting with the meat, which is very fresh and tasty. All ingredients are organic and sustainably farmed. And, of course, the crispy buns are homemade the same day.
The other must-visit burger address is Shake Shack. When you arrive at the address on Broadway, you'll be greeted by a long queue. Shake Shack is a popular restaurant, well known to the locals. Good and cheap, it's the ideal place for a hearty lunch break.
Times Square is full of roof tops, such as the Hyatt Centric or The Skylark. As New York is a cosmopolitan city, you'll find every kind of cuisine here, from Thai and Indian to Cuban and Italian.
Where to stay in Times Square Manhattan?

As New York is a very large city, it's advisable to find a hotel in the Times Square district, right in the center of Manhattan.

Among them, the Merrion Row Hotel and Public House is renowned for its cozy, intimate atmosphere. Offering excellent value for money, this boutique hotel offers a quiet, luxurious setting amidst the hustle and bustle of the district.

The CitizenM New York Times Square is another good hotel, despite the small size of its rooms. Square meters are very expensive in Manhattan, so don't expect to sleep in gigantic rooms unless you're willing to pay a high price. What's more, all rooms have a view of the city.

Finally, the Moxy NYC Times Square (A Marriott Hotel) is a little further away. It's a 10-minute walk to Times Square. This trendy hotel, decorated in a modern style, offers a gym and, of course, a rooftop bar. Again, the rooms are small, but the communal areas are very spacious.

As you can see, Times Square has a lot to offer travelers. From this symbolic location, you can criss-cross Manhattan's famous island, visiting Chinatown, Little Italy, Soho and Greenwich Village.

Looking for information about Times Square? This article gives you ideas for your visits to Times Square and tells you where to eat and sleep.