There's something mysterious about style. Men who appear suave and sophisticated do so with apparent ease. We immediately spot when someone is trying too hard even though we might not be able to articulate why.
There's an alchemy about effortless sophistication which is partly comprised of the clothing and accessories that the individual is wearing and partly comprised of their attitude.
Confidence and self-belief are essential ingredients of sophistication: how you wear your clothes is as important as what you wear.
It works both ways of course: the right clothing and accessories give you the confidence to wear them with style. Sunglasses are a truly magical accessory, which can transform an unremarkable outfit and render you suave at a stroke.  Unlike optical glasses, sunglasses hide the eyes, they blank out a face's key feature and replace it with a striking design which becomes the focus of attention.
Choosing a style
They say that everyone looks good in Wayfarers. So, we shouldn't be surprised that it is the most popular style in the world.  Their distinctive shape has worked its magic for thousands of celebrities, and they continue to do so, but they are not the only sunglass style and they are very familiar.
When we think of sunglasses we automatically think of black frames and dark lenses, but it doesn't have to be that way.
Sunglasses can be a way of expressing your personality and the truly stylish man will have the confidence to choose frames and lenses which are distinctive
Unless you are hip hop royalty avoid extreme styles and colors, they won't make you the funniest most charismatic guy at the party, they'll just risk you looking clownish.  Choosing a style of sunglasses that suits you is about knowing yourself and finding a style that you are comfortable with.
If you enjoy wearing sunglasses, pretty soon you'll realize that one pair is never enough and that different styles suit different contexts.  The pair that you wear to a barbecue will probably not work as well on a business trip.  Women are much happier to have multiple pairs of sunglasses in the same way that they will have multiple pairs of shoes, men are still inclined to assume one pair will suit all occasions, they won't.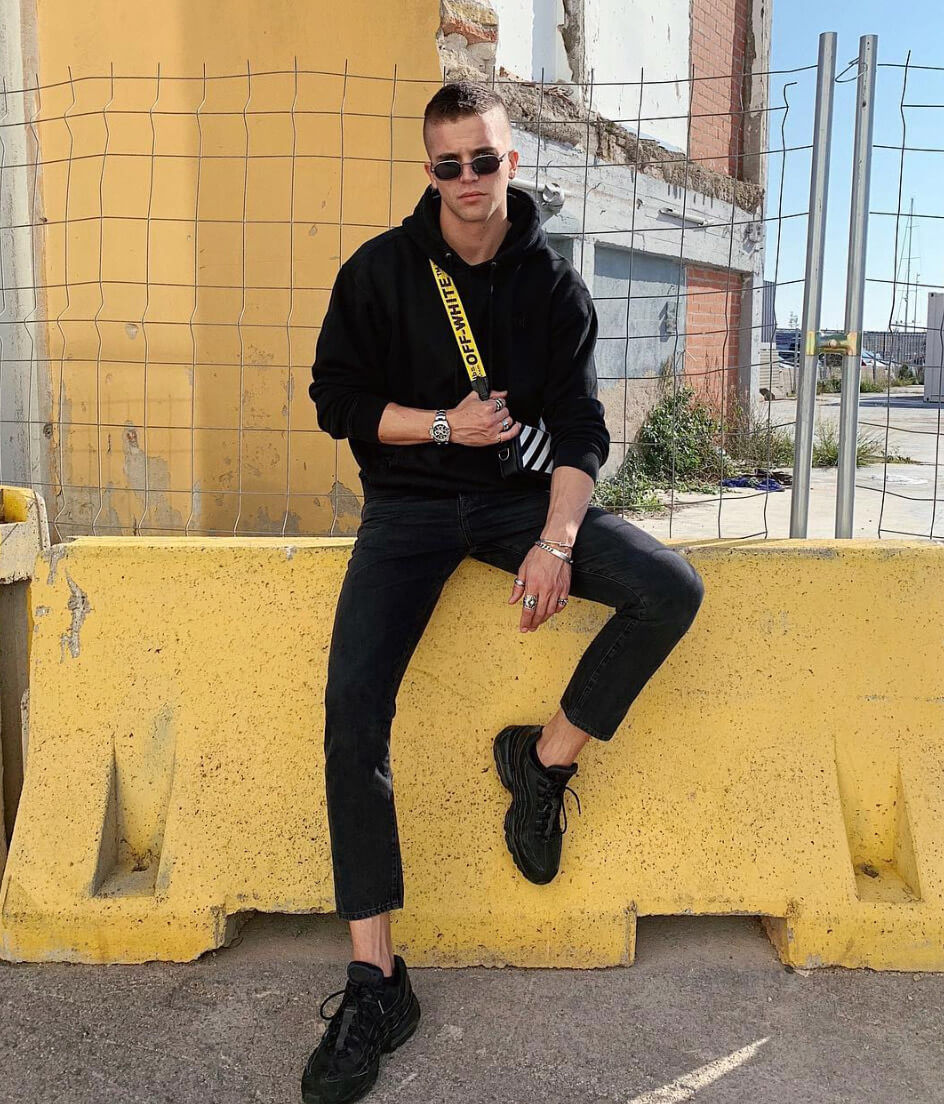 Model : River Viiperi
Off the peg won't do
Just as a stylish suit will have been made to measure, so too a pair of sunglasses need to fit your face.  Your skin tone, your face shape, and your hair style are all factors which will affect the appearance of your sunglasses, but whatever the style you choose, a perfect fit is crucial.
The temples need to be the right length and the frames should sit comfortably and close to the eye.  They may be a very fine pair of sunglasses, but you won't look suave if the frames don't fit.
Clothing to suit your sunglasses or sunglasses to suit your clothing?
Sunglasses have a way of stealing the show.  They draw the eye and are the first focus of attention, so make sure that you keep them clean.
A stylish, sophisticated appearance is one in which each of the elements is just right, from the shoes up to the sunglasses.  Your items of clothing should never compete with one another and they should never compete with your sunglasses.  A riot of colors and patterns is just a visual headache, so exercise restraint.
Choose quality
When you notice that someone is wearing a Rolex, you are impressed, because it's a thing of beauty.  Sunglasses are no different, always choose a stylish pair, from a brand that is known for their quality – for that refined look. You get what you pay for, a pair of quality Gucci sunglasses will last far longer than something that you pulled out of a discount bin.
Know when it's appropriate to wear sunglasses
Continuing to wear your sunglasses when you meet someone is not cool and mysterious, it's just plain rude.  Think motorcycle cop with mirrored sunglasses, they keep them on to intimidate you.

If you are attending a wedding and it's outdoors and hot then it's perfectly ok to wear sunglasses, just be prepared to take them off a lot.  If you need sunglasses because the sun is strong that's fine, otherwise don't wear them, it's crass.

If you are a man and still wondering how to wear sunglasses with sophistication, come and check my tips to upgrade your style.