Timeless fashion accessories, the rings for men are worn without complexes! For a long time a symbol of men's social rank, today this jewel is chosen to remain at the top of the trend, but also to express a whole art of being oneself!
Some history…
Since the 16th century, rings were often worn by men in order to demonstrate social status. This jewel was generally made of gold and silver for the rich, and of iron or wood for the more modest. Still today, and in some parts of the world, this symbol of nobility pushes men of high rank to wear rings set with precious stones or gold.
But also, gold rings for men have been popular for centuries, to materialize their ability to start a family. In ancient times, men wore gold rings on the ring finger of their right hand as a symbol of the sacred union of marriage. Men's gold rings were engraved with their first names and initials, as well as those of their wives.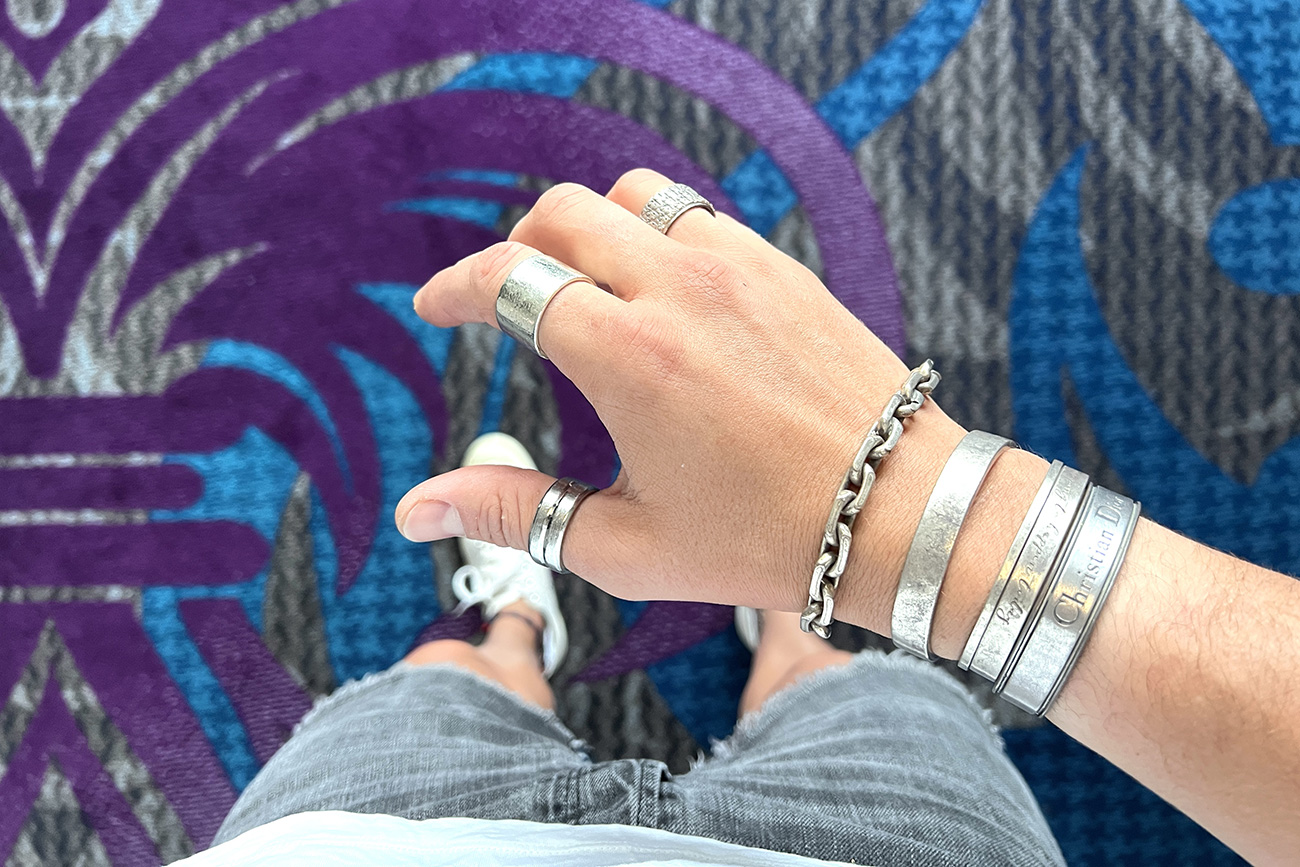 Why guys wear a ring?
There is a story behind a man's ring. Wedding and engagement rings are symbols of love and commitment between 2 people. Today, the choice to seal a union with a wedding ring remains completely optional. As well as the fact that wedding and engagement rings are no longer simple plain rings, but can be designed in any style.
Beyond this type of formal ceremony, wearing a ring is above all a personal stylistic expression. Indeed, since the ring is an accessory that men wear in the same way as a tie, a necklace, or a hat, its place in a clothing style is perfectly worked. Thus, the way to wear the ring is, today, more a look than an ancestral symbol.
On which finger(s) should you wear your ring(s)?
Wearing a man's ring on the ring finger
For many generations, a man's ring on his ring finger was a sign of marital commitment. Today, many brides don't wear wedding rings and men with no formal commitment wear rings on their ring fingers. As you can see, there are absolutely no rules for wearing rings on the ring finger!
Wearing a man's ring on the other fingers of the hand
Wearing one or more rings on all the other fingers of the hand is more about personal comfort and style. In fact, you can wear one or more rings on just one finger. For example, if you want to give yourself a more rocking look for a night out, free your imagination and wear different sized rings on each finger. You can also stay very stylish, carrying just one ring on the index finger of one hand and several rings on all the fingers of the other hand!
Types of rings for men
The signet ring for men
The signet ring is a model of ring of very large size, set with stones or not. It takes its name from the knights of noble families who wore this type of ring on their left ring finger, just before their wedding ring. Nowadays, the signet ring can be worn on any finger. Since it is a relatively large piece of jewelry, I advise you to wear it alone, at the risk of making your gestures too heavy.
Wedding rings for men
Wedding rings for men have always been traditionally worn on the ring finger of the left hand. As a rule, it is chosen in the same metal as the wife's: gold, silver or platinum. The advantage of the wedding ring, in addition to its romantic symbolism, is that it is always very elegant to wear, regardless of what you wear!
The other models of rings for men
The other models of ring for men have more or less discrete or significant patterns. Indeed, you can find ethnic jewelry, engraved in the metal or multicolored. Moreover, these fancy jewels are more adapted to very particular circumstances: vacations on the beach, weekend with friends, etc. Therefore, I advise you to choose rings with sober patterns for everyday life, i.e. to go to work or in the evening.
Which materials to choose?
Gold rings for men
Gold is the most rustproof precious metal! This makes gold rings for men, jewelry with an infinite life span. This is why the price of gold is much higher than other materials used for rings.
Silver rings for men
Like the gold ring, the silver ring is also made of a precious metal that is very durable over time. However, silver contains a little more help, which makes it slightly more fragile than gold. In fact, over time, silver jewelry may warp slightly or show signs of wear.
Platinum rings for men
If you have very sensitive skin, choose the platinum ring! It is an extremely pure precious metal, and whiter than white gold. Platinum jewelry also has a very long life, and excellent resistance to all tests!
Men's rings in titanium, brass, wood, ceramic
Other materials used to make rings for men are: titanium, brass, wood, or ceramic. These are inexpensive materials, mainly used to make fancy jewelry.
The maintenance of your ring
In order to keep the shine of your ring for men, I advise you to maintain it regularly. For gold, silver and platinum rings, the procedure is very simple. First of all, it is essential to keep your rings in a jewelry box. This box must have a velvet bottom so that the jewelry is preserved in a soft and clean environment.
To clean your rings, simply use a cotton cloth, lightly soaked in soapy water. Scrupulously clean your jewelry, especially inside the ring. Wipe gently with another dry cloth to shine the ring and store it carefully in its box.
The type of brands of rings for men
Luxury brands
If you like accessories designed by luxury brands, you will find your happiness with the big houses. Dior, Louis Vuitton, Gucci, Versace, or Le Gramme offer beautiful collections of rings for men, in the air of time. Luxury jewelry follows the fashion trend, allowing you to maintain a unique and avant-garde look!
Consumer brands
You can also find original ring designs from mainstream brands. Zara, Allsaints or H&M offer men's rings in more whimsical styles, made of semi-precious metals.
Extra: gemstone with his ring, or not?

The ring for men in bare metal is often enough by itself. On the other hand, if you prefer a ring set with a stone, I advise you to choose precious stones among: diamond, ruby, sapphire, and emerald. And, for your ring to remain both original and discreet, opt for stones embedded in metal. Because, the solitaire stone is rather reserved for women!

And what about semi-precious stones? Less expensive than gemstones, semi-precious stones remain very aesthetic and offer more color palettes. For example, carnelian, jasper, lapis lazuli, or quartz are among the most used stones to adorn rings for men.

Both chic and whimsical, the ring for men remains undeniably timeless! Choose your ring, above all, according to your personality. Your look will be naturally elegant!

The ring for men is a fashion accessory, symbols of commitment, or simple fantasy. Discover the complete guide to choose your ring for men !